Terraz Bistro and Meetings
Terraz Bistro and Meetings is a stylish dining and business meeting place located at the country's prime office tower, the Zuellig Building (certified platinum status from the prestigious US Green Building Council) that houses some of the largest companies and corporate headquarters in the country right at the intersection of Makati Avenue and Paseo de Roxas .
The fine location is a fitting place for the stylish bistro that has been getting raves and clamors from the growing foodie population in the city looking for some exquisite fusion of local and international cuisine with a contemporary twist. The posh dining place exudes sophistication and the food is as impressive.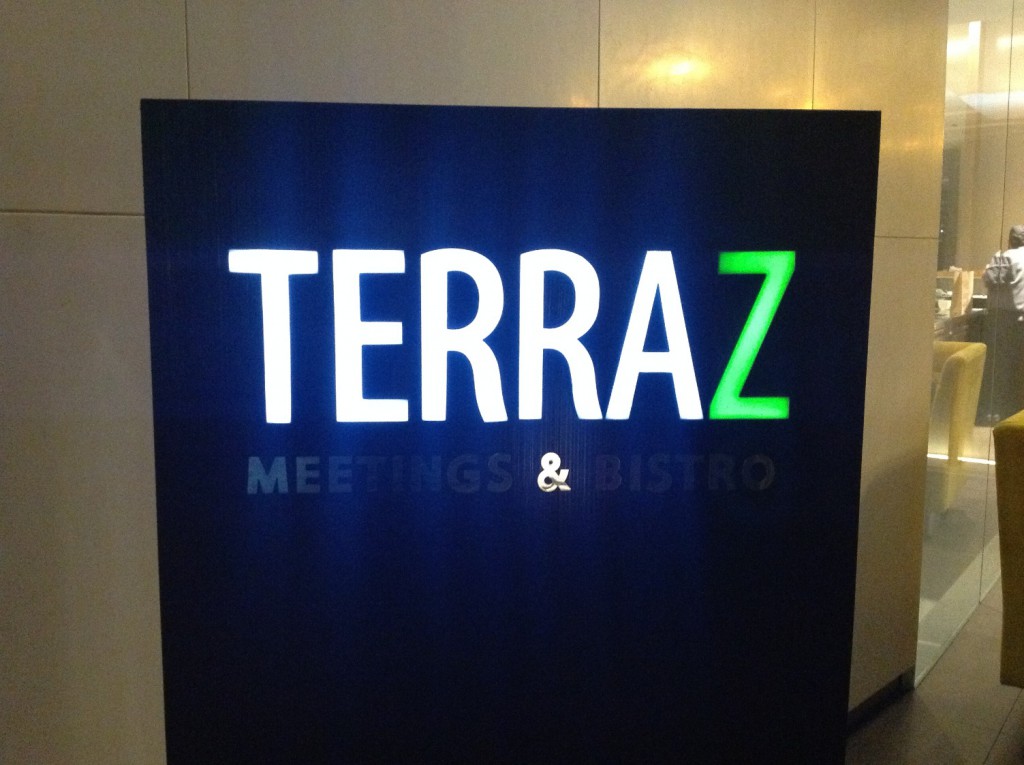 The stylishly neat and functional layout and design provide a relaxing atmosphere. It has a cozy and intimate setting vibe with its interplay of brown, green, and yellow interior pieces fashioned in a truly cosmopolitan and modern manner. Its lighting and decors perfectly weave together just the right elements of subdued elegance and the vibrant city life. Chairs and dining setups are very comfortable and the food is really satisfying.
Enclosed by mostly glass walls, it offers a stunning view of the bustling Makati central business district. It has a booming 117-seating capacity that accommodates anyone who wants to enjoy their signature premium comfort food with family and friends for group gatherings, social events, lunch-outs, intimate dinners and romantic dates . It has 6 well-appointed conference rooms with elegant black seats and long dark wood table in a very quiet setting ideal for private business and corporate meetings, presentations, and brainstorming sessions. The dining crowd is mostly from the corporate population giving it a sort of formal, business-y atmosphere but it is also frequented by casual walk-in diners as the bistro caters to pretty much the foodie crowd who simply love good food in a good place for some good time. Strictly no guests wearing slippers are allowed though.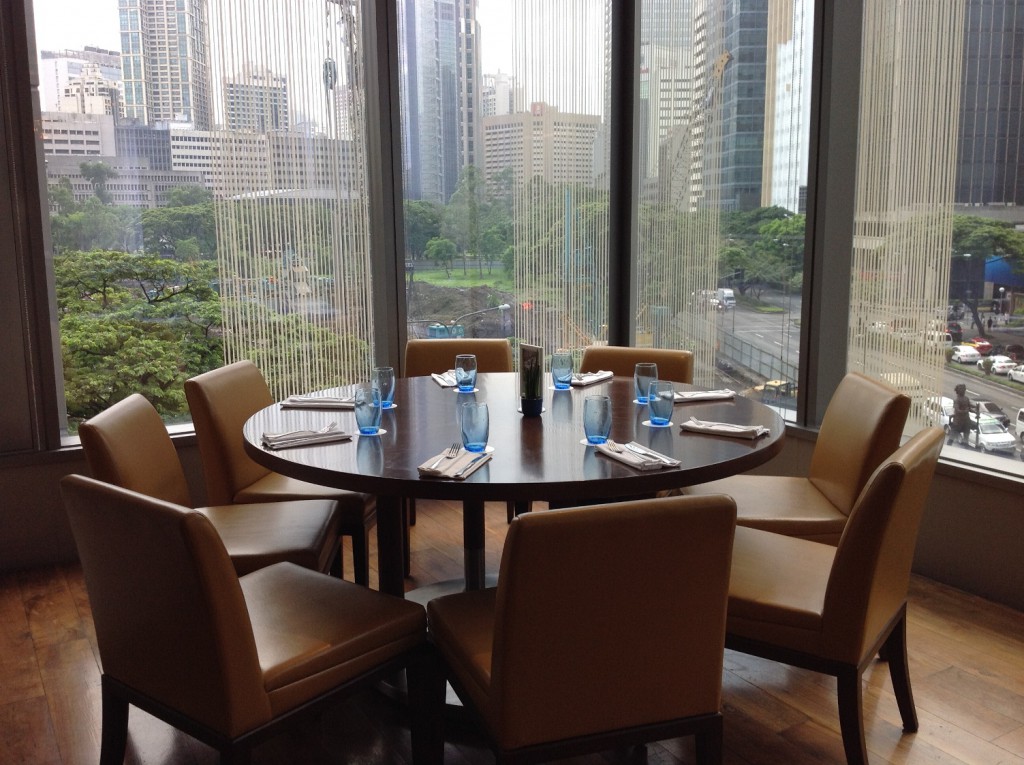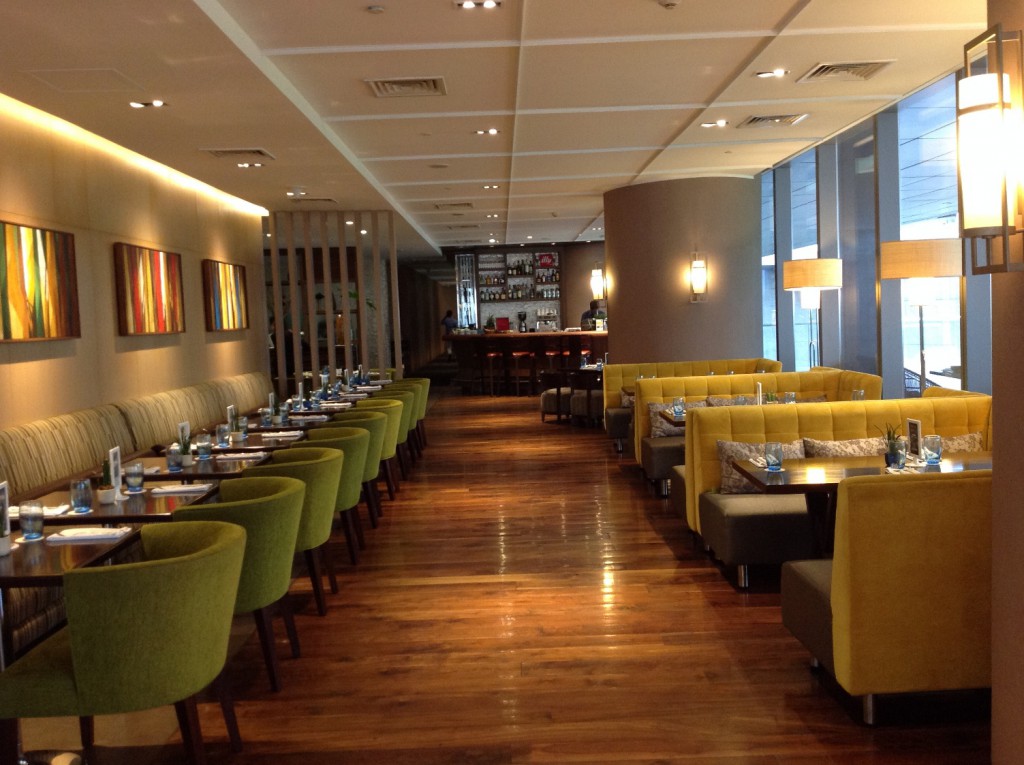 The food at Terraz is a fusion of all-time favorite comfort food with a variety of Filipino, Asian and other touch of international dishes. "We created and enhanced our menu with a touch of international flair as most of Terraz customers are expatriates, business executives and young professionals working in the building and nearby offices", says Main Chef Arnold Gozon.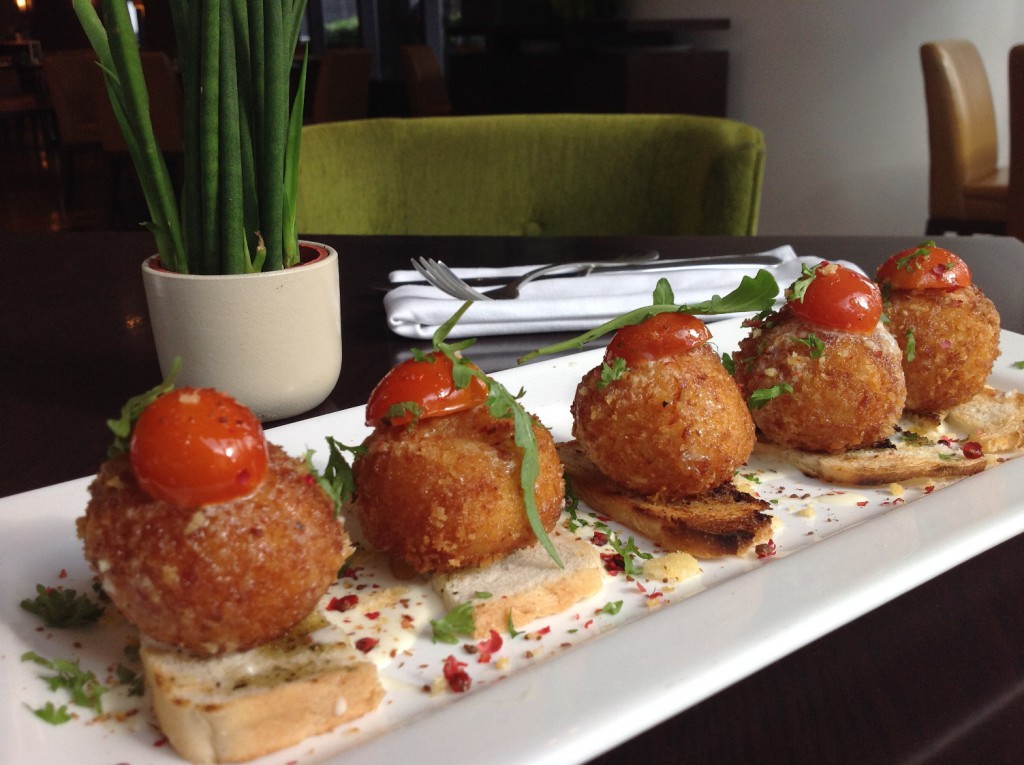 Tapas Selection US Beef Ham and Gorgonzola (P350)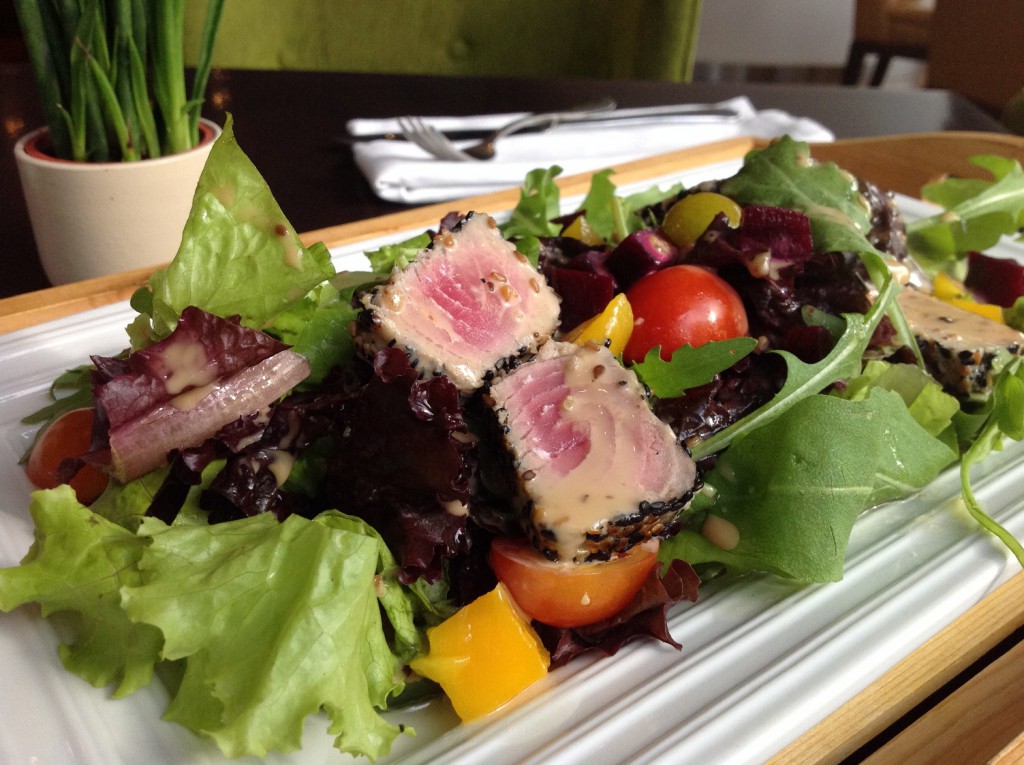 Sesame Crusted Ahi Tuna (P275)

An enjoyable meal is not complete without the appetizer and a tapas selection is not satisfying without a fried item like this lusciously good, crunchy bite-size starter Tapas Selection US Beef Ham and Gorgonzola "Croquetas" (P350). For salad lovers who go for the healthy edibles, the fresh and flavorful Sesame Crusted Ahi Tuna (P275) is just perfect as it has the goodness of pan-seared tuna and the wholesome mix of romaine lettuce, sliced Japanese cucumber, and vine cherry tomatoes in flavorful sesame dressing.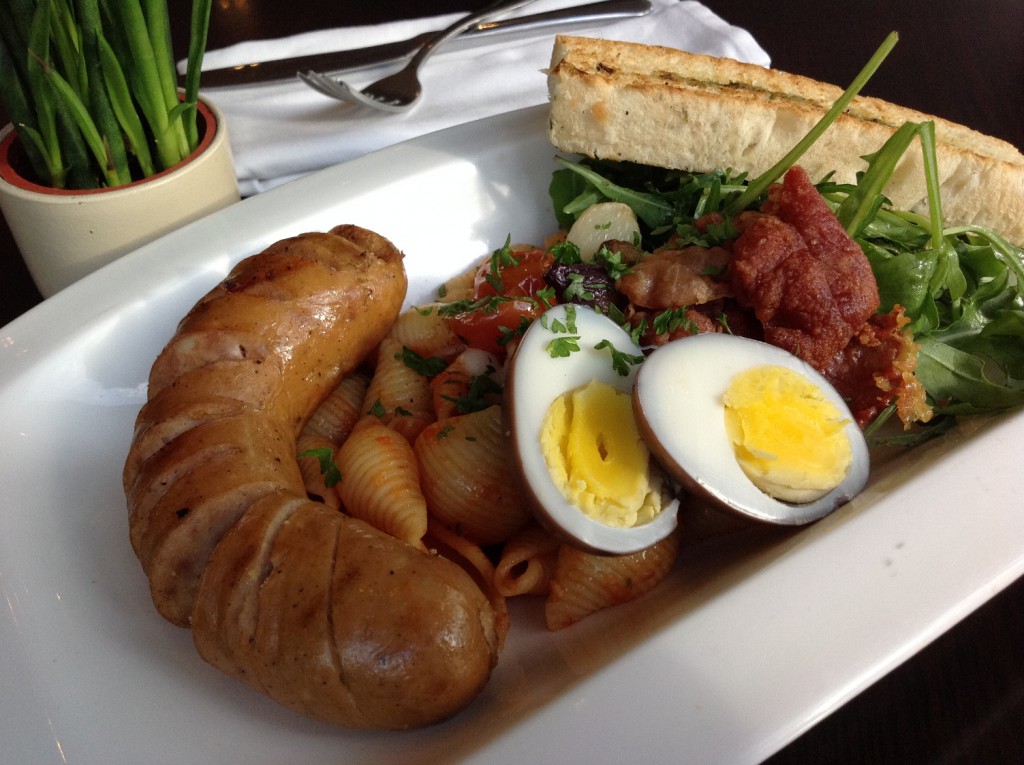 Oven Roasted Conchigle with Mozzarela di Bufala (P350)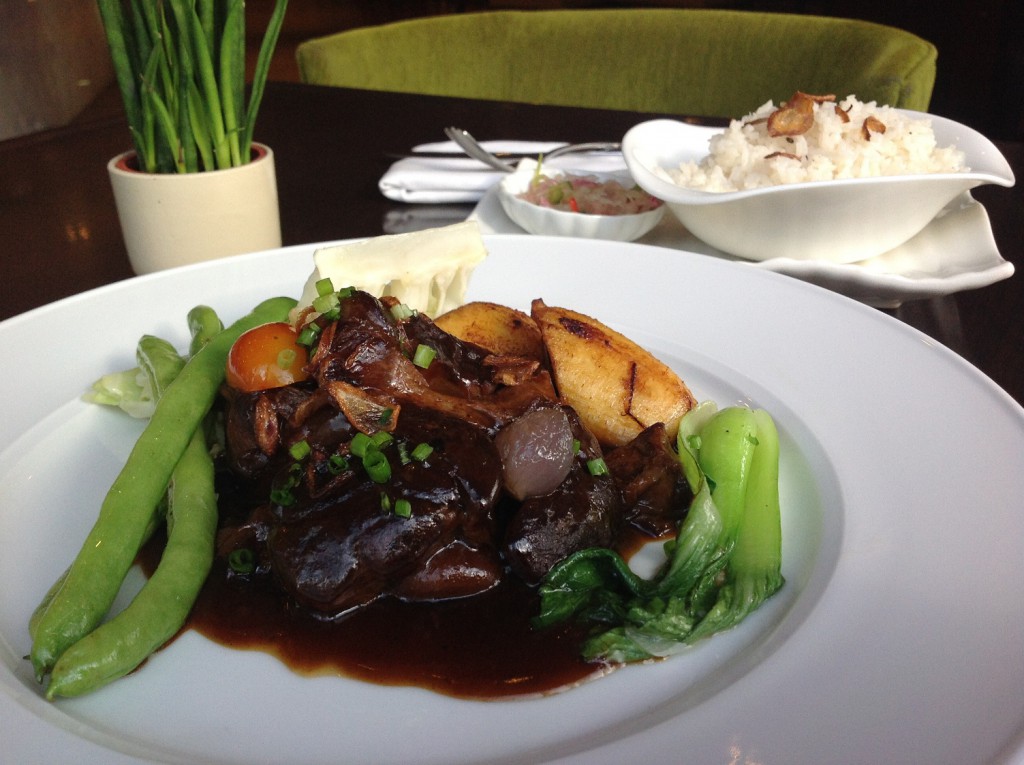 Visayas Style Pork Knuckle Humba (P295)
On the pasta line is a classic menu transformed into a modern style dish, the Oven Roasted Conchigle with Mozzarela di Bufala (P350), a delightful and distinctive special pasta cuisine great for lovers of macaroni, sausage and mozzarella cheese on the side. For some Asian inspirations main course, among its signature offerings is the delicious Filipino pork dish Visayas Style Pork Knuckle "Humba" (P295), a scrumptious meal for those with discriminating appetite for some local culinary and fiesta culture taste. It is cooked from choice pork knuckles drenched in tasty dark sweet sauce served with lemongrass fried rice, fried banana and steamed native vegetables.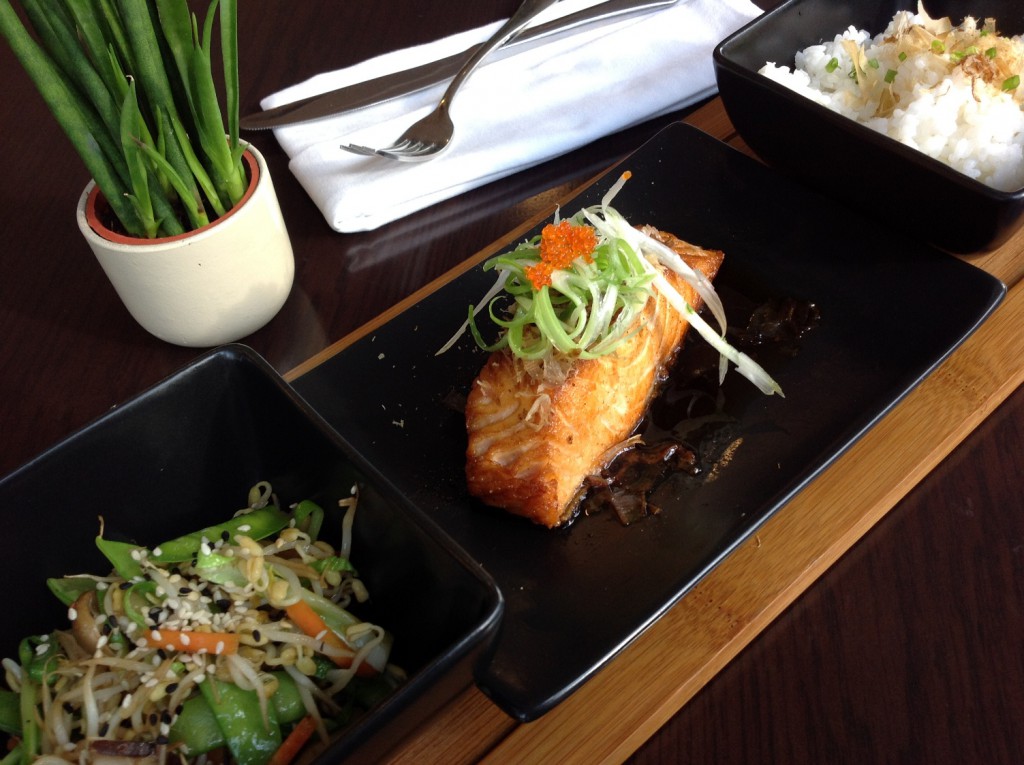 Pan-Seared Salmon with Mishima Mix (P395)

The bistro also offers some authentic Japanese-inspired flavors. A must-try is its Pan-Seared Salmon with Mishima Mix (P395). This freshly-cooked, soft-textured salmon meat main course served with steamed Japanese rice, buttered vegetables and ponzu (Citrus based) sauce is a satisfying treat for fish and veggie fans with its balance of flavors and high nutritional value.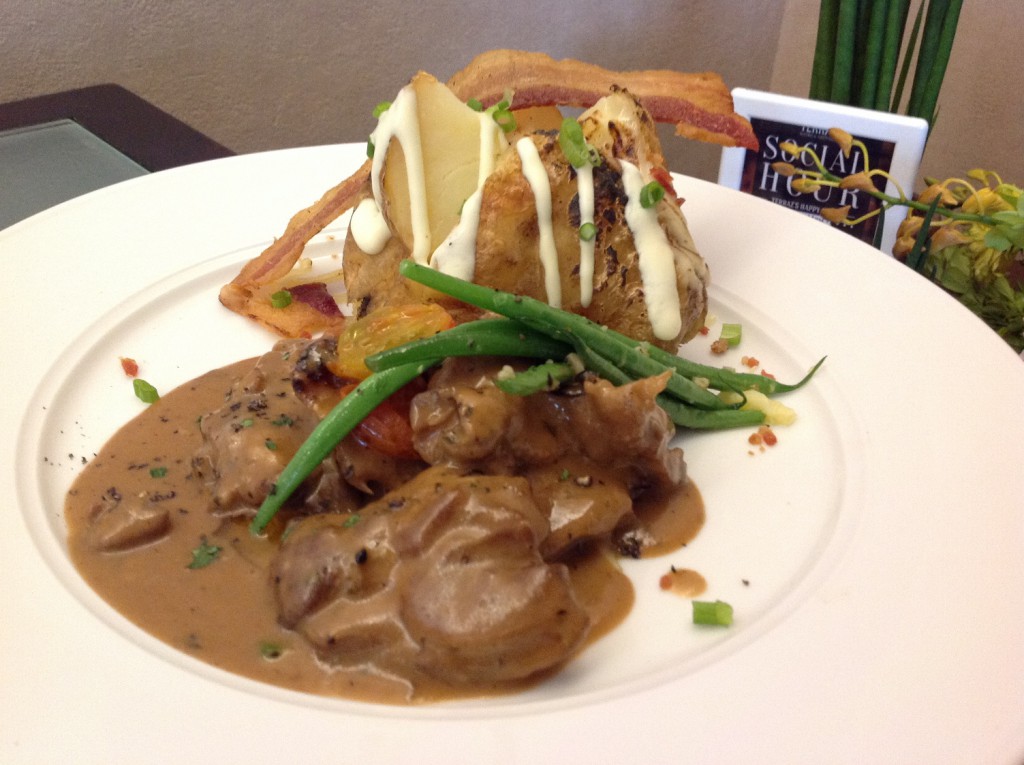 Grilled Bacon Wrapped Pork Medallion & Foie Gras (P695)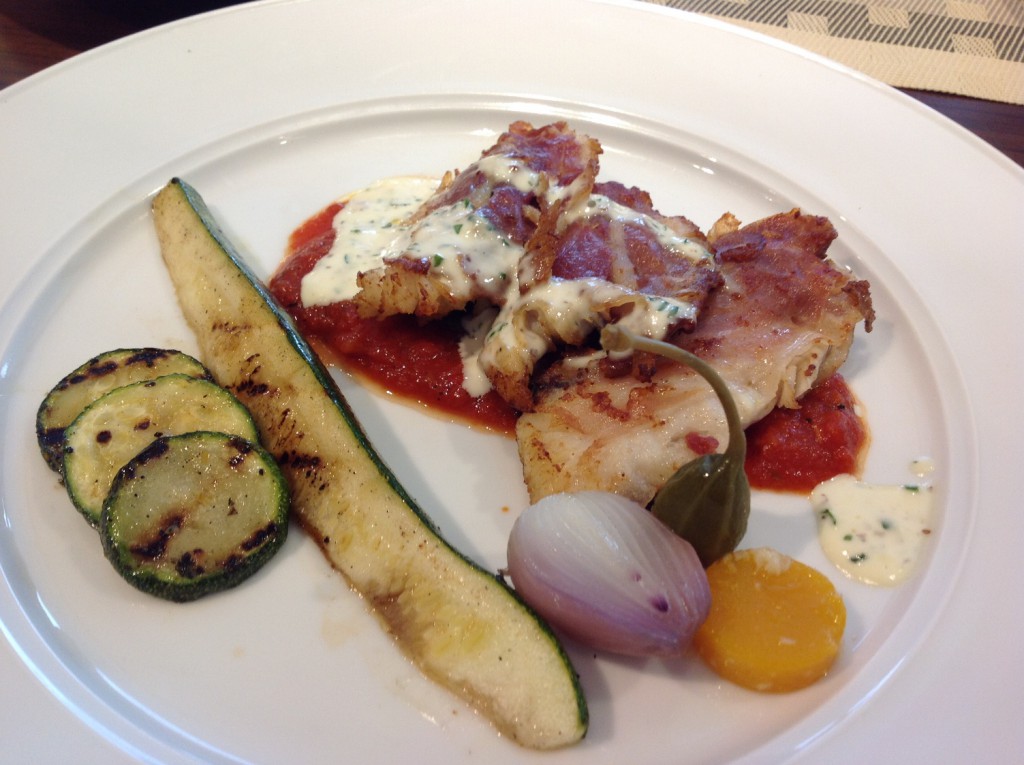 Buttered Tilapia Saltimbocca (P350)
For its Western flavor selections, one of the best-sellers is the Grilled Bacon-Wrapped Pork Medallion & Foie Gras (P695) served with macaire potato, sautéed vegetables, mushroom ragout and merlot sauce. This filling meal plate bursts with the rich taste of bacon, meat, foie gras, and mashed potatoes. Another favorite is the distinctive and appetizing Buttered Tilapia Saltimbocca (P350), a wonderful creation with the locally produced fish as the main ingredient. The Tilapia fish is perfectly cooked and served with vegetable pilaf, asparagus, sage tomato sauce and grain creamy mustard sauce.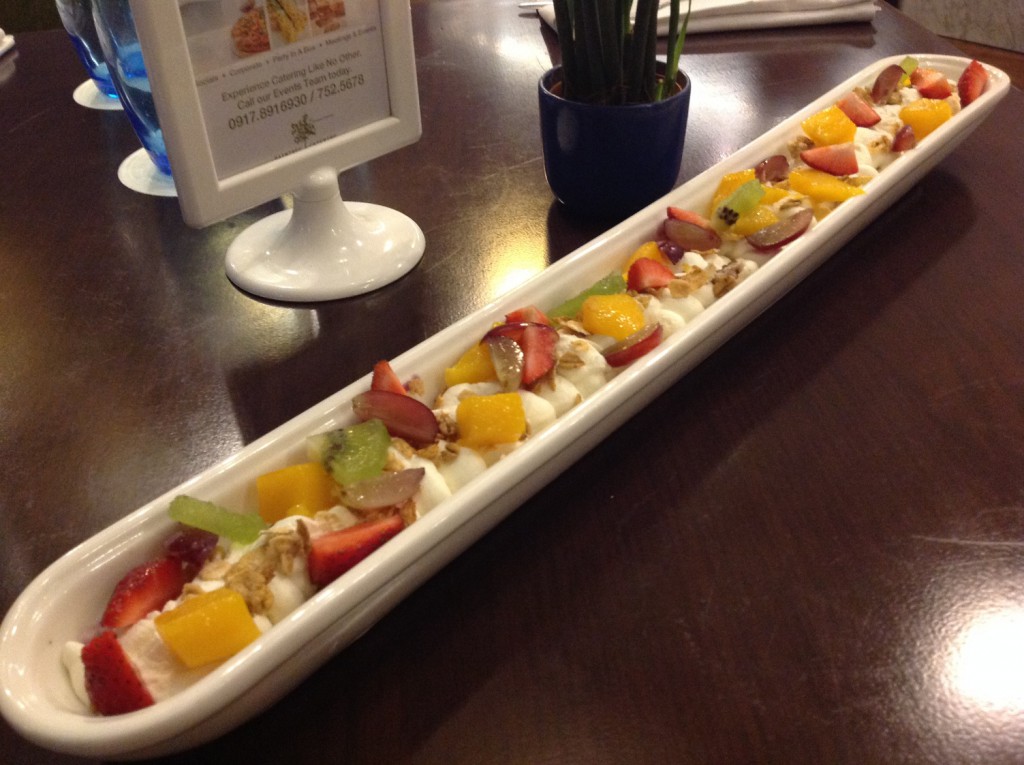 Pavlovaz (P150)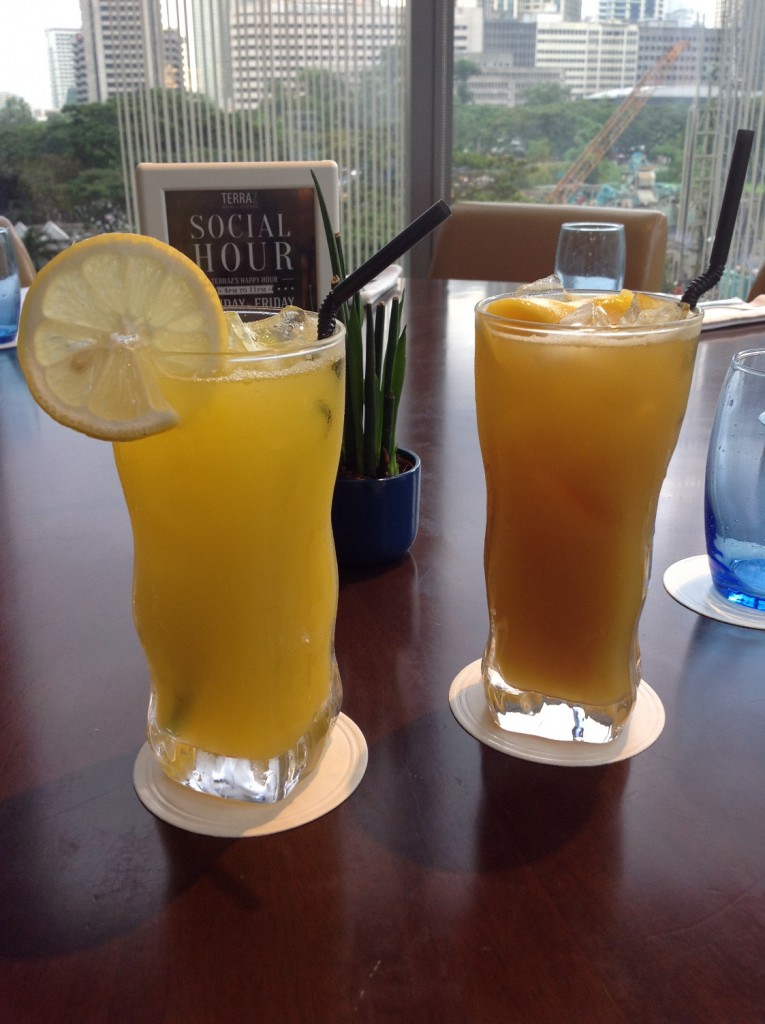 (L-R) Fresh House-Made Mango and Peace Lemonade (P130) and Special Mango and Passion Fruit (P120)
On the sweets department, the appealing Russian-inspired elegant dessert menu called Pavlovaz (P150) is a tastefully lavish treat that looks and tastes delightful. This refreshingly light sweet crisp meringue layer with whipped cream, blueberry sauce, granola, chopped walnut and fresh fruits (mango, strawberry, grapes and kiwi) is served on a charming elongated plate making it look even more uniquely special. Terraz also has a wide selection of thirst-quenching beverages for a more enjoyable dining experience. They have their own signature Raintree flavorful and must-try variations of special iced teas like the Mango and Passion Fruit (P120) and fresh house-made Mango and Peach Lemonade (P130).
Terraz Bistro and Meetings is a perfect place for awesome food selections, magnificent ambiance and glorious idyllic place amid the busy work life in the city, fostering a more fruitful, motivating, and balanced lifestyle even for the busiest among us.
 –
Photos and article by Adrian Pempena

3/F, Zuellig Building, Makati Avenue corner Paseo de Roxas, Makati City
(02) 625 4831 / (02) 625 4832
11:00 am to 11:00 pm (Monday-Friday)
Saturday and Sunday (Closed)