MilkyWay Cafe in Rockwell Brings Nostalgic Filipino Favorites to Your Table
Filipinos are known to have an exceptional culinary history, which was influenced by the Spaniards, Americans, and the Japanese. But as time flies by, we tend to forget the stories that come with it.
Fortunately, there are Filipino restaurants that perfectly resonate with these stories—one of which is MilkyWay Cafe at Rockwell Powerplant Mall.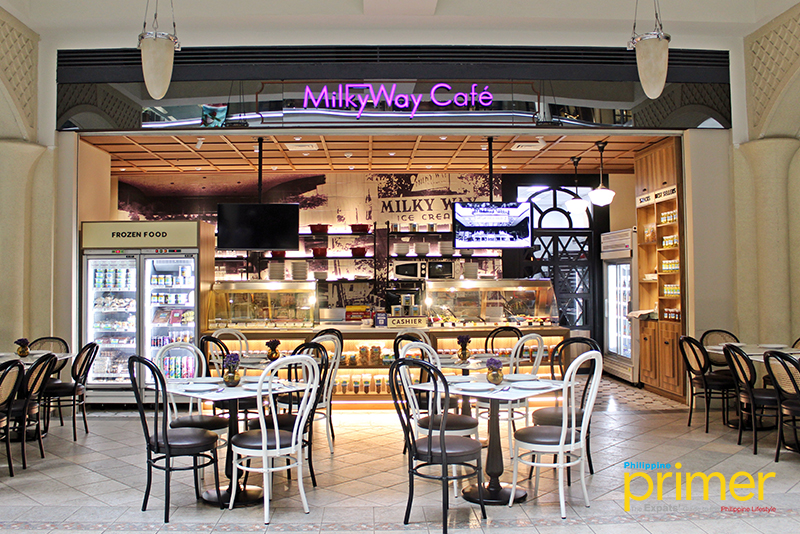 Its story dates back in 1962 when Executive Chef J Gamboa's mother, Julie Araullo Gamboa, put up a restaurant in the old San Miguel district next to the Malacañang Palace. It started out as an ice cream factory that his grandfather bought during World War II.
Eventually, his mom brought over dishes from Pampanga and started serving merienda (afternoon snacks) along with the signature MilkyWay ice cream. In the 70s and 80s, the business expanded to the newly minted business district of Makati.  At one point, there were 14 MilkyWay outlets in shopping centers, food courts, and office buildings in the Makati CBD.
In 1984, the MilkyWay Building on Arnaiz Avenue, Makati was established.  From there the family's other restaurant brands were born: Tsukiji Restaurant, Cirkulo Restaurant, and AzuThai Restaurant.
Also read: MilkyWay Café in Makati
What sets MilkyWay Cafe apart from other Filipino restaurants around the metro is their persistence to continue on with their family legacy. They prove that Filipino restaurants can still keep up with emerging food concepts without tainting the true essence of their brand.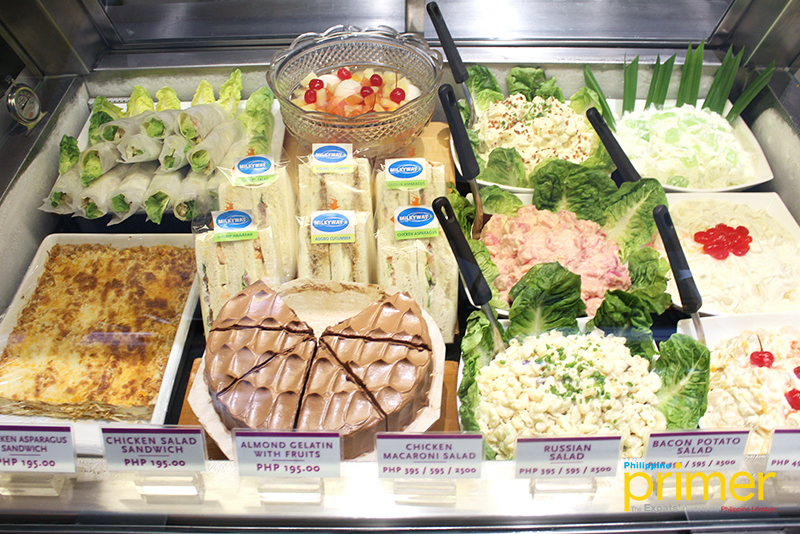 MilkyWay Cafe's salads and sandwiches
MilkyWay is one of the few restaurants where you can actually eat the best of homemade Filipino dishes, such as Kare-Kare (Php 365), Pork Sinigang (Php 365), and Bistek Tagalog (Php 327), to name a few.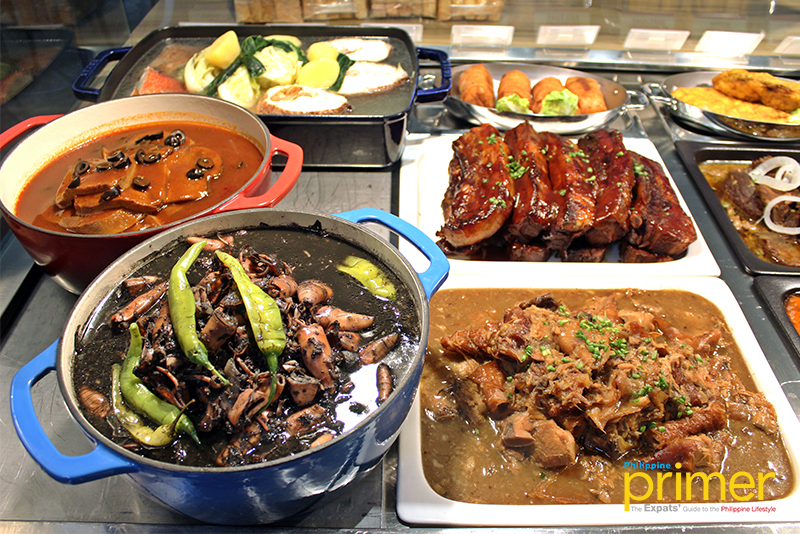 They serve homemade Filipino dishes the old Filipino way—turo-turo, wherein customers pick their food through a glass shelf
Every dish is made from scratch—the same as how it was cooked by the original chefs back in the 60s. Chef J assures that they only use premium and high-quality ingredients to bring out the best flavors of their entrees. The way they value the importance of the ingredients they use is the reason why diners keep coming back to them.
Also read: Business Talk with Chef J Gamboa
While their Arnaiz branch is designed to serve ala carte dishes that are made to order, MilkyWay Cafe in Rockwell serves dishes in turo-turo style—a manner of picking food through a glass shelf, which is a common practice in small local eateries. It lets customers experience the customs and traditions Filipinos grew up with.
Aside from homemade dishes, they also offer ready-to-eat frozen food packs that customers can take home, like pork binagoongan (pork in shrimp paste), dinuguan (pork blood stew), embotido (sausage), relyenong manok (stuffed chicken) and many more.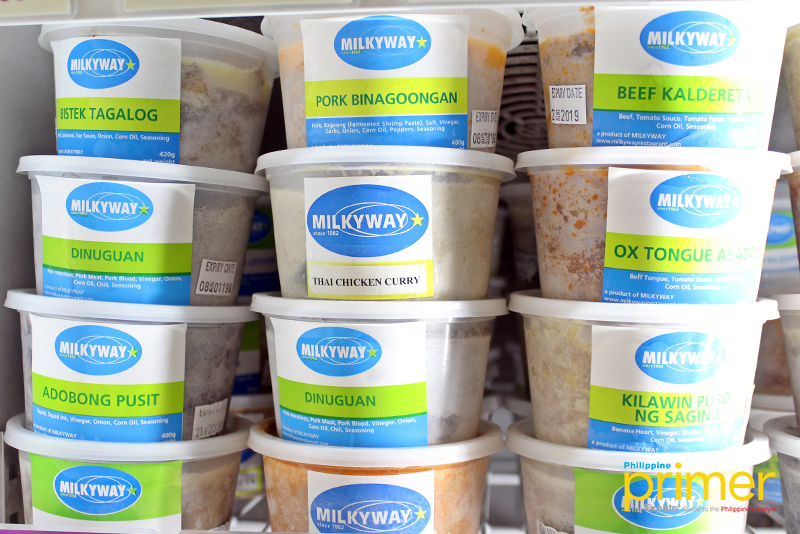 Ready-to-eat frozen food packs
Displayed in their shelves are best-selling bottles of homemade classic condiments, such as bagoong (shrimp paste), atchara (pickled green papaya), and Thai chili sauce.
You may also want to check out their fermented mangoes like the burong manggang pajo (pajo mangoes in brine) and dikiam na manggang pajo (pajo mangoes in syrup) that is only available in MilkyWay. These bottled, olive-like small mangoes are something you can eat after a meal to refresh the palette.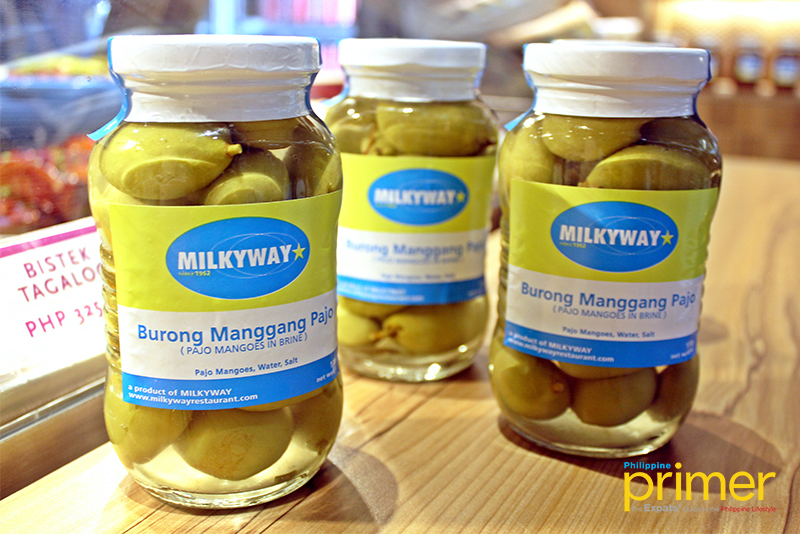 Burong Manggang Pajo (Pajo Mangoes in Brine)
For merienda, they have packs of classic Filipino snacks like chicharon, polvoron, and puto seko. A must-try is their old-time dessert favorite MilkyWay Halo-Halo (Php 225) and their MilkyWay Ice Cream (Php 225). They only have three ice cream flavors: cheese, ube, and avocado, which are the usual flavors that Filipinos love.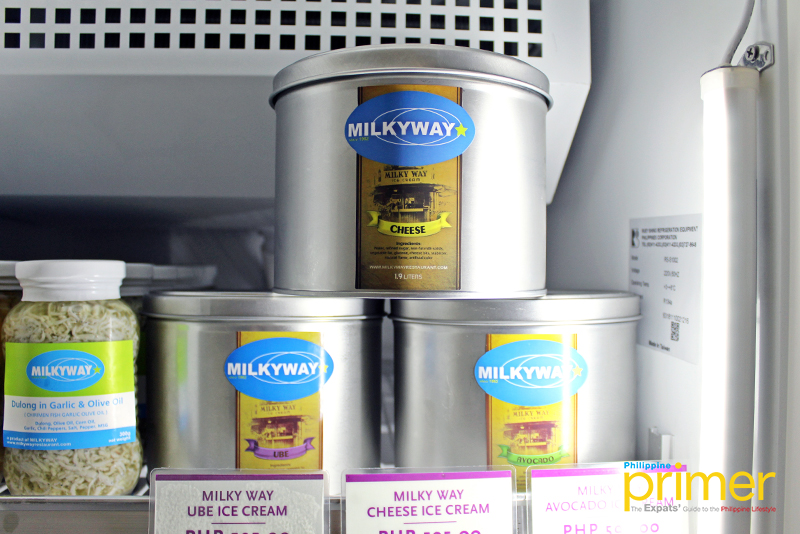 MilkyWay Ice Cream in Cheese, Ube, and Avocado (Php 595)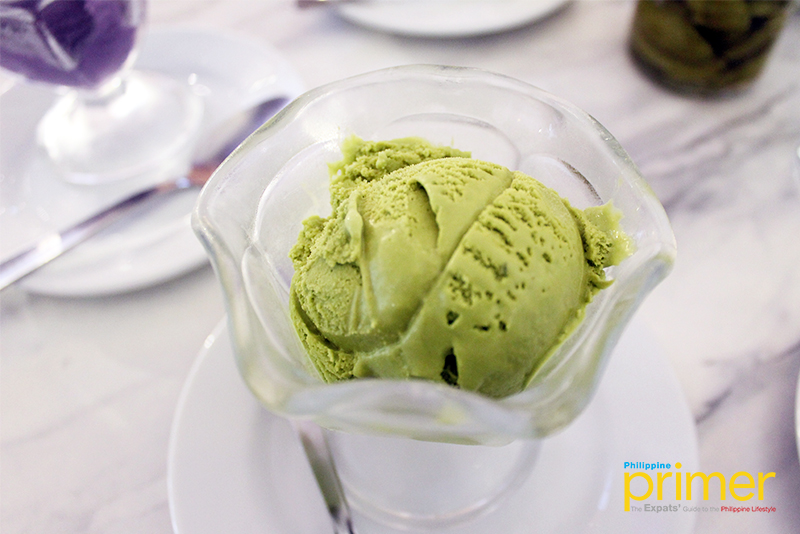 A scoop of MilkyWay Avocado Ice Cream (Php 225)
Bring your family at MilkyWay Cafe to take you on a gastronomic journey into the best of Filipino cuisine!
How to get here
By car: From Ayala Ave., drive at Paseo de Roxas and head towards Makati Ave. Turn right onto P. Burgos street and make another right turn onto Kalayaan Ave. From Plaza Drive, continue onto Amorsolo Drive going to Rockwell center.
---
Written by Deneca Ordinanza
General Information
GF Power Plant Mall, Rockwell Center, Makati City
02-898-0794
10 am to 10 pm
2/F 900 Arnaiz Ave. cor. Paseo de Roxas, Makati City
02-843-4124