Midway Grill
When it comes to the surfing haven La Union, locals often have one single recommendation of where to eat: Midway Grill along the highway in San Fernando, home of the famous Baby Back Ribs.
.
The interiors
.
Midway Grill is a homegrown American restaurant with personality. The restaurant has a 50's diner feel, with checkered floors and photos of vintage icons in the walls. They also have an extensive menu – they serve all-day breakfast, rice plates, sizzling viands, classic Filipino favorites such as laing and dinuguan, soups and salads, sandwiches, noodles and pasta, grilled specials, and desserts.
There are a lot of hits on Midway Grill's menu, but the Baby Back Ribs (P199) is Midway Grill's pride and joy. There is often a fifteen to twenty-minute wait whenever you order one of these babies, but it is worth it. The meat is very tender and tears cleanly off the bone. The taste is smoky, sweet, salty and tangy all at the same time. It's also more lean meat than fat, which makes it such a joy to nibble.
.
Baby Back Ribs (P199)
.
Breakfast lovers will enjoy The Midway Slam (P175), which consists of two large, thick pancakes with butter and light syrup, two eggs, and a choice of any two meats from ham, bacon or sausages. This is ridiculously filling and good for two if you're not very hungry.
.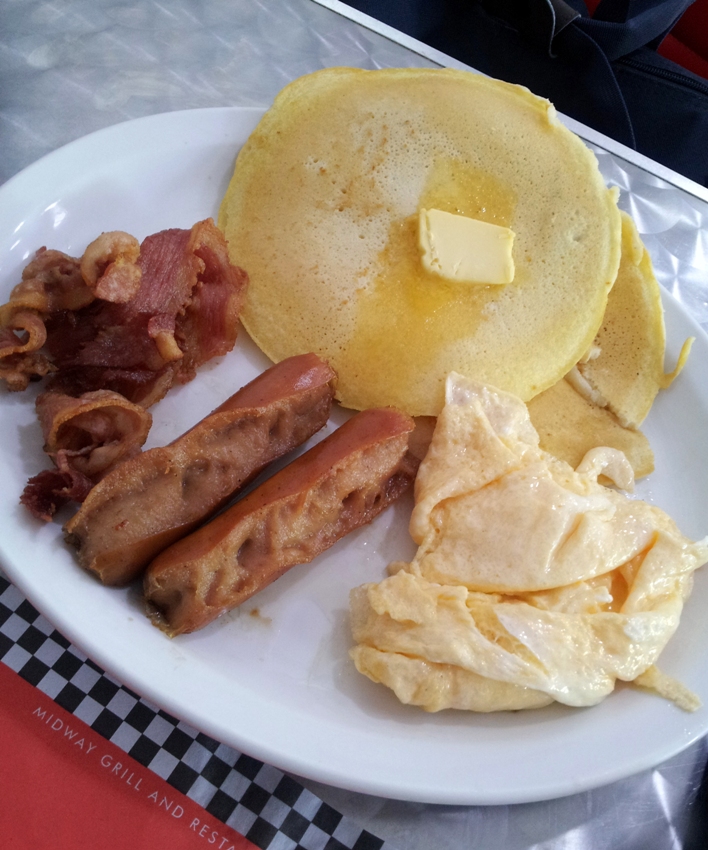 The Midway Slam (P175)
.
For something distinctly local, the Sizzling Pulpog (149) is an original La Union dish, made with charcoal-grilled pork cutlets that are tossed with fresh onions, chili and peppers. It is a close Ilocano deviation of the sisig, and while Midway's version is delicious, it is also very spicy – and therefore, not for the faint of heart.
.
Sizzling Pulpog (P149)
.
If you find yourself in La Union, do not miss out on dining at Midway Grill. Whatever your preferences are, it's guaranteed that they will always have something enjoyable for you.
.
Article and photos by Jess Jacutan

National Highway, Brgy. Carlatan, 2500 San Fernando, La Union

Monday to Sunday, 9:00 am to 10:00 pm