Kusina Moderne in Poblacion Elevates Filipino Food with French Cooking Techniques
Who would have known that Filipino dishes can be cooked using French techniques? Well, Kusina Moderne in Poblacion, Makati proves it is quite possible!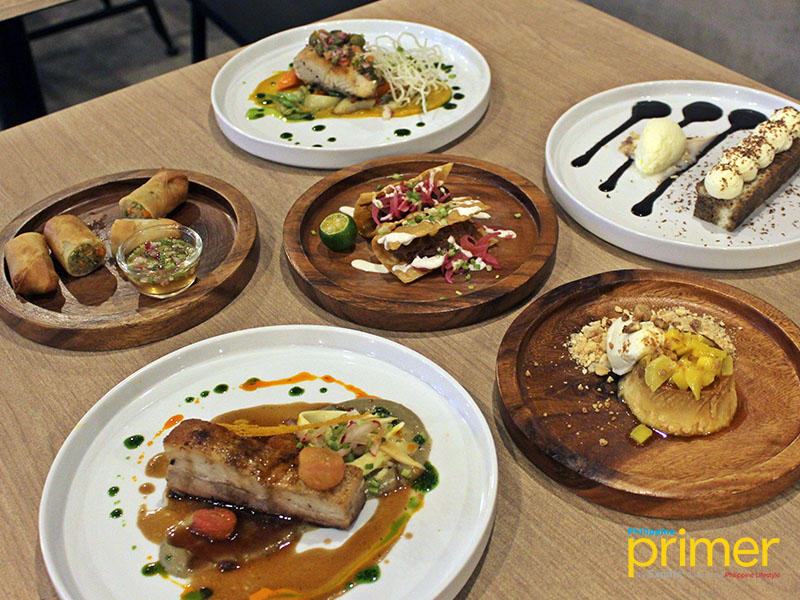 This new contemporary Filipino restaurant offers traditional Filipino food mostly done in French technique. It is the brainchild of cousins Chef Carlo Gunio and Irelll Perez, together with Albert Uy. 
The plan of putting up this restaurant started seven years ago when Irell and Chef Carlo thought of creating a business. At that time, Chef Carlo just entered culinary school in Le Cordon Bleu Ottawa Culinary Arts Institute in Canada.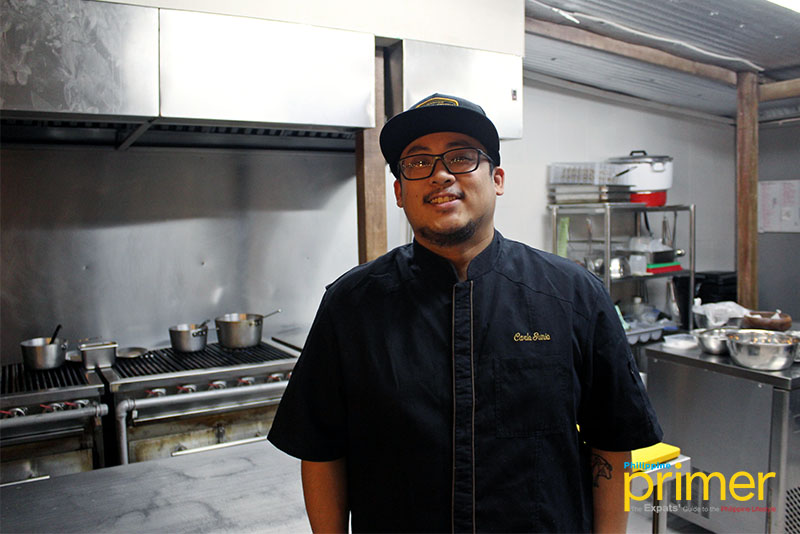 Chef Carlo Gunio, head chef and one of the co-owners of Kusina Moderne
Chef Carlo went back to the Philippines in 2018 to build the dream job after gaining enough culinary experience abroad—one, in particular, is his former job at the French Embassy in Washington, DC.
Opened in May this year, Kusina Moderne boasts of an entree of Filipino food reimagined by presenting local delicacies in a deconstructed way—all while retaining traditional flavors.
The restaurant's concept is also backed by the idea of elevating Filipino food with French cooking techniques, which will remain affordable even for the working-class people.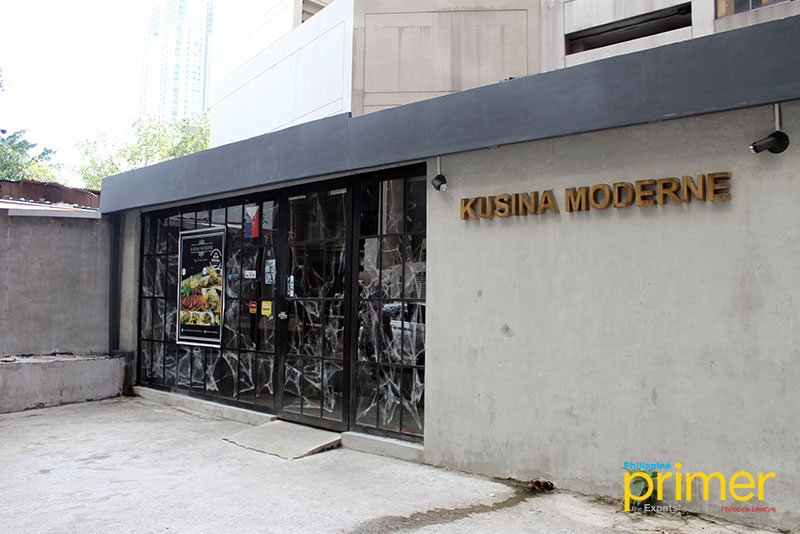 Kusina Moderne in Poblacion, Makati 
"We just wanted our diners to be satisfied. I'm happy that I can make them happy through the dishes I created. That's a satisfaction for me as well," Chef Carlo said.
Start off your meal with a unique dish called Crispy Pancit (Php 185). Inspired by Vietnamese spring rolls, this fried fare is Kusina Moderne's take on the traditional Filipino pancit bihon or rice noodles, wrapped in lumpia wrappers and served with vinegar dip.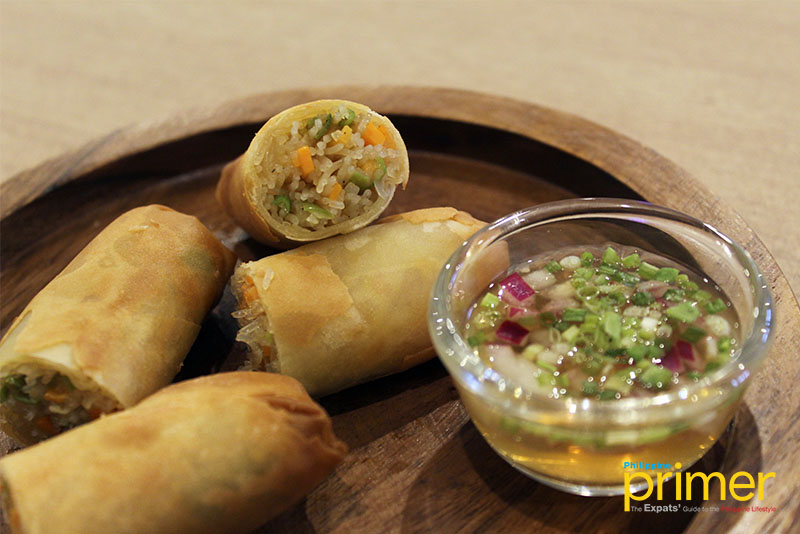 Vietnamese spring roll-inspired Crispy Pancit (Php 185)
Chef Carlo shared that when he was eating at a Vietnamese restaurant, he noticed the rice vermicelli stuffed inside the spring roll, which reminded him of pancit bihon. That is basically how the Crispy Pancit came about.
A very popular dish from their menu is the Mechado Tacos (Php 195). At first glance, you'd know that this taco is different from the usual Mexican tacos because Kusina Moderne used wonton wrappers as shells.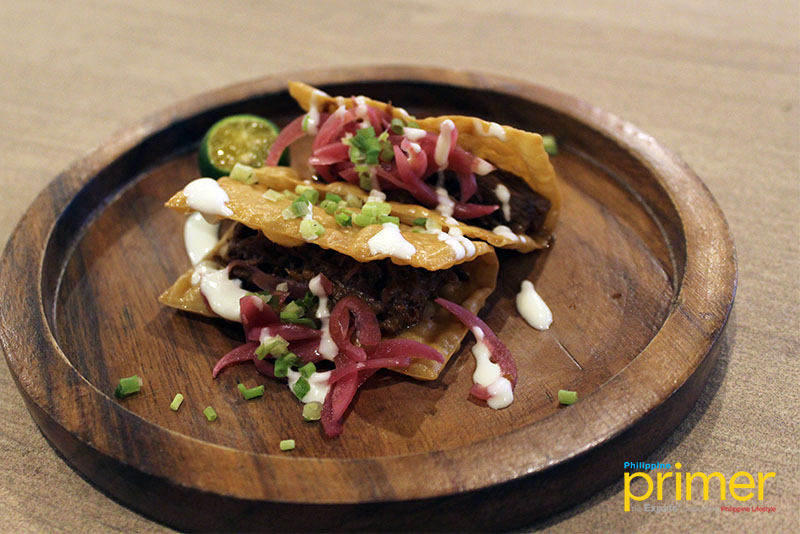 Mechado Tacos (Php 195)
It is stuffed with shredded braised beef mechado, guacamole, cilantro, sour cream, and pickled red onion to balance out the saltiness.
Moving on to the main course, a popular dish for the ladies is their Tanigue (Php 395), a regular seared tanigue fish or chub mackerel with puréed vegetable medley of carrots, papaya, cabbage, and pumpkin.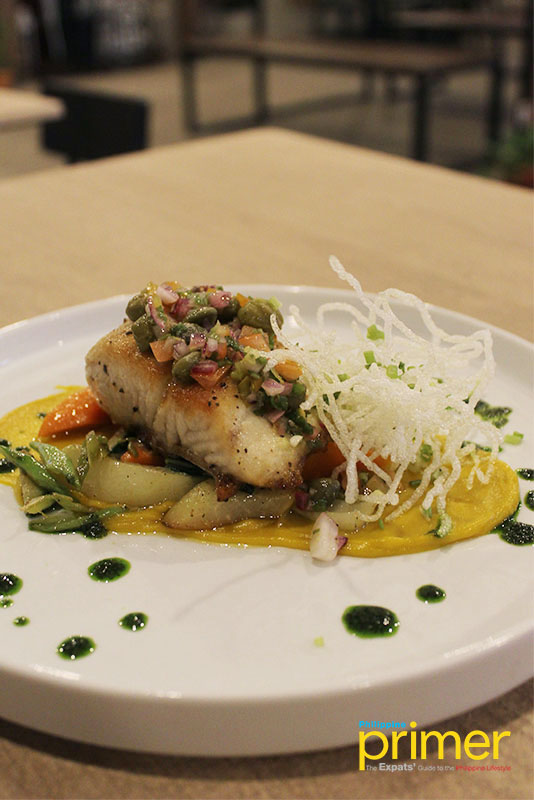 Tanigue (Php 395)
Adding a French flair to this dish is the sauce Vierge made with olive oil, lemon juice, chopped tomato, and chopped basil, with capers and malunggay or moringa leaves oil.
Another main course that they are proud of is the Pork Binagoongan (Php 395). This roasted pork belly dish is so tender that you can easily cut through the meat. Its savory binagoong or shrimp paste sauce gives off a slight aftertaste to the smoky flavor of the pork.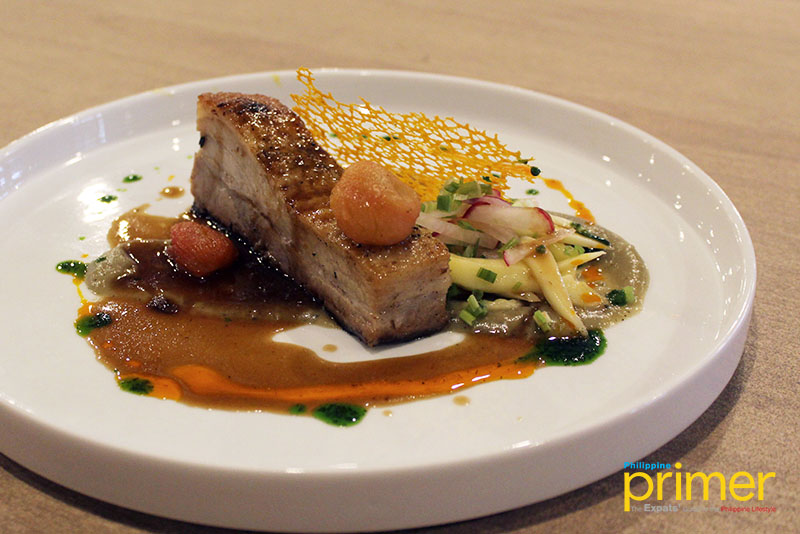 Pork Binagoongan (Php 395)
For dessert, they recommend diners to try the Cheesecake flan (Php 185)—their own take on the Filipino custard dessert leche flan. This crème caramel dessert has a smooth textured cheesecake-inspired custard, glazed with caramelized sugar syrup.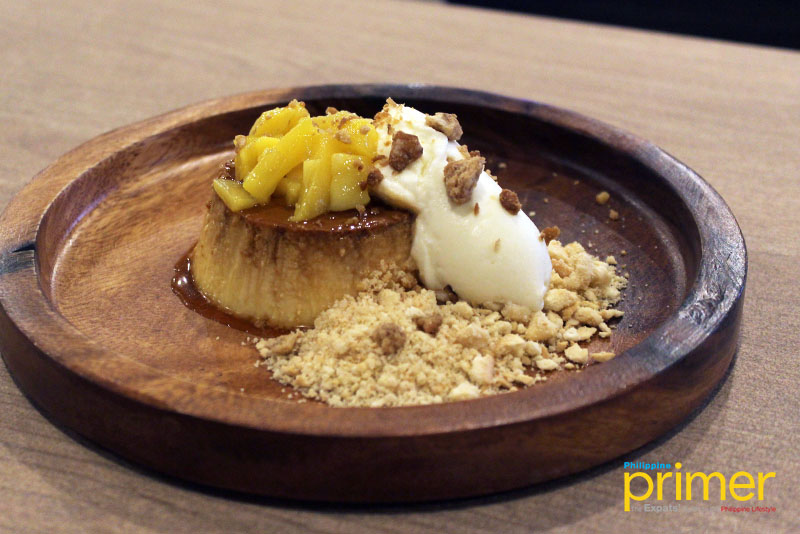 Cheesecake flan (Php 185)
You might be surprised with this dessert because instead of using graham crackers for an added crunch, Chef Carlo used crushed Marie biscuit, which he loved eating as a child.
Chef Carlo noted that they have plans to expand their menu with more curated dishes. Luckily, we were able to taste one of the newest additions to the dessert menu, the Tiramisu.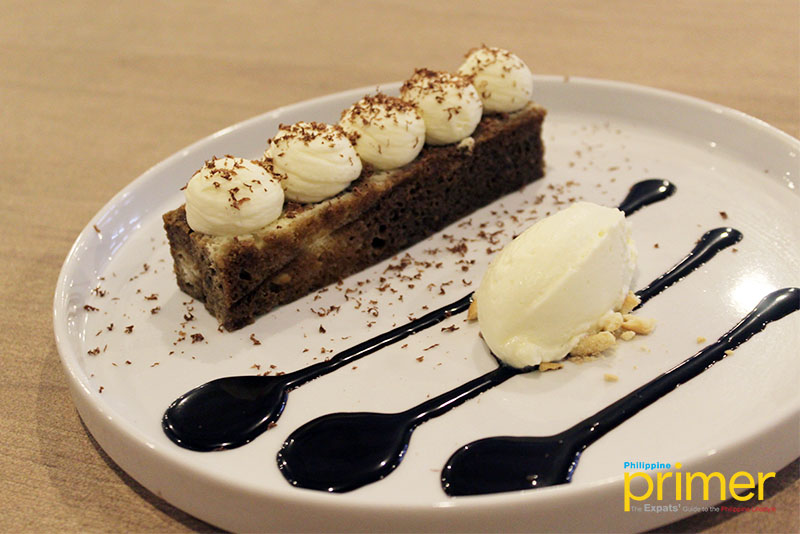 Tiramisu
Just like the classic Italian dessert, Chef Carlo tweaked the recipe by using a soft cake soaked in Barako coffee that instantly melts in your mouth. It features a rather distinct sweet taste from the whipped cream and grated Davao chocolate.
Kusina Moderne features an industrial-looking interior that exudes a non-intimidating vibe. Upon entering, you'll see the open kitchen and bar on your right. Their long tables are meant for diners to interact with their friends or family while enjoying the food.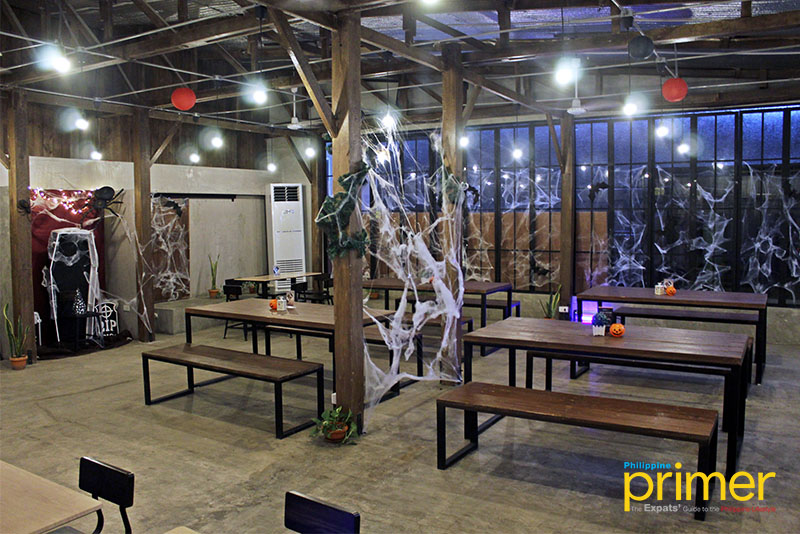 Most of the diners are tourists since Kusina Moderne is located right in front of Makati Palace Hotel and is also near Burgos, where many foreigners stay in Makati. 
How to get here
Kusina Moderne is located in front of Makati Palace Hotel. If you're coming from Ayala Avenue, you may take Makati Avenue going to Caceres Street via P Burgos Street.
They have a small parking space in front of the restaurant building.
Other nearest landmarks are Citadel Inn Makati and Queen Suites Makati.
---
Words and photos by Deneca Ordinanza

Caceres, Makati, Metro Manila

02-246-9069 extension 145

11 a.m. to 10 p.m. (Tues to Sun); 11 a.m. to 12 a.m. (Fri and Sat)

kusinamodernefiftyeleven@gmail.com
Restaurant Menu
You can scroll the image left and right.