Abe's Farm in Mabalacat, Pampanga Is A Hidden Sanctuary of Authentic Kapampangan Cuisines
If the bustling streets of Metro Manila seem to always get into your nerves, you might want to consider detaching yourself from the harsh reality of work, and get yourself some refreshing staycation.
Situated in the lush greeneries of Mabalacat, Pampanga, we found the perfect place for everyone who wants to leave the city for a while and live in a peaceful yet homey farmhouse–Abe's Farm.
Abe's Farm is located in Mabalacat, Pampanga
Abe's Farm started out as a dream for a father. It was the famous Larry J. Cruz (LJC)'s dream farmhouse—a Bahay Kubo type in a grander style, which he wished to give to his father Mr. Abe. Unfortunately, LJC died earlier than the plan so from then, Mr. Ernesto Aguilar, the owner's representative of Abe's farm, has kept this place close to what he has imagined LJC would love.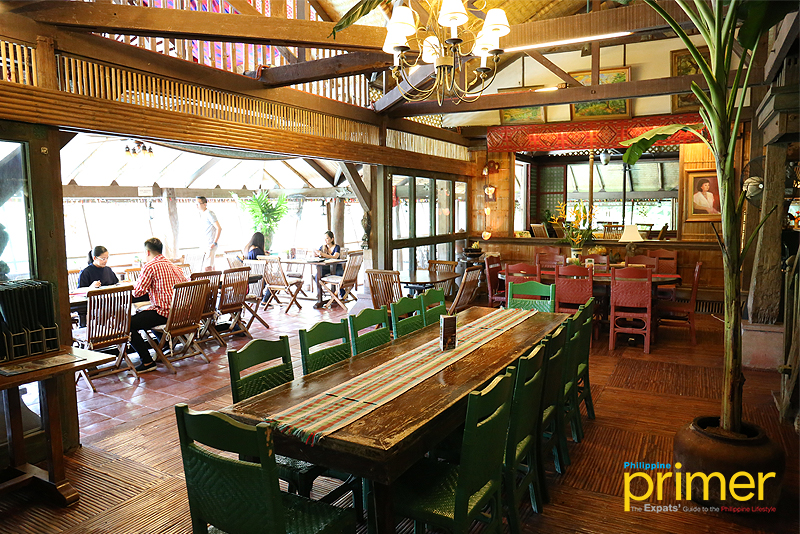 The homey, old yet colorful ambiance of Abe's restaurant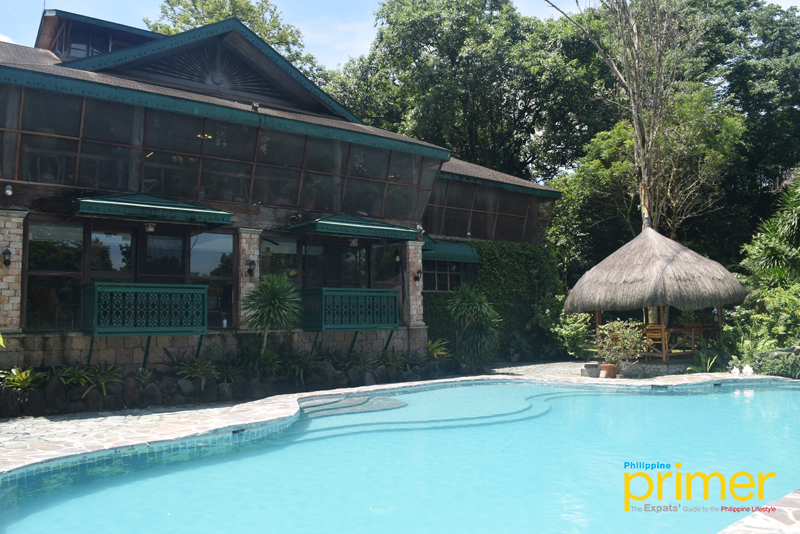 The pool area is located at the back of the restaurant, which is accessible for all guests
The concept of the farm restaurant and accommodation of Abe's is inspired by LJC's love for food and friends. He wasn't a chef, nor he knew how to cook, but he had a very sensitive taste bud, and he knew exactly what was incomplete and what was wrong with a specific dish. 
As a Kapampangan, Mr. Aguilar made sure that the food they serve are all authentic Kapampangan dishes and are LJC-approved.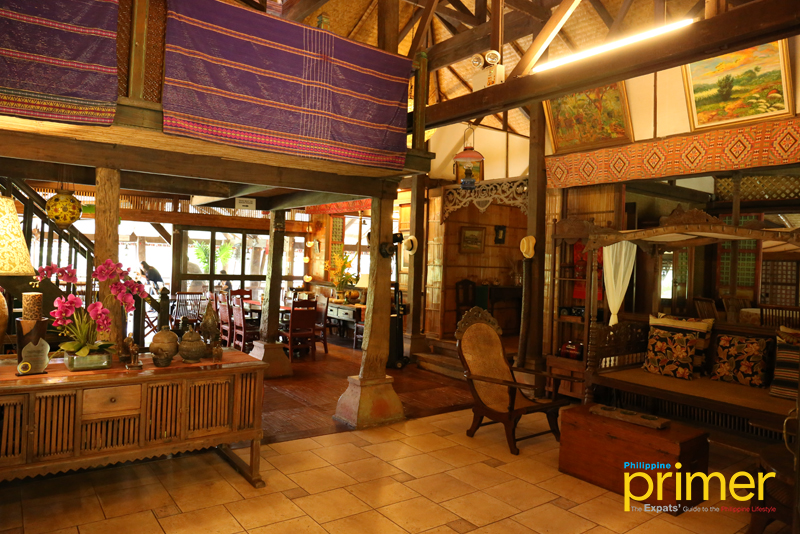 the old and rustic interior inside Abe's restaurant
That includes the famous Paco Fern and Tomato Salad (Php 185) (Fiddlehead fern) that's perfect for health-conscious or those who wish to try a different kind of salad serving as this one is usually prepared with vinegar and salted egg.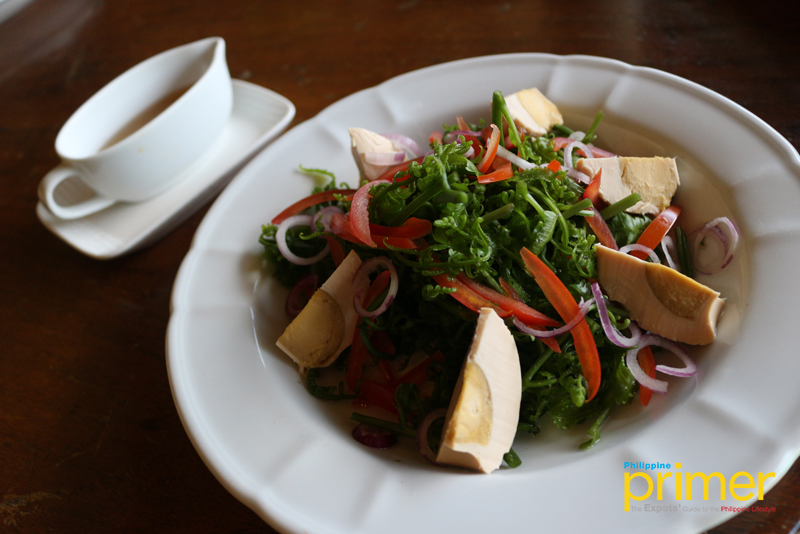 Paco Fern and Tomato Salad (Php 185)
Speaking of sour, there's a unique bowl of simmering Sinigang Na Baboy sa Ube (Php 495) here that we're sure you haven't had in a while or maybe—not at all. The Sinigang sa Ube mixes together fresh ube and sampaloc that give your taste buds a unique blend of sour and sweet. This is perfect to pair with their freshly cooked Bamboo rice (Php 325) serving.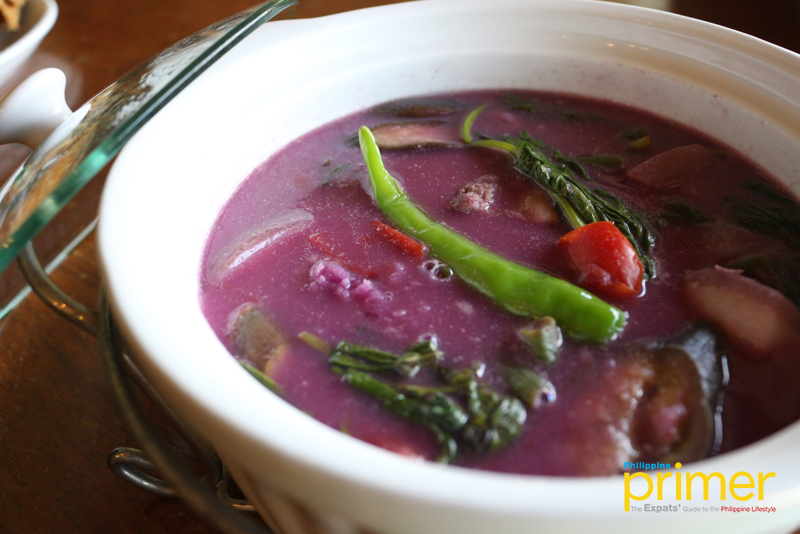 Sinigang Na Baboy sa ube (Php 495)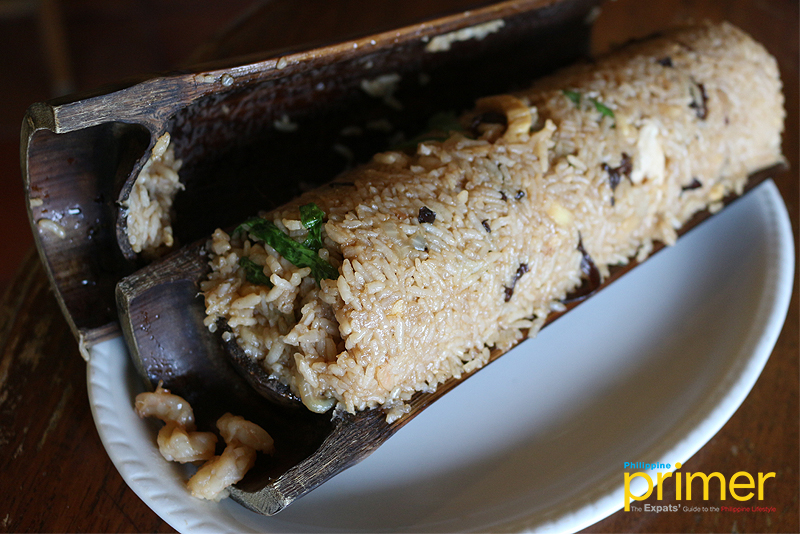 Bamboo rice (Php 325)
What's a more perfect pair for a steamed rice and a simmering pot of soup than their Binukadkad na Plapla (Php 425)? An overgrown tilapia butterflied and fried to delightful crispiness, this amazing dish is served with balo balo relish (fermented rice with shrimp sauce) and mustasa (mustard greens) leaves.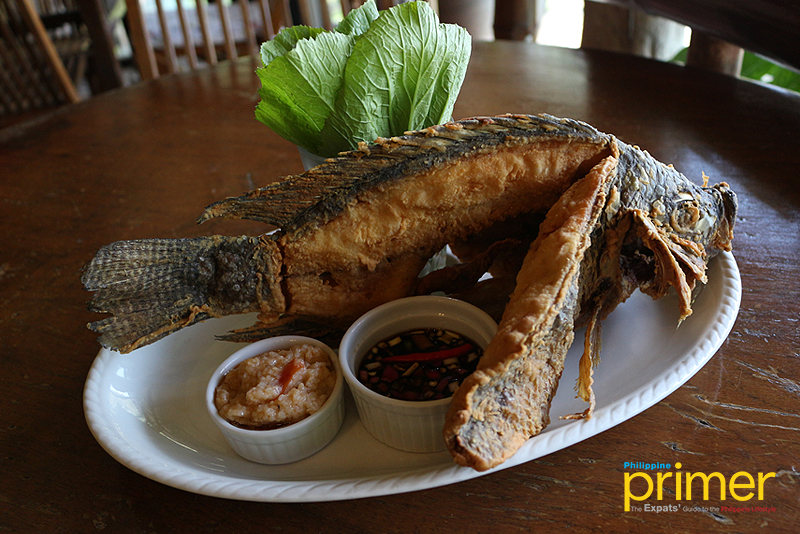 Binukadkad na Plapla (Php 425)
And because a trip to Abe's Farm is one long drive, forget all the diet and indulge with either the Knockout Knuckles (Php 675) also called crispy pata or the Sugpo Coco Loco (Php 675) or fresh prawn to make your visit a lot more worth it!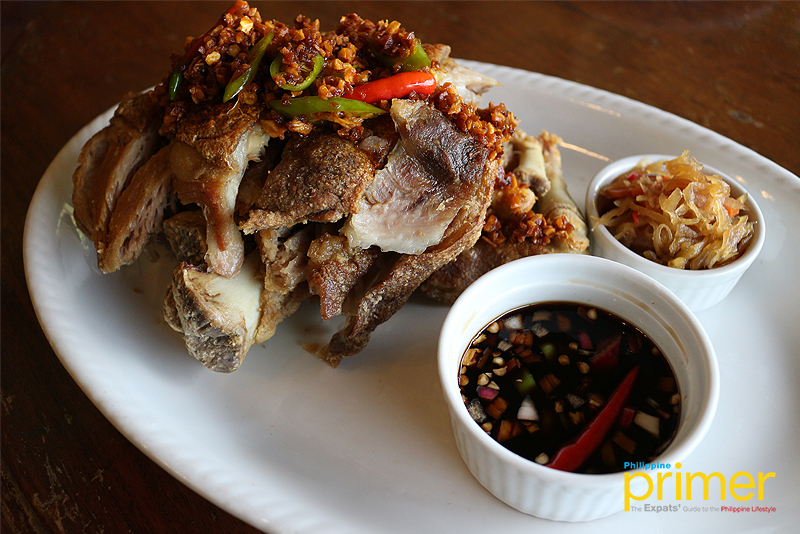 Knockout Knuckles (Php 675)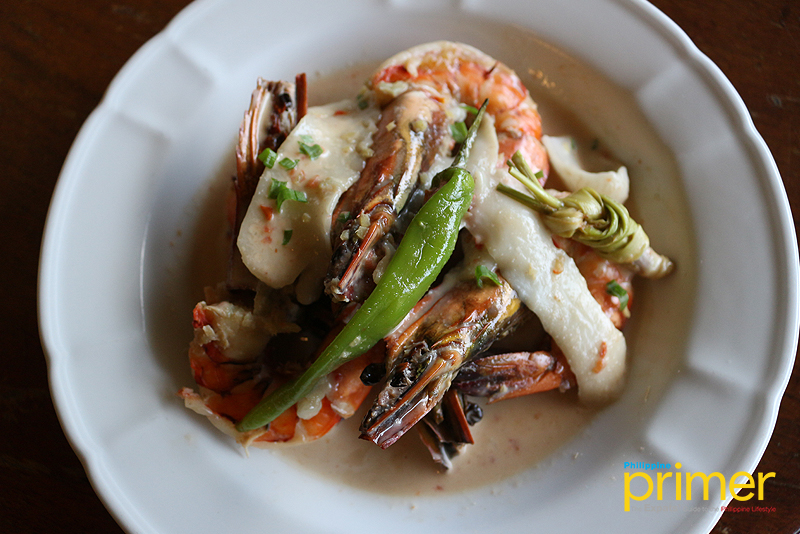 Sugpo Coco Loco (Php 675)
Shall we head on to dessert? Of course, what's a Filipino dining experience without a palate of Fresh Fruit Platter (Php 235) for a dessert, right?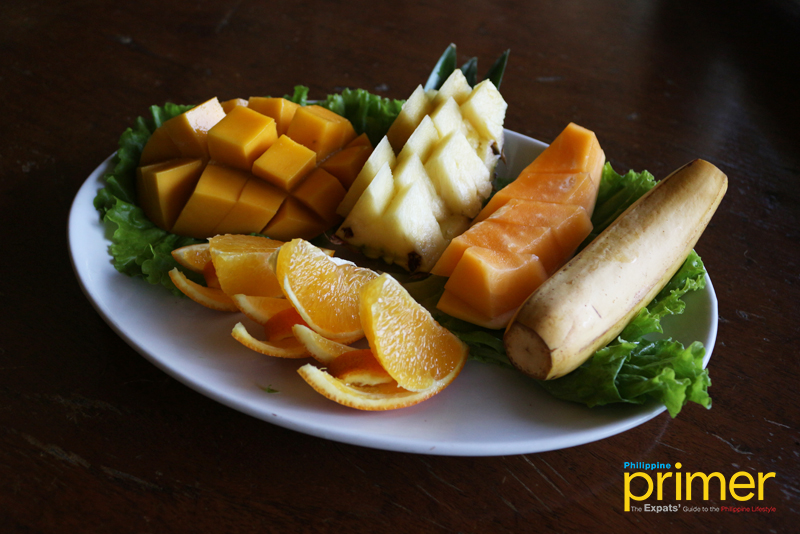 Fresh fruit Platter – Php 235
Accommodation
A refreshing taste in the restaurant should be equaled by a relaxing stay at Abe's. From a restaurant, it grew even more and became a sanctuary for everyone who wishes not just to taste authentic Kapampangan cuisines but to also feel the warmth of home in a secluded place surrounded by nature.
Abe's farm offers 6 types of room. For couples, you can give their famous Ifugao Hut Room (Php 2,990) a try. You can also either choose from their Twin Bed (Php 3,500) or the Regular Rooms (Php 4,000), whichever you think is best for you.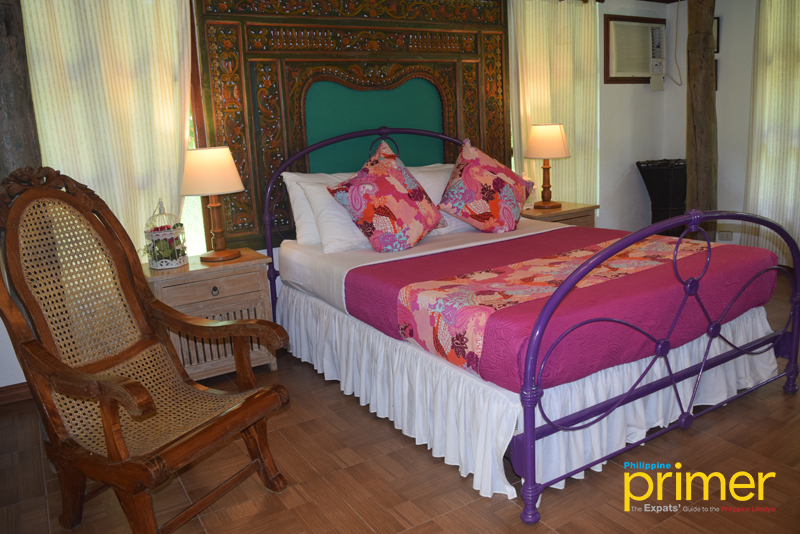 Abe's suite (Php 7,500)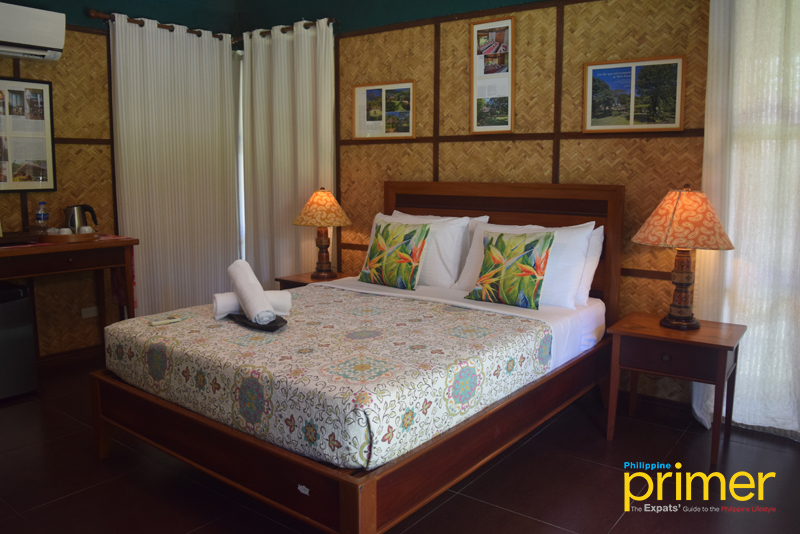 Premium Room (Php 4,800)
If you wish to have a bigger space, you can have their Premium Room (Php 4,800) or Abe's suite (Php 7,500) with a maximum accommodation of four. For large families, do not fret as Abe's also offers a Family suite (Php 18,000) for a maximum of 12 persons.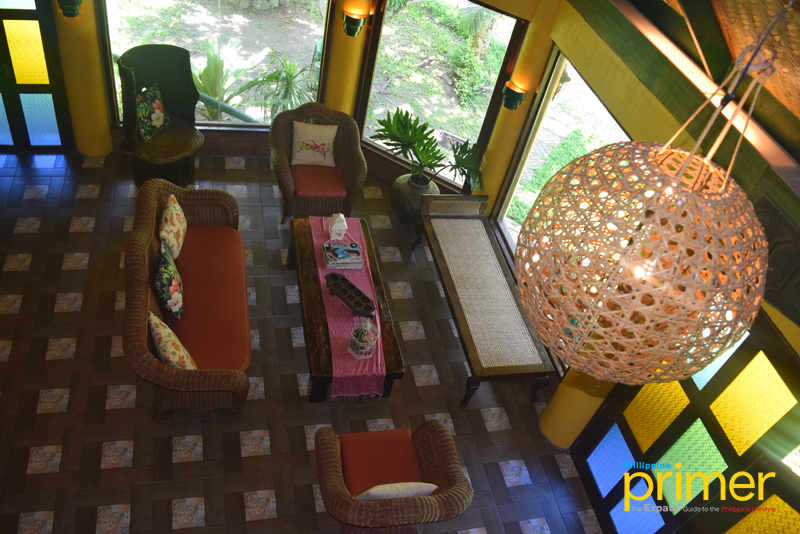 The ground floor of the Family suite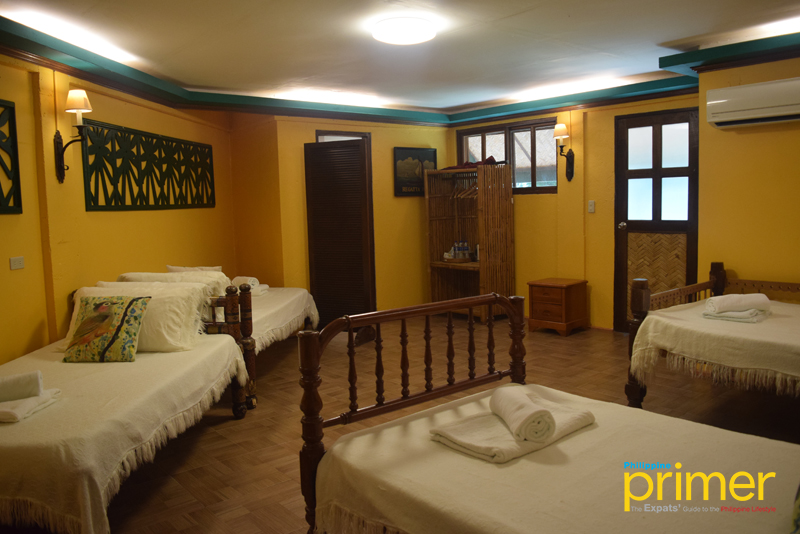 Ground floor rooms with 4 beds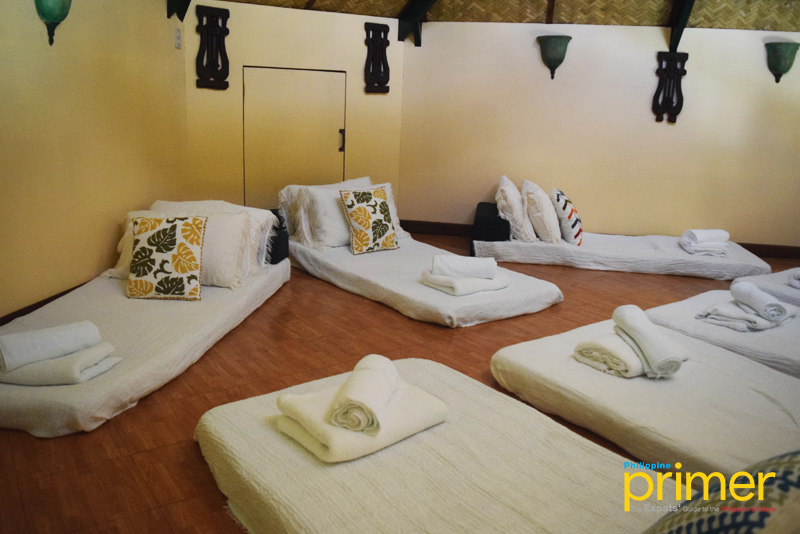 The family suite has an additional 8 beds upstairs
Visit Abe's Farm, and see the beauty of this sanctuary for yourself. Abe's Farm is located at Barangay Ayala in Magalang, Pampanga. For more information, you can call them at 0917-808-5187. They are open daily from 7 a.m. to 8 p.m. For more updates about Abe's Farm, you can follow them on Facebook at AbesFarmPH.
---
This also appears on Philippine Primer Japanese magazine's November 2018 issue.
General Information
Barangay Ayala, Magalang, Pampanga
0917-808-5187
Daily from 7 a.m. to 8 p.m.