Wow Cow Fresh Beef Hotpot Restaurant in Salcedo Village Offers A Feast of Unlimited Beef and More
Wow Cow Fresh Beef Hotpot Restaurant in Salcedo Village Offers A Feast of Unlimited Beef and More
Hotpot brings people together as everyone works on the same pot of broth, mixing and melding flavors. One of the newest hot pot restaurants in the city, Wow Cow in Salcedo Village lets gives their diners a feast of unlimited fresh cow cuts, vegetables, meatballs, sauces, and side dishes perfect for big groups!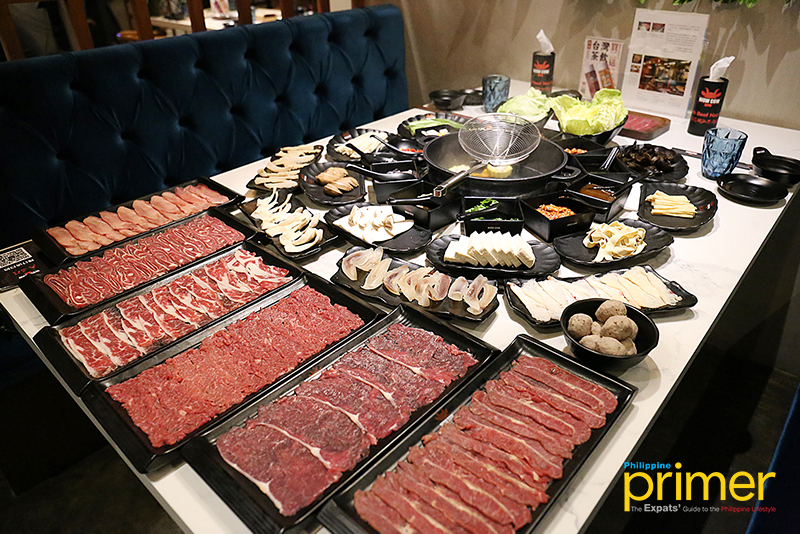 A feast waiting to happen at Wow Cow
Hotpot is a Chinese cooking method with a simmering pot of soup stock, where a variety of ingredients such as meat and vegetables are being added for flavors. In Metro Manila, you'll find different hotpot restaurants that serve their own specialty dish. To stand out among other restaurants, Wow Cow Fresh Beef Hotpot decided to level up their specialty as they give diners unlimited fresh ingredients, tasty side dishes, best cow parts, and sauces.
Also read: Manila's Best Hot Pot Restaurants: Hot, Fresh, and Flavorful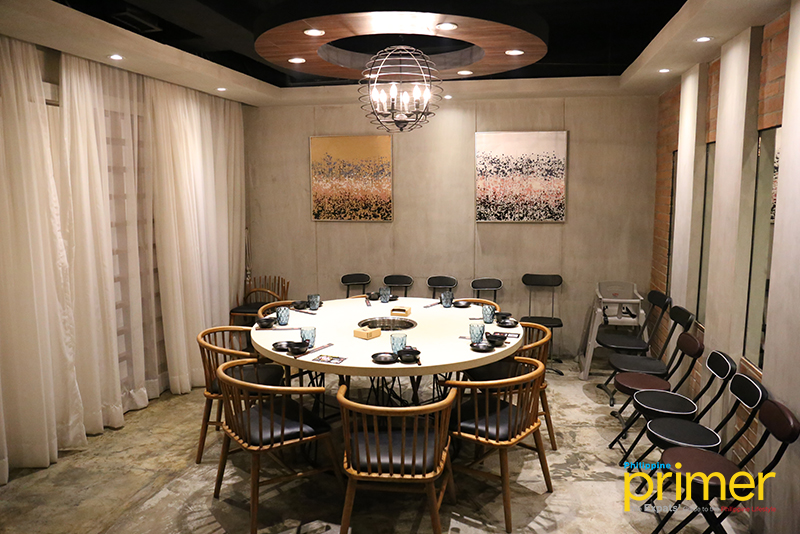 A common sight: circular table for the family to enjoy hotpot together
Wow Cow Fresh Beef Hotpot sources their meat and ingredients from local farms and butchers, keeping the meat fresh to preserve its taste and quality. In a hotpot, the broth is the backbone of the whole dish. And as Wow Cow likes to keep their food fresh, they use natural spring water for their dish letting diners taste the beef with the fullest flavor possible.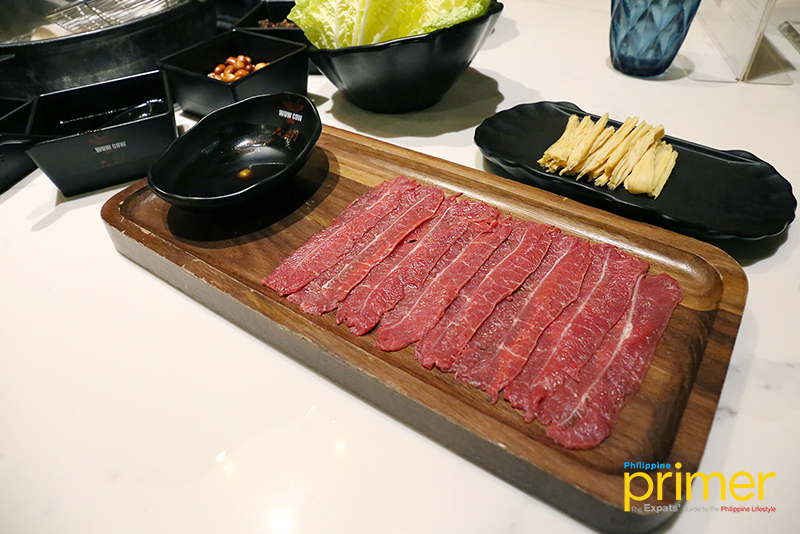 Each plate serves hand-cut, fresh, and local cow meat
To start the hotpot experience, diners are given a variety of sauces, vegetables to put into the hotpot, traditional meatballs, and all the best parts of the cow. This includes the beef sashimi, shoulder, upper and lower leg, cow organ, tongue, nape, and ribeye. On your table, you'll find a sieve (utensil) where the meat is placed and lowered to cook for a little over six (6) seconds. Some parts will require to cook longer but a staff will be there to help the customers in the cooking process.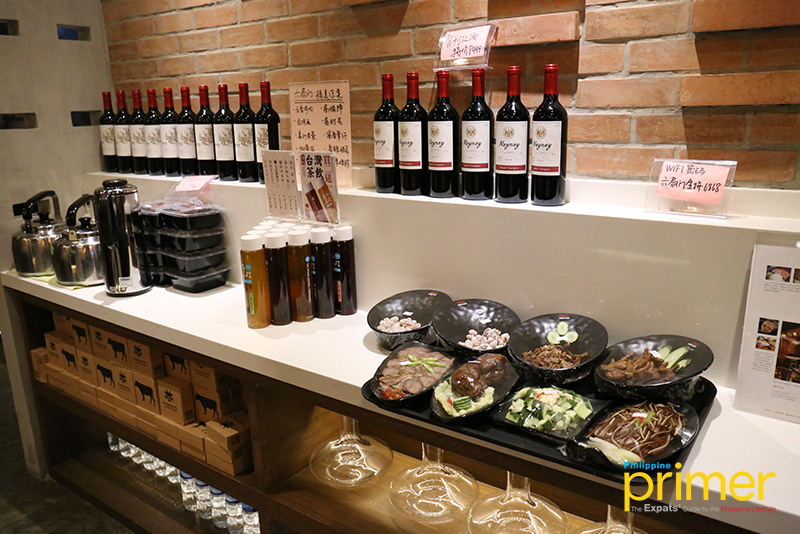 They also have available wine and tea for beverages
Since the ingredients are unlimited, Wow Cow charges customers per head. A meal for two will cost Php 4,600 inclusive of hand-sliced 11 cow parts, 9 kinds of sauces, 11 kinds of vegetables, 2 beef balls, 4 kinds of soup base and 5 side dishes with unlimited refill. A meal for four costs Php 6,800, while a meal for six is Php 9,800. They charge Php 1,500 per additional person. It is advisable to reserve a table beforehand as they get many customers daily.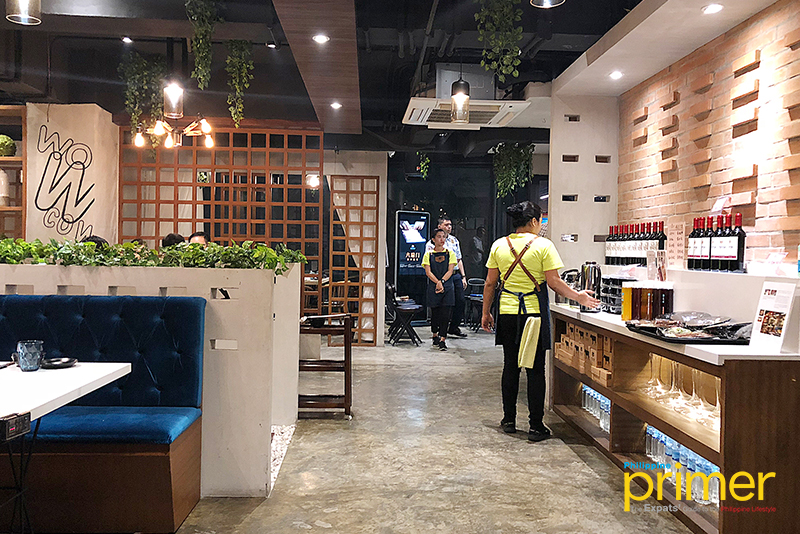 The clean and sophisticated interiors of Wow Cow
For a very communal setup like the hotpot, Wow Cow creates a whole different experience for the family or friends. Visit them at Valero One Center, Salcedo Village, Makati for fresh, healthy, and flavorful hot pot!
---
This also appears in Philippine Primer Japanese Magazine's October 2018 issue.

Valero One Center, Salcedo Village, Makati

0966-446-4551 / 0927-379-0682

10 am to 2 pm, 5 pm to 3 am (Mon to Wed) / 6 pm to 3 am (Thurs to Sat) / 6 pm to 12 am (Sun)