Szechuan House, Manila (CLOSED)
UPDATED as of January 15, 2019: This restaurant is CLOSED.
In Sze Chuen Lau, you can enjoy the tasty and spicy Sichuan cuisine. This restaurant is located at Aloha Hotel, along Roxas Boulevard Street.
This restaurant's most popular dish is the hot and sour soup 'Mapo Tofu.' This soup's spiciness is quite addictive and it is also well-liked by both the elderly and children.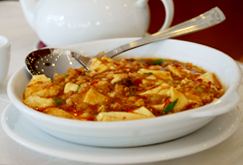 Sza Chuen Lau offers a variety of dishes that can be counted to 300; other than that, it also has private rooms and banquet seats.
***
Suggestions:
Lunch or dinner with your friends and family and for entertainment

Atmosphere:
A long- establish shop that gives of a nostalgic feeling
Budget: P400 per person

Recommended Menu:
Mapo Tofu
ADDRESS:
TEL:
Store Information
2150 Roxas Blvd., corner Quirino St. Malate, Manila
(632) 5254192
11 AM to 2:30 PM; 6 PM to 10 PM (Mon. to Sun)