StrEAT Food Park in Quezon City Ups Your Food Crawl Game
You may have heard of the popular Maginhawa Street in Quezon City, where a selection of food stalls and restaurants are taking over the Manila food scene. 
Here is where you'll see the city's most popular food park—complete with a gastronomic feast for everyone from breakfast to dinner, made all the more interesting with the booze!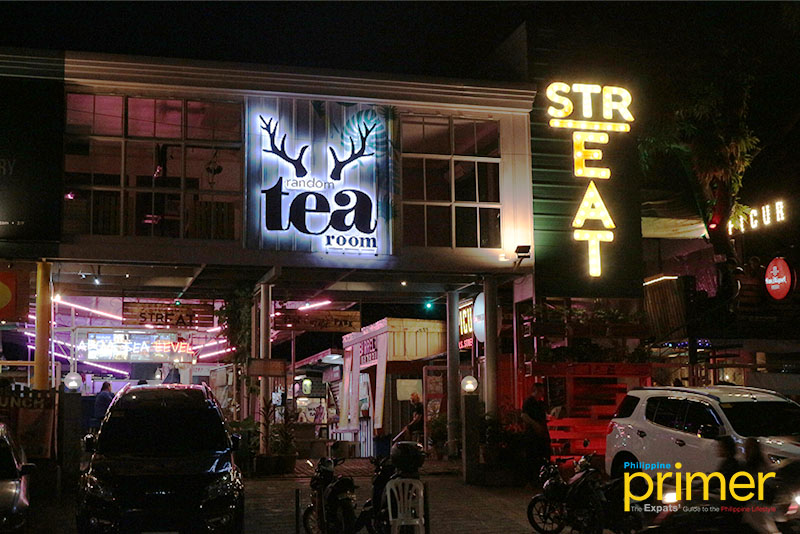 Known as the first-ever food park established in the Philippines, StrEAT Food Park in Maginhawa paved the way to the popularity of the food park business in the country.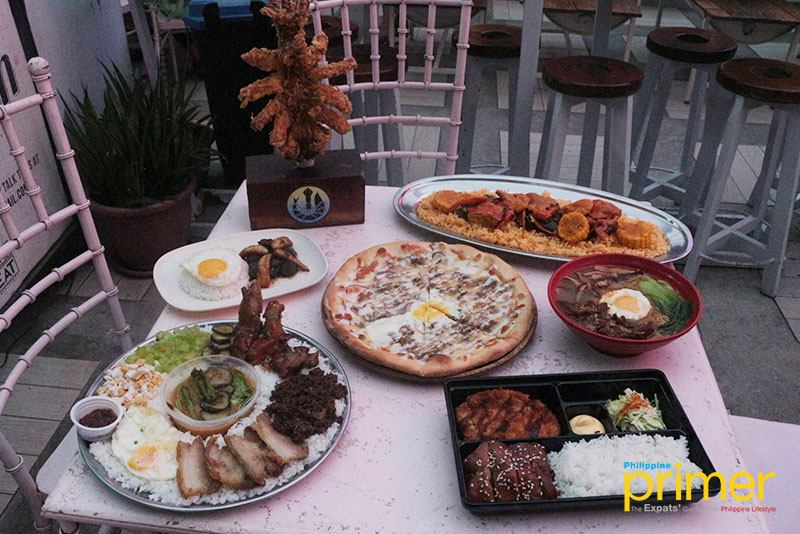 Its garden-like setting and bright neon lights seem to entice family and friends for a night of fun and eats. Currently, the food park features 14 stalls that cater to every craving there is.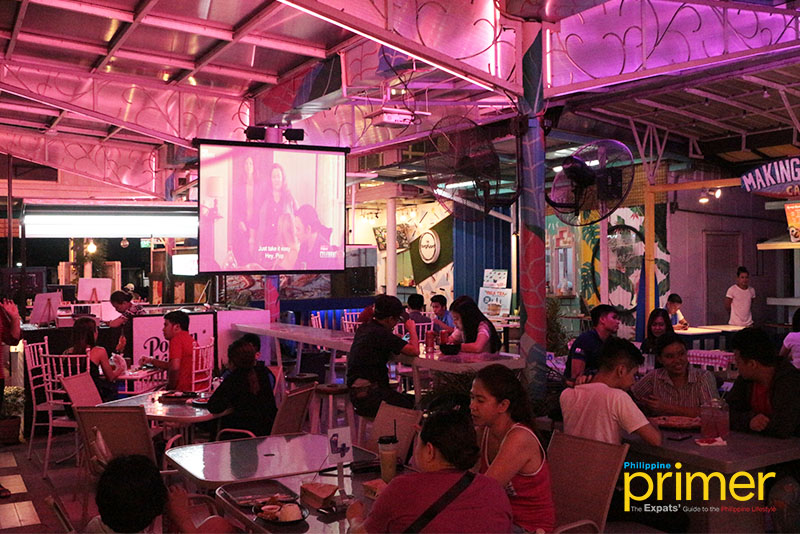 From Chinese and Filipino cuisine to desserts and alcoholic beverages, StrEat truly offers something for everyone.
Here are a few of the food stalls you should try when you visit StrEAT Food Park:
Adobo House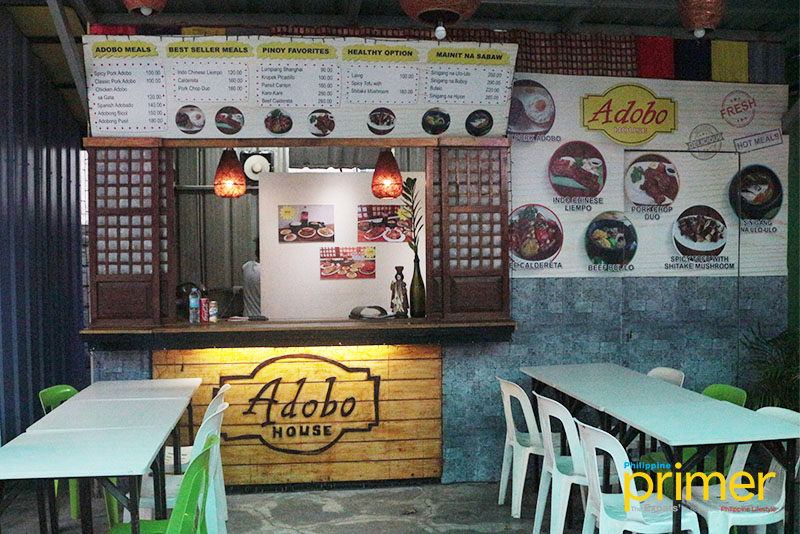 Sample unique versions of the well-loved Adobo from different regions in the Philippines and other parts of the world at Adobo House. A must-try from their menu is the Classic Pork Adobo, paired with banana slices and egg on the side.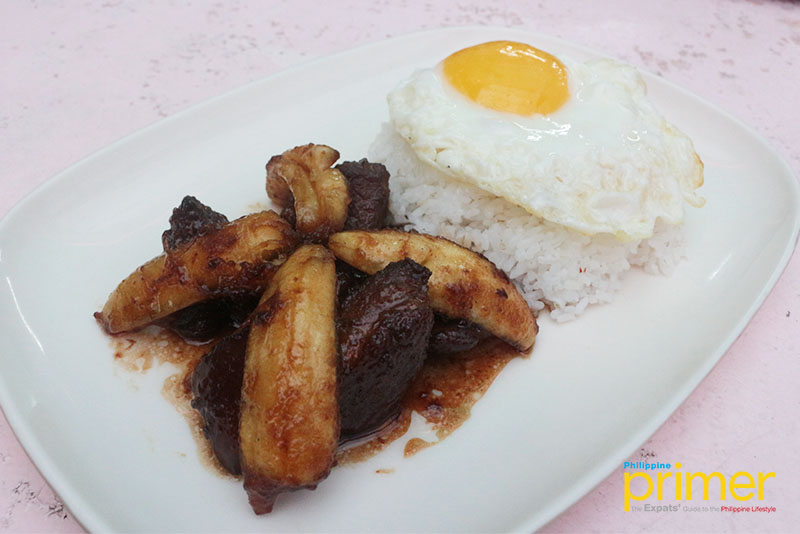 Classic Pork Adobo (Php 100)
Wasabae
Craving for Japanese food? Worry no more, because Wasabae can give you just that! Feast on your favorite Japanese eats with their simple yet delicious offerings of Ramen, Karaagedon, Kani tempura, Teriyakidon, Japanese Nachos, and bento boxes.
Upgrade your lunch with their Bento Set for 1 complete with tonkatsu, Japanese rice, teriyaki, and vegetables on the side.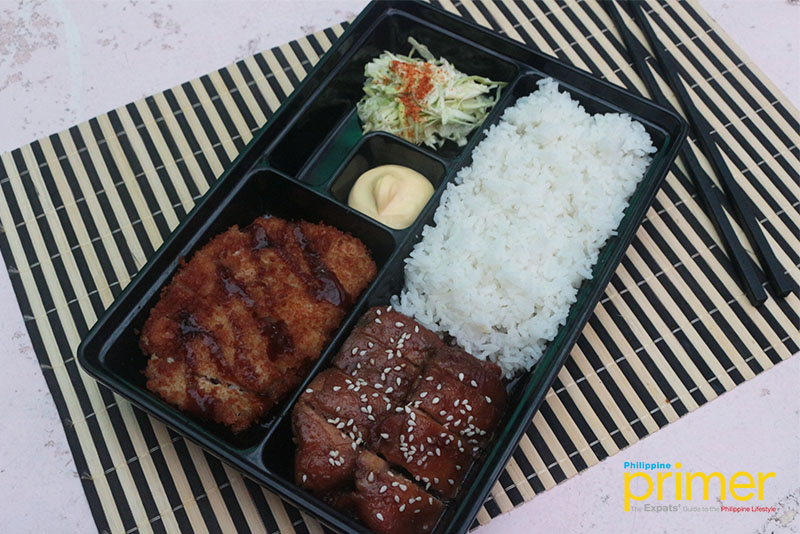 Bento Set for 1
Taste 360
From Japan, jump to Hong Kong with a generous serving of Chinese eats and street food from Taste 360's menu.
A must-try for starters is their Hong Kong Beef Noodle made with braised beef, beef broth, vegetables, and Chinese noodles.
 Hong Kong Beef Noodle (Php 180 for small / Php 360 for large)
They also have a selection of snacks like siomai, dumplings, and spring rolls, plus rice meal choices for those who are looking for a heavy meal.
Kuxina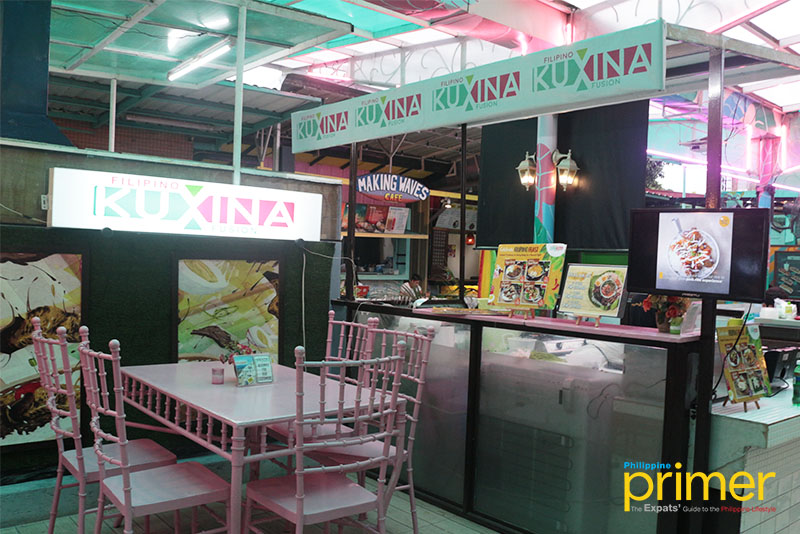 For a quick Filipino feast, drop by Kuxina's stall, and get yourself a taste of familiar Filipino flavors in every plate.
Perfect for small and big groups is their Malakas Boodle– a plateful of your all-time favorite Filipino dishes like crispy Kare-Kare, Flavored Tadyang, and Tapa Leng which bursts with rich flavors coming from the soy sauce, garlic, and sugar medley.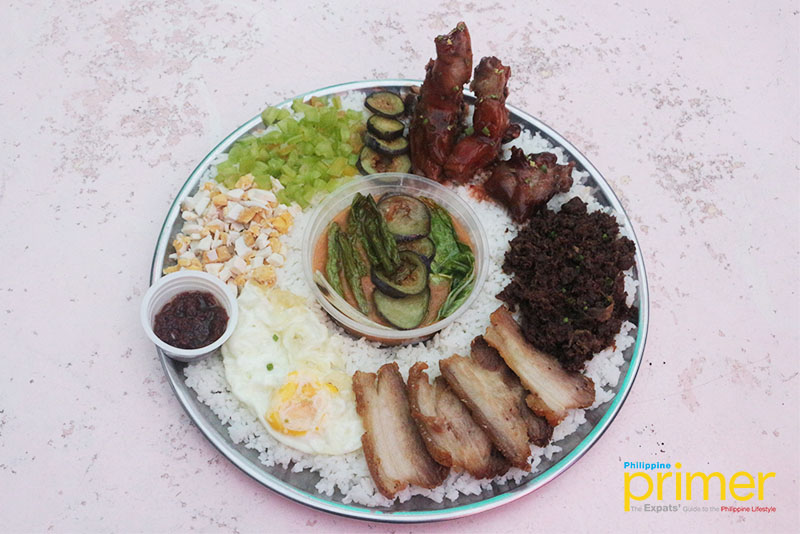 Malakas Boodle (Php 299 for 2 to 3 pax / Php 599 for 4 to 6 pax / Php 899 for 8 to 10 pax)
Above Sea Level
Seafood lovers are also in for an eye-catching and fulfilling meal at Above Sea Level.
Be amazed by their famous Giant Butterfly Squid, which made headlines in the food scene. This enormous seafood is fried until crispy and is meant to be eaten from its pole.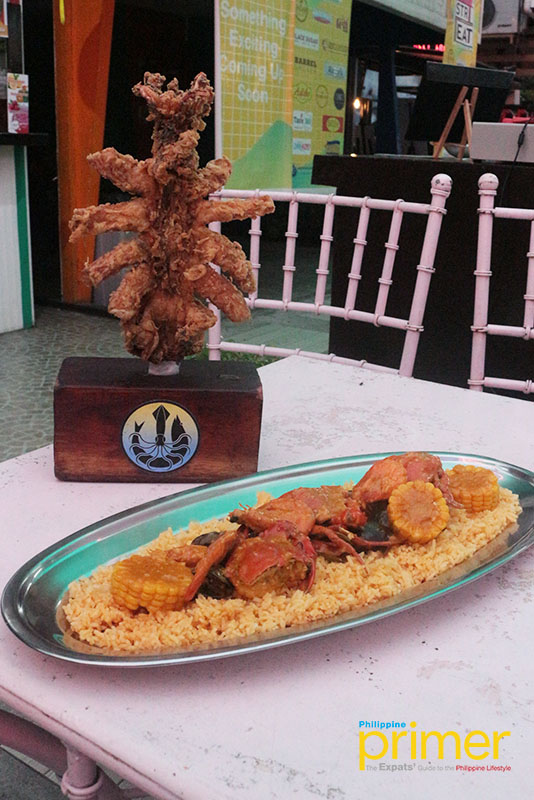 (L-R) Giant Butterfly Squid (Php 180 for Giant) and Seafood Festival (Php 380)
Good for a group of three is their Seafood Festival (Php 380), made with rice, crabs, mussels, shrimps, and corn cobs. It is then mixed with a flavorful sauce made from crab fat.
Rocco's Firebrick Oven Pizza
Satisfy your pizza and pasta cravings at Rocco's Firebrick Oven Pizza, where you can taste their sumptuous pasta, steak, and 10-inch thin-crust artisan pizzas.
Aside from classic Italian pizzas, they also created a unique Filipino-inspired pizza known as the Sisig Pizza, topped with sisig bits, onion, crunchy chicharron, and egg over bechamel sauce, drizzled with garlic aioli.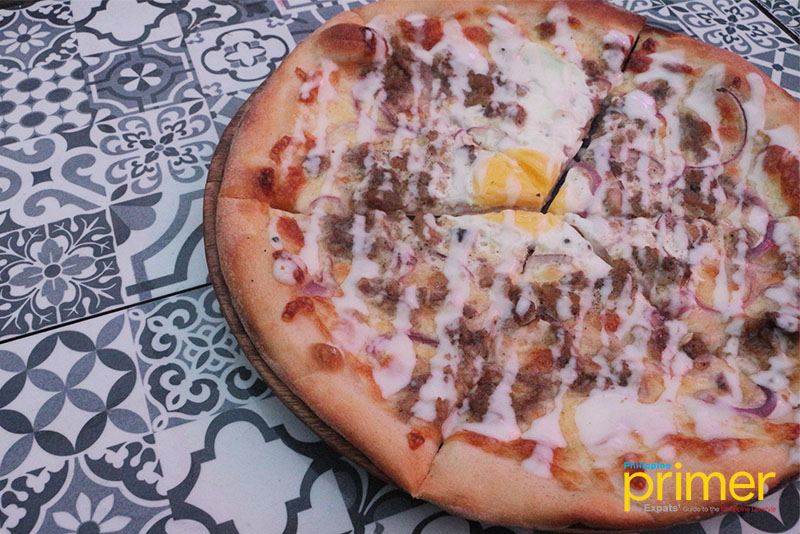 Sisig Pizza (Php 210)
The Lost Bread
For dessert, make a pit stop at The Lost Bread, and indulge in their pretty-looking milkshakes, soft-serves, and french toasts.
It doesn't matter if it's not your birthday as you can still order their Spiked Milkshakes like the Birthday Cake, made with vodka, fruit loops, and strawberry topped with sprinkles.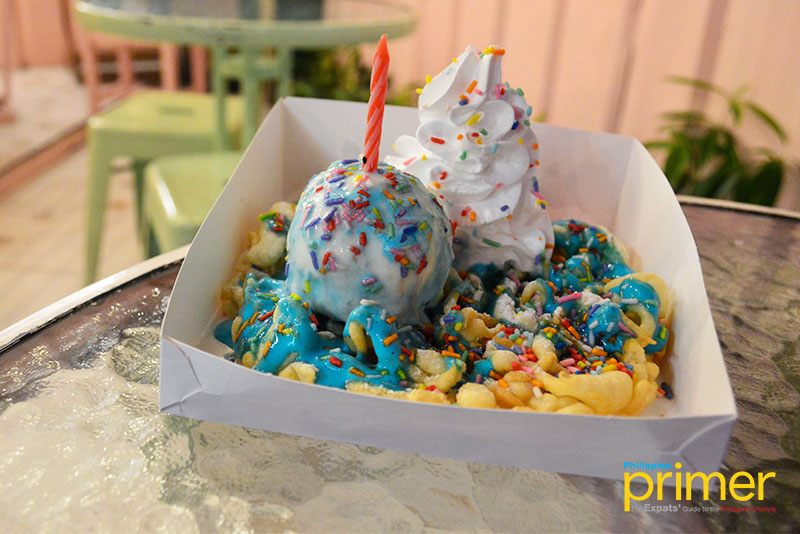 Birthday Cake (Php 145 for Regular / Php 99 for Baby)
In case you do not know, The Lost Bread also has a secret menu that you can request. We suggest you order their Vanilla Soft-Serve to end your meal.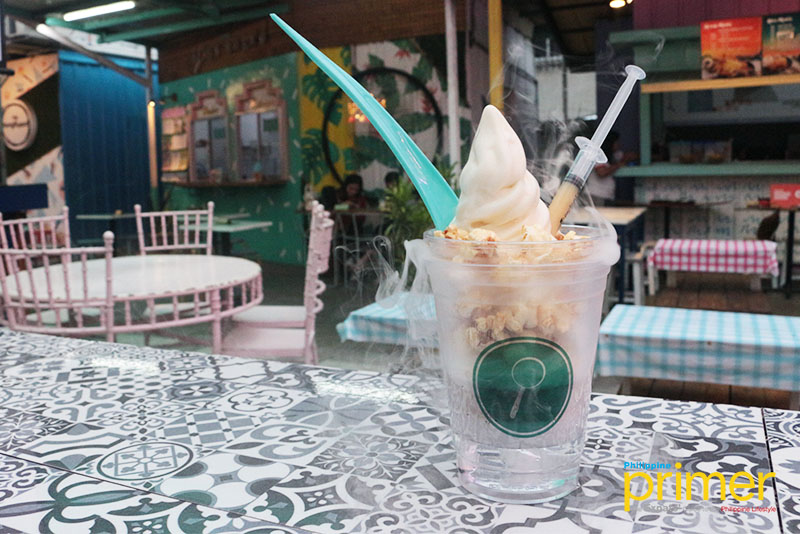 Vanilla Soft-Serve (Php 95 for Cone / Php 165 for Sub-zero cup)
Epicure
If you think that your Maginhawa StrEAT food crawl is over, think again—its nightlife is also something to look forward to.
Epicure offers unique and fun alcoholic & non-alcoholic beverages for solo and group drinkers.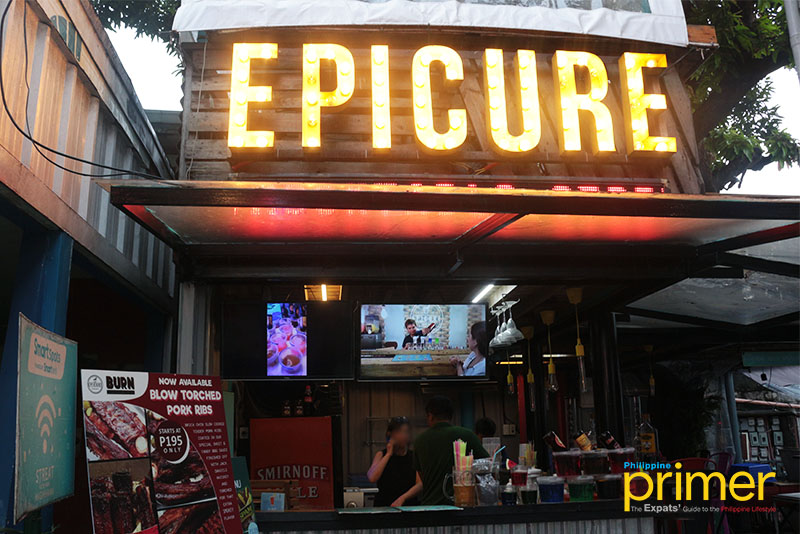 They do not only serve cocktail shots but also have smoking and literally pail-full cocktails called Epic Pails.
A must-try is their Citrus Blue– a mix of Blue Curacao and lemon with fun Gummy Sharks.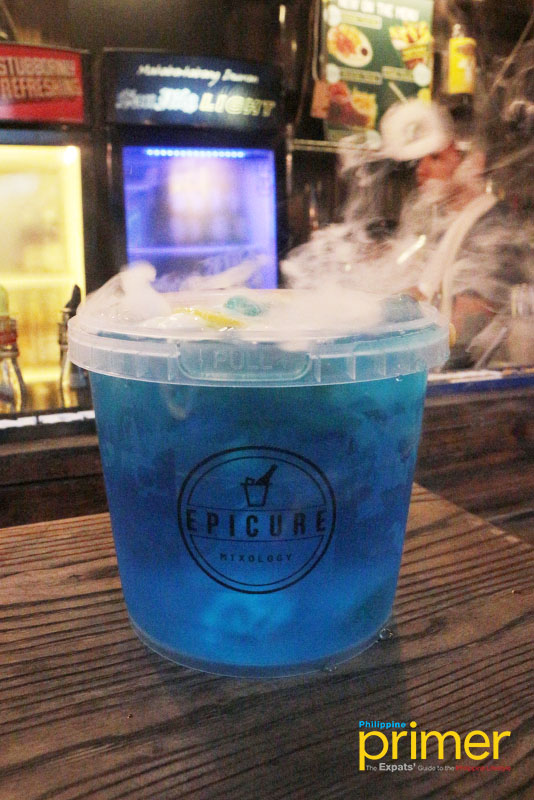 Citrus Blue (Php 260 for 1 Liter / Php 470 for 2.5 Liters)
Level up your drinks with their Sour Mule made with ginger, lime, and Grenadine syrup tinting the drink with a rich dark red color. It comes with a bottle of Smirnoff Mule toppled over the pail.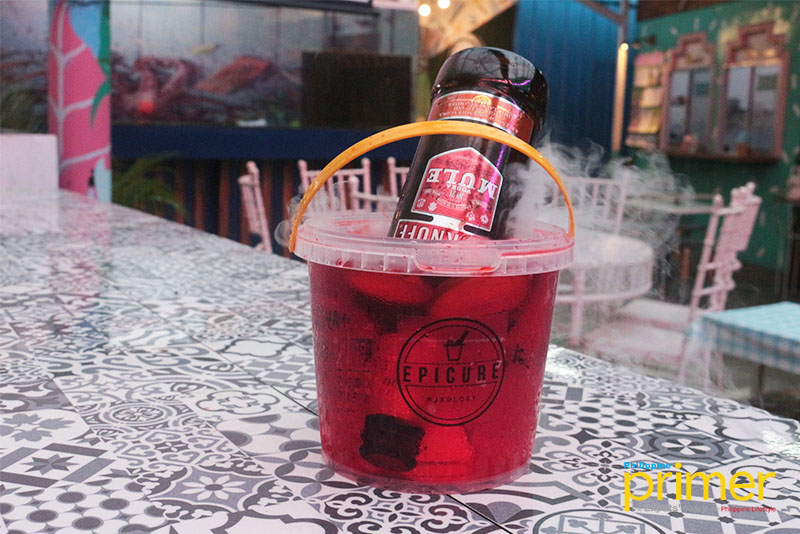 Sour Mule (Php 260 for 1 Liter / Php 470 for 2.5 Liters)
So, for a gastronomic tour of the Metro in just one place, visit StrEAT Food Park, where a sumptuous feast awaits.
How to get here
StrEAT Food Park is 10 minutes away from Quezon Memorial Circle
If you are coming from Quezon Memorial Circle, take the Don Mariano Marcos Avenue going north. Turn right onto University Avenue and make another right turn onto C.P. Garcia Avenue. Drive straight until you reach the intersection at Magiting Street. Exit Magiting Street and turn right onto Maginhawa Street.
---
This first appeared in Philippine Primer's Japanese and English Magazine September 2019 issue.
Store Information
91 Maginhawa St., Teacher's Village, Diliman, Quezon CIty
5 p.m. to 12 a.m. (Tue. to Sun.)
streatmaginhawa@gmail.com