Shang Palace in Makati: Dine Like an Emperor
There's an imperial feast served up in a palace—Makati Shangri-La's Shang Palace to be exact. Experience a dining experience with unlimited dim sum, soups, appetizers, rice, noodles, and desserts along with live seafood from their aquarium, pork and (who would forget) Shang Palace's famed Peking Duck.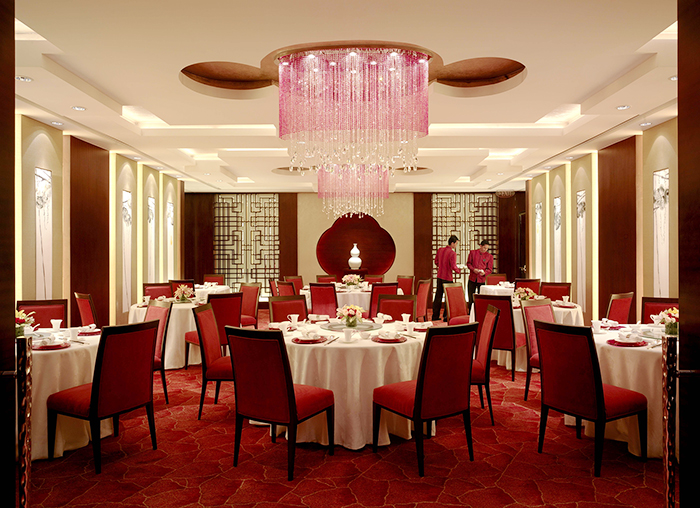 Red has always been an auspicious color in the Chinese culture that's believed to bring wealth and luck in life. Such is the interior of the Shang Palace in Makati Shangri-La, where the ambiance is nothing short of magical—the chandeliers, the walls of wooden latticework, and the unique dining experience. The dining area has intimate booths, eleven private dining rooms, and a spacious main area.
Shang Palace Peking Duck (Whole Php 5,458/ Half Php 2,788)
One of Shang Palace's creations is their Peking Duck (Whole Php 5,458/ Half Php 2,788), a perfectly roasted duck that can be served in many ways. For a small price, enjoy a second course of Peking Duck either wrapped in lettuce, stir-fried in a wok with ginger and spring onion, or have it served with Chinese mustard and bean curd soup. This Chinese classic dish is an all-time favorite at the Palace made by Executive Chinese Chef Ben Lam, along with the Shrimp with Cucumber, Minced Pork, and Superior Stock in a Clay Pot (Php 988).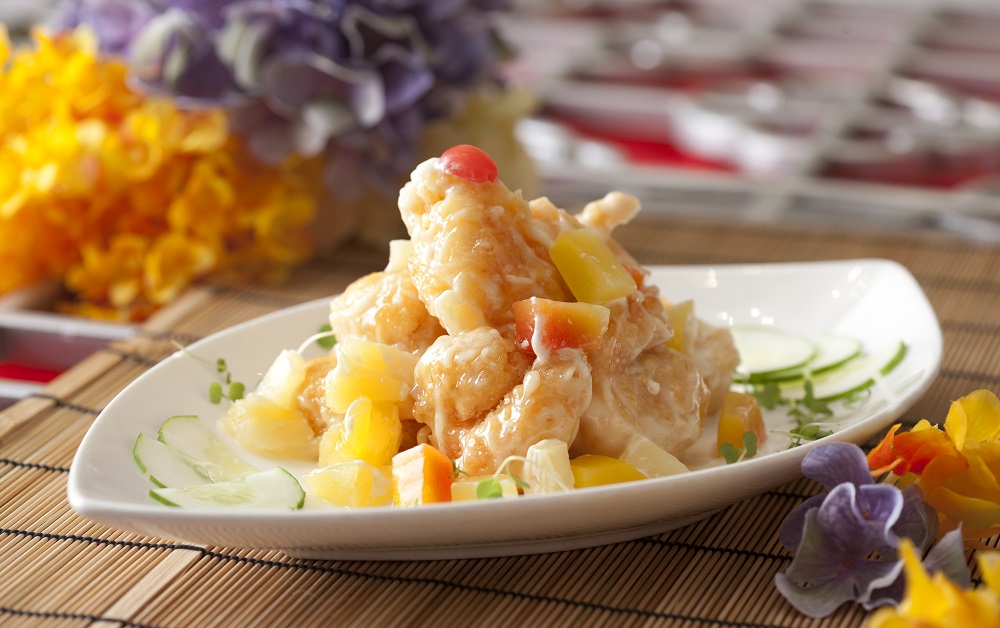 Hot Prawns Salad (Php 1688)
The Hot Prawns Salad is a signature dish from Shang Palace served steamy and milky just as smooth as the prawns inside the crunchy yet savory breading. It's an appetizer that never seems to go missing from a Chinese or Taiwanese spread.
Sweet and Sour Pork (Php 688)
The Sweet and Sour Pork is also another signature dish that is familiar to many yet prepared exceptionally well at Shang Palace. The dish includes nuts, bell peppers, et. al. It has a certain zest and tang that many fans of pork will savor.
Shang Palace's menu guarantees a feast fit for an emperor with a diversity of imperial proportions. The restaurant offers a separate time and menu for dim sum a la carte during the Dim Sum Plus lunch time of 11:30 am to 2.30pm from Mondays to Saturdays. All chefs are all committed to cooking methods that are devised to reduce cholesterol for guilt-free dining. Additionally, they have their own aquarium where they source seafood to cook and serve as it is ordered. The menu also offers several choices on how your crab, lobster, prawn or fish would be prepared.
They really make you feel like an emperor at Shang Palace.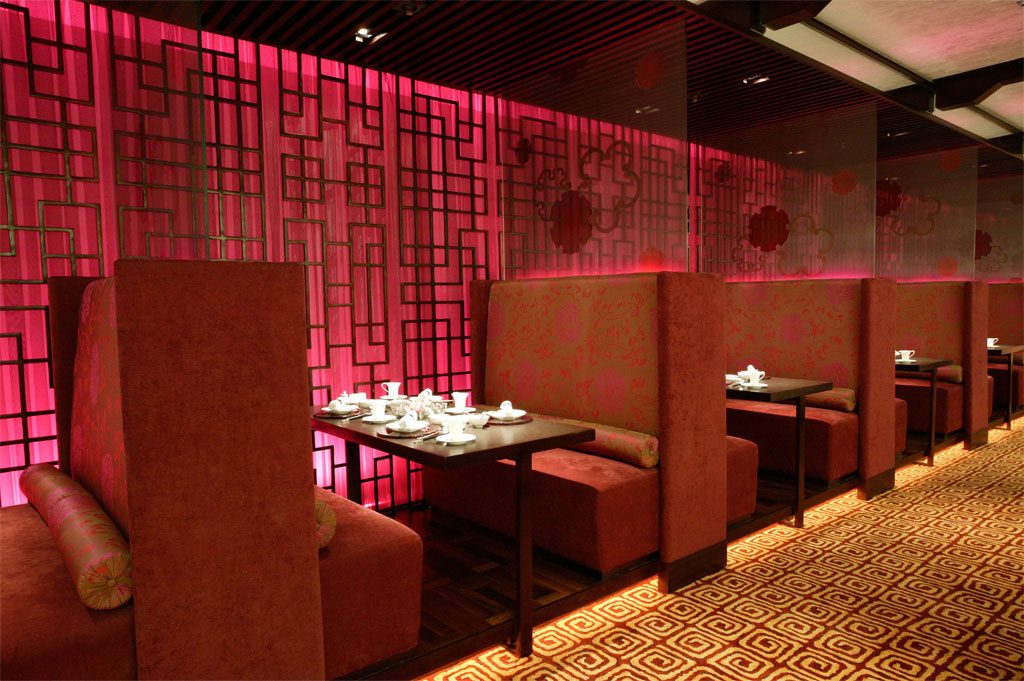 The Shang Palace restaurant is located at the second floor of the Makati Shangri-La, Ayala Avenue corner Makati Avenue, Makati City. They are open daily for lunch service, Dim Sum Plus Lunch, and dinner service. For booking contact 02-814-2580 or send an email to rric.slm@shangri-la.com.
Store Information
Level 2, Makati Shangri-La, Ayala Avenue corner Makati Avenue, Makati City
(63 2) 814 2580
Lunch Monday-Saturday 11:30 am to 2:30 pm and Sunday 10:30 am to 2:30 pm; Dinner Monday-Saturday 6:30 pm to 10:30 pm and Sunday 6 pm to 10:30 pm
rric.slm@shangri-la.com