Mijo Comfort Food in Poblacion: Mouthwatering Eats with a Side of Familiarity and Nostalgia
Mijo Comfort Food in Poblacion: Mouthwatering Eats with a Side of Familiarity and Nostalgia
Makati City's Poblacion, known mainly for its nightlife, is teeming with many food concepts as of late. Tucked in the streets of the area, away from its bright lights are restaurants that provide a bit of comfort from the busy city.
Enter Mijo Comfort Food. Opened in 2019, the restaurant is a culmination of delicious food, tradition, and a bit of nostalgia.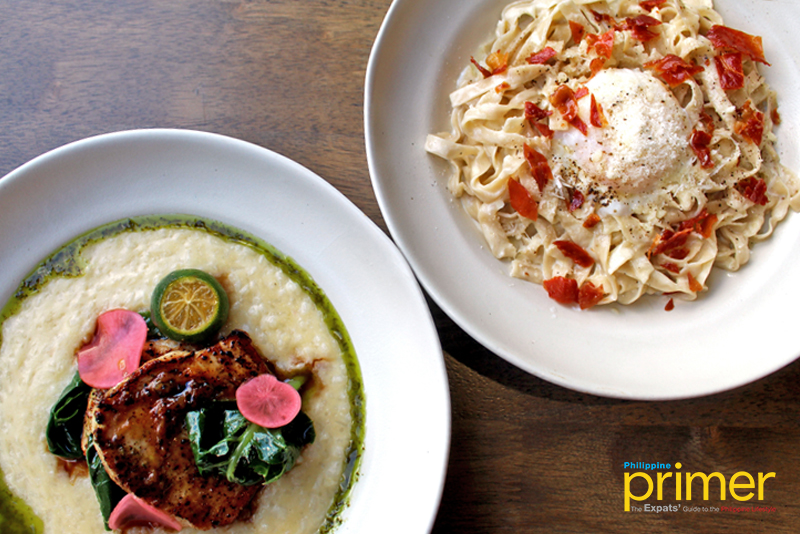 Inspired by the Filipino table and his grandmothers, Chef Enrique Moreno opened this cozy and familial restaurant to the endearing city crowd. Born out of his love and knowledge of food, Chef Enrique brings his roots to the table with comfort food that will truly remind you of home.
The restaurant is an ode to chef Enrique's grandmothers who are of Spanish and Chinese descent. He shares that, it was meals with them that established his love for food.
Something noteworthy about the dishes is that they come in large servings which makes them ideal for sharing. For this, Chef Enrique was inspired by the Filipino table and the Filipino tradition of sharing food. According to the chef, he wants to encourage sharing in Mijo which is why the food is served in bigger portions.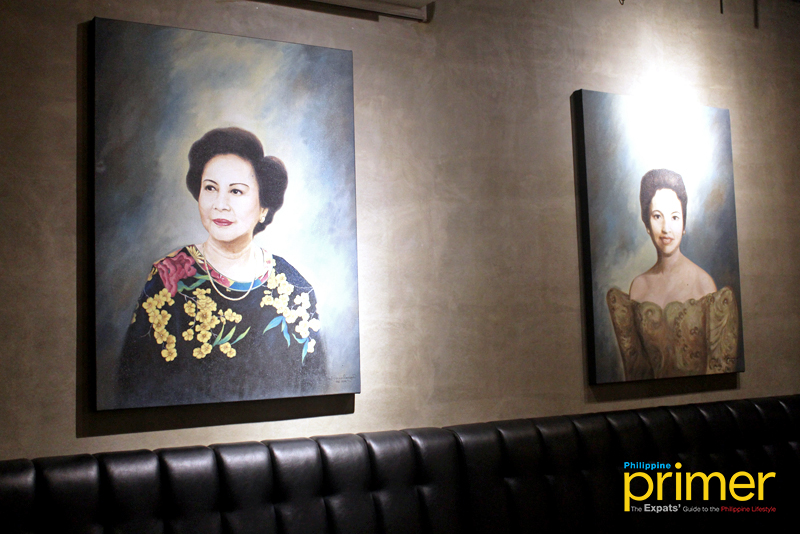 Portraits of Chef Enrique's grandmothers adorn the walls of Mijo
Kick-off your meal at Mijo with the Aligue Gambas (Php 420). Made with prawns, crispy garlic, aioli, and crab fat—this sumptuous meal is the ideal way to get introduced to what the restaurant has to offer. You will enjoy the richness of its flavors, more so when you sop up the aligue (crab fat) and the aioli with the bread that comes with the dish.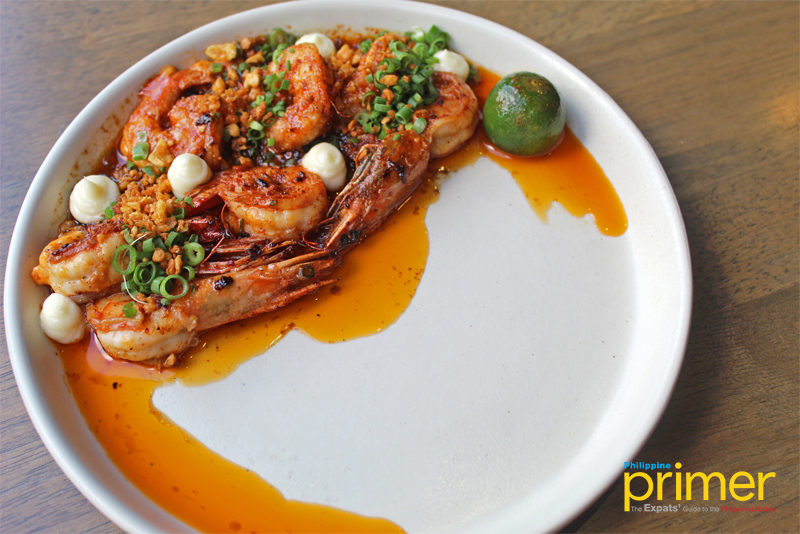 Aligue Gambas (Php 420)
Speaking of bread, Mijo makes theirs in-house. It is served complimentary for every table and is also served with the Gambas. The soft and buttery bread is described to be a cross between a bonete (a type of Pandesal from Laguna) and a dinner roll by Mijo's Sous Chef, Angela Leonor. It is served with their house salsa that's made of roasted bell peppers, tomatoes, red onions, parmesan, and red wine vinegar.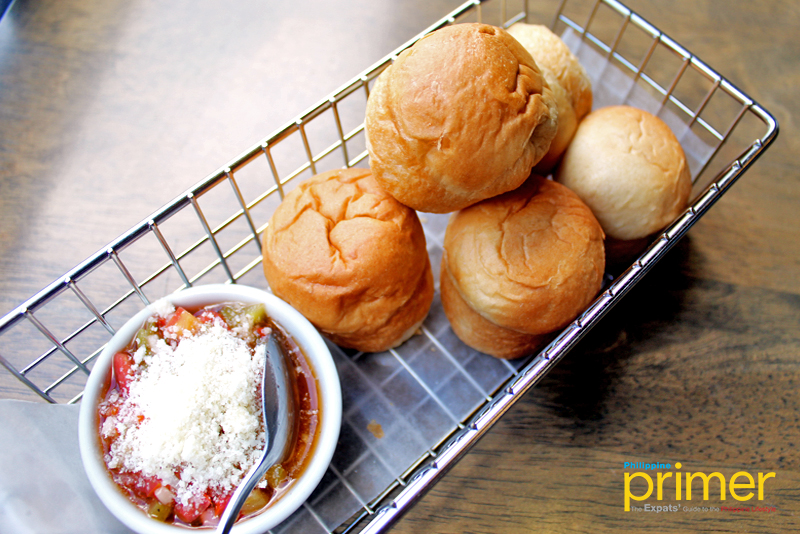 The bread at Mijo is baked fresh! 
Up next is the Truffle Jamon (Php 420) pasta. Different from most pasta out there, the noodles for this dish (and that of Mijo's other pasta dishes) are made fresh at the restaurant. The fettucini noodles, made from rye flour, is a cross between an Italian pasta and Ramen hence the firmness. Topped with a Sous Vide Egg, the pasta is comprised of cream, truffles, and Parma Ham.
Don't forget to mix the pasta to fully get the flavors of the dish's components.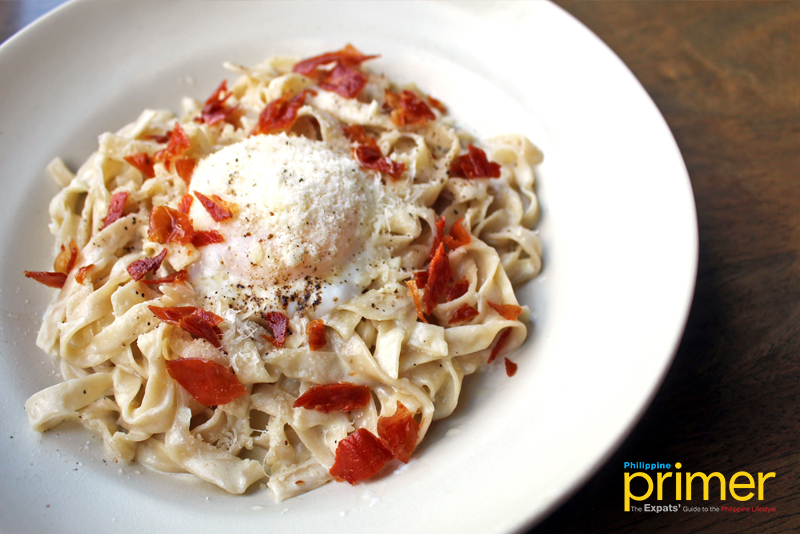 Truffle Jamon (Php 420)
More of their noteworthy dishes include the Gindara (Php 595) that is usually served as sashimi or steak. It is often associated with Japanese food and Mijo offers a unique take on this fish by torching it and putting it over a bed of lemon risotto and miso glaze.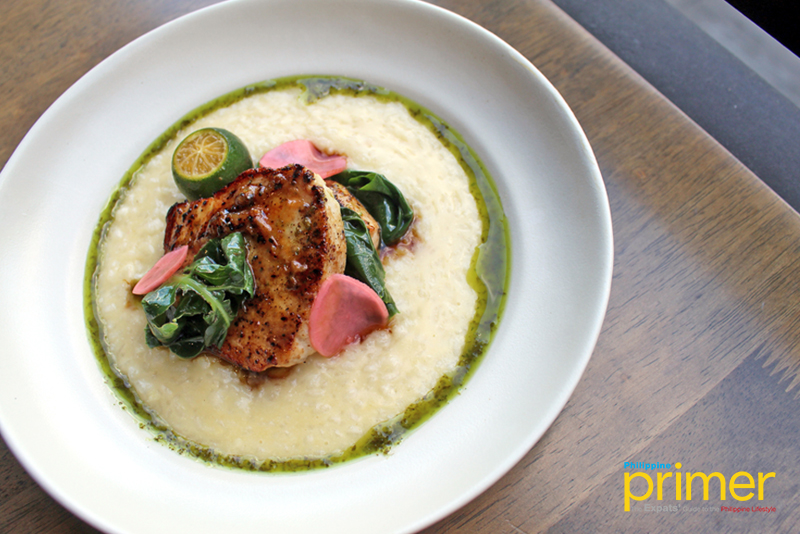 Gindara (Php 595)
Another one of their mains that you should try out is the Wagyu Picanha (Php 995); the wagyu is torched and is served with roasted bone marrow, beefcharon, and a side of sweet potato mash. It's recommended that you spread the bone marrow over the wagyu to amplify the taste.
Wagyu Picanha (Php 995)
If that's not enough for you, then you might want to try one of their paellas. The Lamb Rack Paella (Php 1,550) is comprised of lamb sausage, aioli, chermoula, and topped with a lamb rack. The dish is good for sharing so you don't have to hesitate if you want seconds!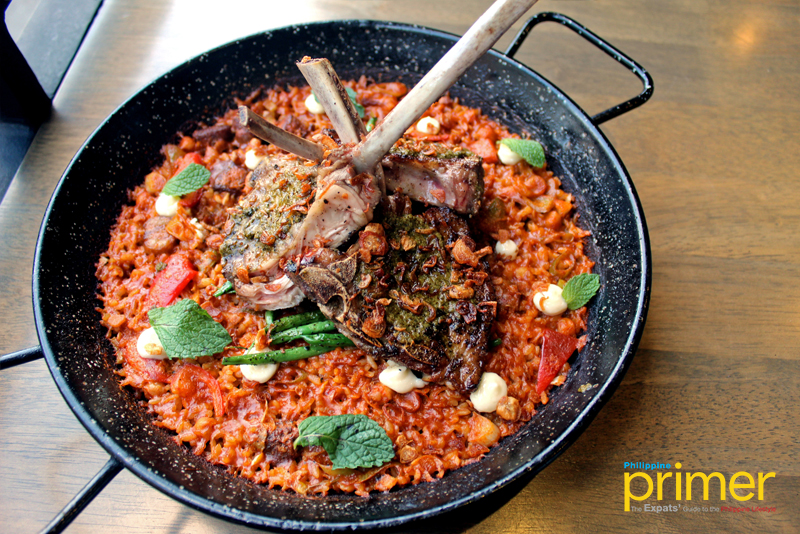 Lamb Rack Paella (Php 1,550)
Finish your meal with Mijo's Bread Pudding (Php 295). The bread used in this dish is the same as the one that they serve with the Gambas. It's comprised of chocolate ganache, honeycomb, and a generous scoop of mantecado ice cream.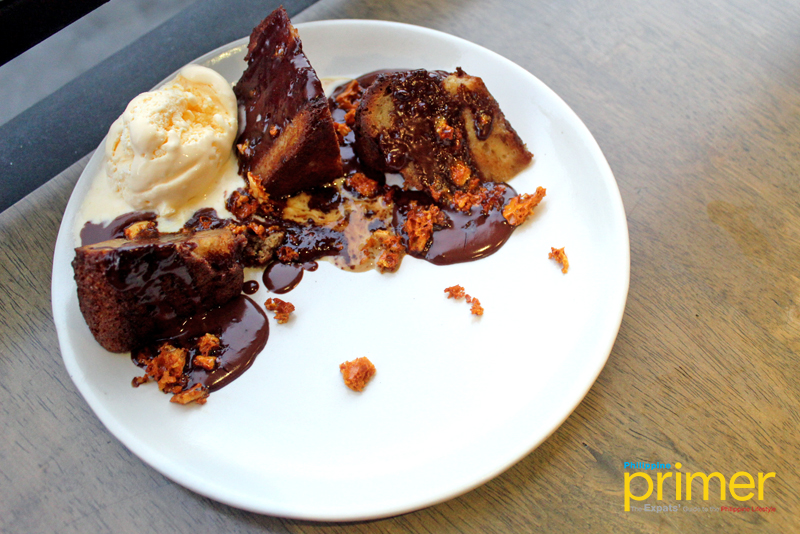 Bread Pudding (Php 295)
Further up the building is Church, a rooftop bar that's also managed by the team behind Mijo. The bar carries a variety of wines, beers, and signature cocktails that's ideal for when you want to unwind after a long day.
Church Roofbar
At Mijo, you are not only sampling delicious and unique eats but you're also sampling comfort food that's taken to the next level. Here, you'll find that every bite is familiar and every flavor, nostalgic.
It's like you're dining with family at your own home whenever you dine at Mijo Comfort Food in Poblacion.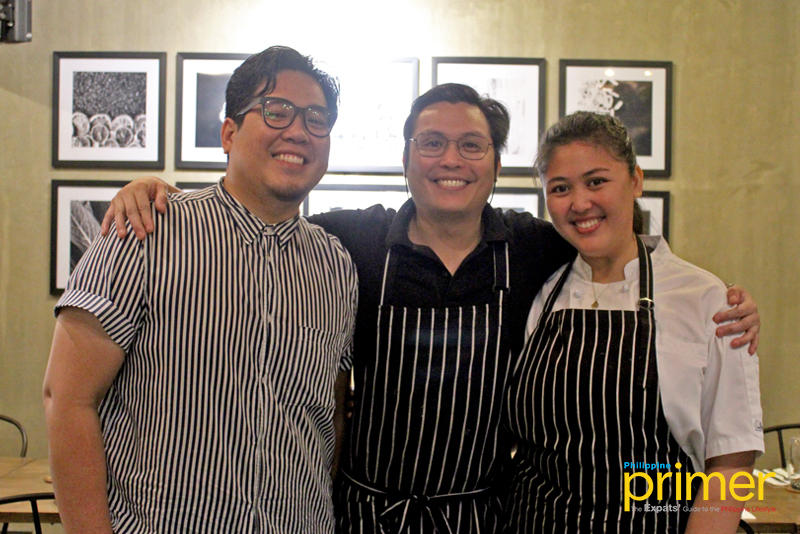 The minds behind Mijo Comfort Food; (L to R) Mr. Vince Maderazo, Chef Enrique Moreno, and Sous Chef Angela Leonor
How to get here:
• By public transport: From Landmark Makati, ride a Makati Loop jeepney and then get off at the Petron gas station. Head north on Makati Ave., and past City Garden Hotel and Berjaya Makati Hotel. Turn right onto P. Guanzon St., Mijo Comfort Food is at the right.
---
Written by Feliz Grace Bueno

4987 P. Guanzon St., Poblacion, Makati City

6 pm to 11 pm (Mon. to Fri); Lunch - 12 pm to 3 pm, Dinner - 6 pm to 11 pm (Sat. to Sun.)