Yuca in Venice Grand Canal Mall Brings People Closer to Latin American Cuisine
What happens when childhood fondness for telenovelas like Marimar and the love for Latin American cuisine meet?
For Center for Culinary Arts (CCA) graduate Geraldin Mangudadatu and her husband Dong Mangudadatu, it paves the way for Yuca, a Latin American-inspired restaurant with a touch of Filipino culture.
The name Yuca came from the South American root crop of the same name. In the Philippines, yuca is known as cassava. The restaurant is named such as many of their dishes feature the root crop.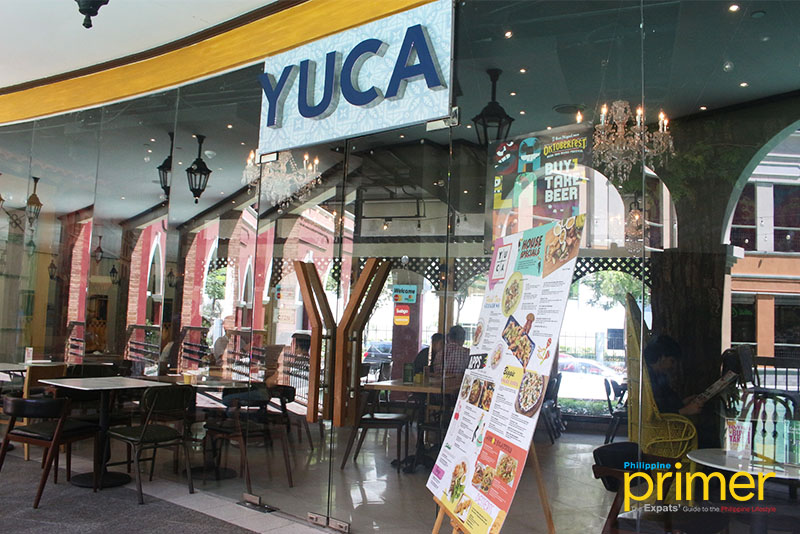 Yuca provides a picturesque view of the Grand Venice Canal Mall
Located at the ground floor of the Venice Grand Canal Mall in Taguig City, Yuca's floor-to-ceiling glass walls provide a perfect view of the Italian-inspired mall. According to marketing head Cyrus Cruz, the whole vision of the interior of the restaurant was a garden villa, giving off an imagery of eating outside despite being inside.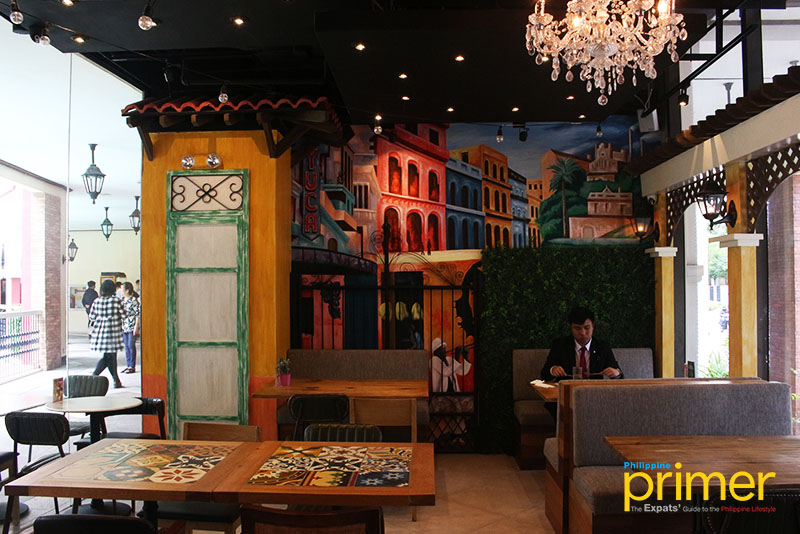 The restaurant's unique interior makes you feel like you're eating outside
And the place succeeds in giving its customers the garden villa vibe as they are greeted immediately with a large tree bark, archways, stringed lights, and a hand-painted mural. The restaurant can sit comfortably up to 75 people, including the tables and chairs situated outside.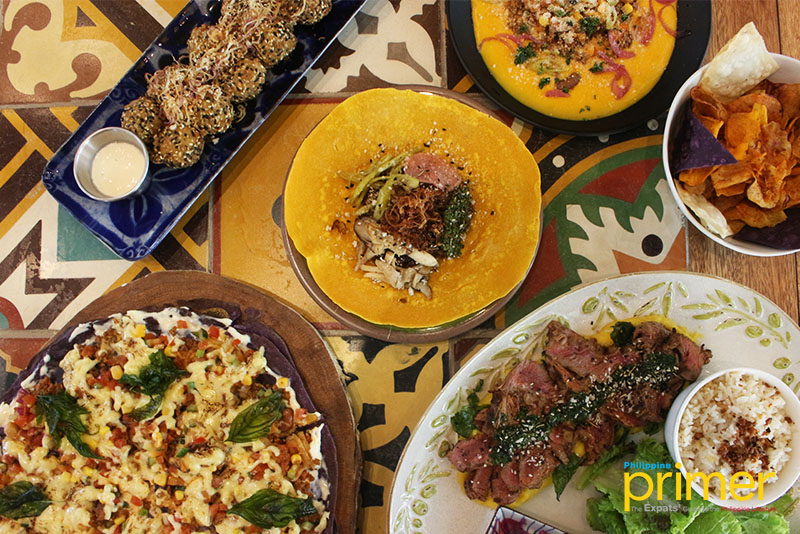 Yuca offers a feast both for the stomach and the eyes
Yuca's menu is a collaboration between the owners and their chef RJ Ungco. It is largely influenced by Latin American cuisine, mainly focused on the dishes of Mexico, Argentina, and Peru, but what really sets them apart is the incorporation of the Filipino palate into their food, putting a twist into the usual Latin American dishes.
Majority of their ingredients are locally sourced, save for a few imported spices. These ingredients are used to make their in-house tortilla chips, sauces, and pickled ingredients.
Yuca prides themselves with their fresh tacos, created from scratch every day. One of their popular fresh taco dishes is the Lomo Loco Taco (Php 180), made with their in-house soft caramel tortilla, topped with beef tendon salpicao, pickled chili and radish, mushroom, and onions. Head to Yuca every Tuesday for their Two Taco Tuesdays where you can get two tacos for the price of one.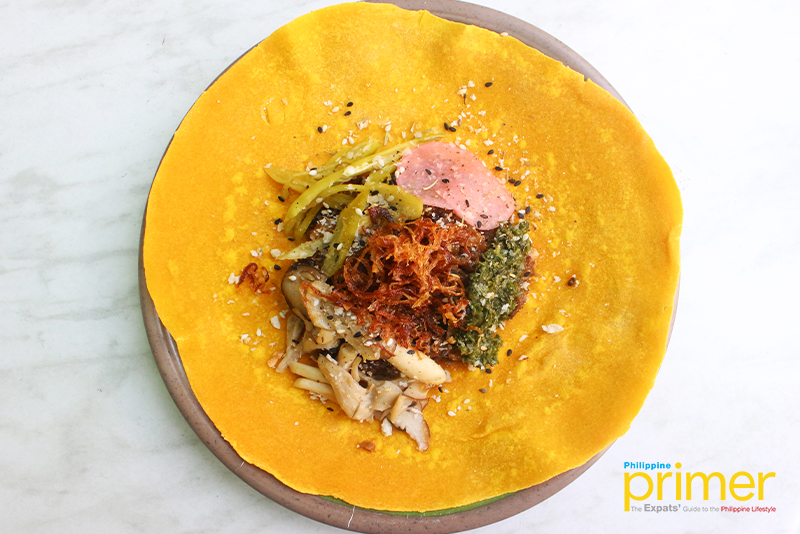 Lomo Loco Taco (Php 180)
Another must-try is their Tio Romy's Nachos (Php 250). The crispy chips are served separately from the sauce which is made with cheese sauce, pulled beef barbacoa, marinara, onion confit, pickled jalapenos, and corn salsa.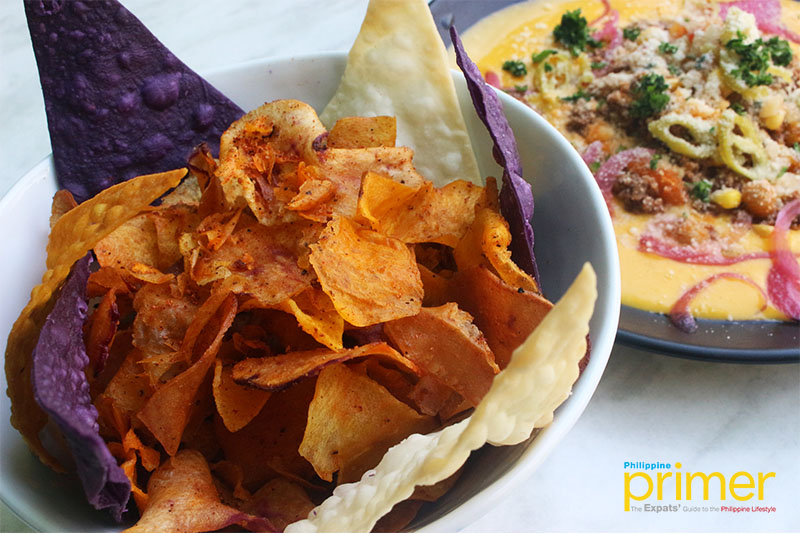 Tio Romy's Nachos (Php 250)
Yuca also offers croquetas, but instead of just using potatoes, they use saba or plantain, thus the name of the dish Plantanos Croquettas (Php 230).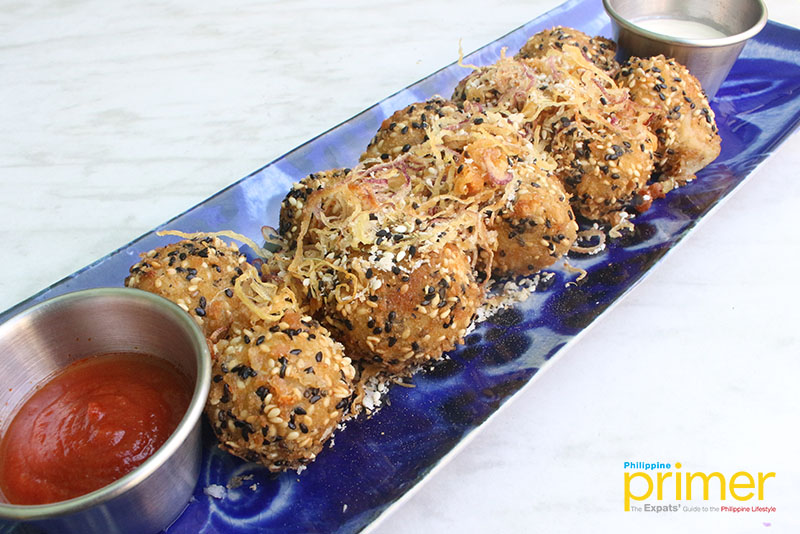 Plantanos Croquettas (Php 230)
Cheese lovers will find solace in another rendition of Yuca, the Cheesy Fugazetta (Php 350). The Argentinian-style pizza is recreated with two layers of Yuca's purple yam tortilla and topped with loads of cheese, chili con carne, chicken chorizo, and basil.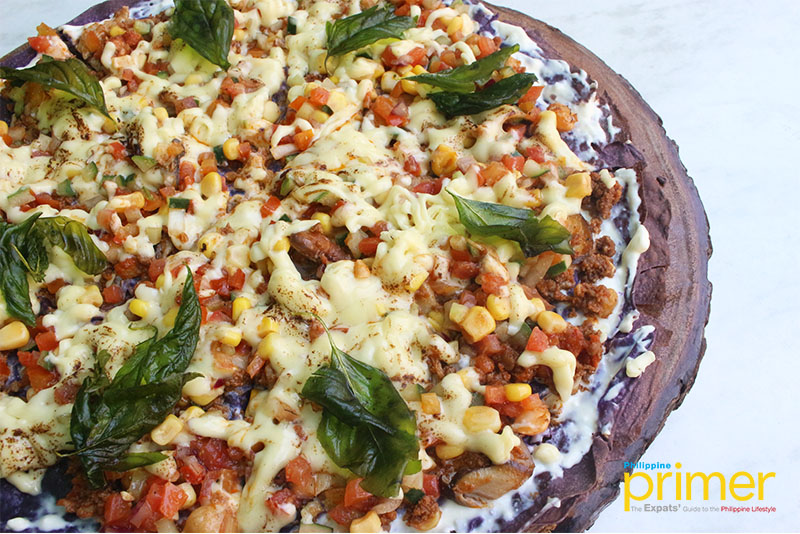 Cheesy Fugazetta (Php 350)
Another element of Yuca is it does not serve any pork. Instead, it uses beef, chicken, or seafood. The Bistec El Yuca (Php 667) is one of the main dishes available on their menu. The tenderly grilled beef loin on top of mashed potatoes with chimichurri and basil on top is a real hit.
The dish also serves as a good example of the fusion of Latin American and Filipino cuisine. Grilled beef dishes are usually served as is in Latin America, but in Yuca, Bistec El Yuca is served with garlic rice and salad.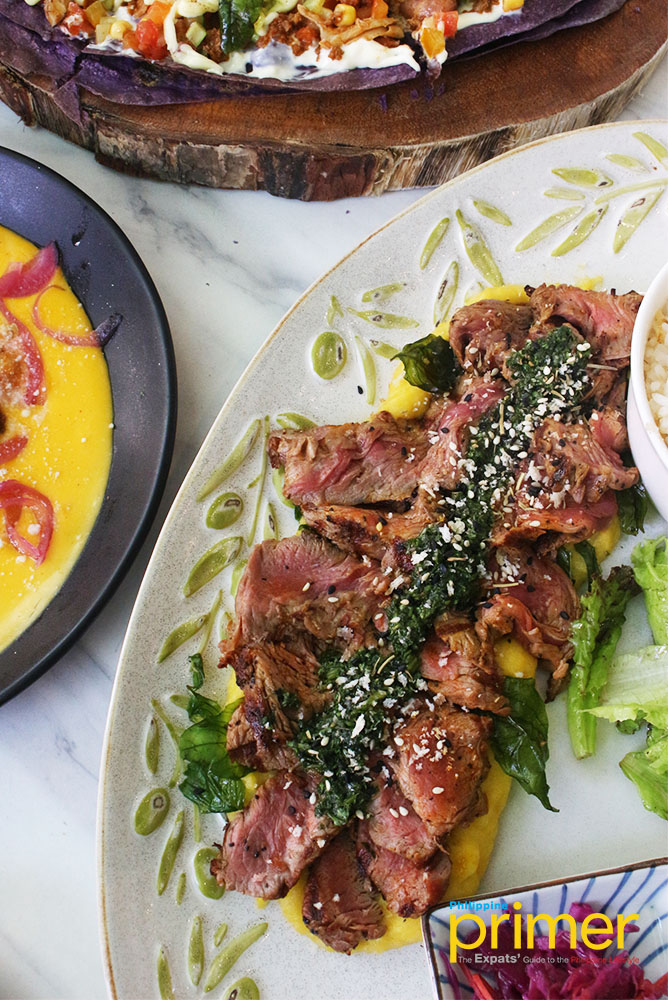 Bistec El Yuca (Php 667)
And what's a meal without a dessert? Yuca also offers desserts, their most famous being the Leche Frita (Php 150). This whipped cream flan is topped with cinnamon and served with a side of fruit salsa.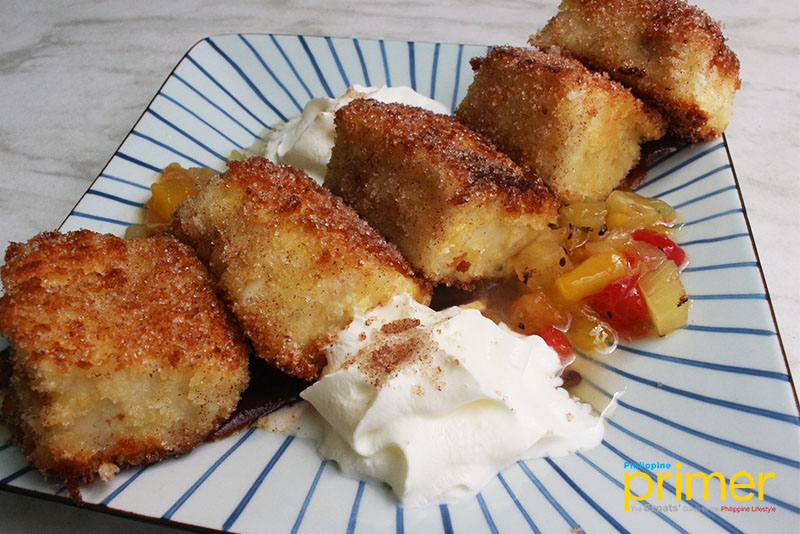 Leche Frita (Php 150)
If you love creme brulees, then you're going to love Yuca's Mango Brulee (Php 170). The custard-based dessert was made even better with the sliced mangoes on top. If you like pineapples more, then opt for the Pineapple Brulee (Php 170) with sliced pineapples on top.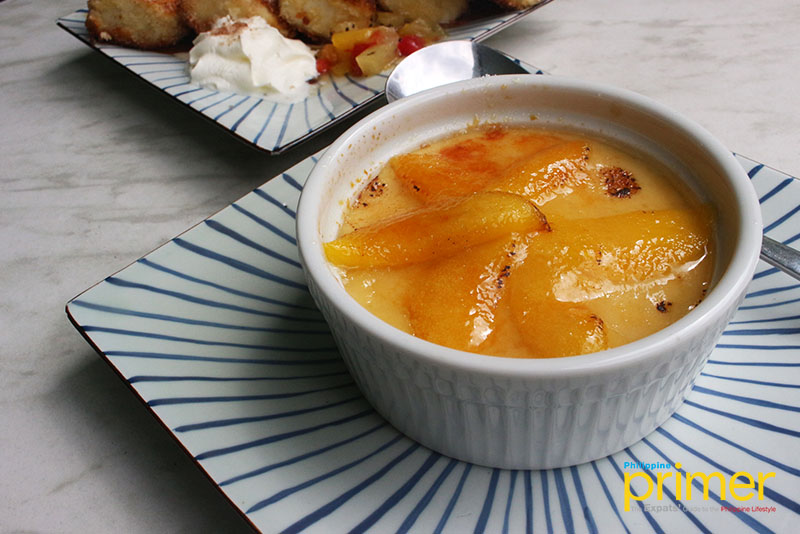 Mango Brulee (Php 170)
For those looking for a place to chill out after a long work week, Yuca and its full bar got you covered. It serves locally crafted beers and even tequilas they produced on their own. Go during Happy Hour, from 4 p.m. to 9 p.m. daily, and make use of the buy one, take one deal on local beers and cocktails.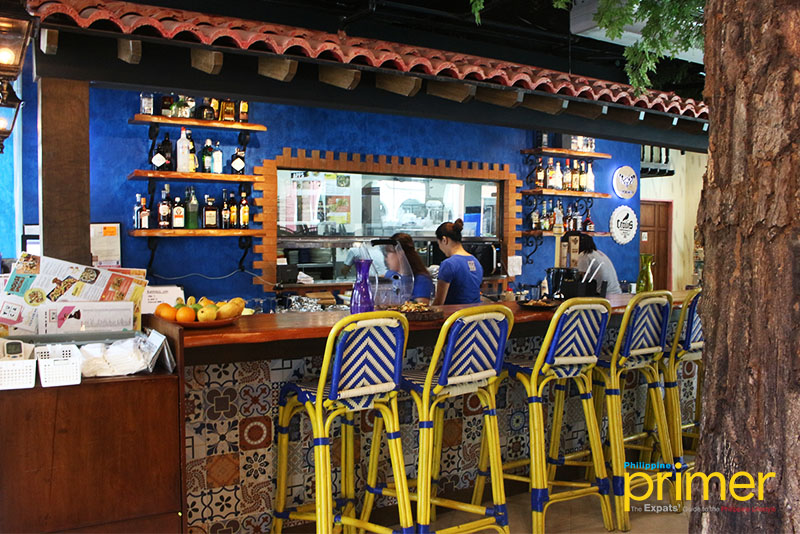 Yuca's full bar is equipped for a night out
For Cruz, what sets Yuca apart from other restaurants is that they offer something that can easily be identified with their brand.
"It's not easily replicated, the taste, the profile, even the blends of the different flavors, it's so Yuca. Flatlays, imagery, the presentation, it's so Yuca. You can't compare it with others," he furthered.
For now, aside from expansion, Yuca's main goal is to let people know of their restaurant and to be able to introduce the Latin American cuisine to the people.
Go and feast on a unique spread of Latin American cuisine and try Yuca today!
For more information, you can contact Yuca at 02-745-8389 or at 0966-965-2377. You can also visit their Facebook page or their Instagram account.
Store Information
G/F, Venice Grand Canal Mall, Taguig City
02-745-8389
0966-965-2377
11 am to 10 pm (Mon. to Sun.)