Western Steakhouse in Cebu
Located in Maribago, Lapu-Lapu City, Western Steakhouse is all about the flavor, authenticity, and savory that could top off the list of best restaurants to try in the beautiful city of Cebu.
Operated by Yuki Kimura and Reiji Toda, two Japanese nationals who are both blessed with a penchant in gastronomic exploits, the restaurant formally opened last January 8, 2014. The uniqueness of this restaurant lies between its concept and invaluable service. The two came up with the concept of a western bill of fare thus the wide array of mouth-watering U.S. Angus beef steaks delight they offer. To make the western vibe further felt inside the restaurant, the whole interior is decorated with wooden, countryside-inspired wall accents and even the whole staff are all dressed up in plaid button downs with their cowboy hats ready to welcome all the customers. The uncompromising level of quality in service and food in this restaurant are always on top. Western Steakhouse is also the only steak house in town having the Certificate of Excellence from tripadvisor.com.
Western Steakhouse simply aims for something good to offer not just to tourists but also to the local diners who would love steaks on their plates. They also get a lot of Japanese guests since they love the food and the very laidback feel inside the restaurant.
As the name suggests, Western Steakhouse serves 100% U.S. Angus Beef Steaks from tenderloin, rib eye, sirloin, burger steak and topblade. The restaurant can hold up to 40 persons, including the VIP room. Dinner rate ranges from P490 and up depending on the choices or sizes of the meat. For lunch set menu, they have P280 up to P420.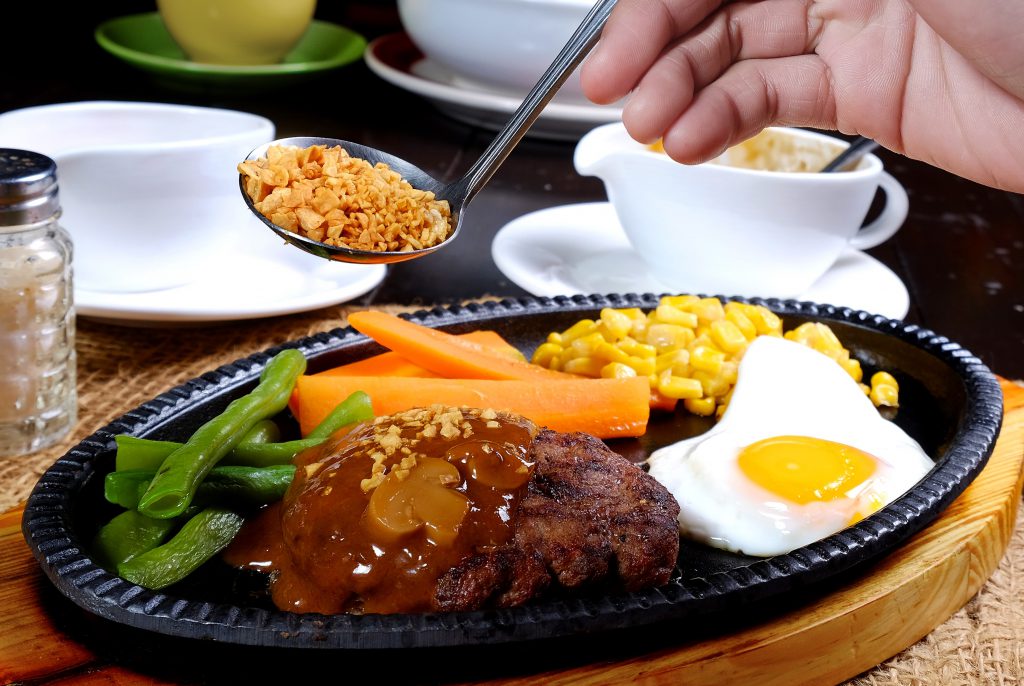 HAMBURGER STEAK. Certified Angus Beef burger steak serve with demi-glace sauce and sunny side up in a sizzling plate (120g – Php 460.00; 150g – Php 580.00; 200g – Php 760.00; 250g – Php 950.00; 300g – Php 1,100.00)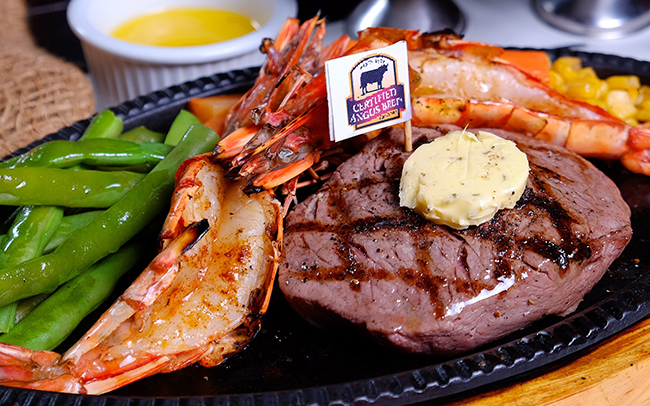 SURF N TURF TENDER. Php 1,280.00 (Certified Angus Beef Tenderloin steak 120g and 2 large king prawns serve in a sizzling plate)
Reservation is open to all but not necessary. However it is recommended for big groups and for those who would want to have a party or celebrate their special occasions in the restaurant to reserve a table or book ahead of time. Free wi-fi is available within the restaurant premises; guests can simply ask the service staff for the password. Parking space is also available but it's not that spacious enough for buses and huge cars.
Western Steakhouse also offer a free pick up and drop off to all their guests especially for those who have a reservation, from their hotel to the restaurant and vice versa.

Buyong Road, Maribago, Lapu-Lapu city, Cebu 6015

Open Daily 11:00am – 11:00pm