Laya Restaurant at The Peacock Garden, Bohol: Serving Exquisite Flavors with a Slice of History
Laya Restaurant at The Peacock Garden, Bohol: Serving Exquisite Flavors with a Slice of History
The Peacock Garden's Laya Restaurant in Baclayon, Bohol takes its name from two concepts: first because of the town's namesake, second, from the Filipino word "laya" which means "freedom" in English.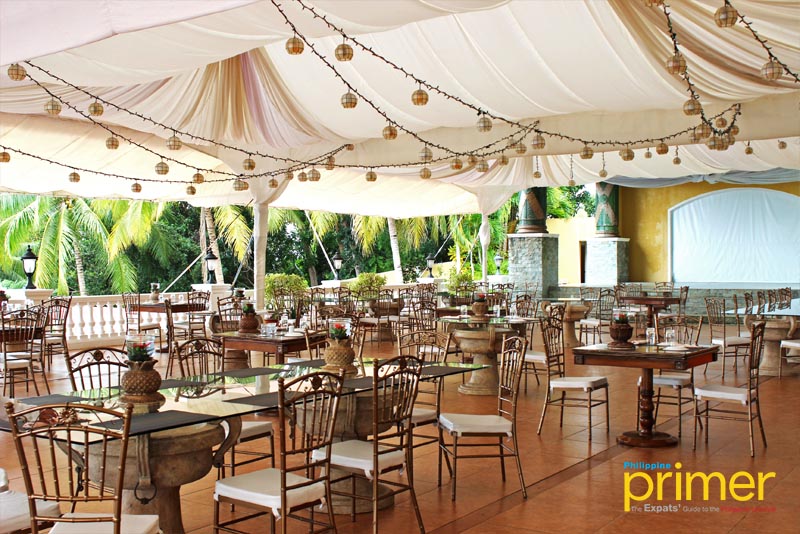 Alfresco dining at Laya Restaurant
The restaurant is the first thing you'll see upon entering the hotel. Its charming East-meets-West concept makes the restaurant more eye-catching, with little touches of history found in its interiors.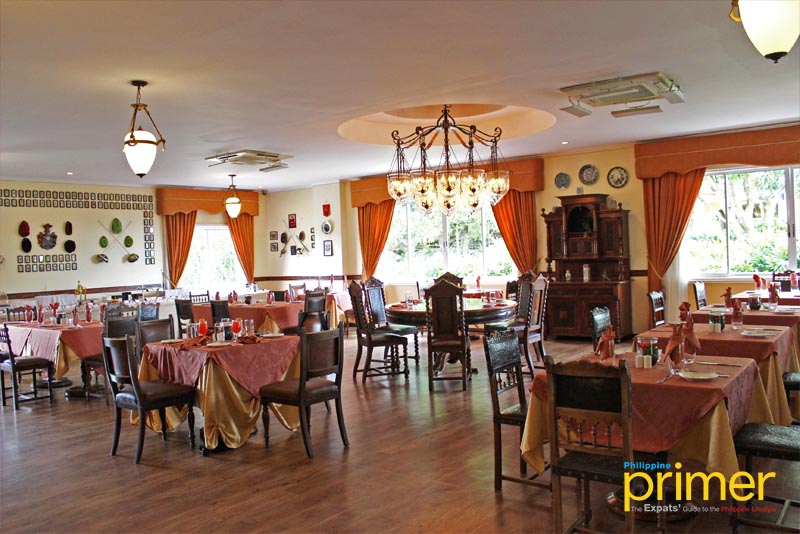 You'll notice that the tables and chairs and other furniture at Laya are different from each other. The table sets, furniture, and some of their displays are European antiques that stood the test of time.  
You will also find many memorabilia that feature the country's national hero, Dr. Jose Rizal. This is because the owner of The Peacock Garden is a fan of the hero, and he was a member of the Order of the Knights of Rizal before retiring with the second highest rank in the organization.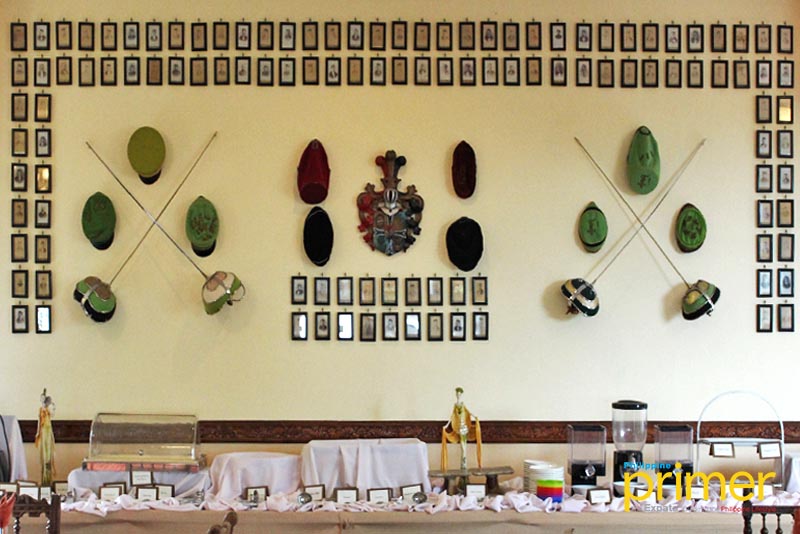 Some of the Knights of Rizal memorabilia that you'll find at Laya
At Laya, you can choose to dine indoor or al fresco. Dining at the patio is a popular preference as you'll be able to have a beautiful view of the forest and the ocean. They also have private rooms for those with special occasions or those dining in big groups.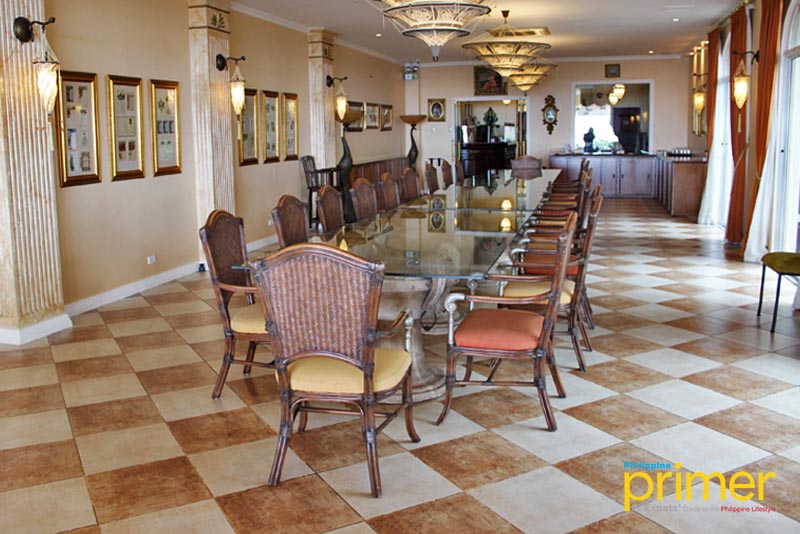 Laya's Private Dining Room for big groups and special occasions
You'll find continental as well as local favorites at the restaurant complete with a wide selection of international wines and homemade offerings. You'll also get a basket of their complimentary bread to start off your meal.
Try their Harlequin Shake and Gumamela Tea, some of their most popular drinks at Laya. Gumamela Tea (Php 105) is one of their homemade blends made from local Gumamela or Hibiscus flowers and while you'd expect it to be sweet, it actually poses hints of citrus and honey.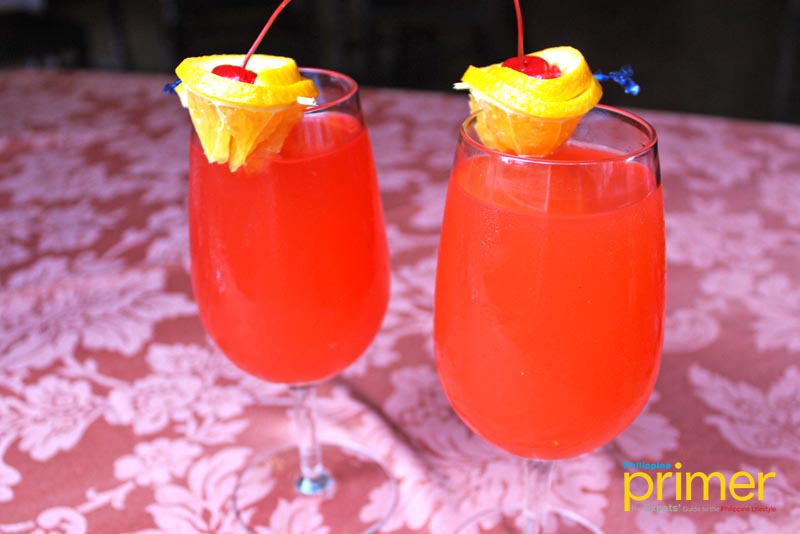 Gumamela Tea (Php 105)
Harlequin Shake (Php 165), is a milkshake that is a mix of Chocolate-Strawberry-Vanilla ice cream. Whether you're a kid or an adult – this milkshake is truly a treat.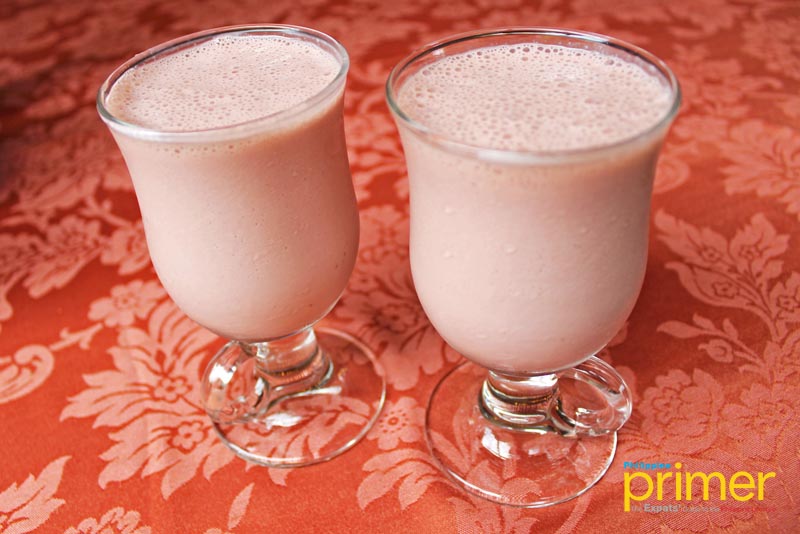 Harlequin Shake (Php 165)
Sample their Pork Schnitzel Vienna Style (Php 480), served with a side of fries and Cucumber Salad with Vinegar-Dill Dressing. When you cut into the schnitzel, the first thing that you would notice is how tender it is. When you bite into it, you'll get the perfect blend of spices.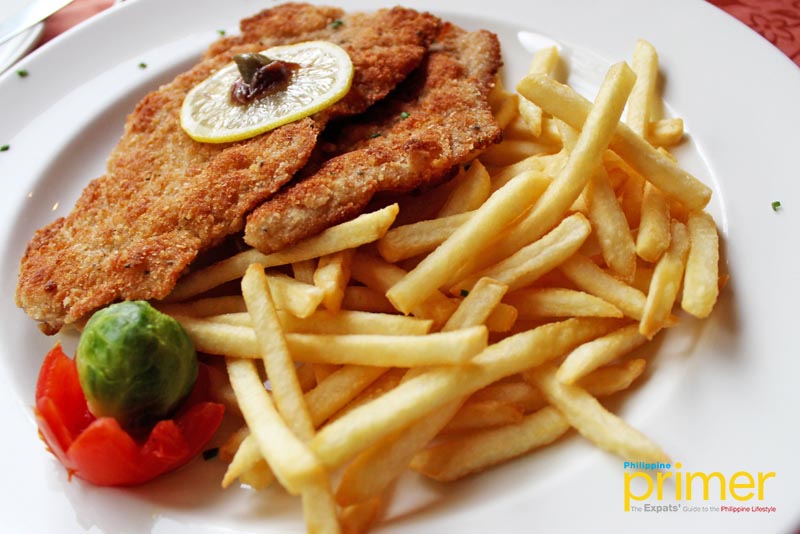 Pork Schnitzel Vienna Style (Php 480)
Cucumber Salad with Vinegar-Dill Dressing that accompanies the Pork Schnitzel
Up next is their Grilled Beef Fillet Steak (Php 995) served with a choice of Red Wine Sauce or Herb Butter, Bacon Beans, and Baked Potato. You'll find that the steak itself is succulent, going perfectly with either of the sauces. The bacon beans and baked potato complements the taste of the steak that makes for a perfect meal.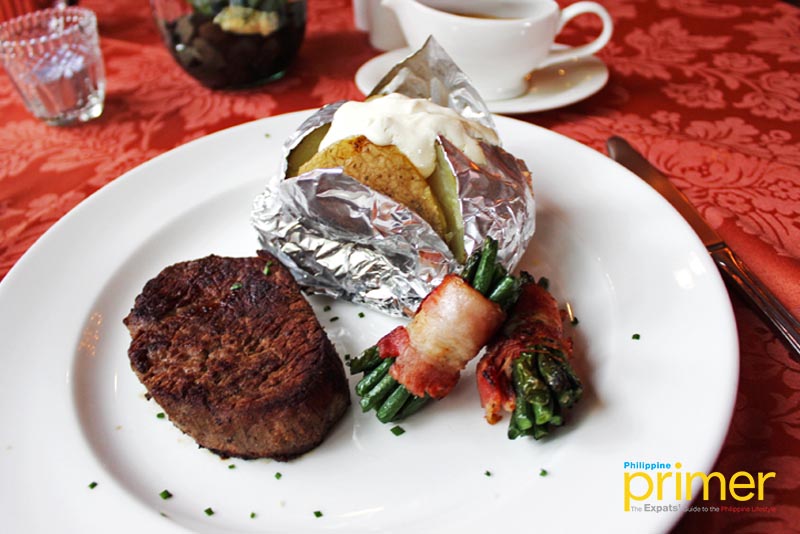 Grilled Beef Fillet Steak (Php 995)
If you love pasta, you'll definitely want to try making your own pasta (Php 480). From your choice of sauce to the choice of pasta, it's ideal if you're looking for this certain type of pasta that suits your liking. For the pasta, you can choose from their Homemade Pappardelle, Homemade Beef & Pork Ravioli, Spaghettini, Rigatoni, Fusilli, or Penne. For the sauces, you can choose from Napolitana, Bolognese, Carbonara, and Arrabiata.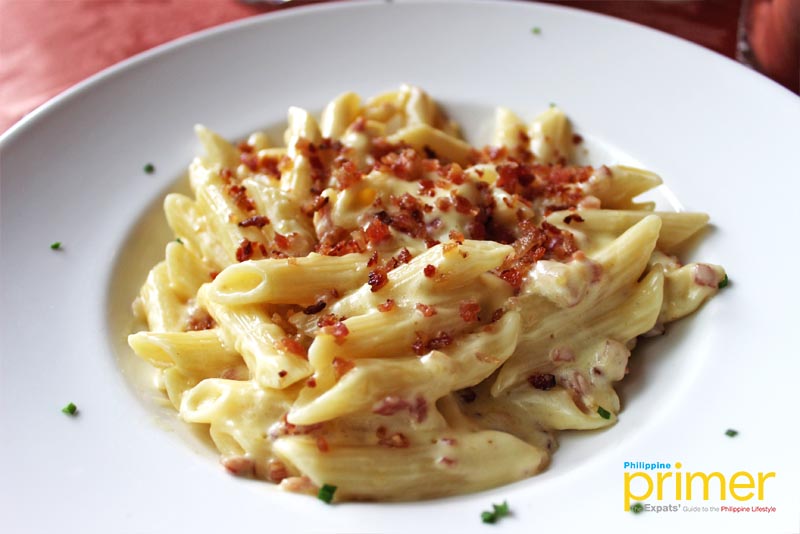 Make your own pasta (Php 480)
If you're a burger fan, you'll love their Wagyu Burger (Php 550) served with bacon, cheese, and the works! It definitely packs a punch that if you love Wagyu beef and you'll surely love this premium beef burger!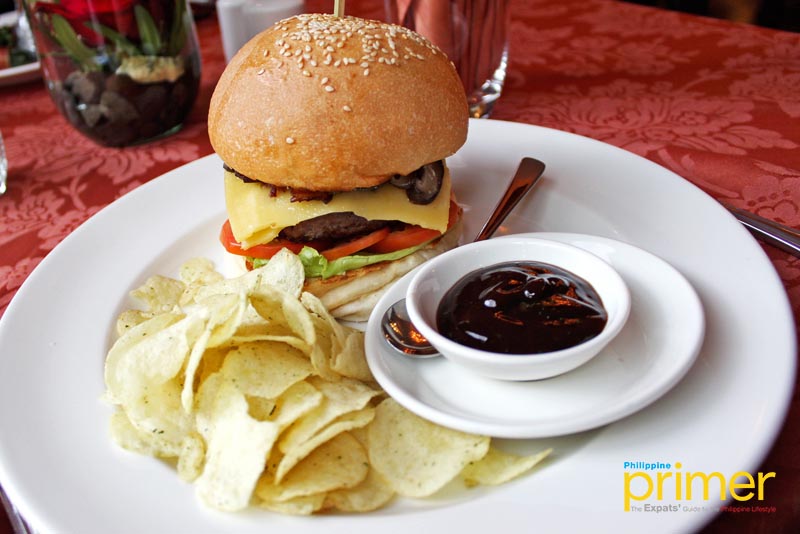 Wagyu Burger (Php 550)
For dessert, consider trying their homemade ice cream. You can choose to try all the flavors with their tasting platter (Php 495) or if you have a particular flavor in mind, you can get it in single (Php 90) or triple scoops (Php 250). They have a variety of flavors including Mango-Chili-Coriander, Hazelnut & Chocolate Chip, Vanilla Bourbon, and Ube among others. It's truly the perfect way to finish off any meal.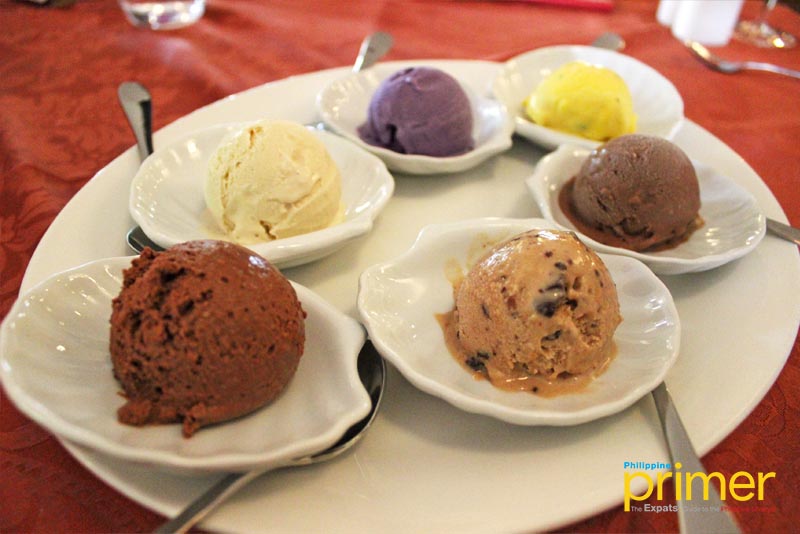 Ice Cream Tasting Platter (Php 495)
Dining at Laya isn't limited to the hotel guests as walk-ins are also allowed. Reservations are advised prior to your visit as the place can get packed especially during peak seasons.
Prepare to take a trip to Europe at The Peacock Garden's Laya Restaurant where an astounding gastronomical experience awaits.
How to get here:

If you're a guest at The Peacock Garden, the hotel provides shuttles from the airport, seaport, and the city. If you're not a guest, it's best to hail a cab or a private car going there as the roads leading to the hotel are quite steep. The hotel is around a 20-minute drive if you're coming from Tagbilaran City and a 40-minute drive if you're coming from Panglao.

If you're staying around Baclayon, you might also want to try hailing a tricycle to be able to get to The Peacock Garden.
General Information:
Address: Upper Laya, Baclayon, Bohol
Contact Number: 0917-729-8888
Operating hours: 7 am to 10 am (Breakfast); 11 am to 10 pm (Lunch & Dinner)
Facebook: The Peacock Garden
Instagram: thepeacockgarden
---
This first appeared in Philippine Primer's Japanese magazine April 2019 issue.
Written by Feliz Grace Bueno
General Information
The Peacock Garden, Upper Laya, Baclayon, Bohol
0917-729-8888
Breakfast - 7 a.m. to 10 a.m., Lunch & Dinner - 11 a.m. to 10 p.m.