5 Must-Visit Beaches in El Nido, Palawan
Aside from the island hopping tours by which El Nido in Palawan is most well-known for, one can also embark on a beach hopping activity while in town.
These beaches are readily equipped with bars and restaurants too, so you are sure to be filled not only by the beachscape but also by the wide array of food and beverages awaiting along the shoreline.
Lio Beach
Lio Beach, also known as Lio Tourism Estate, boasts a vast expanse of public beach with a lush tree line, and a collection of hotels, restaurants, and other lifestyle establishments. It has its own Lio Airport that welcomes travelers from Manila on AirSWIFT airline.
It can also be reached via free shuttle service from El Nido town. 
There are many activities to do here—as simple as lying pleasantly and getting a good tan on the beach or swimming in clear blue waters, and something more exciting like paddleboarding, kayaking, and scuba diving. 
Also read: Lio Tourism Estate: The Beach-Side Complex in El Nido
Nacpan Beach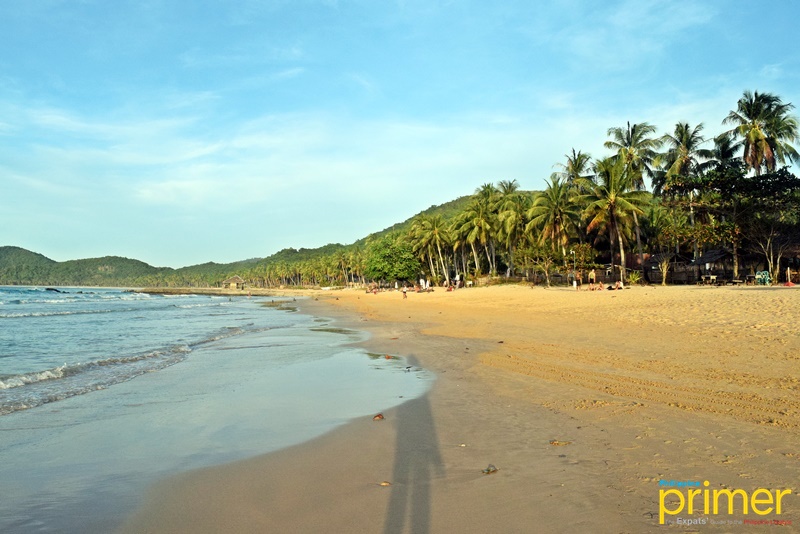 The beach itself boasts fine cream sand and moderate waves. Its whole stretch is dotted with small local-run restaurants, bars, and lodges, shaded by the palm trees that boost the island vibe.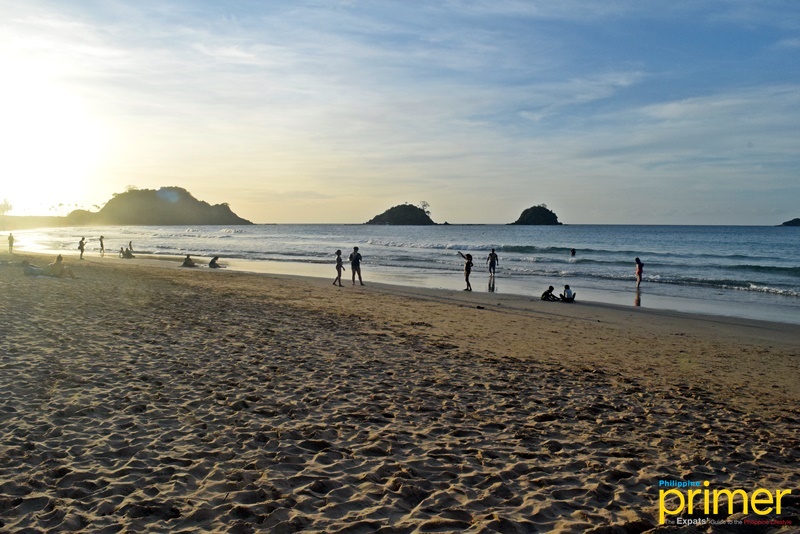 Some of the activities you can do while at Nacpan Beach are glamping, motorcycling, and of course, swimming.
El Nido Beach
El Nido Beach is at the heart of the town proper where most establishments are located. There are several resto-bars along the beach area like SAVA Beach Bar, Cafe Athena, Art Cafe, and Happiness Beach Bar with the ever-present view of the limestone cliffs.
It is also the boarding and docking area for those who will be doing the island hopping tour.
Also read: Cafe Athena in El Nido: Greek Mediterranean Along the Shore
Corong Corong Beach
While a number of docked boats texturize the blue green sea of Corong Corong Beach, a line of restaurants decorate the stretch of the waterfront that somehow binds the life sustained by human capability and the life sustained by nature.
The beach's sand may not be as fine as you want it to be, hence the need to wear slippers, but that's simply where one of its charms lie—in the somehow pebbly distinction of the white loose grains.  At sunset, restaurant diners and tourists flock to the shoreline to witness the golden sunset. 
Also read: Bella Vita in El Nido Palawan: Sunsets, Pizzas, and Cocktails by the Beach
Marimegmeg Beach
Marimegmeg Beach overlooks the naturally-spaced limestone mountains and islands that are backdropped by the El Nido horizon. Its stretch of almost unbelievably fine, white sand unifies with the usually calm, blue water, wherein you will see a good mix of people either doing water activities or those simply lying down sleeping or reading as early as 8 a.m.
Should you feel like being a little more adventurous, you may opt to enjoy the view of the beach through El Nido Zipline that connects a barely remote patch of island to the shoreline of Marimegmeg Beach. It starts at around Php 500 for a one-way trip.  
Also read:
Maremegmeg Beach Club in El Nido: A Stylish and Eco-Friendly Beach-Front Resort
The Birdhouse El Nido: A Quiet Oasis for Luxurious Glamping Adventure
Which among these beaches have caught your eyes so far? Let us know in the comments below!