Cafe Athena in El Nido: Greek Mediterranean Along the Shore
*Updated as of March 3, 2021
A passion project of a couple who fell in love with Palawan, Cafe Athena is a Greek Mediterranean restaurant along the busy beach-side streets of El Nido.
Their theme matches well with the beachside location making the restaurant a popular food destination with locals and tourists alike, that they even opened their first branch in Vanilla Beach Mall in Sitio Marimegmeg.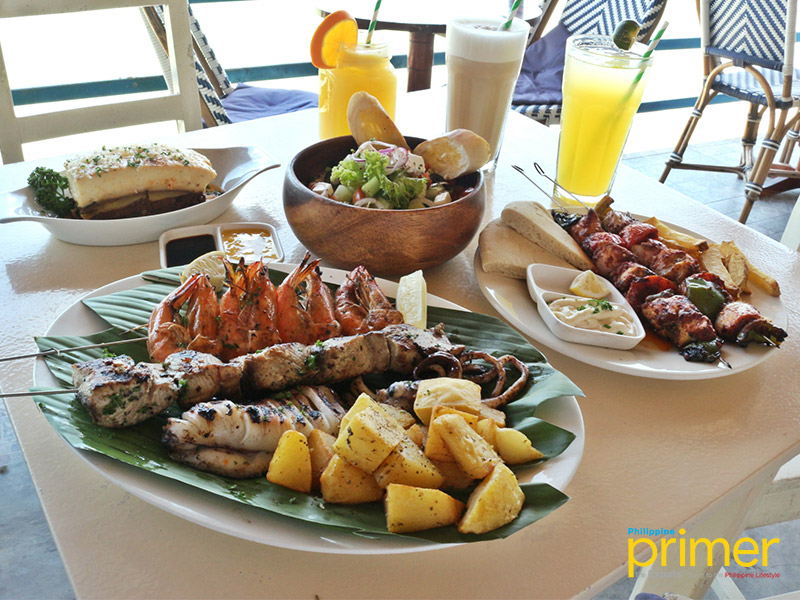 They have all these refreshing and healthy Greek Mediterranean dishes in store for all!
You can't miss Cafe Athena along Serena st.
With a mix of Greek-Mediterranean and El Nido's great seafood choices, Cafe Athena offers dishes that are both savory and healthy. One such example is the bestseller Horiatiki Salata (Php 300/solo ; Php 420/sharing), a traditional Greek salad of tomatoes, cucumber, and red onion with feta cheese.
Tossed with a red wine vinegar dressing, it is a very bright, healthy, and fresh salad dish to start the day!
Horiatiki Salata (Php 300/solo ; Php 420/sharing)
And what is a Greek restaurant without Souvlaki, a popular quick bite skewers served with garlic yogurt sauce, home-made pita bread and French Fries!
Cafe Athena's Souvlaki comes in many types of meat or vegetable options such as Chicken (Php 395), Seafood (Php 440), Beef (Php 495), Lamb (Php 540), and Vegetarian (Php 320).
Chicken (Php 395) and Beef (Php 495) Souvlaki!
Whenever possible, Cafe Athena sources their ingredients locally and as fresh as they can be. They are very proud of their seafood selections as they offer the catch of the day like the Seafood Platter (Php 840).
This dish is a selection of grilled seafood, tuna steak, squid, and shrimp served with Greek salad and Baked potatoes. While the restaurant started without the Seafood Platter on the menu, they decided to add it due to popular demand. 
Ever heard of a Greek restaurant with a Seafood Platter (Php 840)?
The owners constantly take their customers' requests into consideration like how the Moussaka (Php 480) came into the menu. It is a baked eggplant-tomato dish with a generous layer of mashed potato that has become a staple in many Greek Mediterranean restaurants.
Moussaka (Php 480)
Wash it all down with drinks such as Calamansi Juice (Php 140) and Vitamin C (Php 200), a fresh mix of pineapple, calamansi, and orange or Detox (Php 200) made of apple, celery, cucumber, and malunggay! So take a taste of the Mediterranean at the shores of El Nido at Cafe Athena!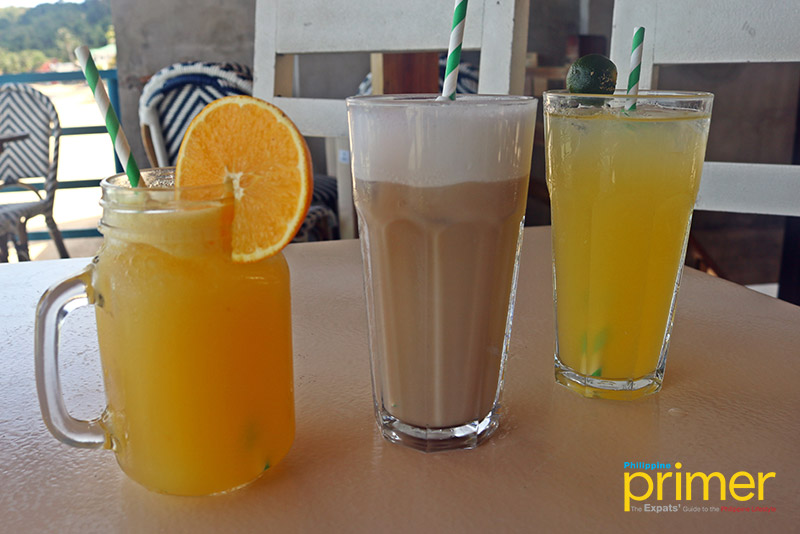 Vitamin C (Php 200), Detox (Php 200), and Calamansi Juice (Php 140)
How to get here
•  Cafe Athena is along Serena St. in Buena Suerte, El Nido.
•  Vehicles are not along the small street but some motorcycles can if you are renting from the city. If you are coming from your island hopping tour, you can ask your boatman to drop you along the beach and it will be a short walk to the shore and to Serena St.
---
This first appeared in Philippine Primer's Japanese and English  Magazines March 2020 issue.
Written by Heloise Diamante
Store Information
Serena St., Buena Suerte, El Nido, Palawan
0917-324-4544 / 0977-830-0732
7 a.m. to 12 a.m. (L.O. 10:30 p.m.)
info.cafeathena@gmail.com
Vanilla Beach Mall, Sitio Marimegmeg, El Nido, Palawan
Restaurant Menu
You can scroll the image left and right.