6 Best Hotels in Tagaytay: From Budget-Friendly to Luxurious Staycation for Everyone
When we talk about staycation or weekend getaway, Tagaytay is undeniably one of the places in the front line mainly because of its majestic view of the Taal lake and of course, its cool climate.
So without further ado, here's a list of the best places to stay from budget-friendly to luxurious staycation—all catered to your wants and needs!
Alfonso Hotel
If you are looking for a budget-friendly place to stay, Alfonso Hotel is a quiet inn along Tagaytay-Nasugbu Highway that serves as an intimate sojourn in the midst of Tagaytay's serene greenery.
Its modest look makes it non-intimidating for guests to relax and relish the cool Tagaytay breeze. They have 15 Deluxe rooms (Php 2,785) that will remind you of simple country living as each room is equipped with rattan and bamboo bed frames, complimented by wooden elements.
Also read: Alfonso Hotel at Royale Tagaytay Estates: A Quiet and Intimate Sojourn Away from the City
Address: Royale Tagaytay Estates, #4 Washington Ave, Alfonso, Cavite
Check-in: 2 p.m. ; Check-out: 12 n.n.
Contact: 046-413 0770 / 0906-261-5292 / 0922-818-5468
Facebook: facebook.com/Alfonso-Hotel-wwwtagaytayalfonsohotelnet-55834484286/
Website: alfonsohoteltagaytay.com
Anya Resort Tagaytay
While the rest of the city is getting packed and crowded this holiday season, rejuvenate yourself within Anya Resort Tagaytay's 7.2-hectare of exclusive serenity, boasting luxurious amenities guaranteed to make your stay tailored to your taste.
Anya boasts earth-toned contemporary architecture bringing a familiar feeling of being home with their 78 luxurious suites. One among to check them is the Junior Twin and Junior King Suites (Php 20,254).
Apart from that, Anya also boasts two dining options, the Samira Restaurant, and Anila Poolside Restaurant, a pool, gym, and spa.
Also read: Anya Resort Tagaytay Offers Exclusive Serenity and Luxurious Amenities Tailored to Your Taste
Address: Anya Resort Tagaytay, Buenavista Hills Road, Brgy., Mag-asawang Ilat, Tagaytay City
Check-in: 2 p.m. ; Check-out: 12 n.n.
Contact number: 02-8657-1640
Facebook: www.facebook.com/anyaresorttagaytay
Website: anyaresorts.com
Escala Hotel
Located just along the Tagaytay-Nasugbu Highway, Escala Tagaytay is a boutique hotel that is equipped with around 60 rooms, each with a view of its serene infinity pool and the lake.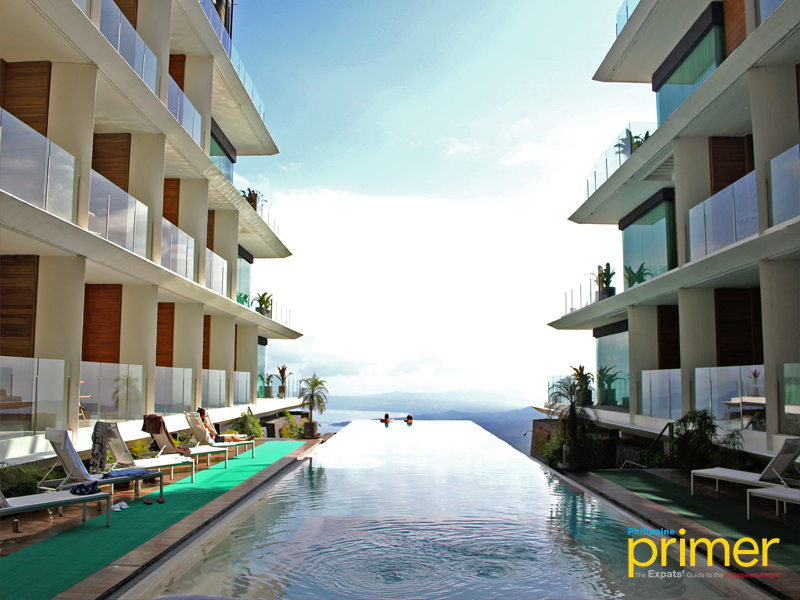 The hotel not only boasts one of the best views of Taal Lake but it also some of the best amenities and facilities that Tagaytay has to offer. One among them is their beautiful selection of rooms like the Deluxe Room (Php 8,500).
They also have an in-house restaurant called Bellisima, a gym and a spa.
Also read: Escala Hotel in Tagaytay Presents an Unclouded View of the Majestic Taal Lake
Address: Escala Tagaytay, Purok 102, Poblete St., Brgy. Maharlika West, Tagaytay City
Check-in: 2 p.m. ; Check-out: 12 n.n.
Contact number: 02-8657-1640
Website: escalatagaytay.com
Facebook: facebook.com/EscalaTagaytay1
Hotel Carlito
Looking for something unique? Hotel Carlito gives you a piece of the lush European lifestyle in the heart of Tagaytay. This five-story boutique hotel radiates a modest yet elegant ambiance from its overall European-inspired architecture.
It houses a total of 22 rooms with each highlighting different European countries. The main attractions of the hotel are the Royal Suites (Php 12,000) and Presidential Suite (Php 18,000) because of their simple yet well-decorated interior based on the owner's favorite European countries such as Greece, Russia, France, the Netherlands, and Spain.
Completing the hotel's amenities are a fitness gym, swimming pool, and function rooms like their event hall and conference room for special occasions and business meetings.
Also read: Hotel Carlito in Tagaytay Radiates the Lush European Lifestyle to Travelers
Address: 9005 Isaac Tolentino Avenue (formerly Tagaytay-Calamba Road), Barangay San Jose, Tagaytay City, Cavite
Contact: 046-409-9230 / 0917-131-0088
Check-in: 2 p.m.; Check-out: 12 n.n.
Email: booking@hotelcarlito.com
Website: hotelcarlito.com
Facebook: facebook.com/hotelcarlito
Instagram: instagram.com/hotelcarlitotagaytay
Discovery Country Suites
Whether you are crashing in for the night or spending a long vacation in Tagaytay, Discovery Country Suites will make sure that you will not feel homesick. To call it a home away from home is more fitting than to call it a hotel.
They have a total of seven spacious and homey master suites, making it a perfect warm and comforting place for Tagaytay goers. It is an ideal country home with its elements of oak and stone foundations that blends gracefully with the fine furnishings and art pieces.
One of which is their Premier suite Siam (Php 7,800++). Named after the former name of Thailand, this elegant suite exudes a simple yet cozy old-world charm with its intricate wood elements and decor. Apart from that, they also have an in-house restaurant called Restaurant Verbena.
Also read: Discovery Country Suites in Tagaytay: A Quiet Vacation Home for Everyone to Stay in
Address:  300 Calamba Road, San Jose, 4120 Tagaytay City
Contact: 02-8-529-8172
Check-in: 2 p.m. / Check-out: 12 n.n.
Email: reservations@dcs.discovery.com.ph
Website: discoverycountrysuites.com
Facebook: facebook.com/DiscoveryCountrySuites
Instagram: instagram.com/discoverycountrysuites
Summit Ridge Tagaytay 
Sitting at the coldest and highest point of Tagaytay is a five-star deluxe hotel with a majestic panoramic view of the Taal is Summit Ridge Tagaytay.
The openness of the Asian Tropical-styled lobby gives a relaxed yet upscale vibe to guests as they book and walk their way to their rooms. This nine-story building also has a total of 108 rooms such as the Summit Suite (Php 7,150+) room.
As a five-star deluxe hotel, Summit Ridge also houses a tranquil spa, a gorgeous infinity pool, an in-house gym, an indoor basketball court, and an in-house restaurant Café Summit.
Also read: Summit Ridge Tagaytay Offers a Luxurious Stay on Top of the Hill
Address: Km. 58 Emilio Aguinaldo Highway, Maharlika West, Tagaytay City, Cavite
Contact Information: 0998-888-7788 / 0917-888-7788
Check-in: 2 p.m. ; Check-out: 12 n.n
Email: reservations@summithotels.ph
Website: summithotels.ph
Facebook: facebook.com/SummitRidgeTagaytayPH
Instagram: instagram.com/summit_hotels
Also read: 8 Well-Kept Treasures and Wonders of Tagaytay
Have you stayed in any of these hotels before? What are your experience? Let us know on the comments below!