8 Well-Kept Treasures and Wonders of Tagaytay
Tagaytay City is a nature excursion and home to many well-kept treasures and wonders that are just itching to be discovered. Despite being a very familiar place, no visit to Tagaytay is ever the same.
Join Philippine Primer as we revisit Tagaytay and rediscover the best of the Philippines' second summer capital!
Picnic Grove
One of the many spots in Tagaytay that is frequented by tourists is the scenic Picnic Grove. Here, sight-seeing and small nature excursions are some of the best experiences that everyone—foreign and local tourists alike—come to enjoy whenever they travel to Tagaytay.
What's more to love about Picnic Grove is the family-friendly activities you can do such as horseback riding and zip-lining. Horseback riding is usually priced Php 350 for a one-hour ride, while zip lines are priced at Php 200 for one-way and Php 300 for two-way.
Apart from that, Picnic Grove also hosts various souvenir shops, picnic spots with a scenic view best paired with a cup of the famed strawberry taho.
Also read: Picnic Grove in Tagaytay is a Nature Excursion for All Ages
Address: Tagaytay Picnic Grove Complex, Tagaytay-Calamba Road, Brgy. Sungay East-End, Tagaytay City
Operating hours: 7 a.m. to 7 p.m.
Entrance fee: Php 50 (4 yrs. old and above)
*Senior citizens and PWDs are entitled to a 20% discount on Entrance Fees. They must present their IDs before payment to avail of the discount.*
People's Park in the Sky
Another famous go-to spot for sightseeing in Tagaytay is People's Park in the Sky presenting a wide view of the Taal volcano joined by the all-green Tagaytay Highlands.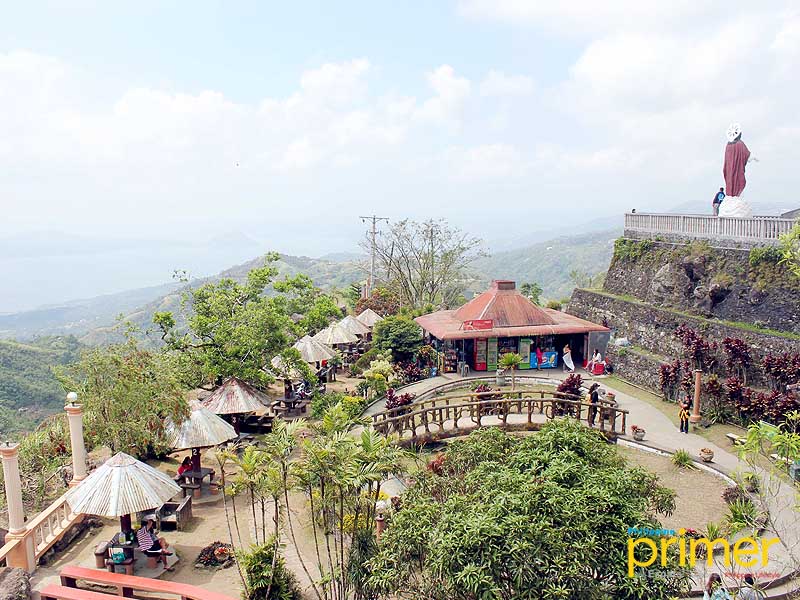 From being an abandoned palace to being one of the parks that takes you to the highest peak of Tagaytay, People's Park in the Sky is a rather good time for you to let your mind mellow out and appreciate nature around you.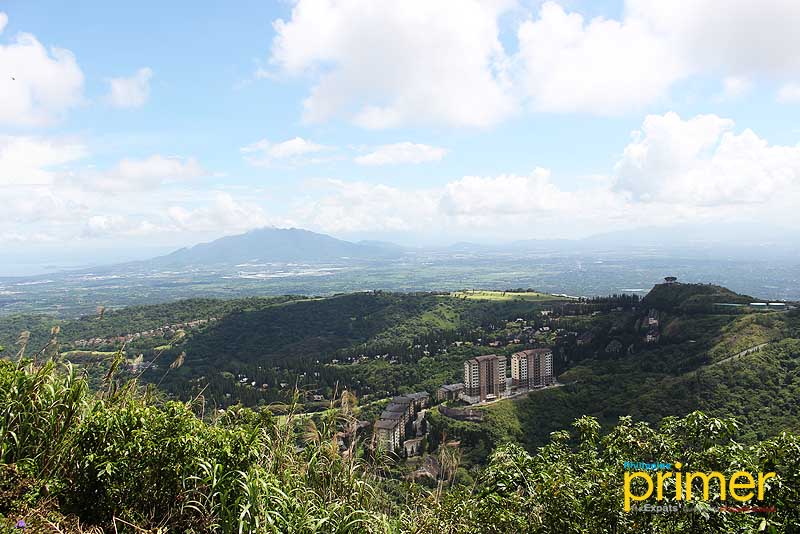 There are also a few food joints and souvenir shops where you can stop over for snacks and trinkets to take home.
Also read: People's Park in the Sky in Tagaytay: A Historic Palace and Park Atop Tagaytay
Address: Mt. Sungay, Brgy. Dapdap East, Tagaytay City
Operating hours: 8 a.m. to 6p.m.
Entrance fee: Php 30
Skyranch
Of course, what's a trip to Tagaytay without a stop to one of the go-to spots with over 30 attractions and rides? Sky Ranch is a theme park that caters to everyone from families to kiddie and adventurous rides.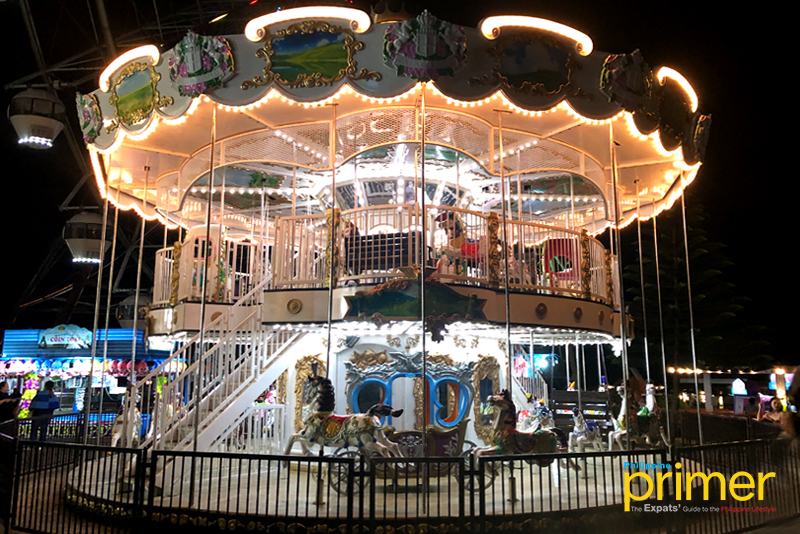 One among the highlights would have to be Sky Eye, the park's Ferris wheel that takes thrill-seekers 63 meters above the ground where they can catch a picturesque view of the park and the majestic Taal Volcano.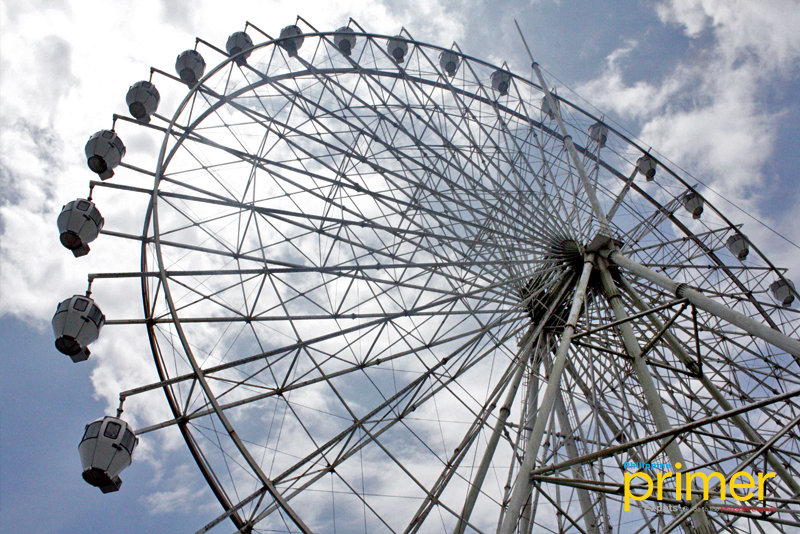 Apart from that, Skyranch also boasts inflatables, animal carts, game consoles, and a 4D simulator. There are also a few souvenir stalls inside the park where you can get your Tagaytay souvenirs from!
Also read: Sky Ranch in Tagaytay: Experience Fun, Thrill and Excitement in the Chilly City
The Pink Sisters Convent
The Pink Sisters Chapel is often a pit stop for people who visit Tagaytay. Visitors wish to ask for prayers from the nuns here as they are said to be offering prayers for the world 24 hours a day.
The chapel is open for masses every 6 a.m. during weekdays and 6 a.m. and 5:30 p.m. for weekends.
Outside the chapel is a garden-like setting of the Station of the Cross. Visitors can take a stroll while indulging in the fresh breeze and the temporary solitude.
Also read: The Pink Sisters Convent and Chapel in Tagaytay: A Quietude Space for Prayers and Intentions
Address: Pink Sisters Convent, #08 Holy Spirit Drive, Brgy. Maitim 2nd East, Tagaytay City
Business Hours: 6 a.m. to 6 p.m.
Contact: 02-8722-8828
Website: pinksisterstagaytay.freehostia.com
Tagaytay Highlands
If you are looking for a place to permanently stay and a place that perfectly embraces the nature and cool climate of Tagaytay, look no further as Tagaytay Highlands offers an exclusive and luxurious residential community here.
Tagaytay Highlands also houses some of the finest dining destinations, exciting golf courses, and a variety of leisure activities all set in the cool climate and magnificent view of Tagaytay.
Also read: Tagaytay Highlands: An Exclusive and Luxurious Residential Community in the South
Address: Tagaytay Highlands, 4120 Brgy. Calabuso, Tagaytay City, Cavite
Contact: 046-483-0829
Facebook: facebook.com/Tagaytayhighlands
Website: www.tagaytayhighlands.com
Bearseum
If you are looking for a special place at the chilly weather of Tagaytay, find your way to Bearseum and bring back your childhood with ultimate happiness and relaxation all rolled into one.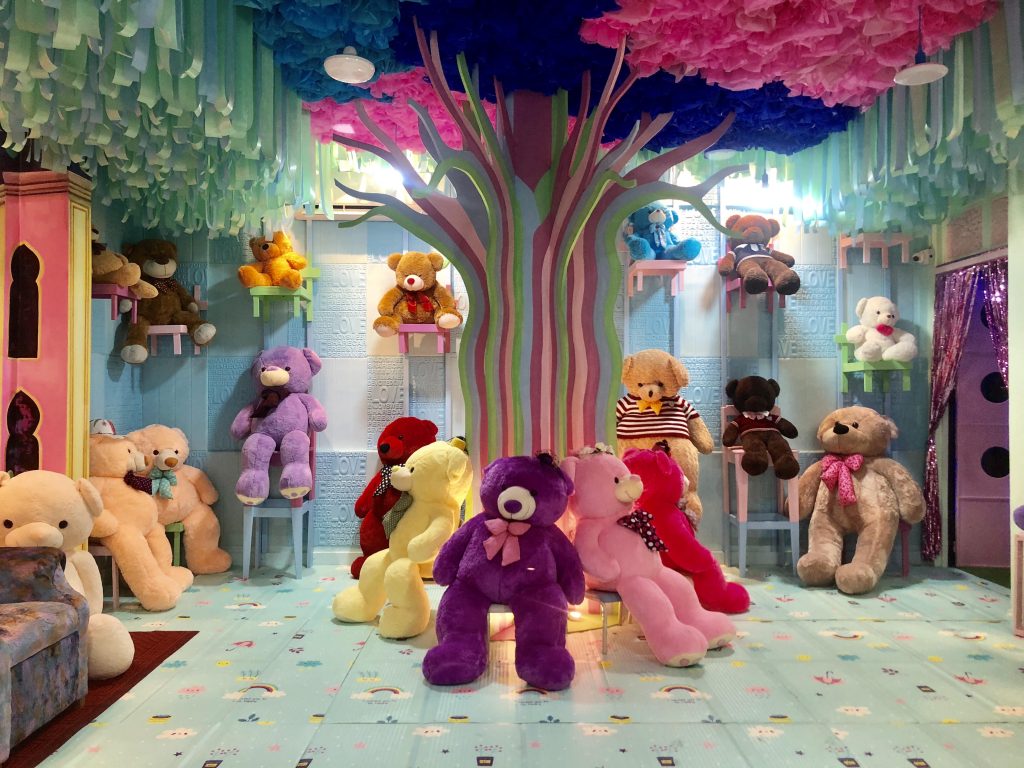 Bearseum offers a first-of-its-kind Bear museum, a 15 to 20 minutes museum experience and a creative space that will surely remind everyone that happiness is everywhere. Admission every weekday is Php 190 while weekend rates are Php 240.
Can't get enough of bears? Bearseum also has suites for guests to stay! Choose from six extraordinarily decorated rooms bursting with bear-filled happiness and comfort like the enchanted forest, royal delight, and beyond the stars room.
Also read: Bearseum in Tagaytay: Bringing Bear-Filled Happiness and Relaxation to Everyone
Address: 045 Santa Rosa – Tagaytay Rd., Tagaytay City
Business hours: 9:30 a.m. to 8:30 p.m.
Admission: Children below three feet are Php 40 off, while babies below 11 months old and birthday celebrants are free
Monday to Friday – Php 190
Saturday to Sunday – Php 240
Facebook: facebook.com/Bearseum
Website: bearseum.ph
Puzzle Mansion
When in Tagaytay, one must not miss a historical tour to the only jigsaw puzzle museum in the world owned by the late Georgina Gil-Lacuna, a businesswoman and an avid collector of jigsaw puzzles.
Puzzle Mansion showcases a colossal assemblage of mindboggling puzzle art collection from the simplest to the most complex there is and houses a total of 1,028 sets of jigsaw puzzles of all sizes, shapes, and forms defeating Brazil's record of only 238 puzzles.
Puzzle Mansion is also awarded as the largest collection of jigsaw puzzles achieved by Georgina Gil-Lacuna in November 2012.
Also read: Puzzle Mansion in Tagaytay Showcases Thousands of Impressive Puzzle Masterpieces
Address: Cuadra Street, Brgy. Asasin, Tagaytay City
Contact: 02-8661-0019
Business hours: 8 a.m. to 6 p.m. daily
Facebook: facebook.com/PuzzleMansion
Admission: Php 100 per head (3 years old and below is free)
Museo Orlina
The art adventure does not even here as Tagaytay is also home to the five-level glass museum that showcased the artistry of the internationally acclaimed and pioneer of glass sculptures in the country—Mr. Ramon Orlina.
Long before glass sculptures were popular in the Philippines, glass was only appreciated as a utilitarian function.
Today, glass transformed the sculpting medium into a dazzling art that showcases the immense potential of it.
Also read: Museo Orlina in Tagaytay: Showcasing Glass Artistry in the Country
Have you been to any of these spots? What are your favorite stops? Let us know your Tagaytay experience in the comment section below!