Hotel Carlito in Tagaytay Radiates the Lush European Lifestyle to Travelers
Greatly inspired by traveling around the world, particularly the European region, Hotel Carlito gives you a piece of the lush European lifestyle in the heart of Tagaytay.
Hotel Carlito in Tagaytay
Established in 2018, this five-story boutique hotel radiates a modest yet elegant ambiance from its overall European-inspired architecture inspired by travel experiences.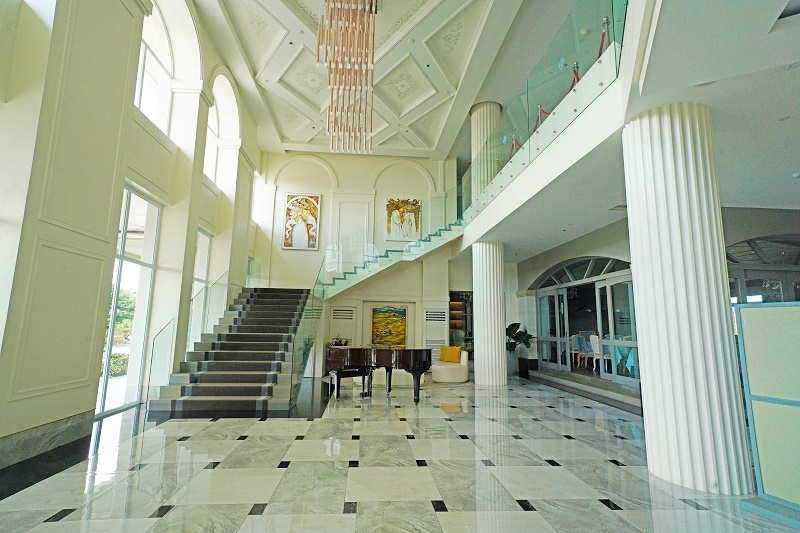 It houses a total of 22 rooms with each highlighting different European countries. Take a pick from their Deluxe Suite (Php 6,500) and Junior Suite (Php 6,800) rooms that boast a clean and satisfying aura, and a great window view of the Tagaytay ridge and Taal Lake.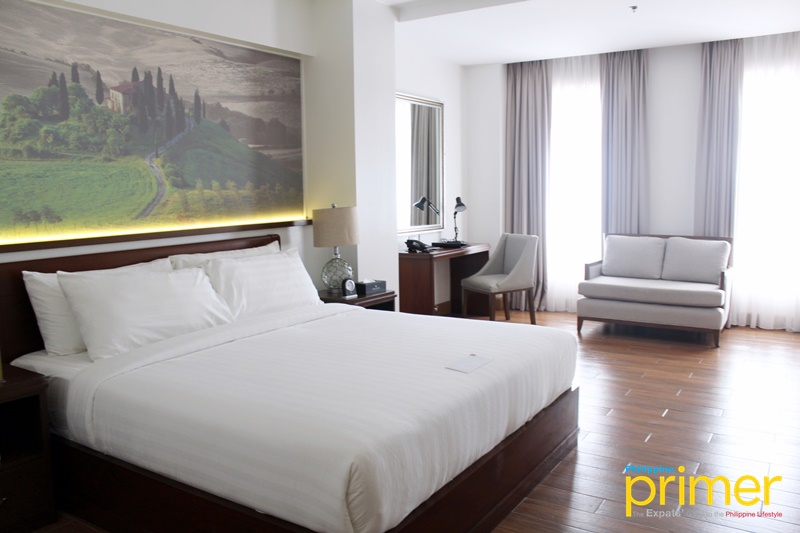 Deluxe Suite (Php 6,500)
The main attractions of the hotel are the Royal Suites (Php 12,000) and Presidential Suite (Php 18,000) because of their simple yet well-decorated European interiors.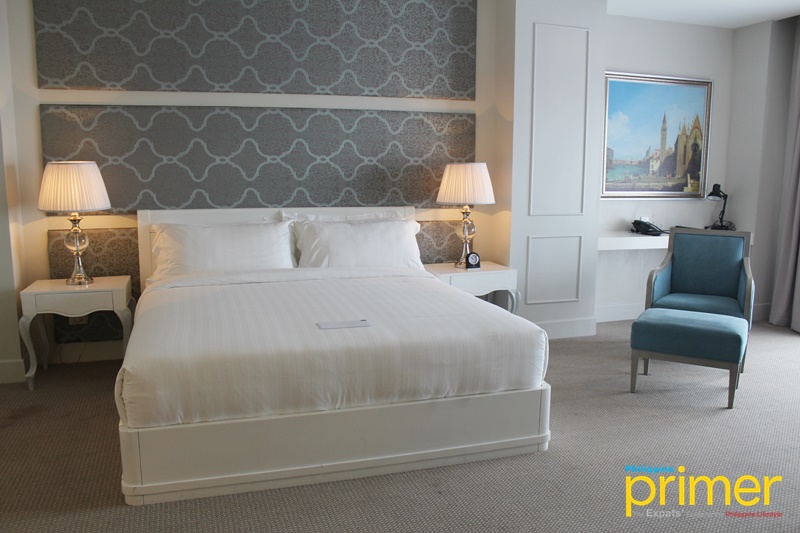 Royal French Suite (Php 12,000)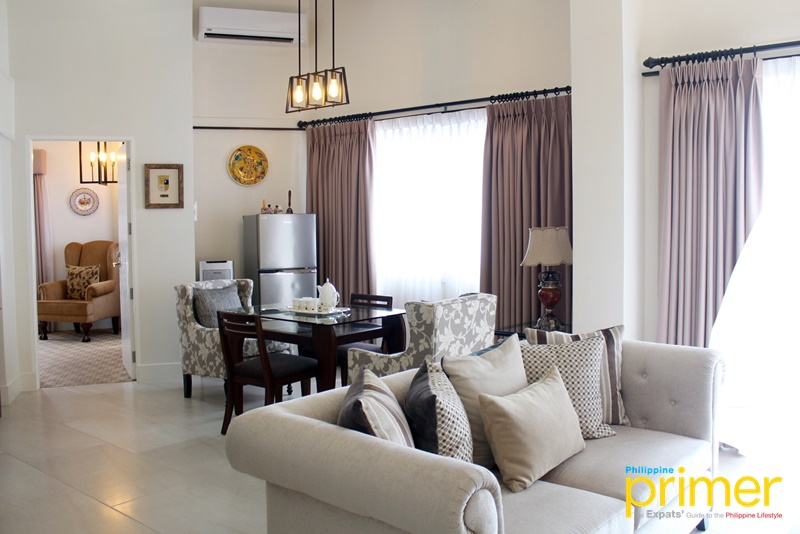 Presidential Suite (Php 18,000)
One of which is the Royal Greek Suite that will remind you of the iconic beauty of Santorini. Furnished with a vibrant royal blue and white color palette, digital fireplace, separate living area, and an over the top bathroom, this suite is perfect for couples on their honeymoon.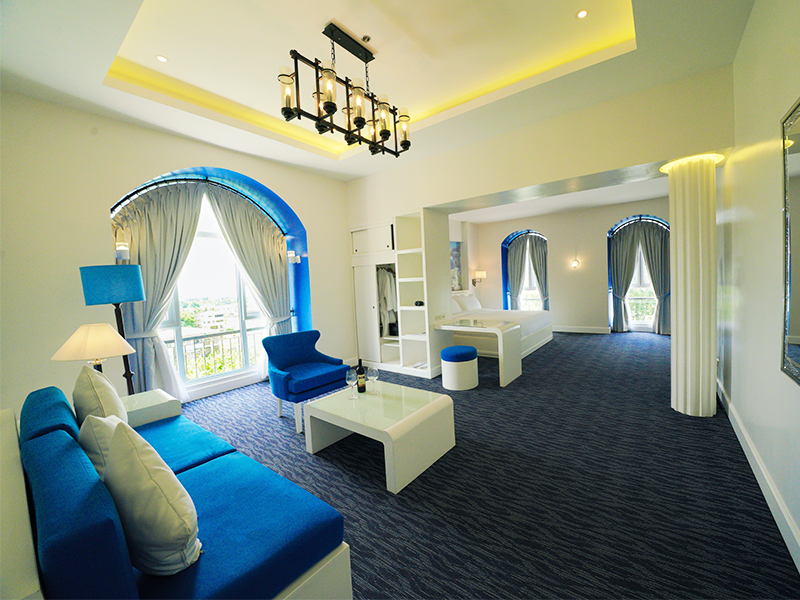 Royal Greek Suite (Php 12,000)
Each room has ample space for the living area and modern amenities that will surely spark up your Tagaytay staycation. They also have an area wherein multiple deluxe suites can be booked by a whole family and have a glass partition installed to turn it into a family room.
Completing the hotel's amenities are a fitness gym, swimming pool, and function rooms like their event hall and conference room for special occasions and business meetings.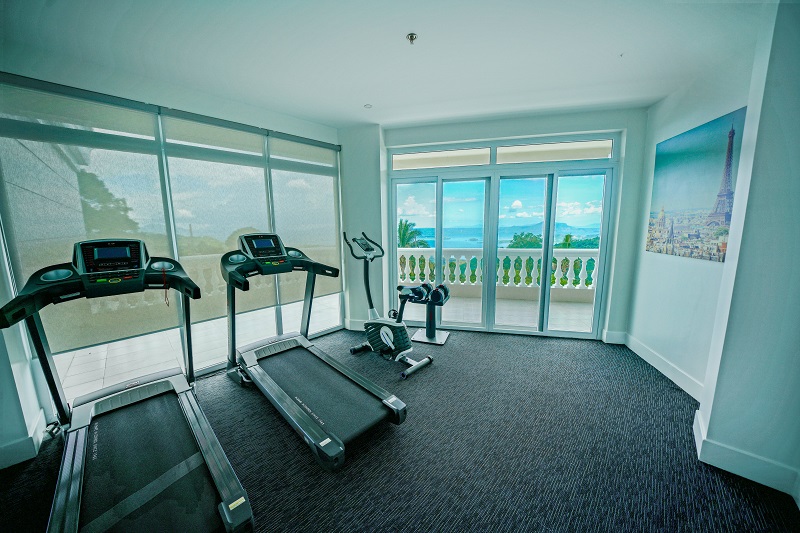 Fitness gym
Aside from the rooms, their in-house Lyon Fine Dining restaurant and Café Étoile is another reason to stay as they will not fail you with their exquisite European fares and Filipino cuisine.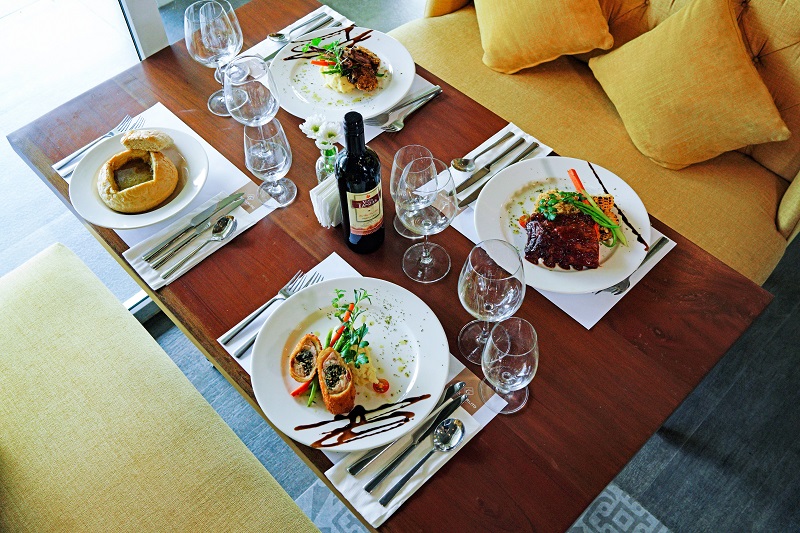 Sumptuous European and Filipino fares at Lyon Fine Dining restaurant and Café Étoile
All details of the hotel's interior and rooms are well-decorated from the intricately hand-painted ceiling design, the mural map of Europe at the reception, up to the furnishings and decor in every hallway.
The reception
These small intricate details are pleasingly hand-picked by the owners themselves, ensuring a world-class standard of hospitality experience to their guests.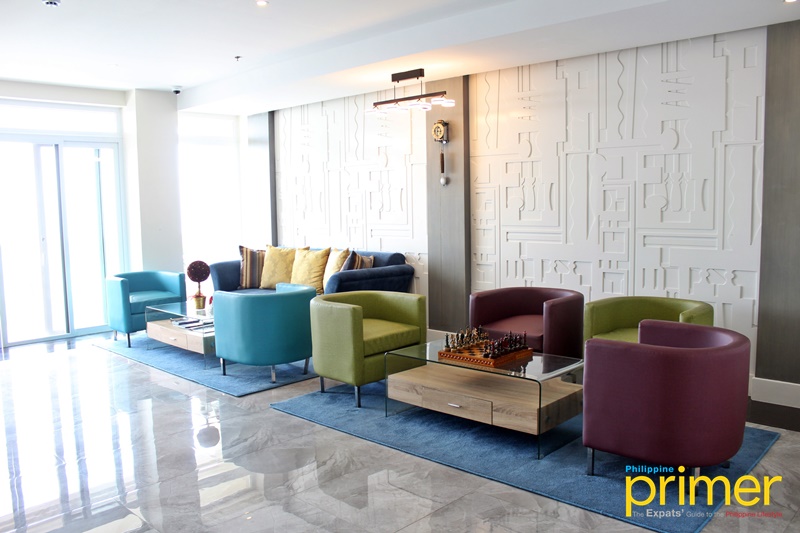 The living area on the second floor of the Hotel Carlito
Last but not the least, Hotel Carlito is also one of the best spots to go sight-seeing as their strategic location enables guests to see a 360-degree view of Taal Lake and the cityscape from the hotel's rooftop.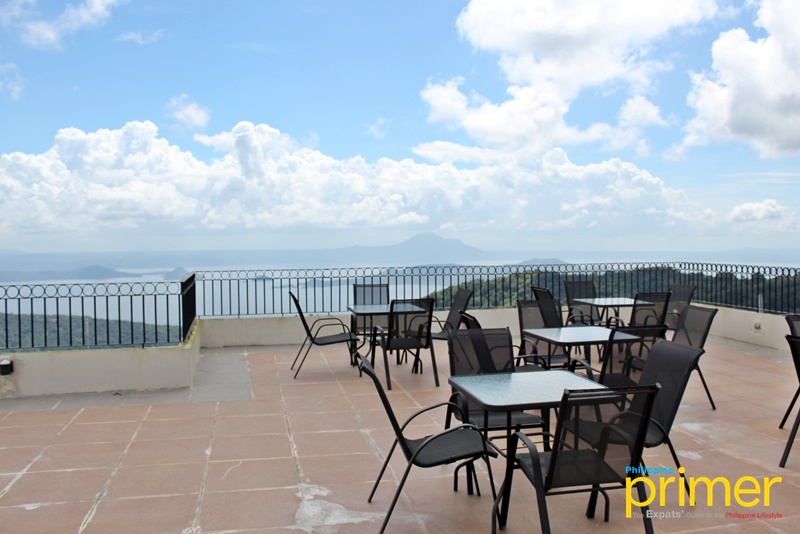 How to get here
Hotel Carlito is located one minute away from Olivarez Plaza along Tagaytay-Calamba Road. From Olivarez Plaza, drive at the Tagaytay Rotonda bound to Tagaytay-Calamba Road. The hotel is on the left side of the road.
The nearest landmarks are Colette's (before Hotel Carlito) and McDonald's (in front of Hotel Carlito).
Parking space is available for hotel guests.
Details
Address: 9005 Isaac Tolentino Avenue (formerly Tagaytay-Calamba Road), Barangay San Jose, Tagaytay City, Cavite
Contact: 02-8533-8577 / 046-409-9230 / 0917-131-0088
Check-in: 2 p.m.; Check-out: 12 n.n.
Email: booking@hotelcarlito.com
Website: hotelcarlito.com
Facebook: facebook.com/hotelcarlito
Twitter: twitter.com/HotelCarlito
Instagram: instagram.com/hotelcarlitotagaytay
---
This first appeared in Philippine Primer Japanese and English magazine December 2019 issue.
Images courtesy of Hotel Carlito
Written by Deneca Ordinanza