Bizu Patisserie in Makati
Bizu Patisserie is a posh and perky Parisian-inspired patisserie that serves a unique and healthy selection of pastries and meals.
A place that both men and women enjoy.
This patisserie's name was inspired by the French word "bisou" which means kiss. It is also very similar to the Filipino term "beso" which means greetings through cheek kisses.
Bizu Patisserie wants to fill people with happy and inspiring kisses, and that is what you might just feel with their perky pink and purple theme with pleasant outdoor seating.
Bizu Patisserie is known for their delicious cakes and pastries, but another healthy must-try is their fresh salads like the Salmon Crepe Salad. Its baby greens are so fine that you don't have to worry about grinding them in your mouth. The chewy crepe, mozzarella cheese, salmon, thick yolk, and Bechamel sauce will surely create a party in your mouth!
Salmon Crepe Salad (Php 375)
The Truffle Salad is a healthy mix of baby leaves, sauteed mushrooms, lardons, croutons, cherry tomatoes, and hard boiled egg. It is made even more refreshingly aromatic and tastier with the mixture of parmesan cheese, truffle sauce, hollandaise sauce, and lemon vinaigrette.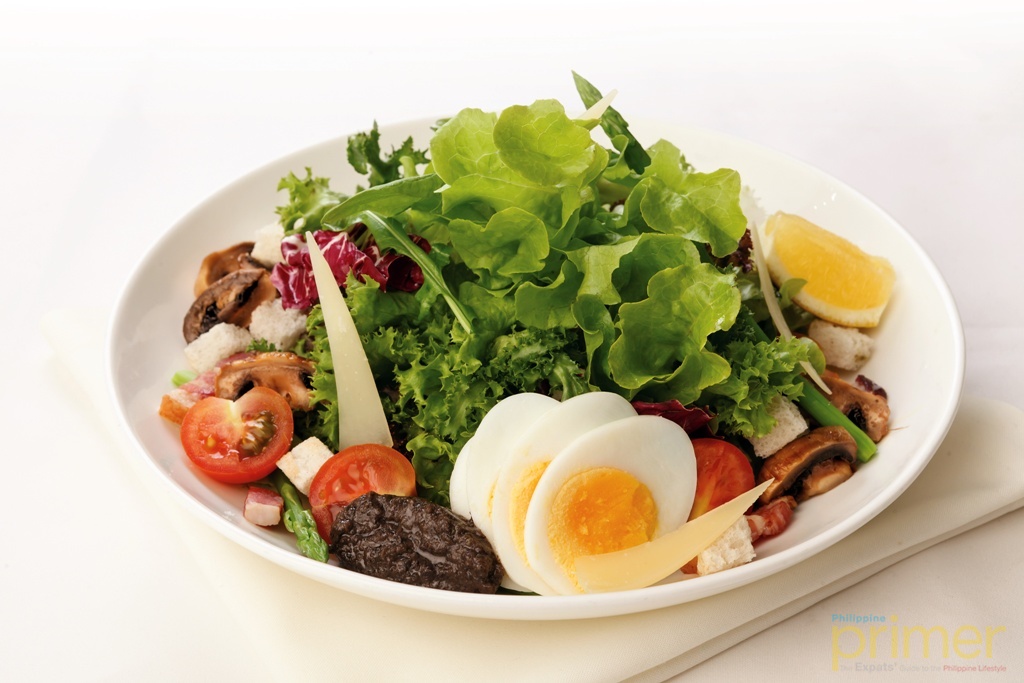 Truffle Salad (Php 395)
---
Written by Rizelle "Rei" Leaño

Greenbelt 2, Ayala Center, Makati City

7 a.m. to 11 p.m. (Mon. to Sun.)