Marison's
Homegrown restaurants will always be treasured by the community they come from, especially if it helps the community be known outside their town or province. Marison's is one of those special restaurants that have brought the town of Antipolo from being a quick getaway to a true tourist destination.
THE UNMISTAKEABLE LOGO. You won't get lost trying to look for Marison's, regardless if it's in Vista Mall or Robinsons Place.
Marison's was born out of the Antipolo-loving heart of Marison Villareal, who envisioned a way for citizens of Antipolo to experience gourmet food and a great dining experience without having to leave the city.
BIG ENOUGH FOR FAMILIES. It's a popular with families who visit Antipolo.
Marison's popularity has already gone beyond the borders of Antipolo City. It's been featured in GMA's Unang Hirit and Saksi as well as KrisTV, which gave the restaurant its biggest boost in popularity.
It's a true homegrown restaurant, with employees all hailing from Antipolo City as well as using ingredients sourced from Antipolo's local markets. They also use something that Antipolo is known for: cashew nuts. Part of Antipolo's pasalubong trio, their cashew nuts are some of the best in the country.
These cashew nuts are put to good use in one of Marison's signature dishes, their famous Crispy Tripe Kare-kare. The sauce is made from peanuts and cashews, though they use more cashews than peanuts. This gives the sauce more flavor compared to your regular kare-kare; so much so that you hardly need bagoong or shrimp paste for flavor.
CRISPY TRIPE KARE-KARE. Yes, there is such a thing as crispy tripe. Did we mention that their shrimp paste is also homemade? Get this for only P375. Good for 2-3 persons.
The tripe they use also makes their dish stand out from the rest of the pack. Instead of the usual tender tripe that needs to be boiled for a few hours, they serve a combination of tender tripe and crispy tripe (hence the name of the dish). The crispy tripe will remind you of those delicious, crispy pork rinds sans the guilt.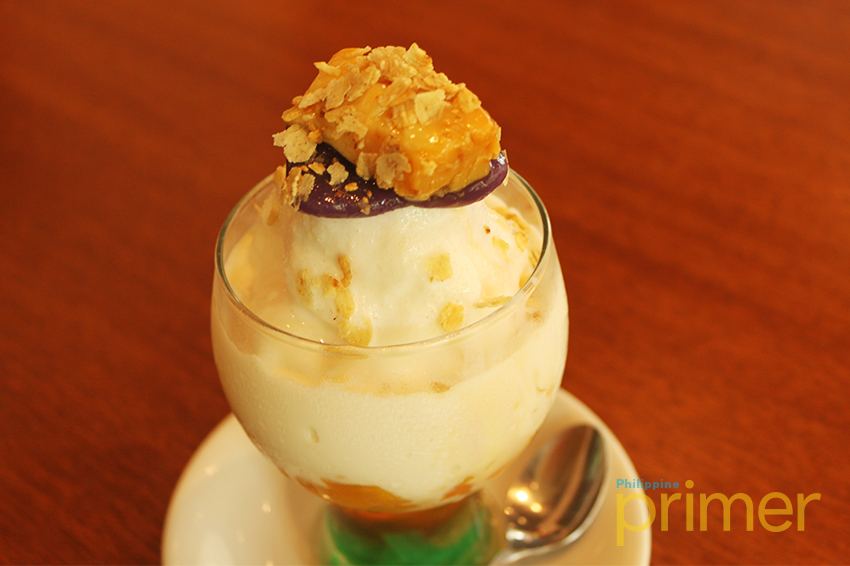 FLUFFY BEYOND ALL REASON. It really is that fluffy. Get their Fluffy Halo-Halo for only P120.
Another one of their best sellers is their Fluffy Halo-Halo. This delectable dessert features Marison's signature ice which can be only be compared to harder-than-usual soft-served ice cream. It's so creamy you won't think of it as ice.
Combine that with ingredients sourced locally and you have a dessert that's great to have any time of the year. It's a refreshing way to end your meal, and a sure-fire hit for tourists who frequently visit Antipolo.
Japanese guests find Marison's Grilled Salmon sa Miso really good, since they use Japanese miso with the dish. Their adobo is also a favorite among Japanese guests, as it reminds them of a dish they once had in Japan.
You can find Marison's at the second floor of Vista Mall Antipolo, ML Quezon Extension and at the upper ground floor of Robinsons Place Antipolo, located along Sumulong Highway. Both branches open at 10 a.m. daily. For reservations, please call 0917-523-1949 or 02-964-8776.
For the latest updates on Marison's, visit their website, www.marisonsph.com, or follow them on social media (Marison's on Facebook and @marisonsph on Twitter).

2/F, Vista Mall Antipolo, ML Quezon Extension, Antipolo City

UGF, Robinsons Place Antipolo, Sumulong Highway, Antipolo City

  Contact numbers: 0917-523-1949 or 02-964-8776 Website: http://www.marisonsph.com/ Facebook: https://www.facebook.com/MarisonsPh