Kenshin Japanese Izakaya Restaurant
Chef Masa Arafuka has put up an izakaya or a gastro-pub that's accessible to more people in Makati and is probably the closest thing to an authentic Japanese izakaya experience this side of Makati: Kenshin Japanese Izakaya Restaurant.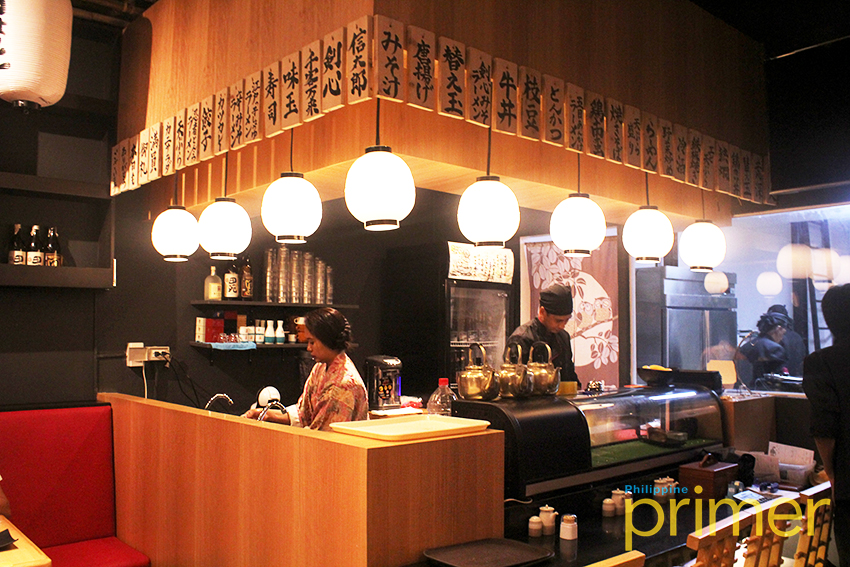 THE COUNTER. If you've ever seen an izakaya in Japan, this is how their counter usually looks. That's the menu on top, by the way.
The food from Kenshin is as Japanese as it gets.

AS JAPANESE AS IT GETS. Top: Chicken teriyaki (P158); Bottom left: Chicken Karaage (P158 solo or P288 for sharing); Bottom right: Beef teppan (P278)
SALAD AND GYOZA. Left: Ramen salad (P158); Right: gyoza (P128)
While we didn't get to try it, the most interesting things on their food menu are their set meals priced at P298. They're not your ordinary main-and-side set meal, oh no. It's ramen with your choice of either gyoza, karaage, curry rice, or sushi. Yes, sushi and ramen belong on the same set.
But that's not the crazy part. The craziness starts when you look through their dessert and drinks menu.
Kenshin serves your usual fanfare of izakaya drinks: shochu, umeshu (plum wine), beer, whisky, and, of course, sake. But that's where the "usual" ends. If haven't heard of a sake cocktail, it's probably because it's hardly done elsewhere.
DESSERTS ARE EQUALLY CRAZY, as in crazy good. Top right: Coffee mocha Parfait (P148); Top left: Matcha motchi parfait (P158); Bottom: Matcha anmitsu (P128).
Their desserts are crazy good, especially their coffee mocha parfait. The coffee mocha ice cream blends perfectly with the coffee jelly. It also has corn cereal in the middle, giving it an extra crunch.
You can find Kenshin Japanese Izakaya Restaurant at the ground floor of The Linear Makati, Mayapis cor. Yakal Sts., Makati City. They're open for dinner from 11 a.m. to 3 a.m. For reservations, you can call 0917-551-4605 or 0949-883-1200. You can also follow them on Facebook, Kenshin Japanese Restaurant, for the latest updates.

The Linear Makati, Mayapis cor. Yakal Sts., Makati City

0917-551-4605 or 0949-883-1200