10 Popular Food Spots in Metro Manila
It's hardly a state secret that Filipinos love to eat. One perfect proof is the left and right foodie spots in Metro Manila alone. Whether you're up for Asian, American, or European cuisine, the city will provide even more than you asked for.
The best part? Different spots have different ambiance and community—it's kind of like traveling to different states because one area may be ideal for solo travelers, while the others may be for a party out or a romantic dinner.
Check out our ultimate list of the most popular food spots in the Metro!
Molito, Alabang, Muntinlupa City
Molito is a rising foodie haven in the South. Although it has been there for quite some time, it's just now that they expanded the location, giving a home to various restaurants. Almost every cuisine is available here, so you won't really run out of choices! The place itself is also great because it has an open area (in case you want to walk your furry babies around) and ample parking space.
Budget for two: Php 600 to Php 1,000
Also read: Hottest Molito Alabang Food
BF Homes, Paranaque City
BF Homes is another foodie-favorite for South peeps. It's a subdivision, so you can expect family-run restaurants that are undoubtedly homey. Some of which already expanded to other places in the Metro like Makati and Taguig. Bonus? The eats there will remind you of your mom's cooking. It's ideal if you have a car when you visit the area!
Budget for two: Php 500 to Php 700
Also read: 8 Restaurants Around Aguirre Avenue You Should Try
Binondo, Manila City
Who can ever skip the famous Chinatown in Binondo? Almost everywhere you go, there's a heavenly restaurant offering the best of Chinese food. And they're budget-friendly too! You can score affordable noodles, dim sum, and so much more. While you're at it, don't forget to try the famous hopia, Eng Bee Tin!
Also read: How to Spend a Day at Lucky Chinatown in Binondo
Budget for two: Php 300 to Php 500
Also read: Chinatown Food Finds: A Guide to Chinese Restaurants in Binondo
Poblacion, Makati City
A variety of popular nightlife spots resides in the heart of Poblacion Makati, but it actually has more to offer. Aside from roof deck bars and quaint cafes, it also has cozy restaurants offering mouthwatering eats. Traffic can be so bad on weeknights so better walk if you can! Expect a lot of expats wandering around, too.
Budget for two: Php 500 to Php 800
Also read: Beyond Nightlife: Poblacion Street Guide
Legazpi Village, Makati City
Located at the opposite side of Salcedo Village, Legazpi Village is packed with numerous restaurants, bars, and cafes. Indeed, it's by Makati Central Business District, yet you'll see a peaceful spot amidst the busy city, where almost everywhere you go there are kids, joggers, and even residents with their furry pets. It may be busy during weekdays, but come weekends and holidays, and it's a haven for those who just want a peaceful brunch.
Budget for two: Php 500 to Php 1,500
Also read: Legazpi Village: A township for relaxation and refreshment
Salcedo Village, Makati City
Just like Legazpi Village, Salcedo Village is well-known for its lush community, balancing a busy street on weekdays with a laid-back ambiance on weekends. This village is popular for its Saturday Market, where a fusion of cuisines is gathered in one place, including cheap fresh produce. There are also restaurants and cafes all over the place, providing you with a nice city dining experience.
Budget for two: Php 500 to Php 1,500
Also read: Salcedo Village: Makati's Charming Village
Burgos Circle, Taguig City

Old Fashioned by Ocean's Telephone Company in BGC
Burgos Circle is home to several sophisticated restaurants that offer world-class dishes. Majority of these restaurants also offer alcohol, so it's perfect for any time of the week. The atmosphere in this area is relatively peaceful compared to other stops in Taguig, so this is recommended for those who are looking for a chill place with a class.
Budget for two: Php 800 to Php 2,000
Also read: Effortless Food Crawl at Burgos Eats in BGC
High Street, Taguig City
High Street, on the other hand, is usually packed with families especially on weekends. The restaurants are literally next to each other, so you can just pick one and go. From dessert places to lunch and dinner offerings, you wouldn't really want to skip this long street in Bonifacio Global City!

Pound for Pound, a dish from Pound by Todd English
Budget for two: Php 800 to Php 2,000
Also read: Hottest Bonifacio High Street Food
Tomas Morato, Quezon City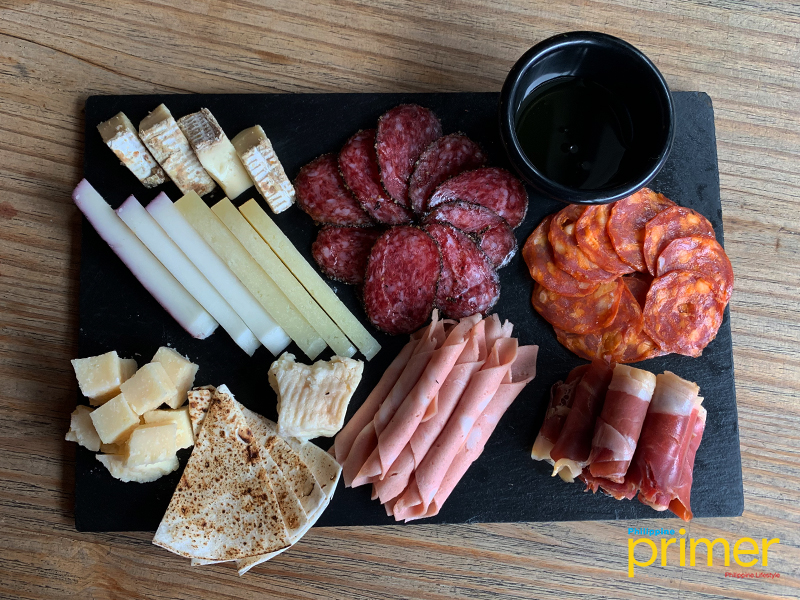 Vitto's Wine Bar and Restaurant in Tomas Morato
Tomas Morato may be the place to splurge on drinking, especially for peeps located in far North. There are lots of bars and clubs around, so it's ideal for a weekend night out—highly recommended for a group of friends looking to party! Of course, you can still expect different restaurants with quality eats.
Budget for two: Php 600 to Php 1,000
Also read: Hottest Tomas Morato Food
Maginhawa, Quezon City
If there's one area in Quezon City that's loved by both students and working professionals, it's Maginhawa Street. There's a never-ending choice of affordable eats around, and they're all good quality! Note that it can be hard at times to find a good parking space. However, you can actually just walk from one restaurant to another.
Budget for two: Php 300 to Php 700
Also read: Maginhawa's Must-Visit Restaurants This Season
Did we miss any food spot in the Metro? Let us hear your thoughts in the comments below!
---
Written by Yana Bautista
*budget is just a rough estimate