Flower-Giving in the Philippines: Explaining the PH Culture and Tradition
Flower-Giving in the Philippines: Explaining the PH Culture and Tradition
Have you ever wondered why every Filipino gathering never come to pass without flowers?
Arranged in different ways, flowers of all kinds and colors grace every occasion in the Philippines, providing each venue with fragrance, aesthetic, and a continuity of a long-standing tradition the Filipinos have inherited from Spain and the country's succeeding settlers. So how did the culture of flower-giving really start?
History
The Philippines, like the hues of most flowers that bloom in May, has a rich history brought about by 333 years of colonization by Spain. This history is clearly stamped on everything that makes up a Filipino fiesta– cuisine, language, and decorative objects like flowers.
Walking as the "Reyna Elena" is Mutya ng Lungsod ng Balanga, Gene Rose Flores, during the Grand Santacruzan at the Plaza Mayor de Balanga on May 25, 2018./ IMAGE City Government of Balanga, Bataan

Flowers, therefore, can be traced back to the Filipino's celebration of Flores de Mayo ("Flowers of May" in English), in honor of the Blessed Virgin Mary who gave birth to the Savior, Jesus Christ. In this celebration, a novena (a prayer continuously devoted for nine consecutive days) are prayed over, succeeded by the singing of hymns, while flowers are being offered by children and the youth who carry baskets filled with petals, before marching down towards the image of the Virgin Mary. Moreover, the Santacruzan– a religious procession of beautiful maidens and escorts under bamboo arches decorated with flowers– is the highlight of the Flores de Mayo.
Also read: A Guide to the Flores de Mayo Festival in the Philippines
From here, the giving of flowers can be considered a symbol of the Filipino's religiosity, thanksgiving, and apparently, the Filipino's abundance and resilience.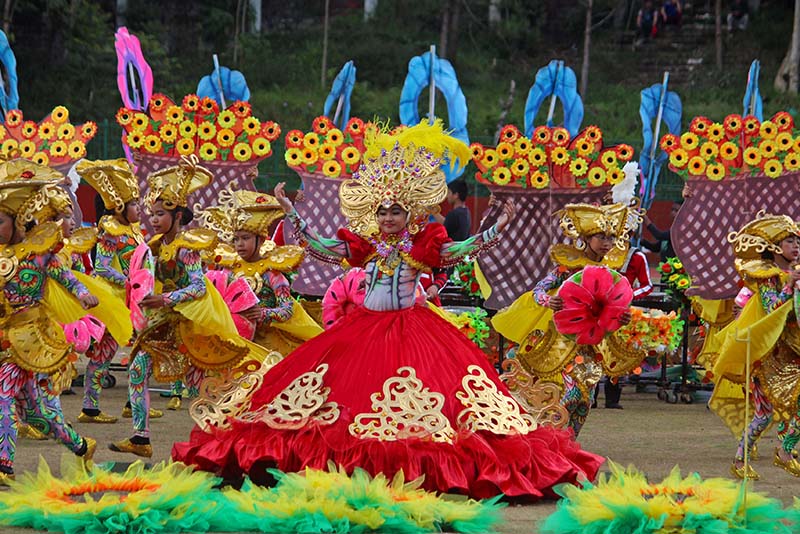 One of the participants of the Grand Streetdancing during the Panagbenga Festival 2017 showcased the bright colors of sunflowers./ IMAGE City Government of Baguio
In fact, every February, Filipinos also celebrate the much-awaited Panagbenga Festival in Baguio (Panagbenga is a native Northern Filipino term for "Season of Blooming"), which was initiated by John Hay Poro Point Development Corporation (currently known as John Hay Management Corporation) in 1996. With a "spray of sunflowers" painted by Trisha Tabangin as the symbol of the festival, it was well received by the people of Baguio and the Cordilleras, celebrated as it is with a grand floral parade among others. To date, it is also considered an image of the people of Baguio's resilience with the earthquake which occurred in 1990.
Also Read: Primer Goes to Baguio: The Creative City
IMAGE Rosalinda R. Morgan
More importantly, let us not forget how the Sampaguita ("Arabian Jasmine" in English) is actually the Philippines' National Flower, as declared by Governor-General Frank Murphy in 1934. From here, the Sampaguita is given or sold for people to place on their altars. This proves how flowers really found their way into the Philippines' vibrant culture and history!
The Different Symbols of Flowers in Every Occasion

Filipinos are known to be great romantics. In fact, this characteristic is celebrated by National Artist for Literature, Nick Joaquin, in his book entitled, "Reportage on Lovers." This is also perhaps why Filipinos also grieve heavily at a loss of a loved one; and these events, both of love and grief, are when flowers take the place of words when words cannot be found.

Opening Ceremonies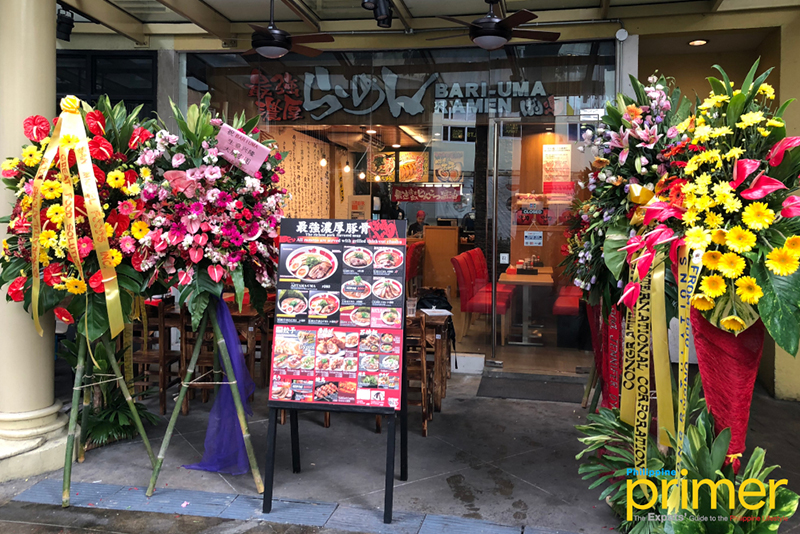 Flower stands grace the Bari-Uma Ramen opening in BGC last December 11, 2017.
Normally, in a launch of a new restaurant or the commencement of a grand event, you'll find grand floral arrangements which are usually sent to the restaurant owner or a company executive courtesy of their closest friends or colleagues. These vibrant flowers are set on tall stands not only to celebrate an opening or an inauguration but to also get the attention of the public and stir their curiosity.
Also Read: Bari-Uma Ramen BGC Opens with Buy-One-Take-One Promo!
Weddings
In weddings, corsages are flowers worn around the wrist of the bride, her female relatives, or her bridesmaids. On the other hand, boutonnieres, typically a single flower, are worn by the groom, the male relatives, or the groomsmen on their suit. There are no set of strict rules as to who gives them during the couple's wedding day, but usually, corsages can sometimes be given by the bride to the entourage to identify family members from guests. The same goes for the boutonnieres. Overall, these are used to honor the important people in the couple's life.
Boutonnieres adorn the left part of the men's lapels during a wedding designed by JACQS Floral Design Studio./ IMAGE JACQS Floral Design Studio
Perhaps bridal bouquets may not mean anything more to brides than what is traditional or what looks pleasing to go with their bridal gown. However, the bridal bouquet is essential to a wedding because of the symbolism attached to it. This is said to have originated from the Victorian Era when lovers send flowers back and forth like messages to convey their feelings.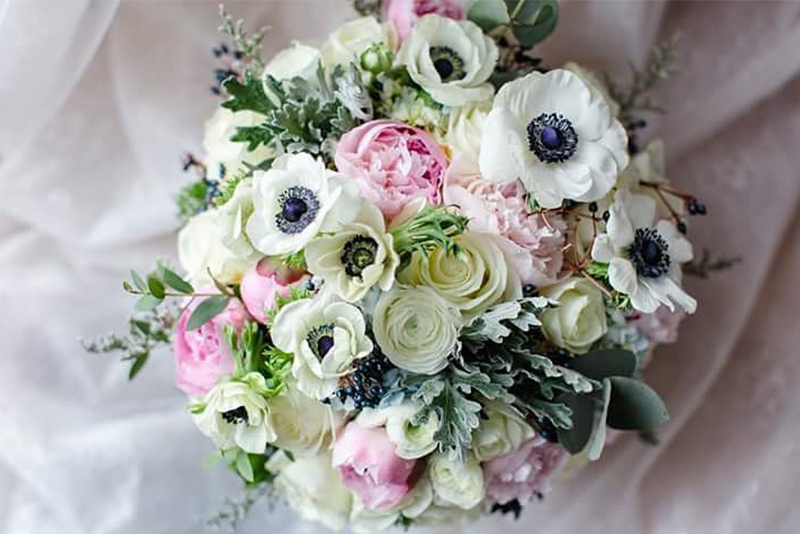 This bouquet courtesy of JACQS Floral Design Studio sports a combination of Anemones, Peonies, and Ranunculus which can greatly complement a bridal gown./ IMAGE JACQS Floral Design Studio
For example, JACQS Floral Design Studio in Metro Manila uses a combination of Anemones which symbolize anticipation, Peonies for a happy marriage, and Ranunculus for attractiveness for one of their bridal bouquets to complement a bride's bridal gown.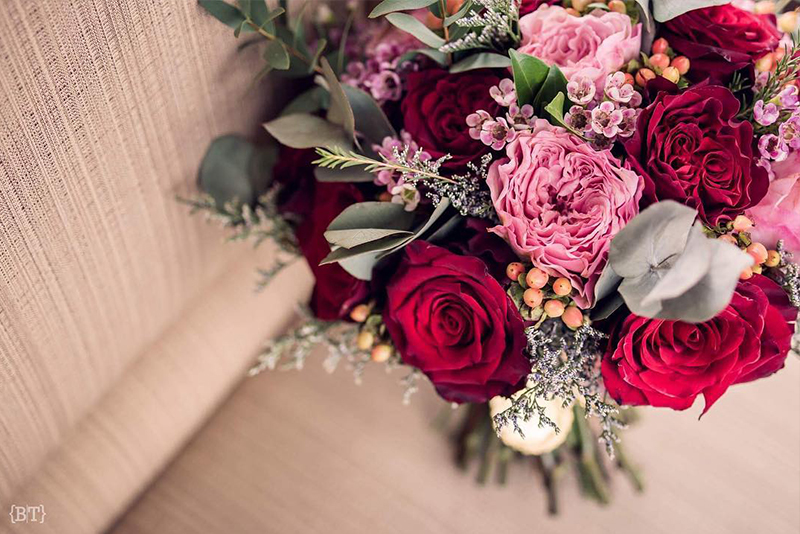 Red and pink Ecuadorian and English Roses provide an elegant appeal to a bride with its bold colors symbolizing passion and love./ IMAGE Benjie Tiongco courtesy of JACQS Floral Design Studio
Moreover, to name a few more flowers used for nuptials are the Red and Pink Ecuadorian and English Roses, as red may symbolize the passionate love the couple has for each other and the pink ones to convey admiration, joy, and even sweetness they hope to have in a marriage.
Also Read: "Ber" Months in the Philippines: What It Means and What to Expect
Valentine's Day or Anniversaries
Did you know that roses that go in threes convey "I Love You" in the Filipino tradition of flower-giving? And while roses can be a cliche most especially in February, Raphael's Gifts in Makati provides lovers with an alternative to the usual roses.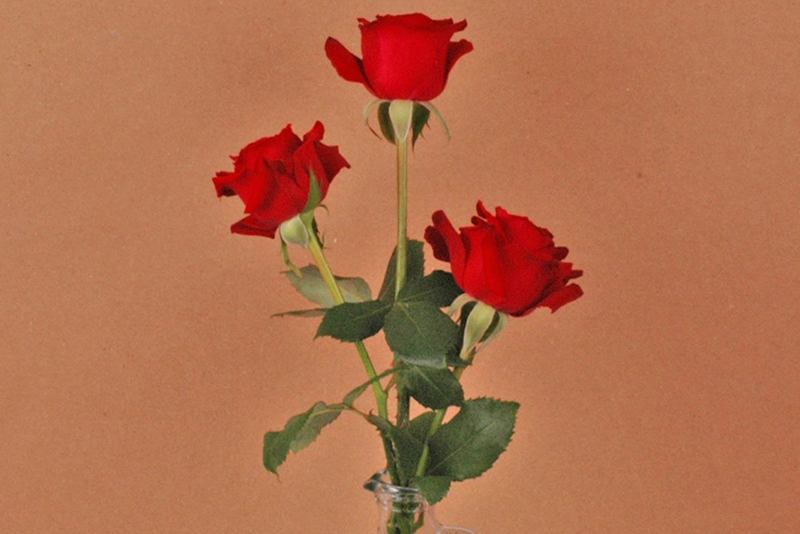 These 3 stems of Red Roses from Flowers Express can be your step closer to say, "I Love You."/ IMAGE Flowers Express
Raphael's Gifts based it on colors. As red, pink, and white are the usual colors seen during the season of love, this flower shop in Makati advised to go and try Asters suggesting patience, Carnations symbolizing pure love, Chrysanthemums and Daisies for joy, and Lilies for devotion, as alternatives to the usual red, pink, and white roses.
Also Read: 5 Ways to Know Its Valentine's Day in the Philippines
Mothers' Day or Birthday Celebrations
Like the Filipinos' love for Christ's mother, Mary, the Filipinos have a great love for their own mothers that is always greatly celebrated during Mothers' Day, coincidentally celebrated every May as well. Originally celebrated in the 1920s on the first Monday of December, children reportedly wore pink Cadena de Amors or Carnations on their chest.
A combination of pink, yellow, and bright orange Gerberas and Mums are the perfect medley for a Mother's Day or a Birthday celebration./ IMAGE Flower Express
Today, a lavish bouquet of a combination of Gerberas and Mums can be given to mothers during this special day as seen on Flower Express' collection of colorful flowers as a symbol of a mother's joyful and over-all awesome demeanor.
These are also fine choices for those celebrating a loved one's birthday, as the flower can bring good cheer to a person with its warm colors and openly full blossom.
Funerals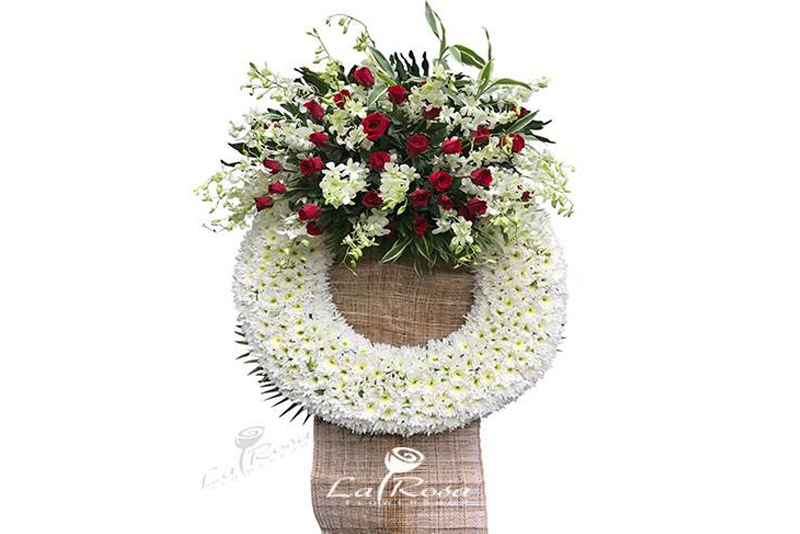 IMAGE La Rosa
Even before the Spanish era in the Philippines, Filipino ancestors have always believed in the afterlife. This is why certain burial rites were formed to honor the dead. Consequently, this custom, combined with the Catholic beliefs brought about by the Spaniards, led to a lavish funeral arrangement of caskets and flowers sponsored by friends and family, to honor the memory of the dead.
A procession usually follows the mourning period, where the casket is led to the cemetery and is finally buried. Going with the casket are all the flowers from the family and closest relatives as an offering, while the flower stands from friends or colleagues are usually placed on top of the soil.
Flowers used for funerals often include white lilies, roses, and orchids.
Where to Go for the Freshest Flowers
Aside from the many flower shops in the metro, among which are JACQS Floral Design Studio which specializes in flower bouquets, headdresses (flower crowns), corsages, boutonnieres, and preserved flowers ideal for weddings, La Rosa with their funeral and sympathy flowers, Raphael's Gifts and Flowers Express for Birthday and Anniversaries, and finally, Designer Blooms for their same day delivery of fresh and artificial flowers, Dangwa Flower Market in Sampaloc, Manila, is your ideal market for bulk buying fresh flowers.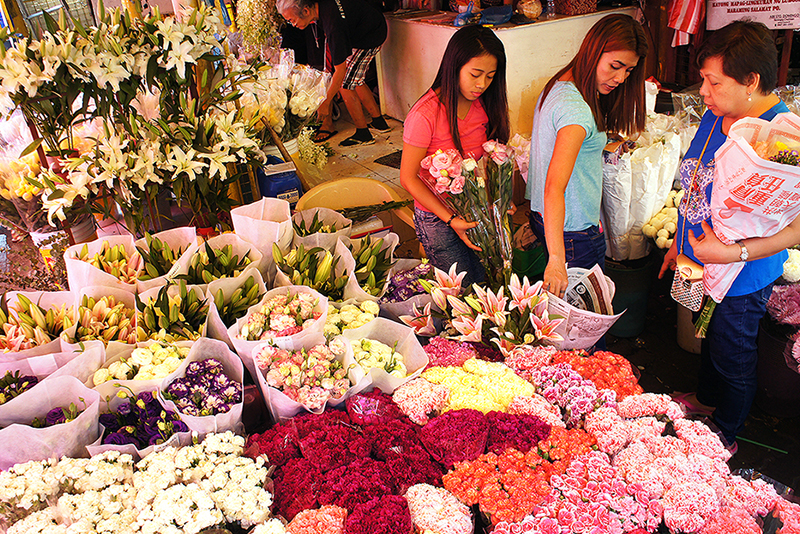 IMAGE GMA Network
With its history of offering a collection of fresh flowers since the late 1970s due to the fresh cut flowers from the Benguet Province brought to Manila by the Dangwa Tranco Company, the Dangwa Flower Market continues to be the source of flowers in pots, bouquets, and other beautiful plants for a more affordable price. This is also notably the go-to place of the Filipinos for different occasions.
Also Read: Best shopping centers in the Philippines for bulk buying
---
Sources: Panagbenga Flower Festival Official Website, City Government of Bataan, City Government of Baguio, Raphael's Gifts, JACQS Floral Design Studio, La Rosa Flowershop, Flowers Express