Travel Hacks You Should Know For A Stress-Free Holiday Trip
Travel Hacks You Should Know For A Stress-Free Holiday Trip
Traveling can be very stressful, exhausting and expensive, especially when it's the most beautiful yet busiest time of the year, again. People are all over the place catching up last minute flights to make it to their home country for the holidays.
But isn't holiday travel all about unwinding, fun and quality time with you and your family? Why sacrifice your travel if you can prevent all the headache this travel might cause? So once and for all, we are giving you a list of travel hacks to make this year's holiday travel one for the books.
The Best Time To Travel
A lot of people would definitely tell you to travel early. The only thing they'll tell you is that to avoid crowds, especially that holidays are the busiest time of the year. Aside from the fact that people would definitely choose sleep rather than going to the airport early in the morning, they say that the best time to travel is indeed early morning or 6 a.m. flights. Here's why:
Less Turbulence, Good Atmosphere, and Less Air Traffic
One tip for those who want to travel early but are definitely nervous freaks is not to book the first flight of the day. Oftentimes, the first flights are the ones who will most likely experience unexpected turbulence because pilots only rely on earlier flight paths for turbulence. Another thing about traveling early is having a lesser air traffic as previous flights from the night have already landed.
If you have a strict schedule for the day, traveling as early as 6 is better because earlier flights are more likely to depart and arrive on time. If you're traveling from West to East, traveling at midnight is advisable if you want to arrive around 8 a.m. local time. If you're traveling vice versa, East to West, you might consider traveling at late in the afternoon to arrive around 8 p.m. local time.
For parents who are traveling with children, the best time to travel is during their nap time or mid-afternoon. This would make airplane rides less chaotic. Take note that 8 a.m. flights to 6 p.m. flights are the usual start and end of delayed flights while 12 nn to around 10 p.m. are the busiest time for airports.
Also read: Tips for a Stress-free Travel with Kids
Early and late night flights are usually the less expensive ones for people would rather sleep than fly. If neither works for you, try considering leaving around lunchtime. Around this time, flights are less expensive than other time.
Also read: Easy Ways to Save Money While Traveling
Booking Your Flights
Since we're talking about the holiday season, it is a hundred percent sure that whichever date or time you pick, a swarm of people will definitely greet you inside the airport. But if you're deciding which dates are the cheapest ones for a holiday travel, you might want to try booking a flight a week before Christmas because prices are pretty much lower than booking AFTER the holidays.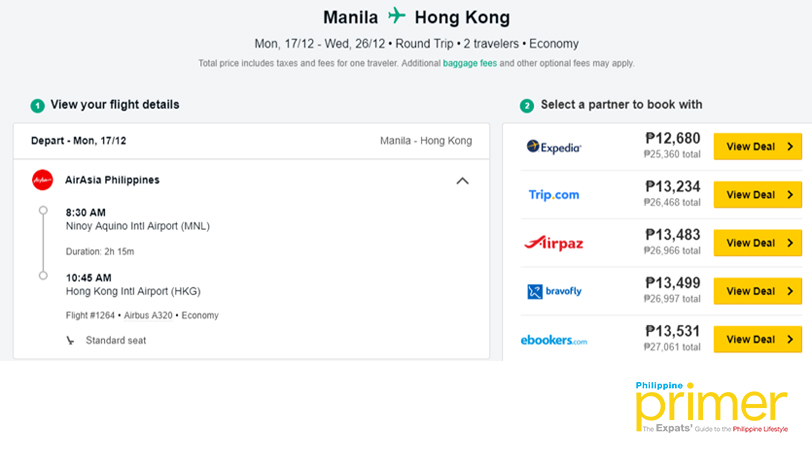 Sample flight from the Philippines to Hongkong booked for December 17, 2018, to December 26, 2018
Most people would plan their holiday trip after Christmas especially when they want to celebrate Christmas or New Years on their home, but take note that the December 26 to 30, 2018 flights are usually the pricey ones.
Sample flight from the Philippines to Hongkong booked for December 26, 2018, to December 30, 2018
If you don't like traveling a week before Christmas and want to spend the day itself on another country, booking on the day of Christmas Eve is definitely cheaper but will probably cause a lot of headaches as people are also catching the same flights to make it to Christmas Day.
Sample flight from the Philippines to Hongkong booked for December 24, 2018, to December 31, 2018
Sample flight from the Philippines to Hongkong booked for December 23, 2018, to December 31, 2018 (Note that prices don't apply to all flights and prices are subject to change. )
Now that you've decided on your travel date, time to book the nearest and nicest hotel so you'll spare yourself the hassle of getting lost and annoyed. You have two options on booking a hotel:
Research and Book on the Hotel's Website
If you want a hassle-free yet a little bit more pricey stay, you can research your preferred hotel and book on their official website. This is a lot easier and will probably give you the freedom to customize your stay.
Hotel booking apps and websites
Expedia, Trivago, and Agoda are some of the popular hotel booking apps you can try. Here, you get exciting deals and offers as well as discounts and cheaper hotel rates.
Also read: LIST: Hotel Booking Apps to Use This 2018 
If you think you're done planning for your trip, think again. After picking your travel date, booking flights, finding your accommodation, did you know that you can also book some activities in advance so you won't have to line up and get your pass? Below are some popular booking sites:
Viator for a worldwide catalog of tours and attractions
Klook for Asian tours
Tiqets for museums and other attractions.
Packing Hacks
Shoes, boots, denim jackets, sweaters are a few of the heaviest things you store in your suitcase. One hack you can do to give enough space to more stuff is to just wear them at the airport. Wear the shoes or the boots and then hand-carry the jacket/sweater with you. A jacket in hand for an airport ride won't hurt much.
Stack up the remaining heavy items on the bottom part of the suitcase
So you're packing with your suitcase lying on the floor– you must remember that after packing, you pull the bag upward and things inside might go crazy. So, to prevent your clothes from getting crumpled, store the rest of your heavy items such as toiletry bags, curling irons, shoes on the bottom part of the suitcase. So that when you pull the bag, the heavy items won't crumple your outfits.
Also read: Save Your Holiday with These Luggage Packing Tips
Airport Hacks
Check in a little bit late
Airport hack! You won't typically see checking in late as one of the best tips in an airport, but if you think about it, checking a little bit late or a few minutes before the closing of the check-in means almost everybody's checked in. This also means that your luggage is going to be placed on top and will probably be the first on the baggage reclaim. Word of caution: That doesn't apply most of the time. So just check in a little bit late but just with enough spare time.
While checking-in online is not that always applicable to other airlines, you might want to check if your airlines are considering online check-in so you can spare yourself the hassle of lining up. But, that doesn't guarantee you a luggage check-in so we recommend that you still go to the airport on time.
Book airport parking in advance
Two things you might want to consider when traveling to or from the airport is you either you leave your car and ride a taxi or grab or let a family member or a friend drive you so you won't have to pay an additional airport parking. But, if you're thinking of booking an airport parking, do it in advance.
As for the Manila's Airport Parking, Park 'N Fly, reservations aren't necessary but you can still call them and inquire about reservations at 854-9302 to 04, and 0918-991-0000. The minimum rate of Park 'N Fly is Php 340.00 (plus VAT) for the first 24 hours, and then a rate of Php 14.17 (plus VAT) for the succeeding hours. They also provide FREE shuttle service to customers who availed the 24-hour rate which will cater to, from, and between the four airport terminals.
Place your documents in a small envelope
Passport, Visa, Company ID, tickets and all the information you will need for the check-in counter and immigration should be all ready and stored in one place to avoid being offloaded.
After all the planning and the headache, you deserve to enjoy. Have a safe flight!
Also read: Tips to Survive Long-Haul Flights
Did we miss out on anything? Do you have some travel hacks you think everyone else keeps missing out? Share it to us in the comment box below! Happy trip!