LIST: Hotel Booking Apps to Use This 2018
Everyone loves a good vacation. Taking a few days off from responsibilities to relax and have fun is a great way to combat stress. This usually includes leaving our permanent and semi-permanent abode for a hotel or a rental home.
Tourism created a lot of opportunities for the hospitality industry. Right now, there are thousands of hotels, motels, inns, and rental homes all over the Philippines. Naturally, this can cause some confusion among tourists looking for a place to stay. Thankfully, there's a bunch of apps that can help you find the perfect hotel room.
Agoda
Agoda is a popular booking site which is based in Singapore. Like any standard booking app, it allows you to choose the dates of your check-in and check-out then customize the filters according to star rating, guest rating, price, neighborhood, payment options, property type (resort, hotel, or guest house), rental home or apartment, and facilities.
Apart from hotel rooms, you can also compare airfare tickets through Agoda. Getting a shuttle service between the airport and your hotel can be a pain but not with this app!
If you're looking for suggestions as to what activities to do, Agoda also has a "Things to Do" feature where they'll suggest activities and places to visit based on the city or country you're going to. The best part is if you find an activity you like, you can book through them.
Booking.com
Booking.com is more back to basics as they only offer hotel bookings on the app. When looking for a room, simply choose the check-in and check-out dates, number of rooms, and number of guests. After that, you can use the filters such as property type and mode of payment. There's also a "Breakfast Included" filter for those who love their hotel breakfasts.
Expedia
Expedia is one of the best-known booking apps in the world. Capable of booking both hotel rooms and flights, it's a go-to app for seasoned travelers. You simply have to type in your destination, choose the number of guests and your check-in and check-out dates. Narrowing down your choices is easy because their filters aren't extensive.
When it comes to flights, choose either a roundtrip or a one-way flight. Next, choose which airport you'll be coming from and where you want to land. Choose the dates, number of passengers, and travel class.
Hotels.com
Hotels.com has an extensive range of accommodations for every type of traveler. It covers over 325,000 properties around the world and covers independent and major chain hotels as well as other properties such as apartments and houses.
If you're already at your destination and still haven't found a place to stay, the app can use your location for suggestions. Next, choose your check-in and check-out dates, and the number of guests. You can also choose to add another room. You can narrow down your choices by using their filters.
Hotels.com also rewards its loyal users with a free night after you've booked a total of ten nights.
TripAdvisor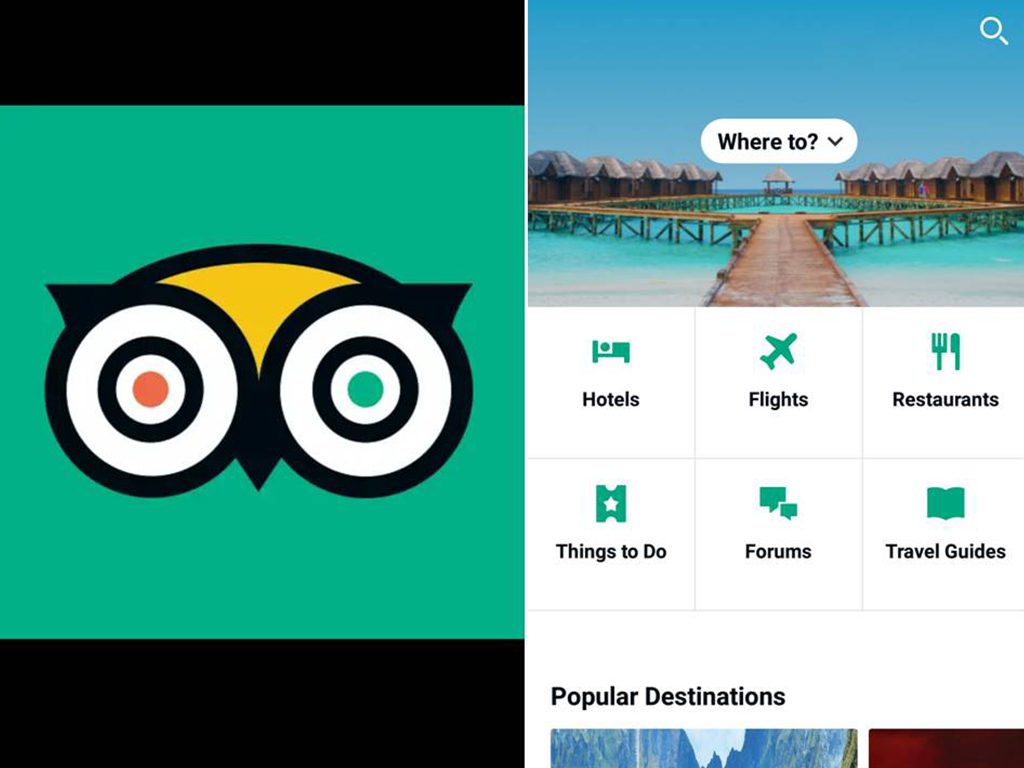 TripAdvisor is a popular website if you're looking for restaurant and accommodation reviews. However, you can also book your hotel room and flight through them. Just choose where you want to go, the dates, number of guests, and rooms. You can then narrow it down by choosing your accommodation type, traveler, rating, hotel class, amenities, and hotel style.
trivago
Majority of the stocks of this German-based company is owned by Expedia Group. It is primarily a price comparison app, showing you their prices alongside prices of other booking apps. It also compiles hotel reviews from other apps.
To book a room, simply type your destination, check-in and check-out dates, and room type. You can use the filters to tailor the search to your taste.