A Guide to TOEIC, TOEFL, IELTS Certifications
International students and professionals are encouraged and are sometimes required to take standardized English tests when applying to English-speaking schools or workplaces. These tests measure the student's ability to understand English lessons or an applicant's ability to conduct business in English.
There are three tests that universities or employers most preferably use: Test of English as a Foreign Language (TOEFL), the Test of English for International Communication (TOEIC), and the International English Language Testing System (IELTS).
Also read: LIST: Schools and Tutorial Centers with ESL Programs in Manila
International English Language Testing System
The IELTS assesses speaking, listening, reading, and writing skills using a nine-band scale to clearly identify levels of proficiency, from non-user (band score 1) to expert (band score 9).
Said test comes in two forms: the Academic test using topics and materials for higher education or professional registration, and the General Training for secondary education or training programs focusing on survival in an English speaking environment.
According to the British Council, the official local partner for IELTS, the Academic or General Training test is Php 10,680.
Test of English as a Foreign Language
The TOEFL measures the ability to use and understand English at the university level for international student admissions. It evaluates how well you combine your reading, listening, speaking, and writing skills to perform academic tasks.
TOEFL is taken online and could take four hours at most, with a grade of 30 per section for a total of 120 points. You can retake the test as many times as you wish, but not more than once in a 12-day period.
The TOEFL® test gives you an advantage in Australia. It's accepted at 100% of graduate programs and can also be used for immigration. http://spr.ly/6188D0ocs

TOEFLさんの投稿 2018年9月18日火曜日
Test of English for International Communication
The TOEIC assesses English-language skills needed in a working environment using all four language skills—listening, reading, speaking, and writing. It is the recognized English proficiency test for job hiring.
Both TOEIC and TOEFL are developed by the Educational Testing Service (ETS) organization, which is the only one certified to release the results.
Today, TOEIC test scores are used by over 10,000 companies, government agencies, and English Language Learning programs in 120 countries.
According to Hopkins International Partners, Inc., the authorized representative for the TOEIC and TOEFL in the Philippines, you may take Listening and Reading (Php 2,300), Speaking and Writing (Php 5,500), Speaking-Only (Php 4,000), or TOEFL (Php 2,000).
Also read: TOEIC and TOEFL Required for US Embassy Job Applicants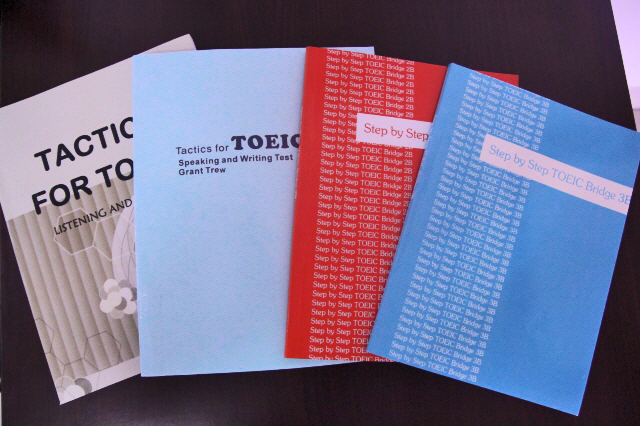 TOEIC guide books/ IMAGE grabbed from CIJ Academy
The Philippines is recognized by the British Council as one of the largest English-speaking nations and is the common stepping stone for most Asian countries to learn the language through immersion as well as the TOEIC, TOEFL, and IELTS training centers.
Here are some of the certified schools and training centers for TOEIC, TOEFL, and IELTS in Manila:
British Council Workshops
The IELTS Exceed Writing Workshop is an enhanced one-day writing workshop created to assist IELTS test-takers in the Philippines. Meanwhile, the Score Success: IELTS Workshop aims to familiarize you with the IELTS test format.
Both are free workshops by the British Council held months before a scheduled IELTS test.
Website: ieltsasia.org
International Language Makati Philippines
IMAGE International Language Makati Philippines
International Language Makati Philippines (I.L.A.M.) is a premier language school in Makati, whose mission is to provide quality education to both professionals and non-professionals aiming to be proficient in English. The school offers English as Second Language (ESL) courses, as well as IELTS and TOEIC review.
Also read: Language Schools in Manila
Address: 2/F Creekside Mall Bldg. Amorsolo Cor. VA Rufino St. Legazpi Village, Makati City
Contact Number: 02-519-9502, 0917-537-4474
E-mail: english@ilam.ph
Website: ilam.ph
Enderun Colleges
Enderun Colleges is a private nonsectarian college established in 2005 and is now permanently located in Taguig City. They offer the Tutorial and Languages Department called The Study, with more diverse academic language tutorials such as the Standardized English Test Preparation.
Address: Enderun Colleges, 1100 Campus Ave., McKinley Hill, Fort Bonifacio, Taguig City
Contact Number: 02-856-5000 loc. 101, 0917-874-3751
Website: enderuncolleges.com
American Institute for English Proficiency
Established in 2007, the American Institute for English Proficiency (AIEP) has been assisting individuals to develop confidence and competitiveness through English and communication skills training, including the Standardized Tests Program for the three common standardized tests.
Address: 227 Salcedo St., Suite 2G cor. Gamboa, Salcedo Village, Makati
Contact Number: 02-893-1566
E-mail: helpdesk@aiepro.org
Website: aiepro.com
Online ESL Schools
Online schools offer an online tutoring service where students can choose their preferred time and teachers. Through online schools, the service is personalized from basic English grammar to ESL, TOEFL, university-level, and business English.
One of the best ways to keep learning English is via online schools. These are fairly common especially for those who cannot come in regularly for a lesson. We have listed below some of the online ESL schools great for ESL, TOEIC, and TOEFL practice:
FilipinoTutor.com – Choose your lessons—ESL or Business English, your schedule, and your tutor. They will require a Skype account to connect with your chosen tutor and start your lessons!
RareJob.com – They primarily teaches English to Japanese students with Filipino teachers. Choose from over 4,000 teaching materials such as Practical or Conversational English, ESL, TOEIC, TOEFL, and even lessons for children.
Hujiang – A learning site for Chinese nationals interested to learn a new language including English, Japanese, Korean, and French. Their English courses include IELTS and TOEFL consultations and practice tests!
---
Sources: Study International, Educational Testing Service, Hopkins, British Council