The country's first: High Grounds Café
Hardcore Filipino gamers finally have a place they can truly call their own: High Grounds Café.

High Grounds Café, the country's first and only fully branded gaming café, takes the humble internet café and takes it to (quite literally) a higher ground. It's a combination of a restaurant, coffee shop, and internet café all rolled into a convenient package located along Scout Rallos Street in Quezon City.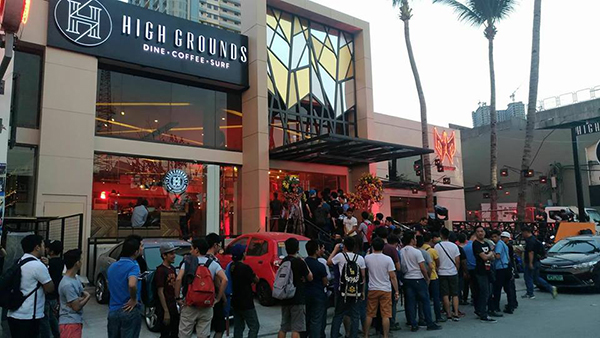 LONG LINES AWAITED GAMERS during its opening last Friday, February 10.
Gamers usually encounter three problems with their run-of-the-mill internet café: intermittent internet connection, PCs that aren't up to speed, and a lack of things to do while you wait for your turn.
High Grounds solves all these with their blazing fast internet connection (500 mbps for gaming and 200 mbps for surfing), a combination of Acer Predator G1 and G3 gaming desktops (110 units in all), and their café and restaurant to satisfy your appetite before, during, and after your gaming marathons.
With this set-up, High Grounds Café looks to be the breeding ground for the country's fast-rising e-Sports scene.
You can find High Grounds Café at 67 Scout Rallos St., Tomas Morato, Quezon City. They are open 24 hours a day, 7 days a week. Rental rates are at P100/hour. For reservations, please call 02-461-1886, 02-880-2037, or 02-405-2225.
All photos grabbed from High Grounds Cafe on Facebook
Source: When In Manila, PSST.ph, Semi-Current, Speed Magazine

67 Scout Rallos St., Tomas Morato, Quezon City

02-461-1886, 02-880-2037, or 02-405-2225