Chachago in Makati Lets You Enjoy Your Milk Tea in More Ways Than One
For the entirety of 2019, we have all become a witness to the influx of different milk tea brands and shops all over the metro. Just when you thought it's over, another brand has come to town and it is Taiwan's most famous one–Chachago!
Chachago recently opened one of their biggest branches to date in Ayala Malls Circuit in Makati, and Philippine Primer got the chance to visit and sample their best-sellers.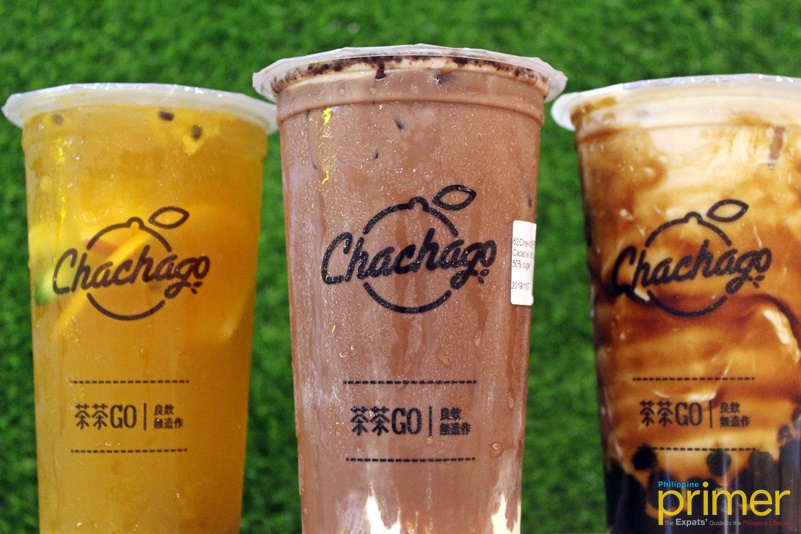 Chachago's best-selling drinks
With a wide selection of exciting drinks in their menu, Chachago stands out as a store that virtually has it all. They have six must-try drinks—the Brown Sugar Pearl Milk Tea, Chachago Pearl Milk Tea, Cacao with Ice Cream, California Mix Fruit Tea, Lychee Milk, and Chachago Taro with Milk.
Perhaps two of the most popular milk tea varieties in the market today are the brown sugar and pearl types. Chachago Brown Sugar Pearl Milk Tea (Php 140) captures the ideal blend of sweet and creamy without completely overpowering the distinct flavor of the tea. You can also avail of the milk-based version of this.
Also read: 8 Places Where You Can Get Brown Sugar Milk Tea in Manila
For both variants, the pearls have the right amount of chewiness and sweetness to them that adds not only flavor but texture to the drink.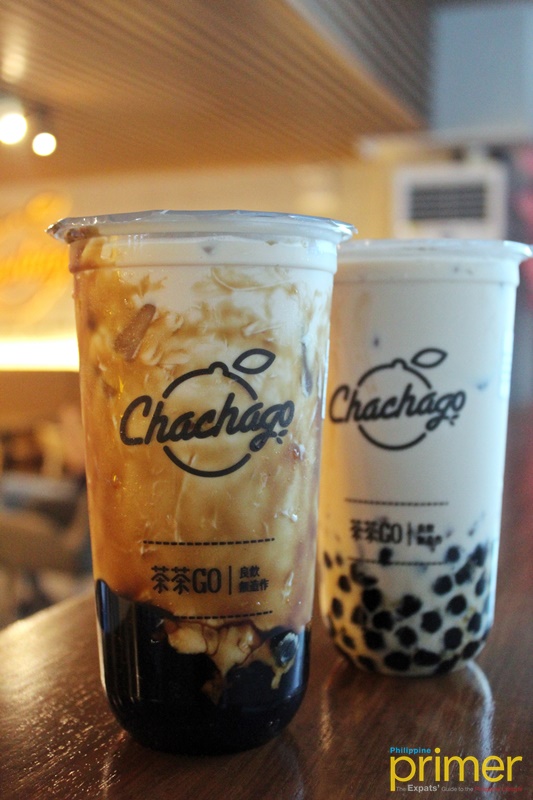 Brown Sugar Pearl Milk Tea (Php 140/large, Php 120/medium) and Chachago Pearl Milk Tea (Php 110/large, Php 100/medium)
Aside from tea-based drinks, Chachago also boasts its best-selling fruit tea, the California Mix (Php 140). This refreshing drink is powered by the goodness of pineapple, orange, apple, lemon, and calamansi for days when you don't feel like drinking something creamy.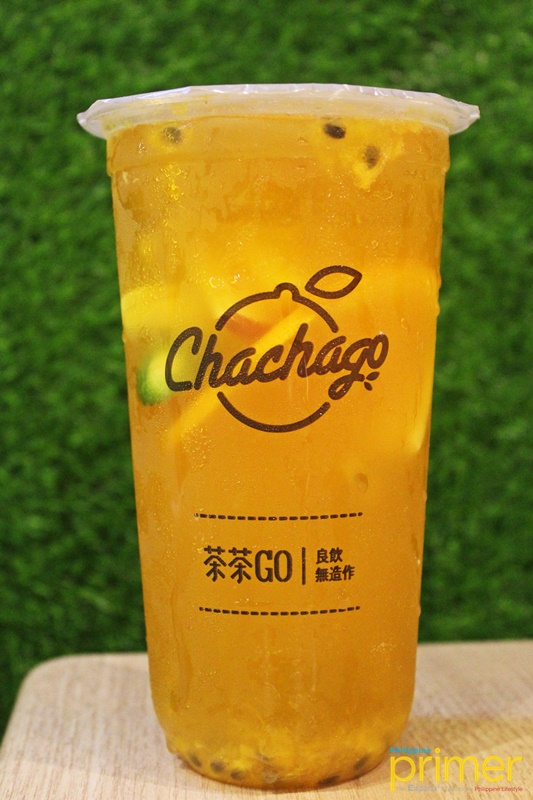 California Mix Fruit Tea (Php 140/large, Php 120/medium)
Finally, give yourself a sweet treat with Chachago's Cacao with Ice Cream (Php 140), a chocolate-based drink complete with a scoop of creamy vanilla ice cream at the bottom. Get ready for an intense surge of flavors the moment you take the first sip!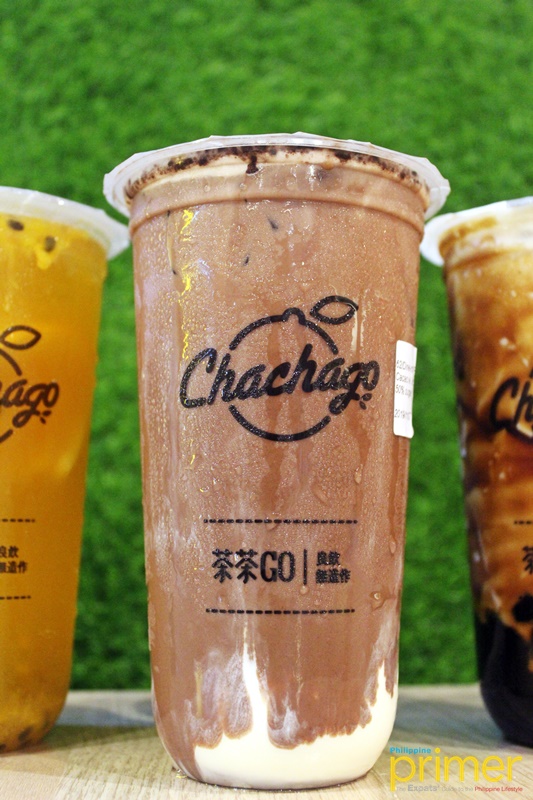 Cacao with Ice Cream (Php 140)
To balance off all the sweetness of the milk tea, try some of Taiwan's most popular streetfood–Taiwan Sausage (Php 100) and Chicken Chops (Php 130). Aside from these, they have a whole selection of fun snacks to pair with your drink including Japanese ones in partnership with Black Wagyu.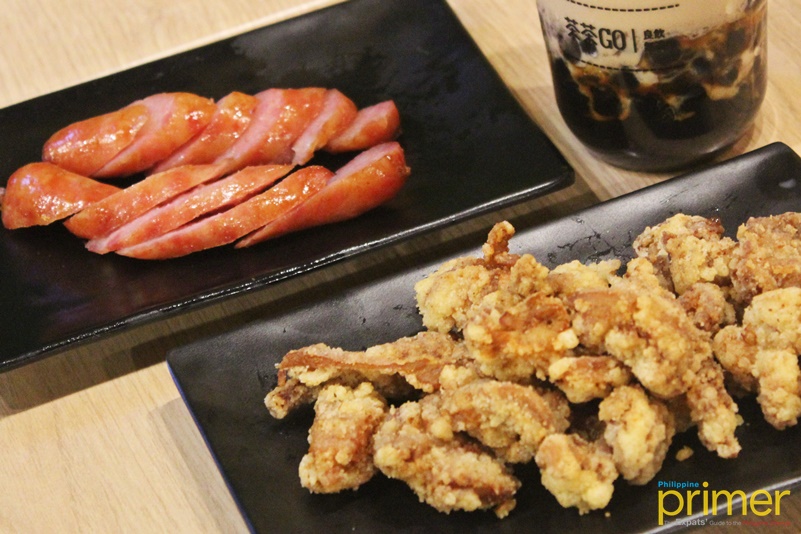 Taiwan Sausage (Php 100) and Chicken Chops (Php 130)
What's great about this particular branch is that it has a cozy dining area. Unlike other milk tea shops that cater to mostly to-go orders, one can take their sweet time savoring their drink and snacks while working on something or catching up with friends right at the store.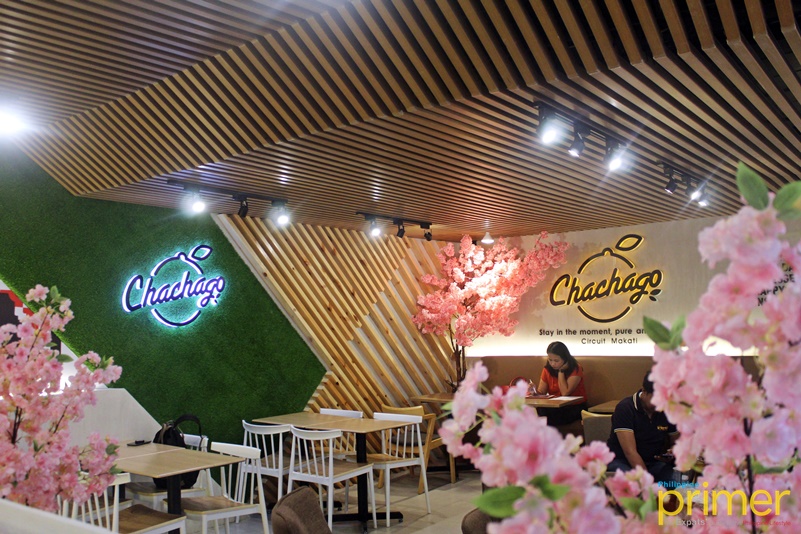 The aesthetically pleasing store can seat up to 40 patrons
Having only been in the Philippines since May, the brand is rapidly expanding, aiming to reach 50 stores before the year closes. Knowing the quality of their drinks and service, that doesn't seem impossible at all.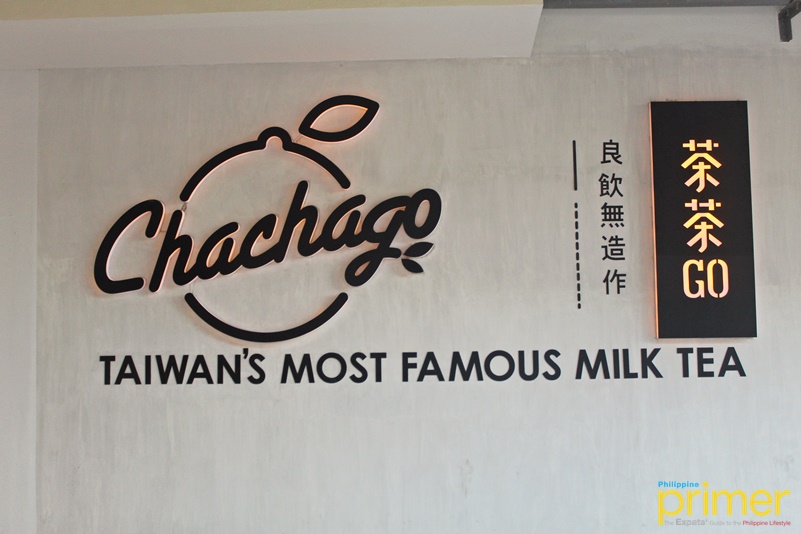 Chachago's Circuit branch opened early November and is located at the 4th level of the mall
Also read: LIST: The Best Milk Teas in the Metro and Where to Get Them
How to get here:
Chachago is located at level 4 of Ayala Malls Circuit in Makati.
By car: From EDSA, take the exit towards J.P. Rizal Avenue. Drive straight ahead then make a right turn at Taliba Street. Continue driving until you reach Circuit.
There are plenty of parking spaces in the basement and an outdoor parking lot of the mall.
By public transport: Take a bus along EDSA and alight at Guadalupe. Take a jeep along JP Rizal going towards Makati City Hall, then get down at A.P. Reyes. Circuit Makati will be on your right.
---
Written by Teresa Gatmaitan
General Information
Ayala Malls Circuit, Hippodromo St., Makati City
0995-063-6756
11 a.m. to 11 p.m.