8 Places Where You Can Get Brown Sugar Milk Tea in Manila
Brown sugar is a raw, unrefined, or partially refined form of sugar and would naturally taste differently. With the milk tea craze taking over Manila, this new ingredient is a welcome addition to the many choices of milk tea flavors currently available in the market.
If you're interested to try this new flavor, here are some stores that offer Brown Sugar Milk Tea:
Dakasi: Hokkaido Series
Dakasi's Hokkaido Series is made with brown sugar syrup and fresh milk with the addition of either their signature pearls for Hokkaido Milk Pearl or special cookie bits and cream for Creme Hokkaido. Dakasi has multiple branches in Manila.
Presenting our newest line of drinks: Hokkaido Series. Made with brown sugar syrup and fresh milk. Pair it with our…
Also read: LIST: The Best Milk Teas in the Metro and Where to Get Them
Serenitea: Brown Sugar Series with Pearls
Don't miss out on Serenitea's brown sugar series! Try the Brown Sugar Taho (Php 150) or the Brown Sugar Grass Jelly (Php 150). Otherwise, go for their much simpler Brown Sugar Frost (Php 180) and Brown Sugar Fresh Milk (Php 180) made with Holly's Fresh Milk.
Thank you for your love and support! 🧡 Serenitea Brown Sugar Series will be back on October 12, 2018! Be sure to save the date. 😊 See you at Serenitea! 💛

Sereniteaさんの投稿 2018年10月5日金曜日
Yi Fang: Brown Sugar Pearl Tea Latte
Yi Fang from Taiwan conjures up this Brown Sugar Pearl Tea Latte (M: Php 120, L: Php 160) using fresh milk, premium Sun Moon Lake black tea, and luscious brown sugar pearls. Yi Fang has two branches in BGC: BGC High Street and at Bonifacio Stopover Corporate Center.
You know you want it. Yi Fang's Brown Sugar Pearl Tea Latte 👍🏻 #YiFangTeaPH #BrownSugarPearlsbyYiFang
Tiger Sugar: Brown Sugar Boba Milk with Cream Mousse
This one's different as Tiger Sugar's signature drink Brown Sugar Boba Milk with Cream Mousse (Php 120) does not contain tea at all. Instead, it's made of boba, fresh cream, and cream mousse. Tiger Sugar has branches in BGC High Street, Eastwood Mall, and Trinoma.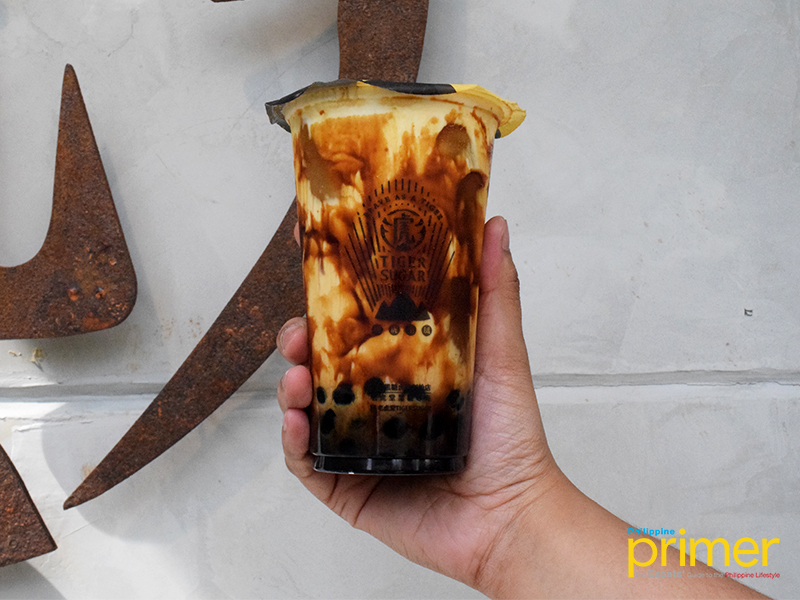 Also read: Tiger Sugar in BGC: Brown Sugar Boba Milk Is a Must Try!
Chatime: Marble Collection
Chatime introduced their brown sugar pearls as the Marble collection. Choose from the Marble Pearl Fresh Milk, Marble Pearl Black Tea Latte, or the Marble Pearl Milk Tea for that good sweet milk tea.
Imagine how captivating art, enticing aroma and irresistible taste can create an explosion of amazing flavor. Get all of…
Black Scoop Cafe: Brown Sugar Latte Series
Black Scoop is a homegrown cafe so it is no surprise that for their brown sugar series, they are using muscovado syrup, a type of brown sugar widely produced in the Philippines. Try their Original Brown Sugar Latte, Original Brown Sugar Latte with Cream Cheese, or the Matcha Brown Sugar Latte with Cream Cheese.
Brown sugar series collection. Complete 12 stickers to get a free black scoop cafe pillow! T&C apply, while supplies last!
Gong Cha: Milk Brown Sugar Black Tea
For only Php 95, you could have Gong Cha's Brown Sugar Milk Tea (M: Php 95 or L: Php 105). Try their Milk Browm Sugar Black Tea (M: Php 115 or L: Php 130) and add pearls for an additional of Php 10. Gong Cha has stores around Manila.
You tried this first at GONG CHA and now we bring you the new and improved BROWN SUGAR series – thicker and sweeter than ever! ☕😋
Sun Tea: Brown Sugar Pearl with Cheese Cap
Sun Tea, a humble store in Mall of Asia is offering a Brown Sugar Pearl with Cheese Cap and Crushed Oreos (Php 135) for your refreshing summer drink. It is a bestseller so make sure to get them early as it is limited per day!
Brown Sugar Pearl with Cheese capLimited serving daily
So, where will you be getting you brown sugar milk tea today? Tell us in the comments below!