Salamangka in Eastwood Magically Brings Folklore and Filipino Classics Together
Every country has its own mythological tales and creatures. In the Philippines alone, there is a number of old women's tales coming from over 175 ethno-linguistic groups with their own beliefs and mythical creatures.
Fortunately, at Salamangka in Eastwood, you can learn more about them through their dishes and drinks!
Also read: Tipsy Tales' Lambana: An Immersive Theater Experience That Brings Folklore to Life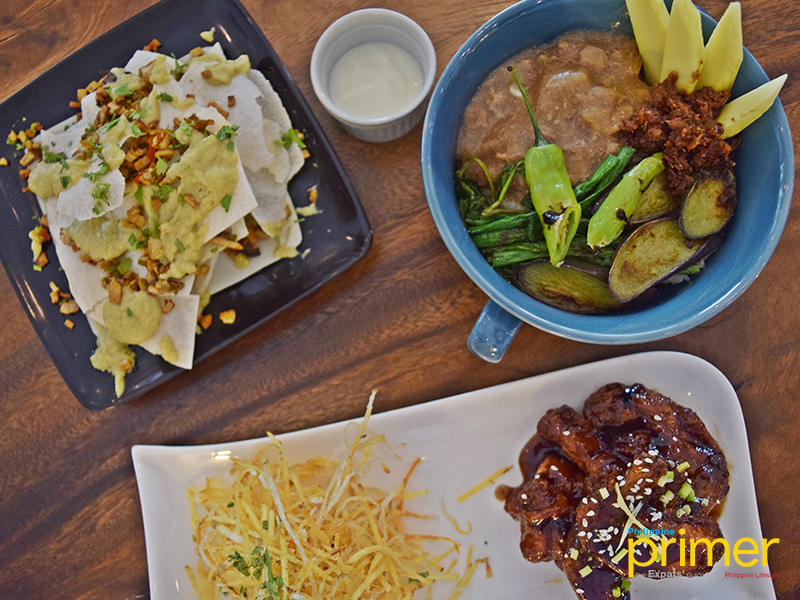 Salamangka, which means magic in Filipino, is a cafe and restaurant in one, ideal for unwinding and exploring the many Filipino mythical creatures present in the walls and their cocktails.
To start your treat, sample the Coca-Cola Wings (Php 259), which is simmering juicy chicken wings in a Coca-Cola reduction. It's served with hand-cut fries, making the ideal pika-pika that is both sweet and salty, juicy and crunchy!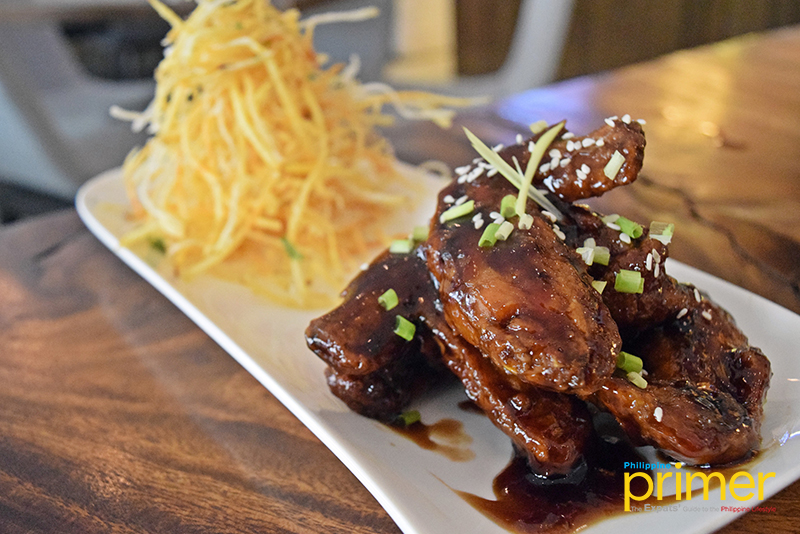 Coca-Cola Wings (Php 259)
Pair this dish with their local craft beer, Engkanto, where you can choose your ABV percentage.
Their bestselling rice bowl, on the other hand, is the Sinigang sa Manggang Hilaw (Php 279). It is beef sinigang with a broth reduced to a creamy paste, which surprisingly goes well with sour mangoes, balanced with a dash of bagoong (shrimp paste). Be sure to mix the bowl well to get all those magical flavors!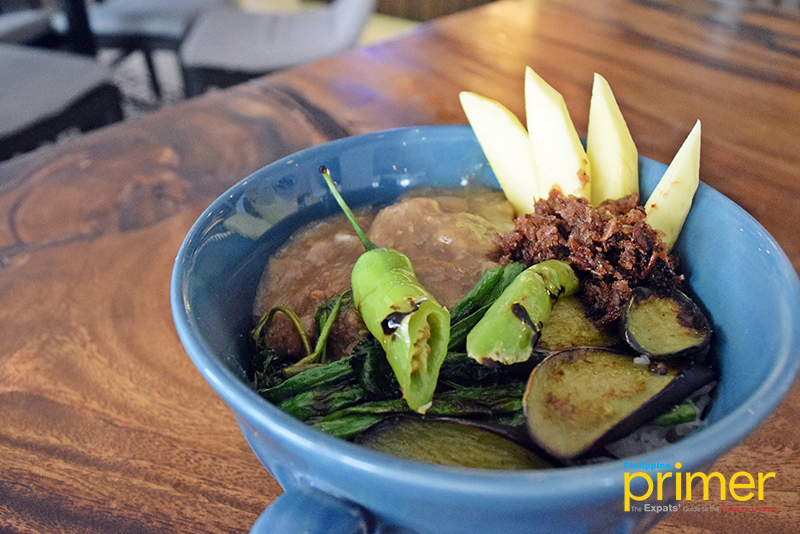 Sinigang sa Manggang Hilaw (Php 279)
Time for a drink! Salamangka, as a cafe, has many choices of drinks—from local coffee roasts, tea, beer, homemade cocktails, and native infusions. They are the only place in Eastwood where you can enjoy the local craft beer, Engkanto.
Another reason to visit is their homemade cocktails that are named after Filipino folklore. One example is the Wakwak (Php 99), which is made with rum, lime juice, mint leaves, and mango puree. It's very refreshing and bright despite it being named after a baby-snatching vampire creature!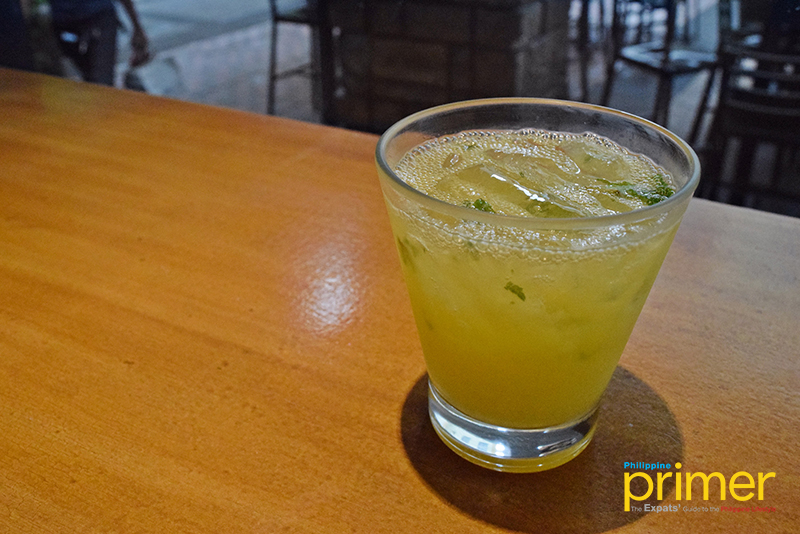 Wakwak (Php 99)
Complete the Salamangka experience with their famous Pitong Elemento (Php 350)—seven shots of fruit or herb infused in alcohol.
Start the journey with the bell pepper vodka, Undin (Php 50); raisin gin, Kibaan (Php 50); and orange vodka, Sigbin (Php 50).
You may then follow it up with spearmint chocolate vodka, Nuno sa Punso (Php 99); Thai chili tequila, Tiyanak (Php 50); lemon vodka, Santelmo (Php 50). For a good kick, finally try their sweet and dry Duwende (Php 50), which is a dried mango rum infused in-house for a minimum of one week!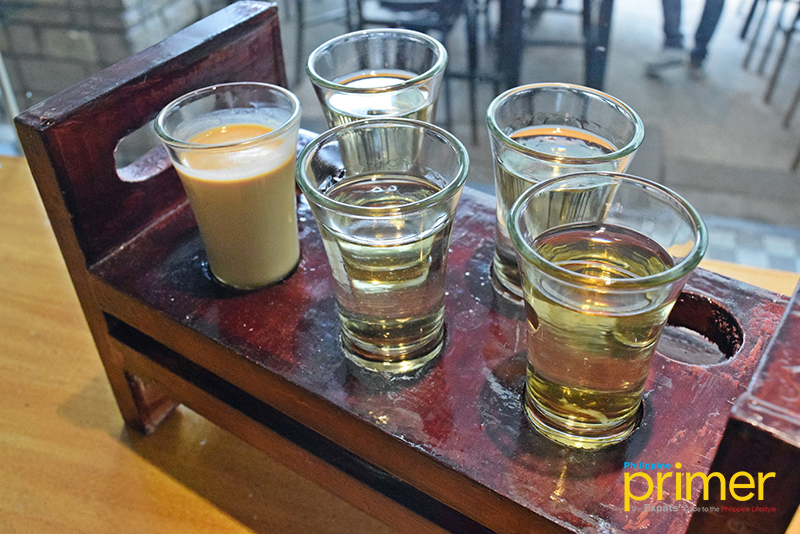 Nuno sa Punso (Php 99), Santelmo (Php 50), Sigbin (Php 50), Duwende (Php 50), and Undin (Php 50)
Salamangka also has a vegan menu much like the Vegan Nachos (Php 199), with toasted pita chips topped generously with ground tofu and Yummza pesto hummus. Drizzle the cream on your own, and add cheese to your taste!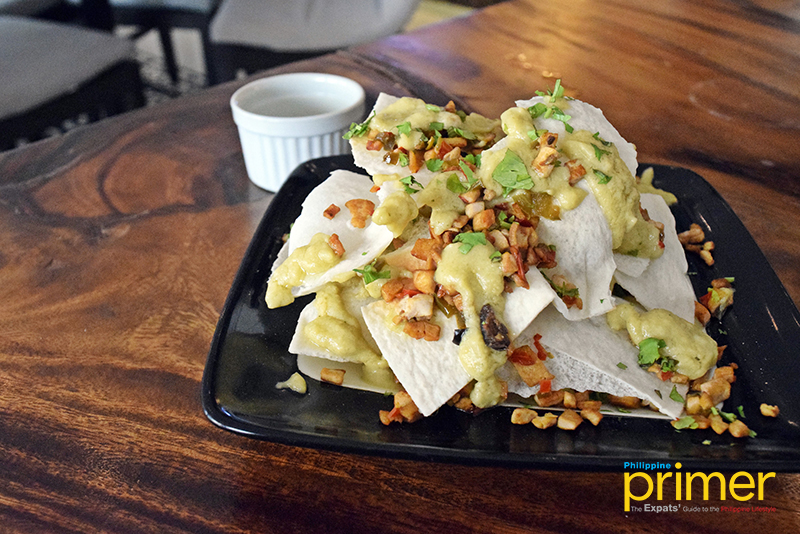 Vegan Nachos (Php 199)
Surely, stepping inside Salamangka will transport you into a place where even the Filipino mythical creatures would come for a drink.
Among the most distinguishable decor of Salamangka is the Balete tree painting on a corner wall. The famous tree is consistently associated with Filipino folklore.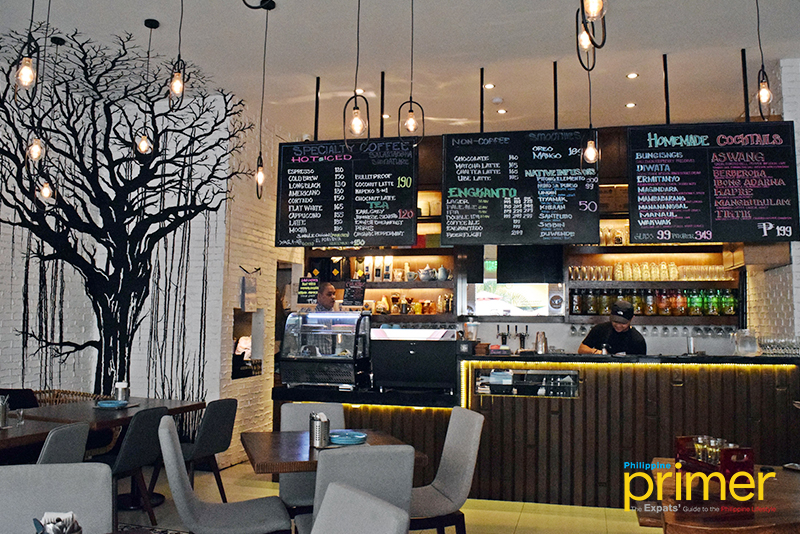 Another hand-drawn mural on the wall is one that shows the Filipino folklore creatures, such as the kapre, dwende, tiyanak, sirena, aswang, and more!
Take your time, and feel free to ask the staff to know more about these creatures.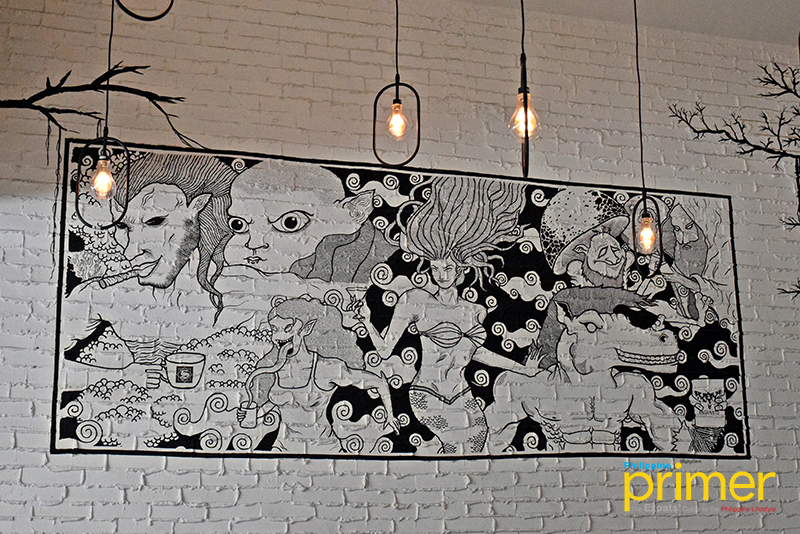 Salamangka also stages events like their anniversary celebration just this August, where they had magic tricks and taro readings for a night full of mystic and magic. Visit them every 1st and 3rd Thursday night of the month for Gabi ng Pagsusulit, which is their own form of an exciting quiz night!
The restaurant is also a great place to bring your work as the space provides electrical sockets. They even offer additional extension cords for groups of friends or co-workers staying together while enjoying Salamangka's magic.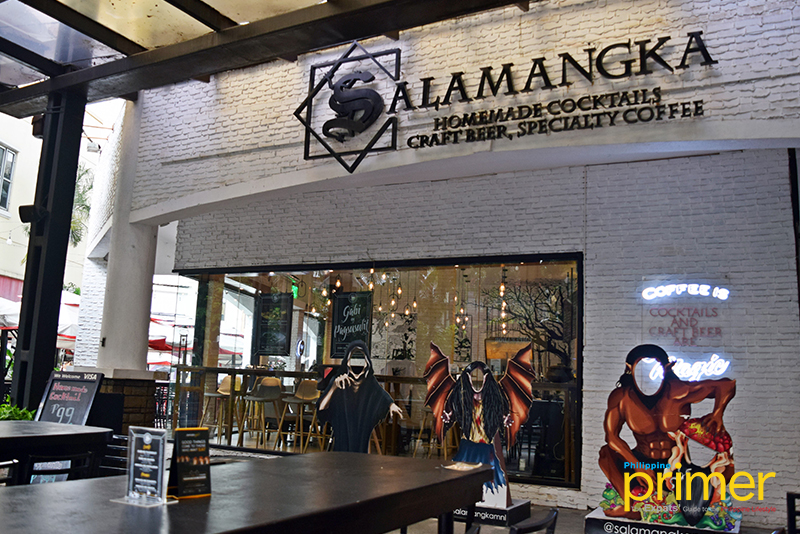 Experience magic in Salamangka with their unique dishes and cool interiors, and even the fun stuff to escape reality!
How to get here
Salamangka is at the center of Eastwood Central Plaza at Eastwood Citywalk 1.
By car: You may use the Eulogio Rodriguez Jr. Ave. all the way to Eastwood Dr. There will be parking spaces in Eastwood Citywalk.
By public transportation: When traveling on your own, take the MRT to the Araneta-Cubao Station. From there, walk past Farmers Plaza, Araneta Coliseum, and Gateway Mall. Walk to Savemore Cubao, and ride a PUJ to Libis. The PUJ will stop at Eastwood, then walk to the overpass until the center of Eastwood Citywalk. Salamangka should be on your right.
---
Written by Heloise Diamante
General Information
Eastwood Citywalk, Libis Quezon City
02-551-8557
7 a.m. to 3 a.m.
Cash, Mastercard, Visa, Alipay, WeChat Pay
salamangkamnl@gmail.com
Restaurant Menu
You can scroll the image left and right.