210 Degrees Kitchen + Drinkery in BGC: Fun-Dining and Inspired Comfort Food
There is something about comfort food that always makes us want to come back to wherever we had it just to taste it again. There is also that certain familiarity when we taste something that we recognize and love–and of course, a sense of comfort that makes us want to keep on coming back.
That's exactly what 210 Degrees Kitchen + Drinkery in Bonifacio Global City promises to give–a feel of home and comfort food with a twist.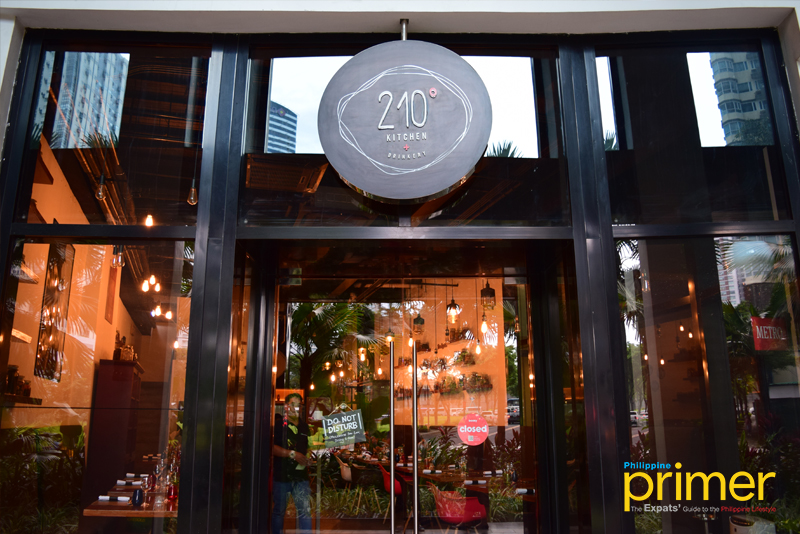 The restaurant used to operate under the helm of chef William Mahi before his former sous chef, chef Josiah Sanga took the wheel and revamped the menu for 210 Degrees.
They wanted to veer away from the image of their original French bistro vibe to refined and inspired comfort food. The shift was made to make the restaurant a more comfortable place for everybody where interactions can be more authentic and genuine.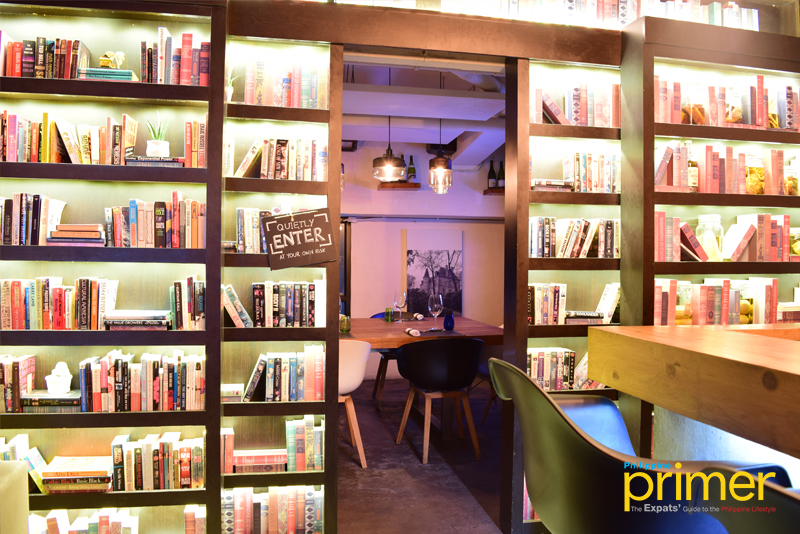 210 boasts themselves in serving inspired comfort food, and they craft known combinations to give it excellent and imaginative twists.
Moreover, they also add extra cooking processes that add another layer of flavor to the ones that we are familiar with. They offer a wide variety of dishes, while most have western influences, they also have Asian and local flavors.
Sample their Wagyu Beef Tartare (Php 560), a dish that is composed of raw minced tenderloin beef that sits on top of a roll-like log. The base of the dish is coated with a chipotle-mayo dressing, which is then coated with sesame seeds–both of which are deep fried to the perfect crisp. The chef recommends that you eat it with your hands!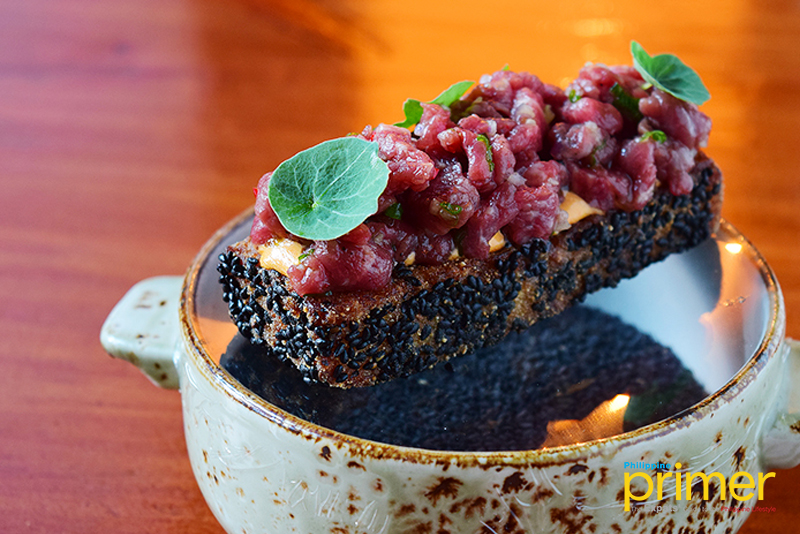 Wagyu Beef Tartare (Php 560)
Another must-try dish at 210 Degrees is their Beef Shortrib (Php 790). It's served with Pommes Puree that takes the traditional mashed potatoes to a whole new level. The beef is very tender and poses a very succulent taste.
The Pommes Puree, while it holds the same difference with mashed potatoes, is different in the way that it is processed. The puree is creamy, contrary to the regular mashed potato, and has an added texture to it. The flavor is also vibrant and can stand alone without the help of additional components, like gravy, added to it.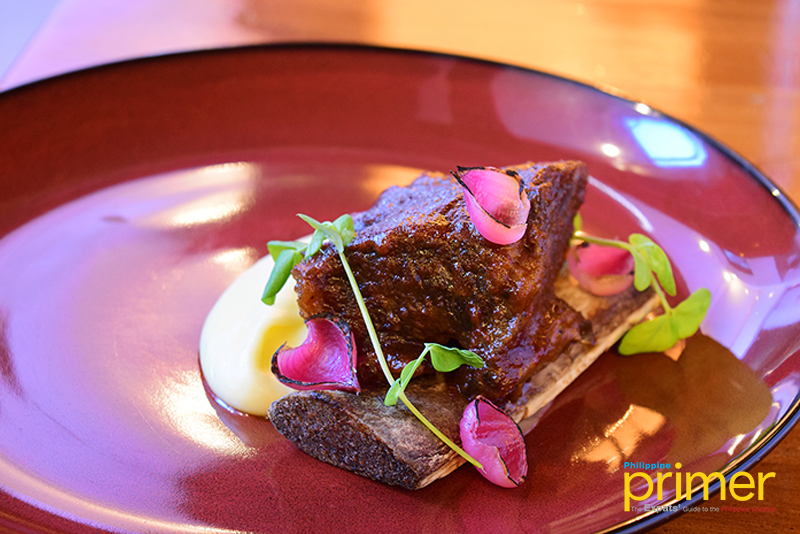 Beef Shortrib (Php 790)
Also, consider tasting their Gnocchi (Php 480) if you want a more massive meal. Their potato dumplings are soft and coated in pesto, making them a perfect blend with the sweet pumpkin sauce and the velvety mix of the feta and mascarpone sauce.
To add to the depth and texture of the dish, they also have slices of shiitake mushrooms and parmesan.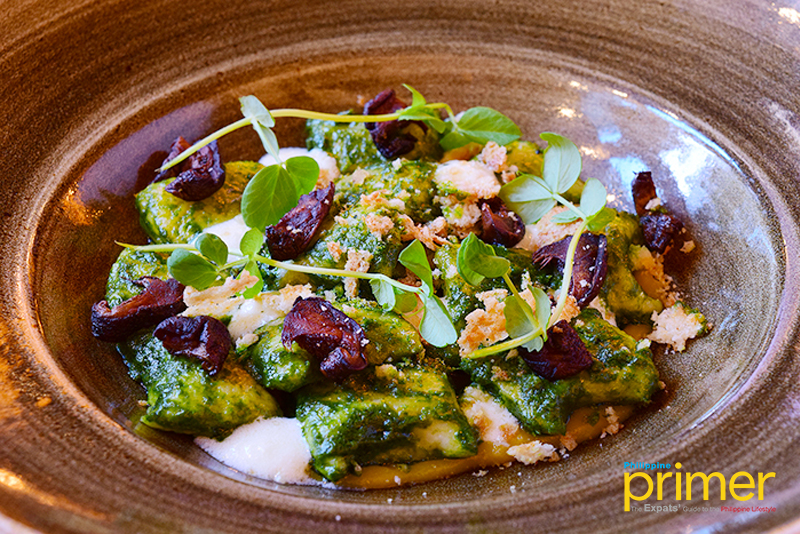 Gnocchi (Php 480)
For dessert, you might want to give their Warm Chocolate Cake (Php 380) a try. This lava cake boasts a dark chocolate flavor but it's not as strong.
The cake itself is soft and has the blend with the dark chocolate sauce within it. The best part? It's accompanied with a scoop of vanilla ice cream that mixes perfectly with the flavor.
Warm Chocolate Cake (Php 380)
They also have a wide selection of liquor that is available at their bar on the 2nd floor of the restaurant. They have wines, classic and signature cocktails, as well as mocktails.
The restaurant is the perfect place for that slow night out or when you want a place to have intimate gatherings. They also have a private room nestled on the 2nd floor of their restaurant behind a makeshift bookshelf.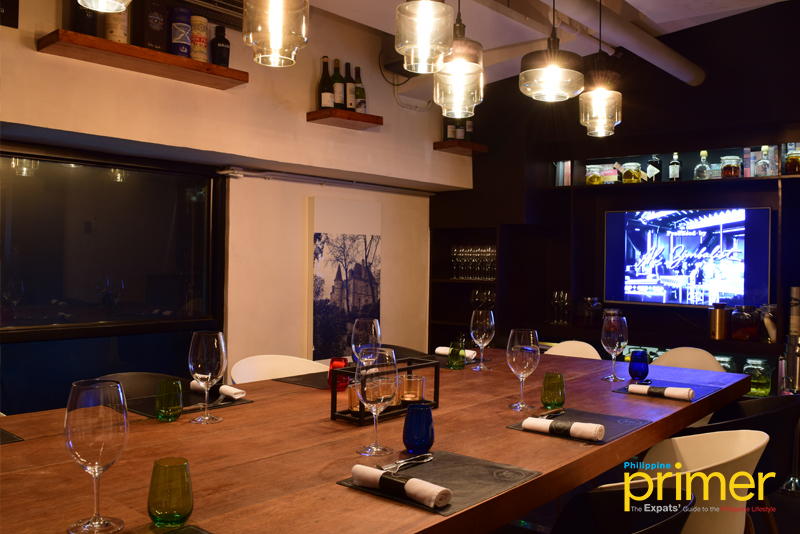 210 Degrees Kitchen + Drinkery will give you a different take on comfort food, bringing you on an imaginative and tasty journey by crafting your favorite dishes into something entirely new–all without sacrificing the taste.
For more information, you may visit 210 Degrees Kitchen + Drinkery's official website. You may also visit their Facebook page and Instragram. You may also contact them at 0995-015-2192. You may also e-mail them at 210degrees.ph@gmail.com.
---
This first appeared in Philippine Primer Japanese Magazine's December 2018 issue.
Written by Feliz Grace Bueno

Unit 1D, G/F Icon Plaza 25th Street Corner 6th Avenue BGC, Taguig, Manila

Bar: 5 p.m. to 12 a.m.; Kitchen: 6 p.m. to 10:30 p.m.