RBy's Steak and Shake
Ask any Filipino who's eaten at Subway about Philly cheese steak, and they'll point you towards their Steak and Cheese (it's technically a hoagie, but more on that later). Authentic cheese steak shops in the Philippines are so rare, it's no wonder Filipinos are almost oblivious to its existence. Enter RBy's Steak and Shake, located at the famous Maginhawa Street in Quezon City.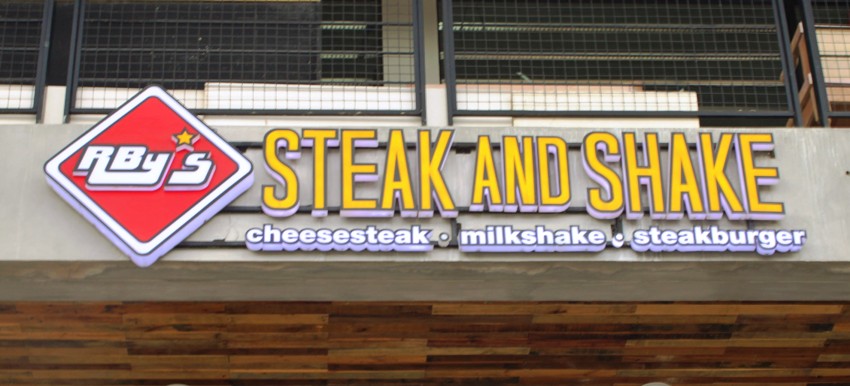 RBY'S. Philly Cheesesteaks are their game.
RBy's Steak and Shake is an honest-to-goodness Philly cheese steak shop in Quezon City. Owned by Bernadette Acuña and Rowena Vera, it started out as a 20-square-meter stall in Sikatuna Village last 2014.
Two years on and they've moved to a bigger and better place in Teacher's Village, yet still retaining the Philadelphia vibe that made their customers love them so much… oh, and the cheese steaks too.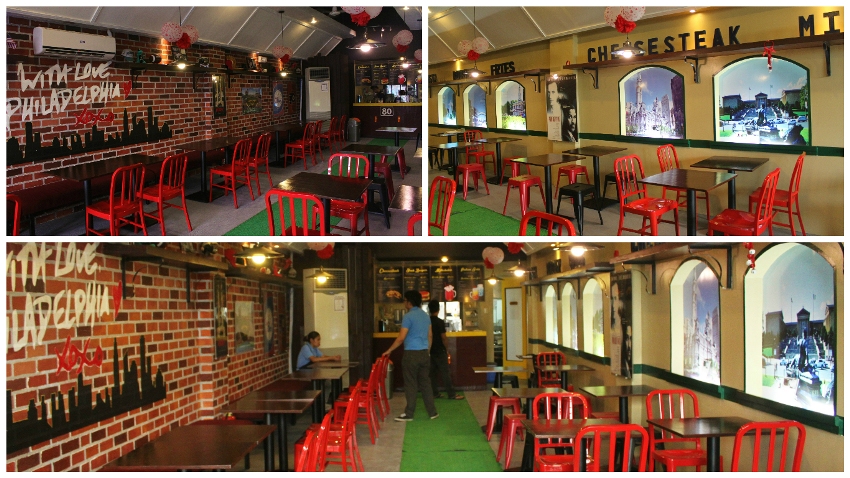 INNUNDATED WITH EVERYTHING PHILADELPHIA. Philadelphia, PA is where you'll find the origins of the cheese steak; hence, the name Philly cheese steak.
The restaurant looks good, eh? Well, wait till you see (and hopefully taste) their cheese steak.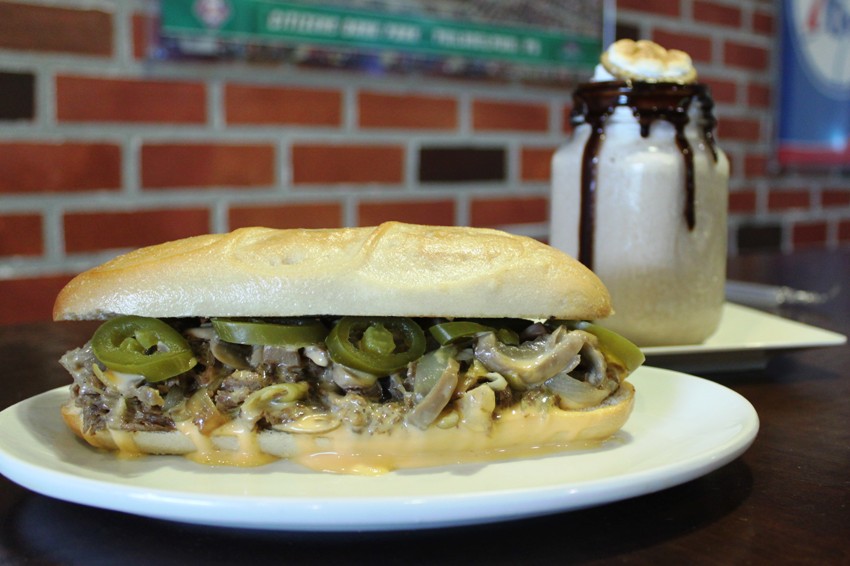 FULL MEAL. Presenting the Philly cheese steak with a Choco Smore milkshake.
Ordering at RBy's is exactly the same as you would in Philadelphia, albeit a bit slower (unless you're in a hurry):
1. Choose your cheese (Whiz at P160, American at P185, or Provolone at P195)
2. Say if it wit (with) or witout (without) onions, then
3. Top it off with mushrooms (P15), jalapenos (P15), bacon (P30), or sweet pepper (P15).
Their ingredients are sourced locally, are as close to what they use in Philly as possible, and are brought to the shop as fresh as can be. All preparations are done in the kitchen on the day itself.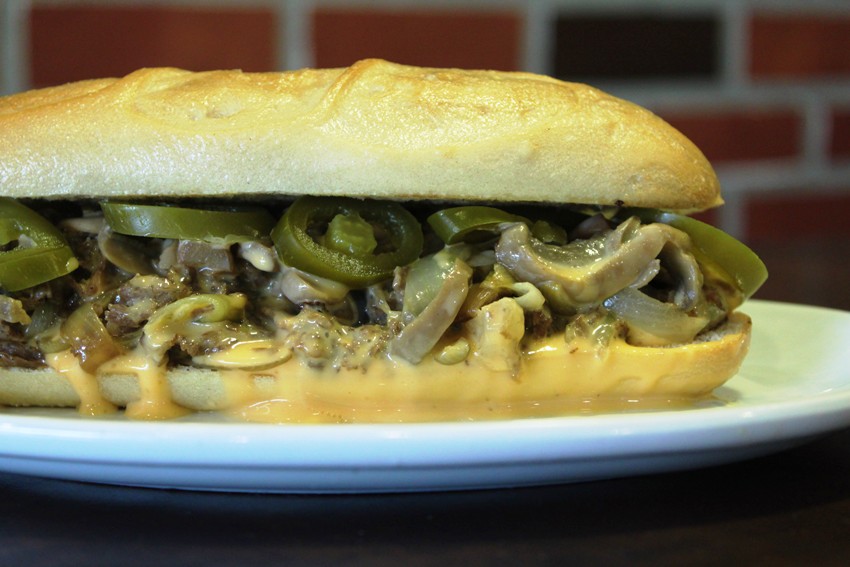 THE ONLY DIFFERENCE IS THE SIZE. Scrumptious to the last bite, this six-inch combination (Whiz, wit, mushroom, and jalapeno) can be yours for only P190. Best if you eat it by hand, and right away.
Philly cheese steaks are usually a foot long, but with how small Filipino appetites are, Rowena and Bernadette decided to cut that in half. Turns out it was a good decision, as their cheese steaks are so filling, it can be considered a full meal.
This full meal, however, is packed with flavour. The cheese is Cheese Whiz, but that's just how they do it in Philadelphia. The way it's seasoned suits the Filipino palate. A fork and knife will be provided, but cheese steaks are best eaten by hand. It will be messy, but that's how you can enjoy it to the fullest.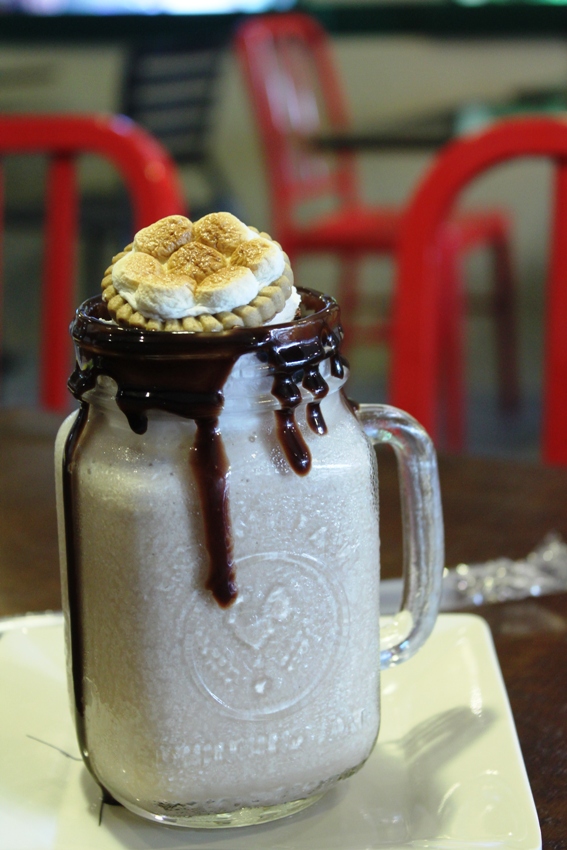 CHOCO SMORE MILKSHAKE. A combination of vanilla ice cream and chocolate syrup, topped with a freshly-made smore. Yours for only P150.
Milkshakes are also a big hit with their customers, all thanks to their commitment to stay true to the recipe. Their milkshakes are made from 100% ice cream, giving it a consistency that's yet to be matched by milkshakes made without ice cream. The smore acts as the quintessential cherry-on-top, making it even more special.
While each can be enjoyed on its own, putting them together is like a match made in heaven. The salty, savoury cheese steak is balanced by the decadent and creamy milkshake. It helps that they serve it in big batches, too.
 RBy's Steak and Shake can be found at 80 Maginhawa St., Teacher's Village, Quezon City. They are open from Tuesdays to Sundays, 11 a.m. to 10 p.m. Though they don't deliver, you can call them at 02-966-2798 or 0917-315-9481 to have your meal ready for pick-up. You can also visit their website, https://www.rbys.net/, or follow them on social media (RBy's Steak And Shake on Facebook or @rbyssteakandshake on Instagram).

80 Maginhawa St., Teacher's Village, Quezon City, Metro Manila

Tuesdays to Sundays, 11 a.m. to 10 p.m