Play Nation in Quezon City: The Perfect Place for Gamers and Coffee Junkies
Calling all the gamers and café-junkies out there–you can now enjoy what the premier entertainment cafe in Singapore, Play Nation, has to offer as it brings its first branch here in the Philippines at the U.P Town Center in Katipunan Quezon City, opened just this October.
World-renowned designers curated the aesthetics of Play Nation. The cafe gives a dynamic and fun vibe, matched with the distinct bright colored interiors and its signature monkey icons!
Gaming area
Play Nation's staff is called the Play Insiders, and they are up and ready for whatever inquiries you have, guiding all the customers about the games, food, among other requests.
From console to board games, Play Nation will definitely provide you with a good time. But if you want to try a more active game, check out the Just Dance game, which requires the player to dance accordingly with the long list of chart-topping songs.
Playnation has a lot of games for the customers
Aside from the dancing games, Play Nation also recommends to try out other games such as the Chef-In-Training, Rockband 4 and Dream Catchers.
Chef In Training is a console game that can be played by up to four-members. The goal is to make your way out of the game through a series of culinary level schemes.
Meanwhile, Rock Band 4 will assess your vocal skills, so bring along your friends and chant the day out! Lastly, a special artwork board game called the Dream Catchers allows you to play as the Dream Faerie defending the kids from nightmares.
If you happen to enjoy one of the board games you can purchase one in the cafe too!
What's really special about the cafe aside from giving you the luxury of experiencing quality accommodations and a wide variety of gaming selections is their food menu. Play Nation gives you the freedom to Create Your Own Play Bowl meal for only Php 300! Follow the steps below to prepare the best composition of your food:
Guidelines on how to create a perfect meal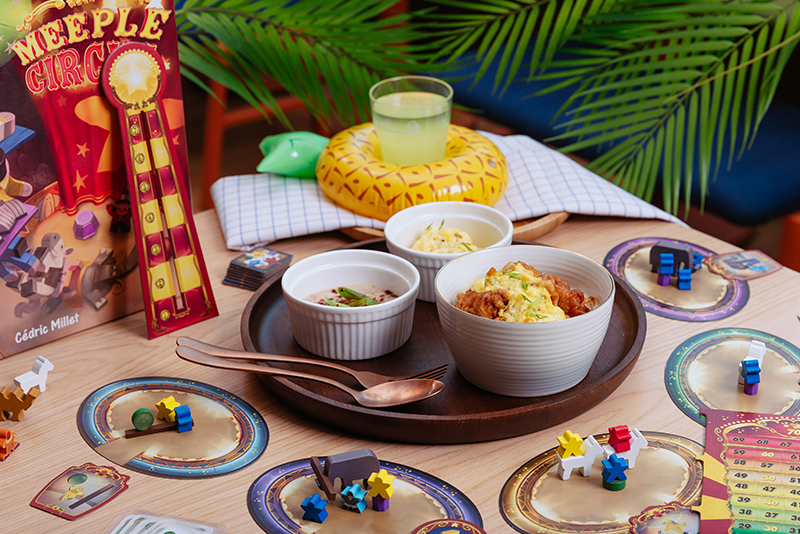 Butter Corn Rice, Scrambled Egg, Japanese Nanban Chicken, Kani Crab salad
Plain rice, Pork Belly Confit with Mustard, Fried Egg, Gising gising
Pineapple Caldereta with Brandy
You may also choose from the scrumptious Finger Food munchies menu while you are playing. One of the best picks to try out is their Overloaded Nacho Chips (Php 290), composed of crispy, thick nachos mixed with fried eggs, cheese, well-garnished by onions, pepper, and basil.
Overloaded Nacho Chips (Php 290)
Try out the classic finger snacks, the Empanada with Pico De Gallo (Php 200). This bite-sized empanada packs a flavorful treat with every piece, so be sure to eat this with the Pico De Gallo for an additional zing!
Empanada with Pico De Gallo (Php 200)
One of the best snacks to eat while playing is a serving of Shrimp balls with Mozzarella Cheeze (Php 250). Every bite of this cheese ball will fill your mouth with bursting flavors of thick, chewy cheese and shrimp.
Shrimp balls with Mozzarella cheeze (Php 250)
For big meal munchies, you can choose a platter of Buffalo Wings with Chipotle BBQ for (Php 200) or Seafood basket (Php 290) composed of tempura, crab, and more.
Buffalo wings with Chipotle BBQ (Php 200), Seafood basket (Php 290)
Play Nation invites you to bring your peers along to join the largest entertainment cafe hub in U.P Town Center, Diliman, Quezon City. Visit now to enjoy the refreshing treat and amusing experience!
Also read: Movie Stars Café in Quezon City: From Reel to Real
For more inquiries and information call 0917-163-1673. You may also visit their official Facebook page or Instragram!
---
Photo courtesy of Play Nation.

U.P. Town Center, Level 2 Diliman, Quezon City