La Fiesta: Largest Filipino Buffet
Filipinos love good food. Most people, however, do not like being limited to paying a lot just to get several dishes in one seating. Buffets solve this problem by having several options for one price, but are still limited by the space given to customers.
La Fiesta, however, seeks to up the buffet game by claiming the title of the Largest Filipino Buffet.

THE LARGEST FILIPINO BUFFET. La Fiesta is possibly the largest collection of food under one roof, served every single day of the week. Photo courtesy of La Fiesta Largest Filipino Buffet Facebook page.
La Fiesta is located at the SM Mall of Asia and is, quite possibly, the largest buffet you'll have access to on a daily basis. Just the floor space alone is enough to make you say "Wow, this place is HUGE." They can comfortably sit up to 500 people in with over 1,200 square meters of space.
However, the wow factor doesn't stop there. Buffets are known for their selection of dishes, and La Fiesta is no different… except for the fact that they've crammed virtually every popular Filipino dish in their set-up.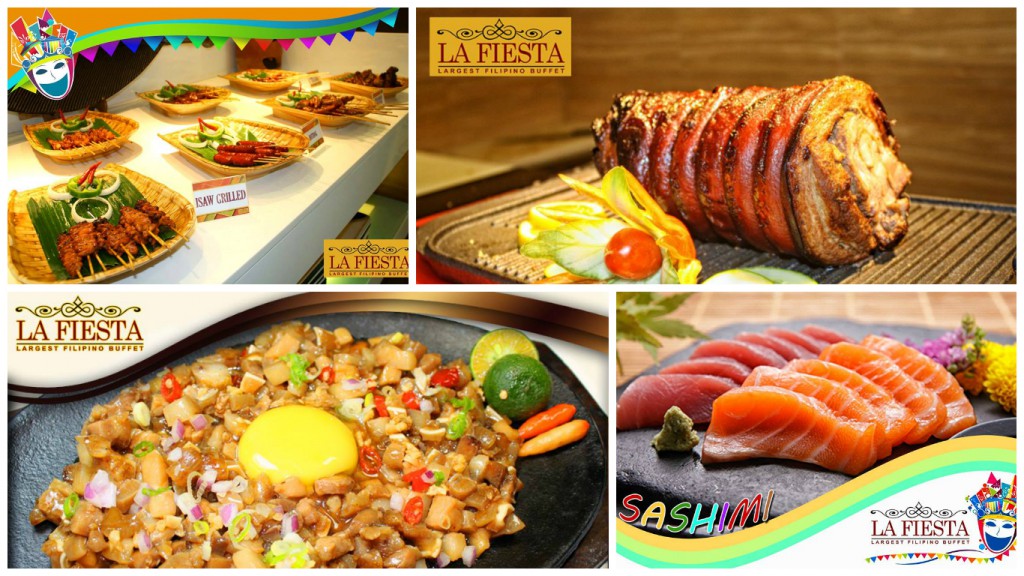 THEY ALMOST HAVE IT ALL. It's hard to say which ones they missed, but the favorites are definitely here: Lechon, ihaw-ihaw (grilled food), sisig… even sashimi. Photos courtesy of La Fiesta Largest Filipino Buffet Facebook page.
They have almost every Filipino dish known to everyone; known, because you'd need to scour their entire buffet set-up AND know EVERY Filipino dish by heart for you to say which one's not present. Apart from that, they also have Filipino versions of popular international cuisine such as sashimi and shawarma.
You can enjoy their delicious and extensive buffet for as low as P638 per person (5% service charge not included). There's also a live music and cultural show once a week, so there's no shortage of fun to be had.
La Fiesta is located at By The Bay Leisure Park, The Esplanade, SM Mall of Asia Complex, Seaside cor. JW Diokno Blvd., Pasay City. They're located between the MOA Eye and Buffet101. For reservations, you can call them at 02-556-1111, 02-556-1222, or 02-556-1333. They're open daily for lunch (11:30 p.m. – 3 p.m.) and dinner (5:30 p.m. to 11 p.m.).
Source: Tetadventures, Business Evolution

The Esplanade, SM Mall of Asia Complex, Seaside cor. JW Diokno Blvd., Pasay City

02-556-1111, 02-556-1222, or 02-556-1333

Open Daily Lunch 11:30 pm – 3:00 pm | Dinner 5:30 pm – 11:00 pm