Peppy Olive in Salcedo Village, Makati: A Taste of Feel-Good Mediterranean Meals
Peppy Olive is what we call the taste of happiness. When we say happiness, it means feel-good meals that are locally sourced from organic farms, and are a hundred percent fresh and healthy.
Located inside Three Central in Salcedo Village, Makati, Peppy Olive is not just purely fresh and healthy; it also gives you a guilt-free Mediterranean food selection so you won't have to sacrifice a tasty yet healthy meal.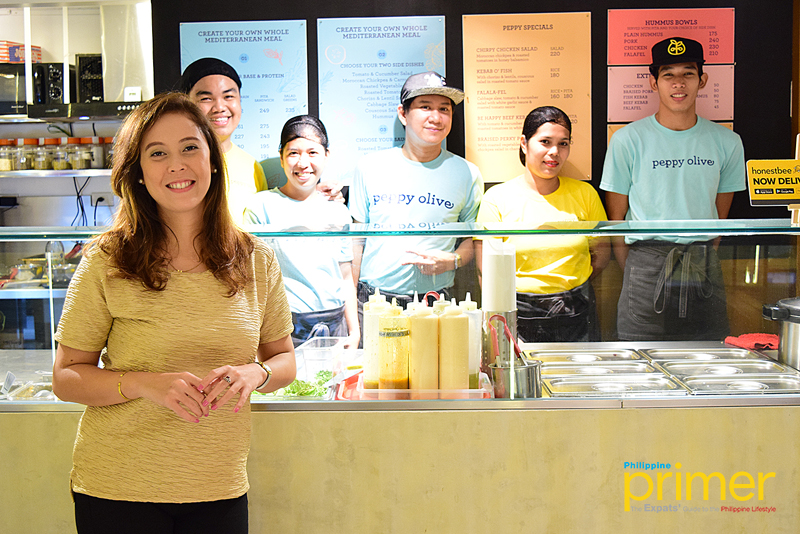 Ms. Myka Perlas together with the friendly and cheerful staff of Peppy Olive
Brought together by the love of yoga and healthy food lifestyle, Myka Perlas and Jamie Coa created a one-of-a-kind fast food option for those who are tired of having the same old, unhealthy fast-food meals around Makati. With a common love for Mediterranean cuisine, they created Peppy Olive–with Peppy meaning "happy," and Olive as the staple ingredient of a Mediterranean meal.
The idea of Peppy Olive started with the owners' realization of how healthy meal options are very limited and a little too expensive. Thus, they thought of creating a fast-food type stall that encourages everyone to eat healthily, but with a very reasonable price. At Peppy Olive, they serve feel-good Mediterranean meals such as salads, pitas, rice meals, smoothies, falafel, kebab, and more.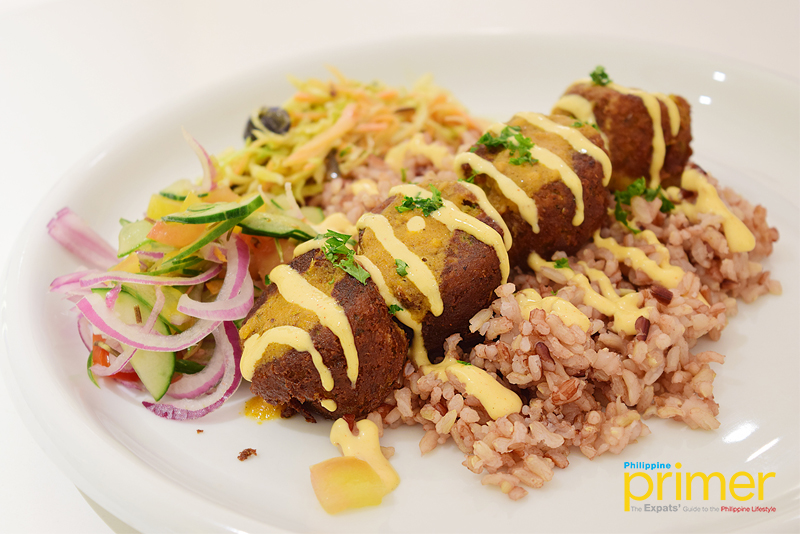 Falafel Rice (Php 160)
People under strict diet wouldn't have to worry about eating a rice meal in Peppy Olive as they serve the falafel with brown rice which is a lot healthier than white rice. Falafel Rice is also topped with cabbage slaw, tomato, and cucumber salad, with white garlic sauce and roasted tomato sauce.
For salads, Chirpy Chicken Salad is a must-try as one of their bestsellers. It balances out the meal with its chopped chicken and greens. This salad is perfect for those who want to gradually shift from the usual lunch meals to a healthier alternative as it still gives you the meat you're craving for. The salad has Moroccan chickpeas and roasted tomatoes in honey balsamic dressing that complements the typical bland taste of the greens. The dressing and the chicken combination adds up to the flavorful taste of the salad.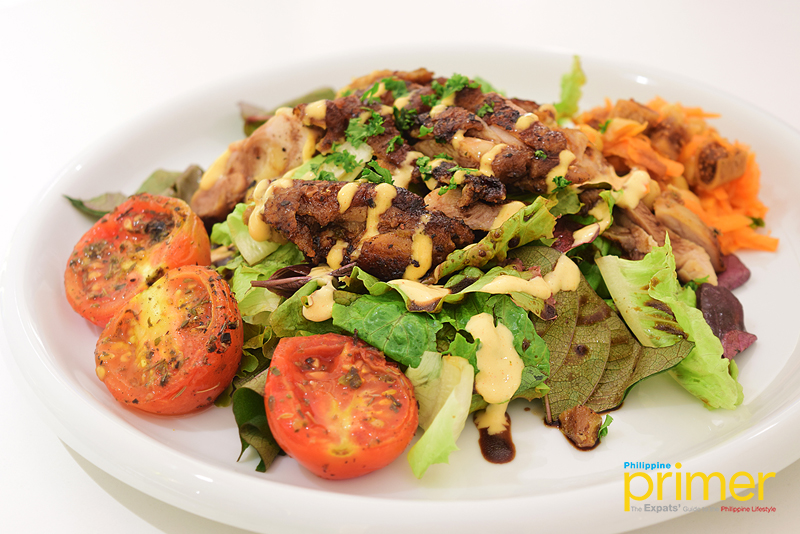 Chirpy Chicken Salad (Php 220)
If you're not much of a salad person or if you want something that can be easily eaten, you can try their Beef Kebab Pita. It consists of the usual meat with a tomato and cucumber salad inside, drizzled with white garlic sauce perfect for an errand-filled kind of day to give you the energy boost that you need.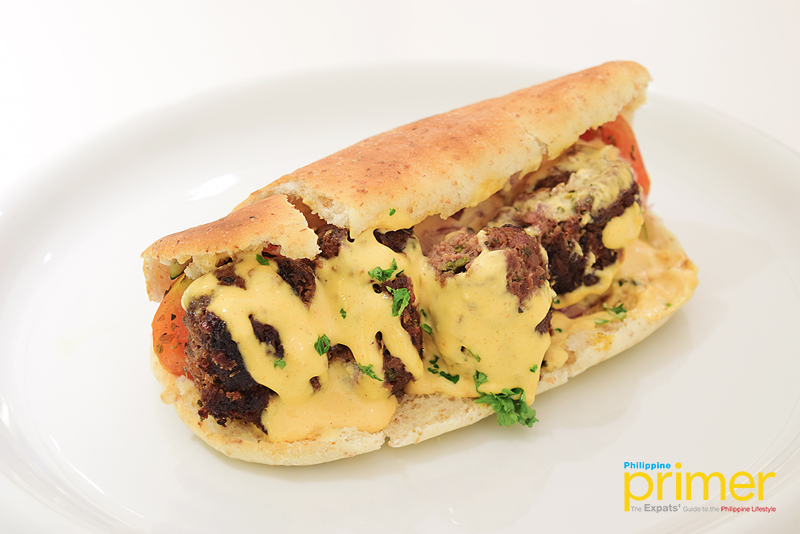 Beef Kebab Pita (Php 220)
Peppy Olive doesn't just stop in serving your typical Mediterranean meals. It also offers a Create-Your-Own-Mediterranean-Meals where you can personalize your own bowl and choose from either rice, pita, or salads. You just have to pick your base and proteins first, followed by side dishes, and finish it off with a sauce of your choice.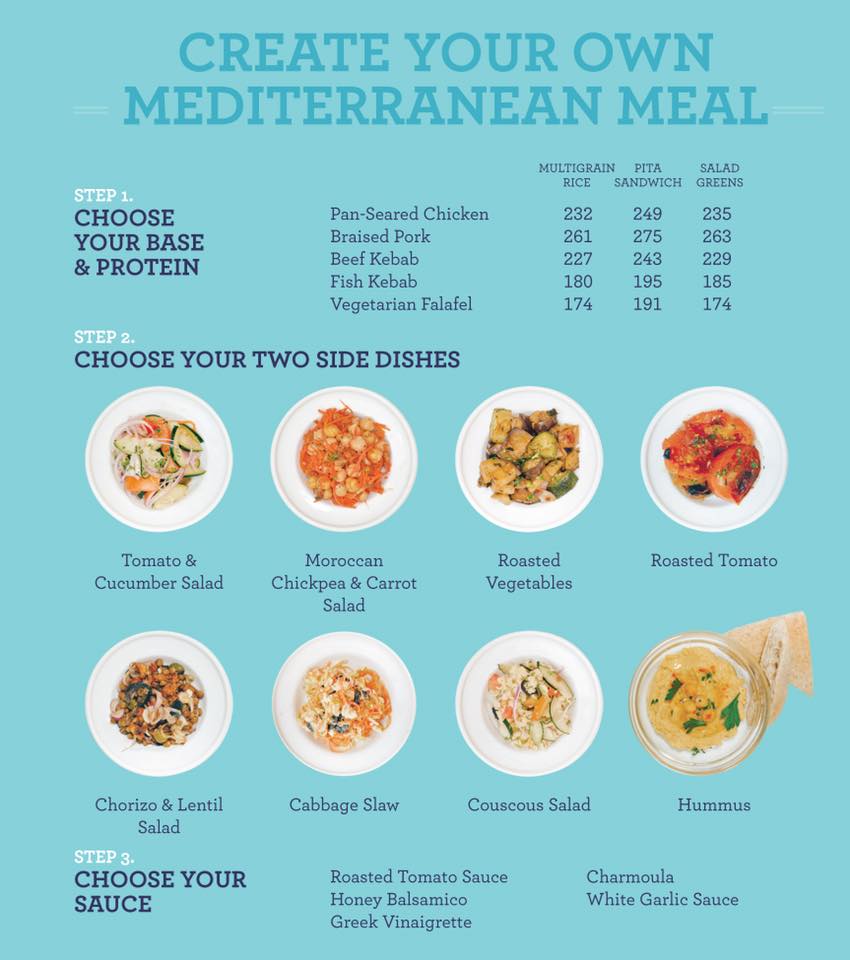 Personalize your own Mediterranean meal at Peppy Olive / IMAGE Peppy Olive's Facebook Page 
Aside from the feel-good food they offer, Peppy Olive makes every meal purchase even better. Through the Lifebank Foundation, where they source all fresh vegetables and ingredients, they help sustain the livelihood of local farmers in the country. Eating healthy and helping the needy is definitely what a taste of happiness is all about.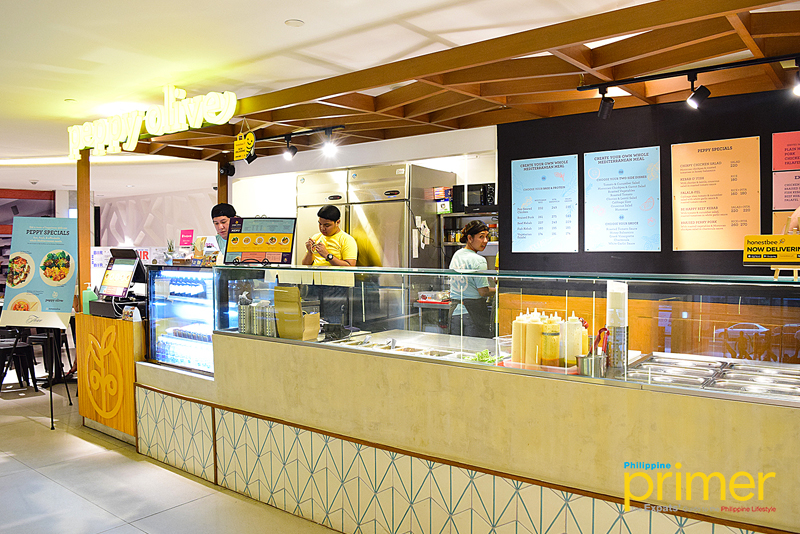 The Peppy Olive Food Stall inside Three Central
Visit Peppy Olive and experience the feel-good Mediterranean meals they offer and see it for yourself. Peppy Olive is located at 2/F Three Central, Valero Street, Salcedo Village, Makati City. They are open every weekday from 10:00 am to 10:00 pm and every weekend from 10:00 a.m. to 7:00 p.m. 
For inquiries, you can call them at 0966-320-6276. Peppy Olive delivers through FoodPanda and Honestbee. For more updates about Peppy Olive, you can like their Facebook page at peppyolivePH. 
---
This also appears in Philippine Primer Japanese Magazine's October 2018 issue.
Store Information
2/F of the Three Central, Valero Street, Salcedo Village, Makati City
0966-320-6276
10:00 a.m to 10:00 p.m (Mon. to Fri.), 10:00 a.m to 7:00 p.m (Sat. to Sun.)
peppyolive@gmail.com