La Petite Parisienne in Salcedo Village Takes You to France With Their Wine and Cheese Selections
La Petite Parisienne in Salcedo Village Takes You to France With Their Wine and Cheese Selections
La Petite Parisienne, which translates to 'little French girl,' is a wine bar and restaurant in Salcedo Village along San Agustin.
With French wine bottles on the walls up to the ceiling, a display cabinet of prime cheeses and cold cuts, the restaurant will transport you to every traveler's dream destination: Paris, France.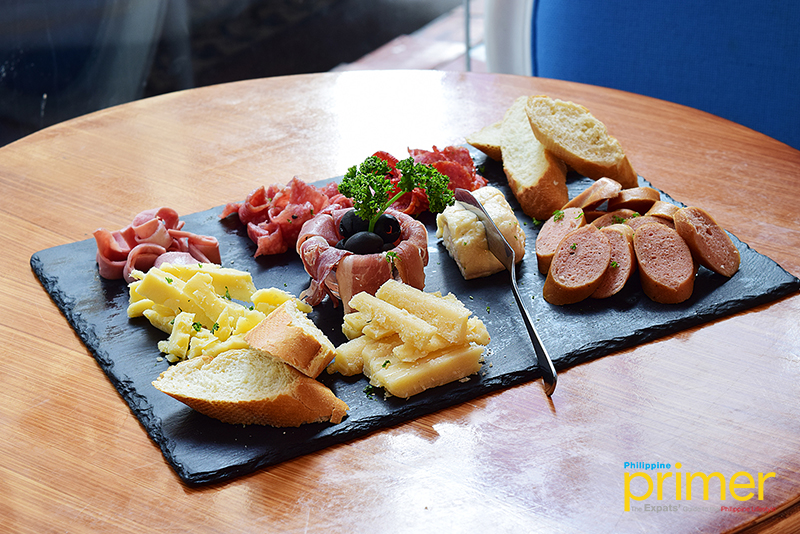 A mix of Cheese Platter (Php 590) and Charcuterie (Php 690) best for a night of Parisian wine
With the help of a French architect, the owners created La Petite Parisienne to bring Paris to the Philippines. Bringing wines at the center of attention, all their branches have an ambiance and design resembling a wine cellar.
The cellar area can also be reserved for private events for only Php 15,000 consumable. Their Makati branch cellar can hold as much as 20 people at a time.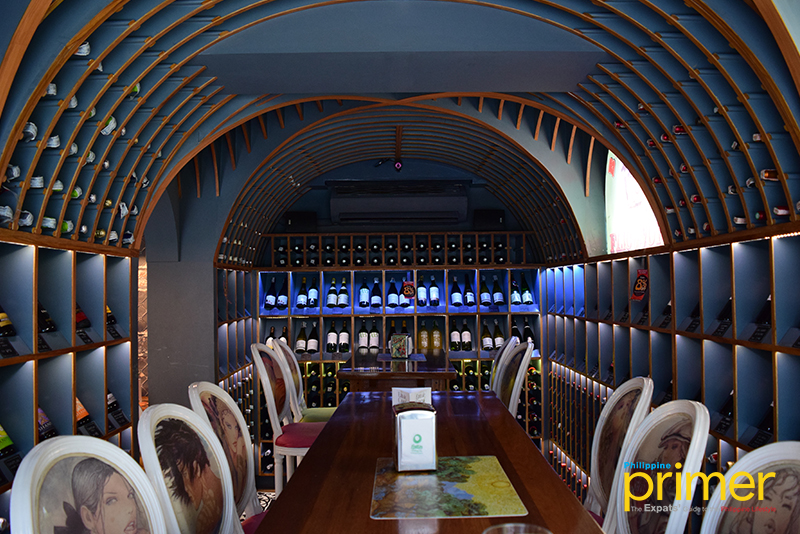 The Cellar interior of La Petite Parisienne, Salcedo Village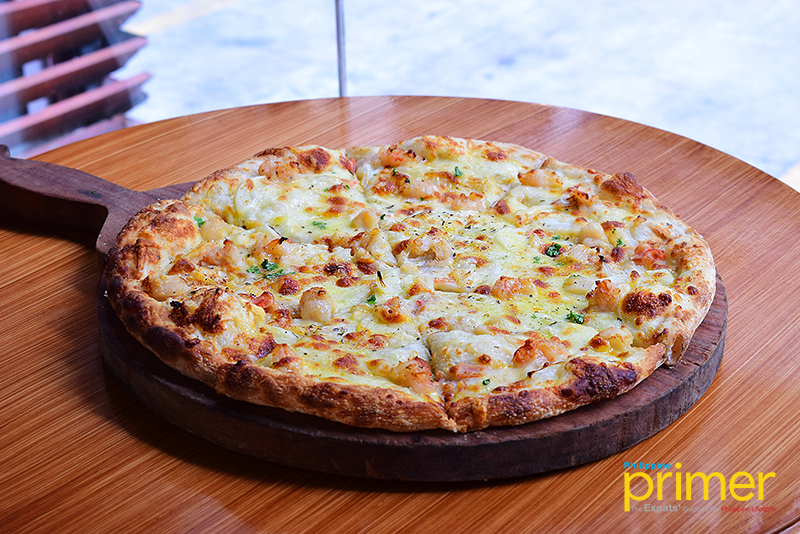 Seafood Pizza (Php 525)
A wine connoisseur handpicks each wine that will be imported and made available in La Petite Parisienne. This includes wines from Bordeaux, Loire, Lombardi, Burgundy, and Alsace.
Their cold cuts and artisan cheeses are imported as well while their dishes are made in-store from scratch, making the restaurant a destination for those looking for a good time.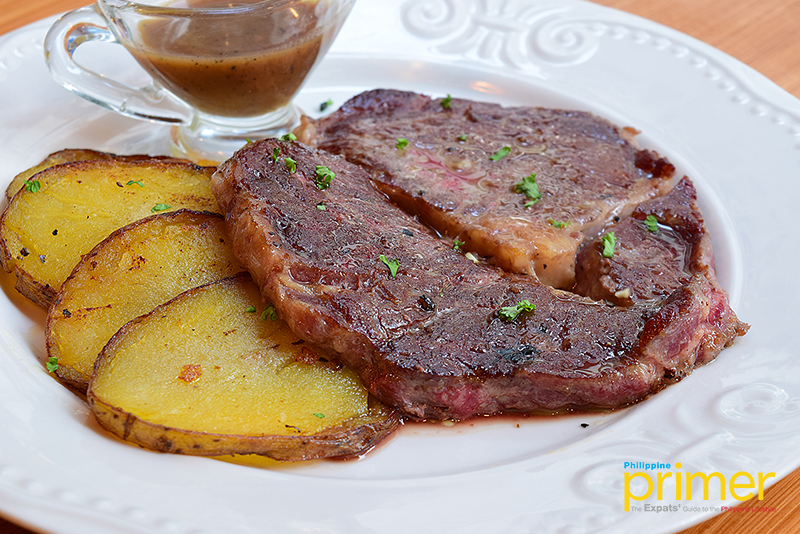 Rib Eye Steak (Php 890)
Wines are best paired with cheeses which customers can enjoy with the Cheese Plater (Php 590). Depending on availability, their selection includes Brie, Parmigiano, Gorgonzola, Raclette, Cheddar, Gouda, and Blue Cheese.
On the other hand, their Charcuterie (Php 690) could include Salami Piccante, Jamon Serrano, Mortadella, and Parma Ham depending on availability or on request.
The restaurant also holds wine and cheese pairings at your own convenience. La Petite Parisienne will set the order of wines and food as customers schedule a date.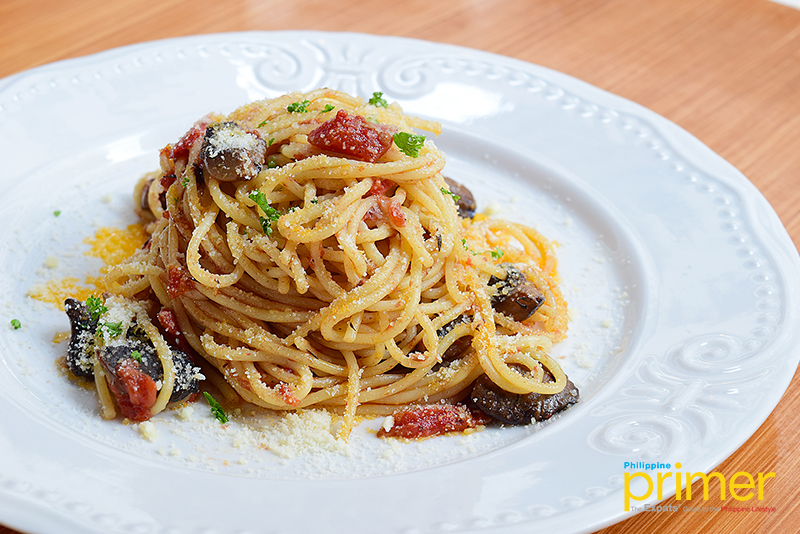 Portobello Pasta (Php 250) uses fresh tomatoes and portabella mushrooms
La Petite Parisienne's wide menu also includes pizza such as the Seafood Pizza (Php 525) which was very juicy despite its thin crust because of the fresh tomato and rich melted cheese.
Their Portobello Pasta (Php 250) is a perfect pairing for wines as most have the distinct taste of wild mushrooms, complementing the portabella. Lastly, their Rib Eye Steak (Php 890) was tender, juicy, and full flavored with a visually appealing marbling.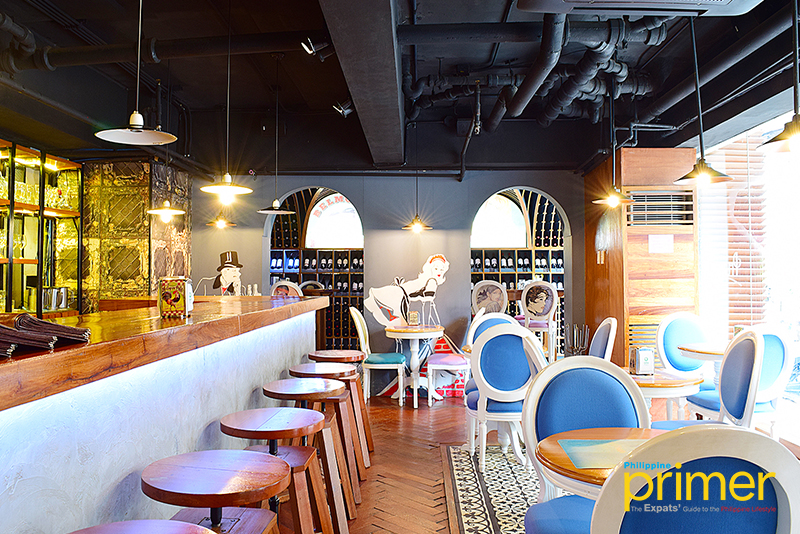 Surprisingly, the interior of La Petite Parisienne is much like their wines: a touch of a modern and traditional French restaurant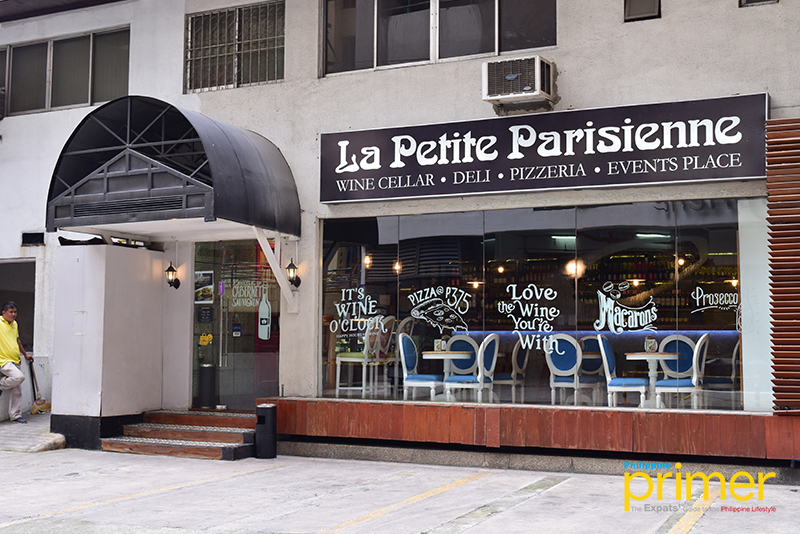 It's Wine O'Clock at La Petite Parisienne
When asked why La Petite Parisienne chose to bring French cuisine, they wanted to bring France to the Philippines which are countries and cultures far from each other.
Wine is a beautiful drink and has a great culture and history good enough to share with a date, family members, or colleagues. Enjoy a glass at La Petite Parisienne!
---
This also appears in Philippine Primer Japanese Magazine's October 2018 issue.
Store Information
San Agustin St., Salcedo Village, Makati City
0906-306-3714
Mon to Thu, 11:30 a.m.-11 p.m.; Fri, 11:30 a.m.-12 a.m.; Sat, 3 p.m.-12 a.m.; Sun, 3 p.m.-11 p.m.