New Biwon (CLOSED)
UPDATED as of January 15, 2019: This restaurant is CLOSED.
In Korean, this restaurant means 'Secret Garden' and it is indeed a hidden paradise. New Biwon offers Korean authentic cuisine that is prepared by a chef, who already experienced preparing food for Korea's president.
This restaurant is located near Edsa Taft Station and MOA (Mall of Asia).
Moreover, New Biwon's menu is written in Japanese that is accommodated with pictures, making it easy to understand for Japanese customers. There is also a private room that can accommodate up to 30 people. It's a perfect place to hold a party or conference.
When it comes to food, Bulgogi (P250/ 1 person) is a good dish to order. It is easy to eat and surprisingly gives a refreshing taste. This dish has a sauce that has a perfect chemistry with rice!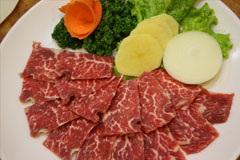 Kalbi Saru (P600/ 1 person) is a dish served with Kimchi, garlic chips, sesame oil, and lettuce that you can use to wrap around the meat and other side dishes.
For those who want to eat a lot, Kalbi Gui (P300/ 1 person) is the recommended item. This dish has a large meat-bone and a special sauce that taste well together.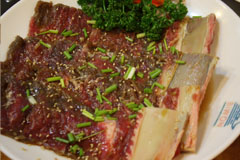 If you are worried about calories, you can eat the side menu, Seafood Pancake (P350), which has shrimp and squid. Ishiyaki Bibimbap (P270) is also a popular dish in this restaurant. To add more, Miso Soup (P450) and Sautéed Octopus are also available.
***
Suggestions:
Eating with large number of people
Atmosphere:
Clean, simple interior
Budget:
P800/ per person
Recommended Menu:
Kalbi Gui (P300/ 1 person)
Store Information
G/F Core Town Building, 2822 EDSA Extension Corner P. Celle Street, Pasay
63- 2- 8321835