Denny's in Makati: Breakfast Treats at Any Time of the Day
America's famous diner Denny's has finally come to Makati at the newly-opened Ayala North Exchange, Legaspi Village.
Open 24/7, diners can enjoy big hearty meals—like their breakfast Slams, good ol' American food, and even familiar comfort Filipino dishes!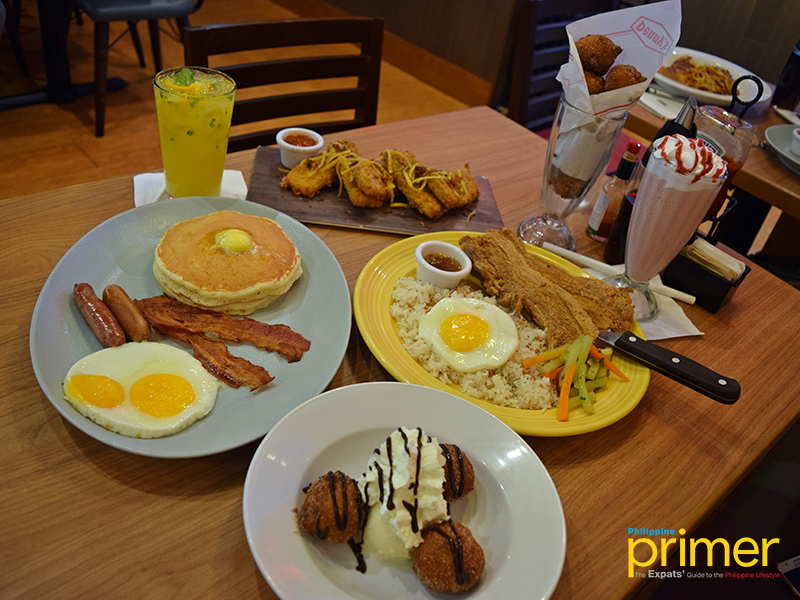 From a donut stand in America back in 1953, Denny's has come a long way to offer diner food anytime. The brand promises to stay open 24 hours a day, 364 days in a year—sans 1 for Christmas day.
The first Denny's branch in Southeast Asia opened in the Philippines in 2016, and now citizens of Makati can enjoy the famous pancakes, hearty meals, and desserts at the Ayala North Exchange.
Also read: Denny's to open first branch in PH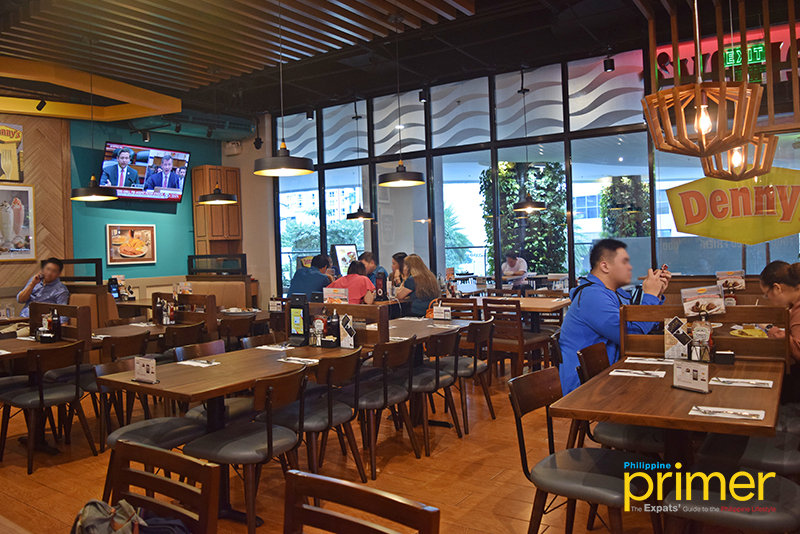 The Slams is one of Denny's staple menu. Grand slam is the baseball term for a four-base hit, and their Original Grand Slam (Php 395) has puffy and sweet buttermilk pancakes, crispy bacon strips, sunny-side up eggs, and juicy sausages—four slammin' treats in one big plate.
Kids and kids-at-heart could go for Denny's golden waffles that they pair with fried chicken, strawberry, peanut butter, or fudge brownies for a sweet and heavy breakfast!
You can also customize your slam with additional items such as rice, mashed potatoes, and ham.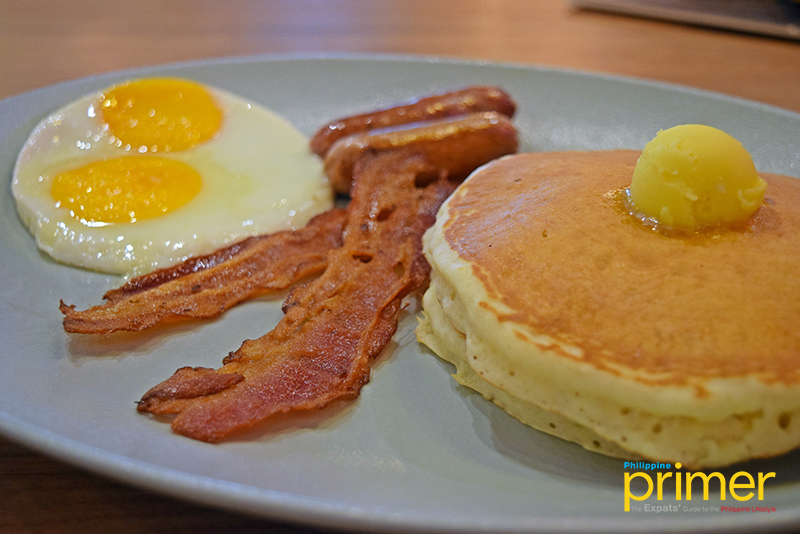 Original Grand Slam (Php 395)
If you're staying for a quick bite, you can't go wrong with the Mozzarella Cheese Sticks (Php 195) served with a creamy marinara sauce.
These rectangle bites contain a surprisingly thick amount of tangy mozzarella coated in an irresistibly crunchy breading. Enjoy it while it's hot!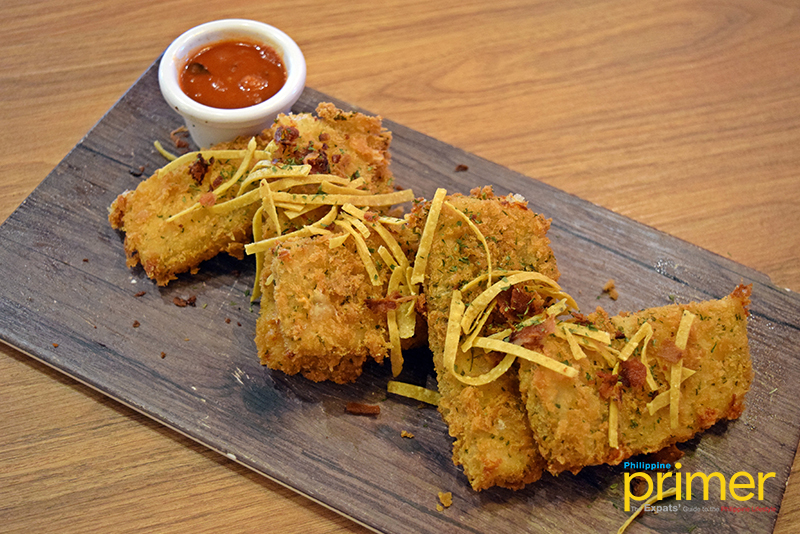 Mozzarella Cheese Sticks (Php 195)
Before anything else, you have to know about the Pancake Puppies (Php 195), which are fried balls of pancake batter tossed in a sweet cinnamon sugar powder.
Get this for a breakfast treat, midday snack, or dessert—these fluffy bite-sized treats are a great addition to your meals!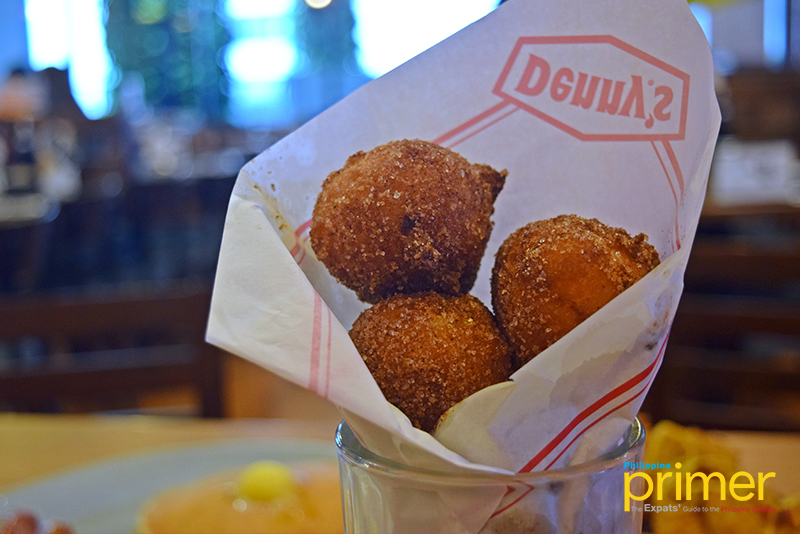 Pancake Puppies (Php 195)
And what better meal to dig in but Denny's very own Filipino classic dishes?
Their bestselling Crispy Crunch Pork Belly (Php 375) has two strips of pork belly, promising to stay true to its name of being crispy and crunchy. This goes well with their garlic rice and runny sunny-side up eggs—a clear choice for rice lovers.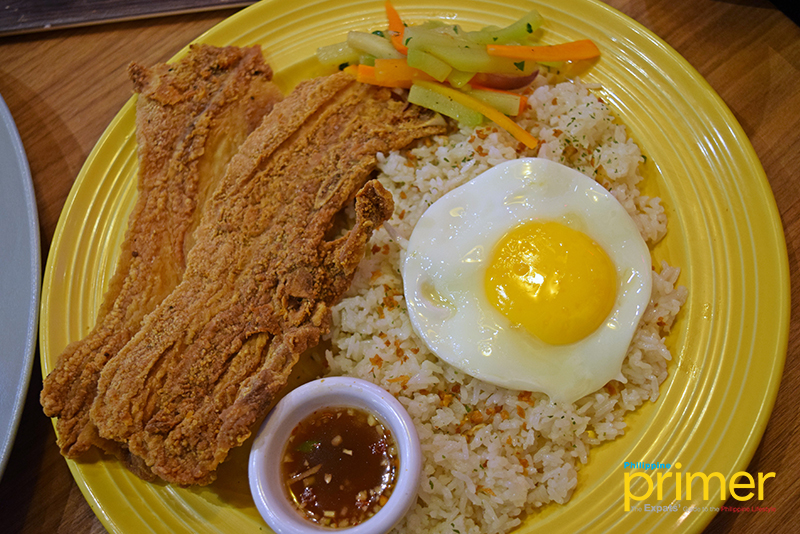 Crispy Crunch Pork Belly (Php 375)
Pair this with Denny's drinks like the sweet and tangy fresh Orange Mint Juice (Php 155), which has a good mix of brightness from the mint.
You may also sample the thick Strawberry Milkshake (Php 225) that wakes you up with the creamy mix of vanilla and strawberry flavors.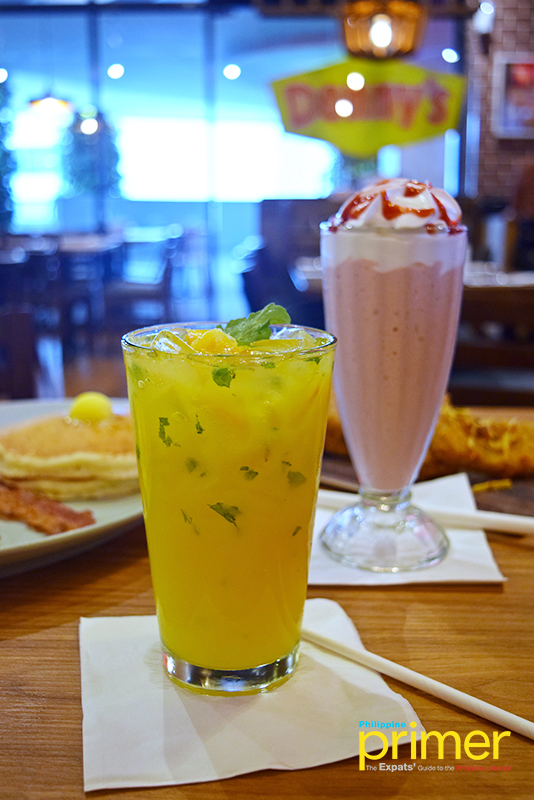 Orange Mint Juice (Php 155) and Strawberry Milkshake (Php 225)
Finally, have some Pancake Puppies Sundae (Php 175) made with pancake batter and mixed with white and dark chocolate. It is also fried and tossed in cinnamon sugar, sided with a big scoop of vanilla ice cream.
The treat doesn't stop there as it is topped with whipped cream and a chocolate drizzle—a chocolate lover's dream!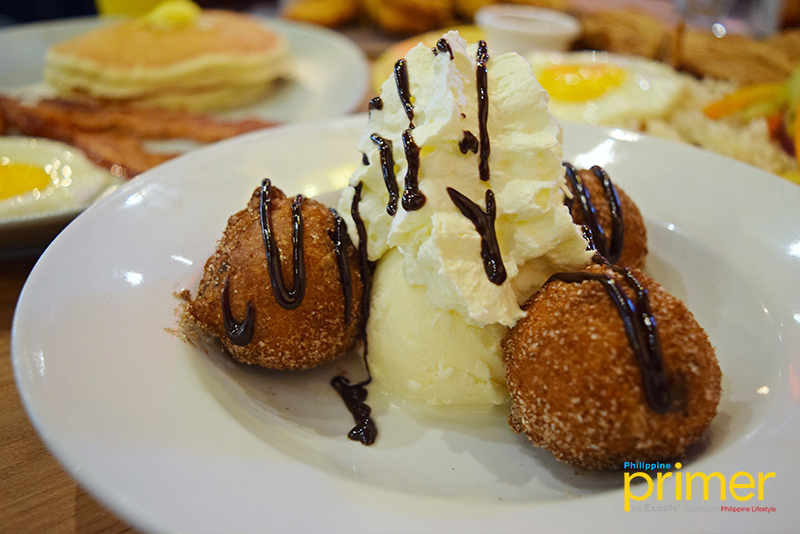 Pancake Puppies Sundae (Php 175)
As the first Denny's in Makati CBD, this branch is usually busy no matter what time it is—with office workers coming in for breakfast, lunch, or a meeting; and with the night owls and the casual Makati residents coming in for a night snack.
Feel free to pop in anytime, and see what Denny's has in store for you as they are here to stay all day, all year!
Also read: Denny's: A true American Diner in the Philippines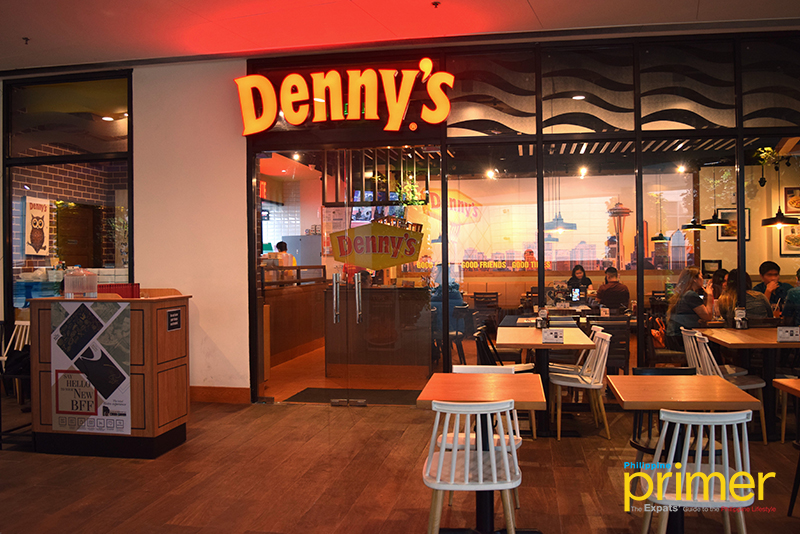 How to get here
Denny's is at the 2nd-floor terrace of the newly opened Ayala North Exchange located along Ayala Avenue, behind Makati Medical Center.
By car: You can travel along Osmeña Highway or South Luzon Expressway until the Buendia exit at Gil Puyat Ave. Turn right onto Ayala Ave. and to Salcedo St. to access the Ayala North Exchange parking entrance.
Via commute: From EDSA, go down at MRT Buendia Station. There will be jeepneys beside McDonald's at the corner of the street. Ride it all the way to Ayala Avenue. Cross the road using the pedestrian overpass and Ayala North Exchange will be on your right.
---
Written by Heloise Diamante

2/F, Ayala North Exchange, 6796 Ayala Ave. cor Salcedo St., Legaspi Village, Makati