Cebu's scene-stealer: The Pig and Palm
You'll always want to keep coming back at The Pig and Palm.
Found at the Cebu Business Park, The Pig and Palm is quite a scene stealer for its interesting take on modern dining. This unassuming hole in the wall restaurant is a place you would want to spend afternoons with a great meal and casual dining.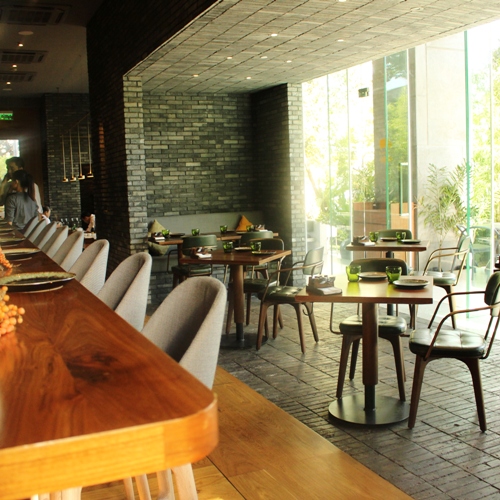 Interior
Part of the highly-acclaimed restaurant group The Social Company, The Pig and Palm is not your ordinary kind of restaurant. The Pig and Palm is a tapas bar that goes for a "social dining" kind of experience. In here, people get a different type of dining experience that will make you feel at home, as you relax and eat with your friends.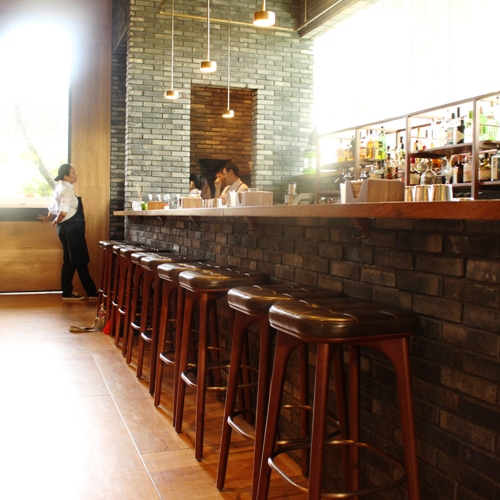 The Pig and Palm's bar
 Frequently changing their menu, the restaurant owned by Michelin-starred British chef Jason Atherton (who was a former Executive Chef of highly-regarded British celebrity chef Gordon Ramsay) keeps on creating new dishes so customers would keep interested on what they have to offer on the next time you visit. Their menu is composed mostly of Asian dishes however they constantly introduce something new to the palate of every guest who visits the place. They use certain spices both sourced locally and abroad to get a distinct flavor that sets them apart from other restaurants not only in Cebu but also in Metro Manila.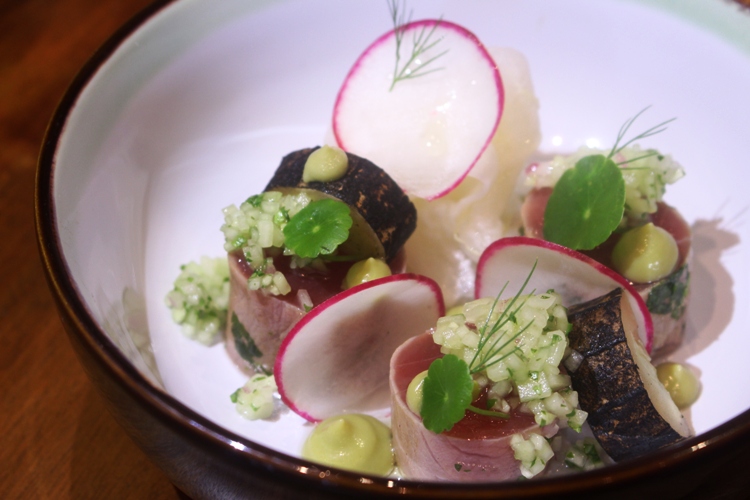 Tuna tataki, cucumber, radish, and ponzu (P480)
The Pig and Palm, aside from its restaurant, is also known for its bar where most come in for drinks late at night. Their cocktails, mostly composed of international ones are imported from countries in Europe. Since they are a tapas bar, the restaurant's dishes are best paired with cocktails and mixed drinks to cap off the night. They have a wide selection of alcoholic beverage proudly displayed at the bar near the entrance of the restaurant.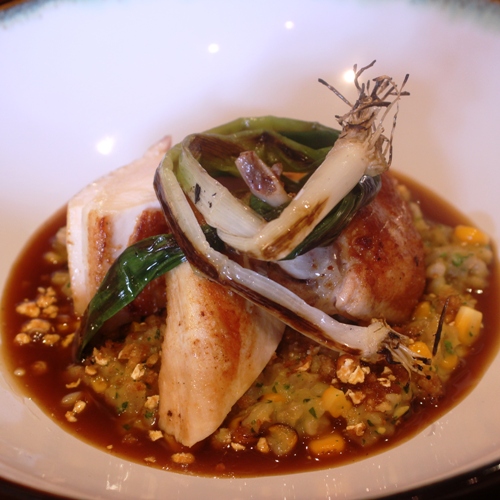 Roast chicken, sweet corn pearl barley, charred leeks, popcorn crumble (P760)
When it comes to the restaurant look, the Pig and Palm has its own ways of modernizing the look by making it look more relaxed. At the outside you would see that the place has a unique façade and as you enter, you'd see booths where guests can dine if they want to just be near the bar. It also has an al fresco dining area where guests can be seated outside. The Pig and Palm also has function areas where groups of people can dine in. The whole restaurant can accommodate up to 60 persons in both its indoor and outdoor seating.
If you wish to enjoy a night with great food and a one of a kind dining experience, head on over to The Pig and Palm and see what makes people come back for what they have to offer.
G/F MSY Tower, Pescadores Road, Cebu Business Park, Cebu City
0917 657 6866
7:30 to 12:00 am (Tuesday to Thursday), 7:30 am to 2:00 am (Friday), 8:00 am to 2:00 am (Saturday); 8:00 am to 12:00 am
Monday