Hola Bombón in Poblacion: The Newest Hub for Filipino-Spanish Flavors
Heading out this weekend? We know a place in Makati that you should check out if you're on the hunt for a new destination for great food and drinks. Reflecting the grit of Poblacion mixed with a distinctively Iberian sense of humor, Hola Bombón definitely knows how to give you a good time.
Promising an authentic Spanish experience "without any frills and pretensions," the restaurant and bar marries Filipino ingredients and culture with Spanish techniques.
Brought to you by the same people behind Wild Poppy, it's a guarantee there will be no shortage of creativity and whimsicality in Hola Bombón's menu and interiors.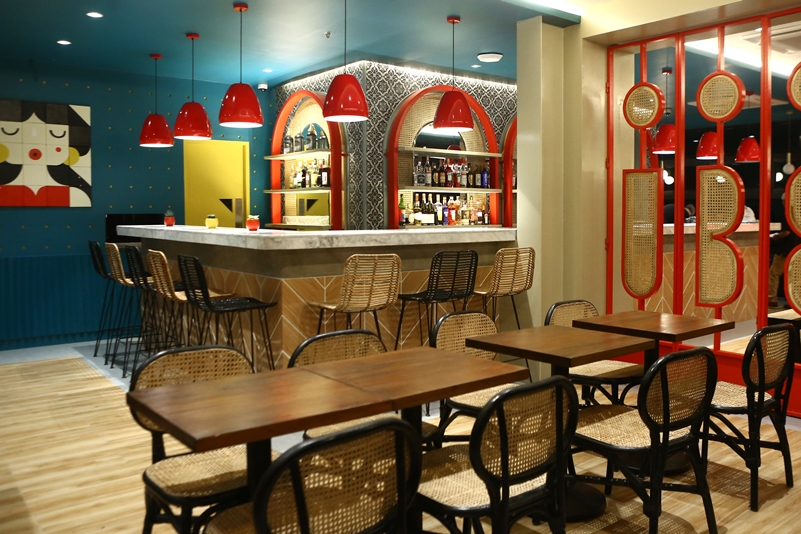 Also read: The Wild Poppy in Makati: Serving Southeast Asian Cuisine and Cocktails with a Twist
Food
Hola Bombón's menu range from finger food such as pintxos and tapas to full meals with their platos and paellas. They aim to present Spanish food in a young manner without compromising its similarities with Filipino cuisine.
If you're just out drinking and need something to accompany your cocktail at hand, try their Foie (Php 355), a mouthwatering little package made with seared foie gras, mango jam, and green mango.
You're also in for a flavor trip with a serving of their Jamón (Php 155) composed of jamón serrano, cream cheese, quail eggs, and shallots. Of course, both of these can also be ordered as starters for your meal.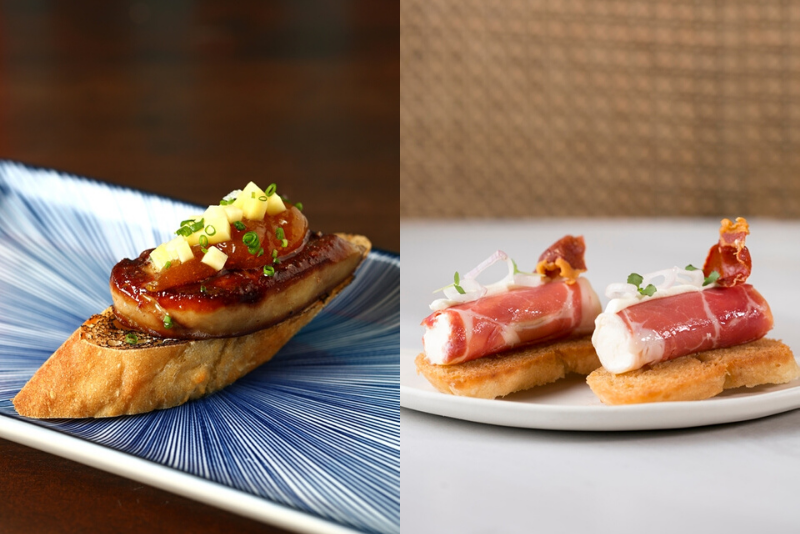 Foie (Php 355) and Jamón (Php 155)
Speaking of meals, sample a taste of Spain with Hola Bombón's different paella varieties, which are good for sharing. Their Paella de Pato (Php 995) is one appetizing pan composed of Bomba rice, duck breast, foie gras, and mushrooms.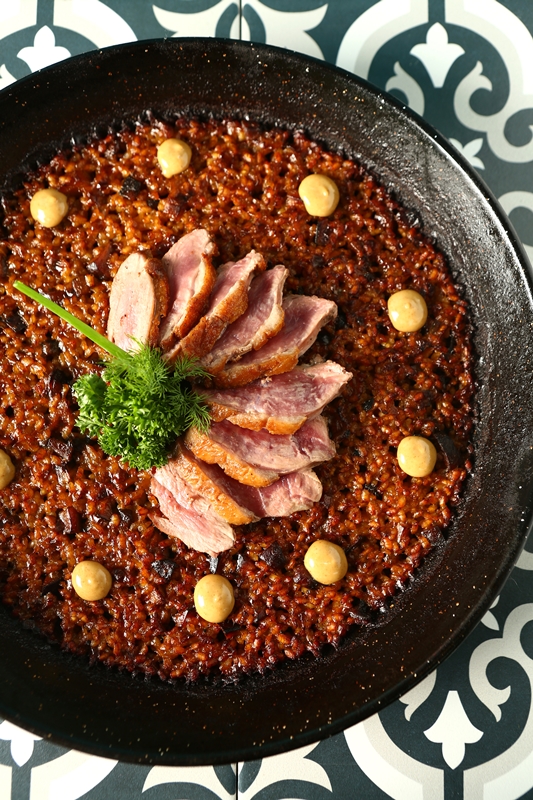 Paella de Pato (Php 995)
If you love meat, it's best you try out their Carrillera (Php 925) on your first (or tenth) visit.
Made with tender slow-braised beef cheek and Lucban longganisa served with manchego mashed potato, you might need a second to fully take in the melt-in-you-mouth texture of the beef combined with the full-bodied flavor of the longganisa.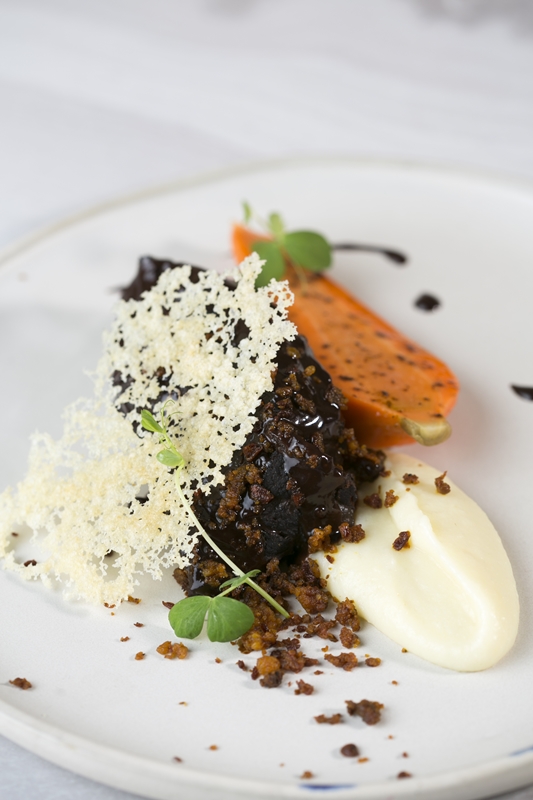 Carrillera (Php 925)
Drinks
Kick back and relax at Hola Bombón's open bar (or at the Sala with your friends) and have a taste of their equally quirky and on-point beverages.
Introducing Marianito (Php 380), a beautiful concoction of Spain's Rojo Vermouth, gin, and refreshing campari, and Lope de Vega (Php 400), a drink that will surely lift you up during humid nights. The latter is made with Blanco Vermouth, rosemary-infused gin, fresh pomelo juice, grapefruit bitters, and tonic water.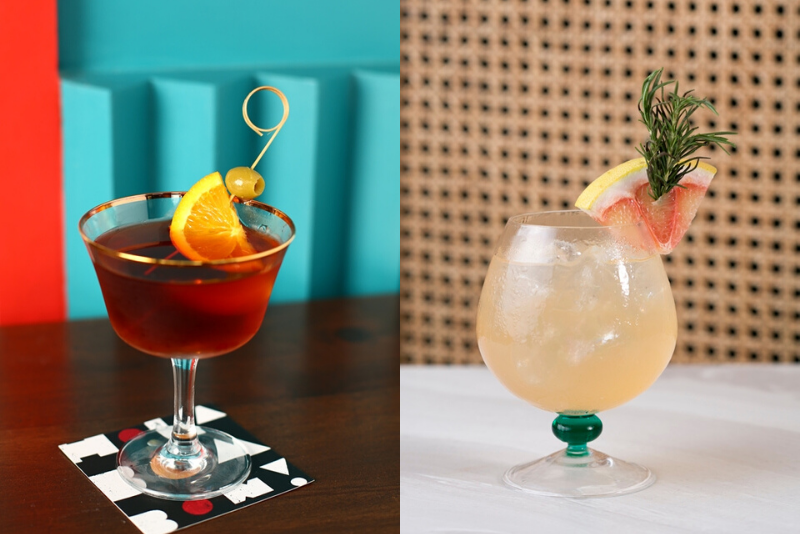 Marianito (Php 380) and Lope de Vega (Php 400)
Presented in a fun and exciting way, the Tenerife Sea (Php 420) will make you long for, well, the sea. This clarified milk punch has a full-bodied, smooth, and silky finish.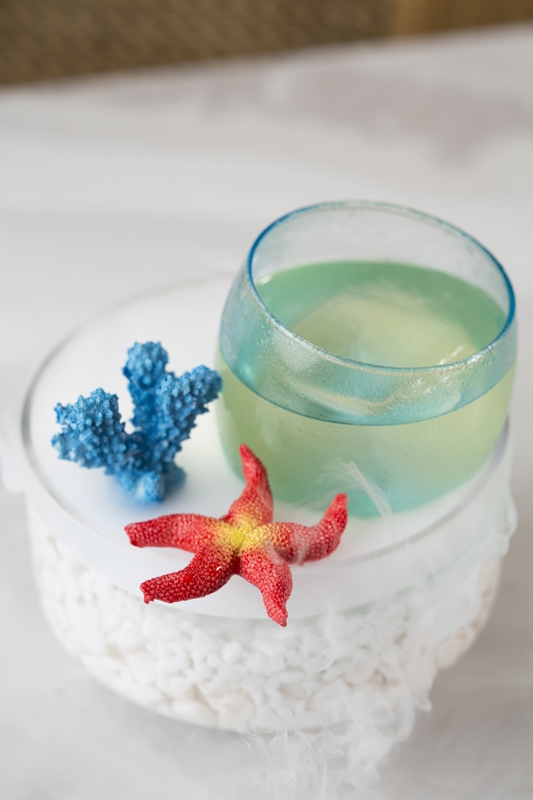 Tenerife Sea (Php 420)

While you're at it, revel at Hola Bombón's well-thought interiors inspired by the Art Deco Style with a dash of Spanish-era colonial architecture. Its vibrant red and yellow fixtures and geometric shapes tell so much about the place, and to some extent its owners', identity.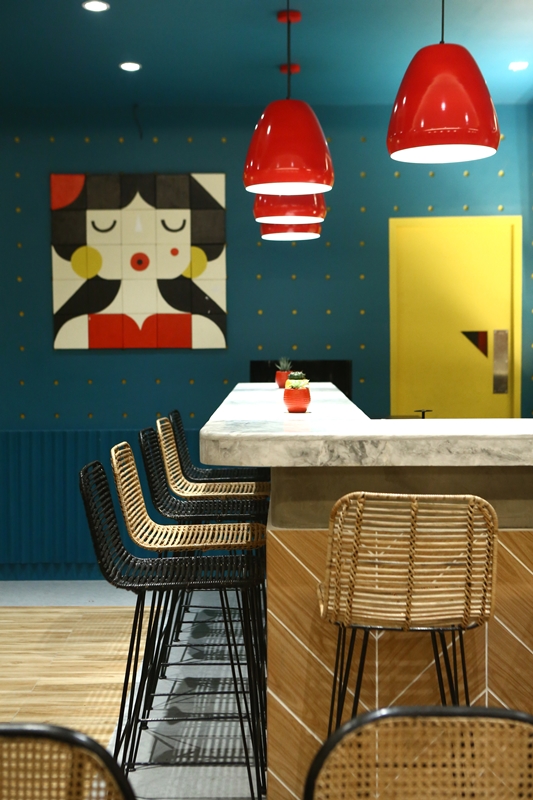 Hola Bombón's open bar
How to get here
Hola Bombón is located at Fermina cor. Enriquez Street in Poblacion. Nearby landmarks are Lampara and La Casita Mercedes.
From EDSA, take the exit towards J.P. Rizal Ave then drive straight. Turn left at Escuela then make another left onto General Luna.
Make a right onto Fermina then right again onto Jacobo. Destination if on the right.
Parking: Pay parking is available at 5783 Enriquez St.
---
Written by Teresa Gatmaitan
Images courtesy of Hola Bombón

5887 Fermina, cor Enriquez St, Poblacion, Makati

6 p.m. to 1 a.m. (Tues to Thurs), 5 p.m. to 2 a.m. (Fri to Sat), 11 a.m. to 4 p.m. (Sun)

reservations@holabombon.ph