JAPAN TRAVEL: Tsukiji Sushidai Honkan in Tsukiji, Tokyo — Enjoy Edomae Sushi the Traditional Way
JAPAN TRAVEL: Tsukiji Sushidai Honkan in Tsukiji, Tokyo — Enjoy Edomae Sushi the Traditional Way
While the fish and seafood wholesalers have already left Tsukiji Inner Market, Tsukiji Outer Market still lives up to its image as the best place to go for an exploration of Japanese traditional food, which, with the many sushi restaurants, is impossible not to include even one bite of Japan's representative food. And perhaps Tsukiji Sushidai Honkan is the best place to start for sushi lovers.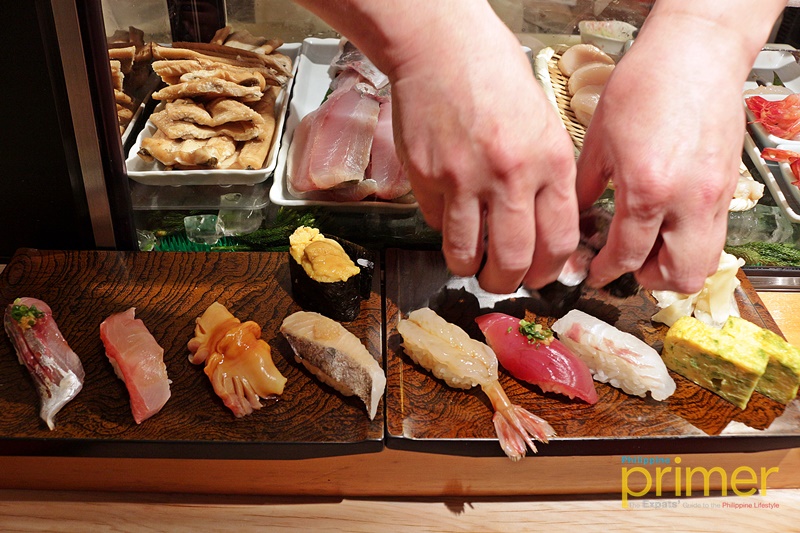 Tsukiji Sushidai Honkan specializes in Edomae sushi, the traditional style of sushi which originated in Tokyo. You will not find here the more elaborate modern versions of sushi like maki and fusion sushi—Tsukiji Sushidai Honkan is all about freshness and simplicity. The ingredients are delivered fresh every day from Tsukiji, and minimal seasonings are used so that you can truly savor the freshness of the seafood.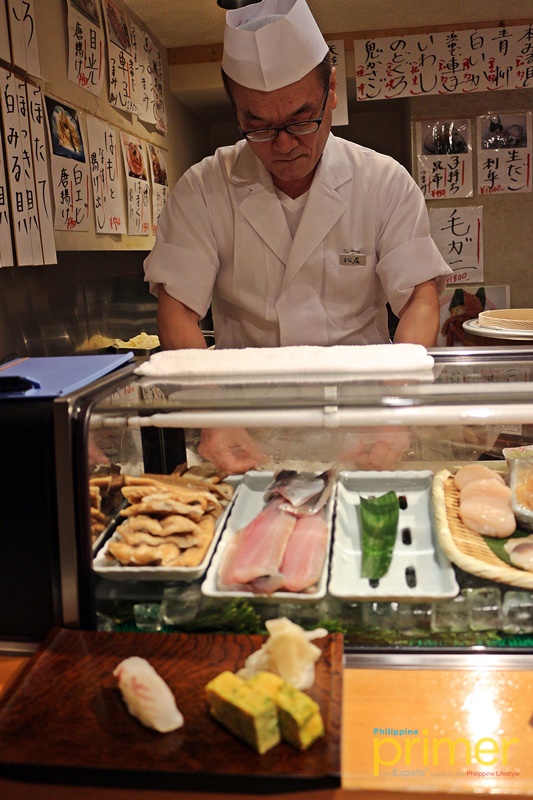 With the way the sushi chef moves with precision behind the counter, one can tell that they have mastered the delicate art of making sushi. The head chef himself has 40 years of experience as a sushi chef and has worked in various sushi restaurants.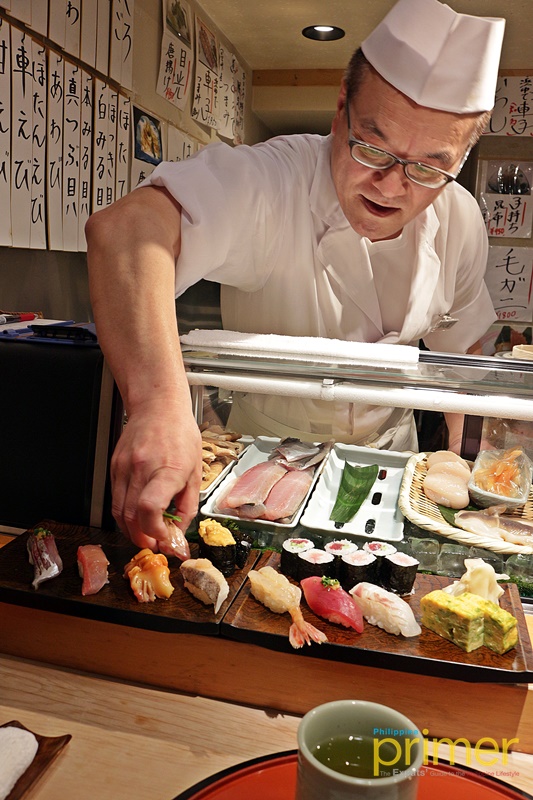 There is a variety of sushi to try. If you want to taste different kinds of sushi in one sitting, order Omakase which is basically leaving it up to the chef to serve his best recommendations.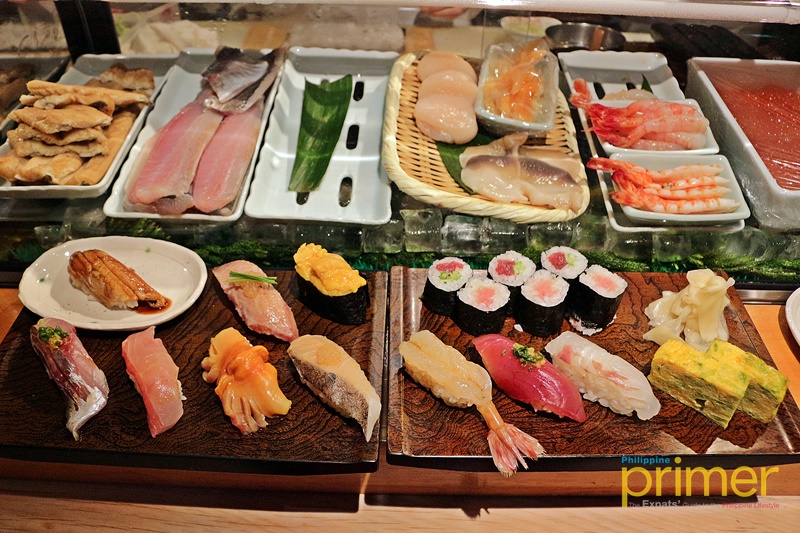 Omakase Sushi (¥3,500+)
From top left clockwise: anago (saltwater eel), toro maguro (torched tuna),  uni (sea urchin), 6-piece makimono (tuna and cucumber rolls), tsuri aji (hand-caught horse mackerel), kinmedai (splendid alfonsino), akagai (red clam), sawara (Spanish mackerel), botan ebi (Botan shrimp), bonito katsuo (skipjack tuna), hirame (Japanese flounder), and nori tamago (Japanese omelet with seaweed)
Also read: Sushi 101: The Ultimate Sushi Cheat Sheet for Beginners
The restaurant also offers a few other snacks made of seafood like the Shiro Ebi Karaage made with crisp deep-fried shiro ebi or baby white shrimp, a perfect finger food while enjoying conversations or watching the sushi chef. To complete the experience, you can also match your sushi feast with a small glass of sake (Japanese rice wine).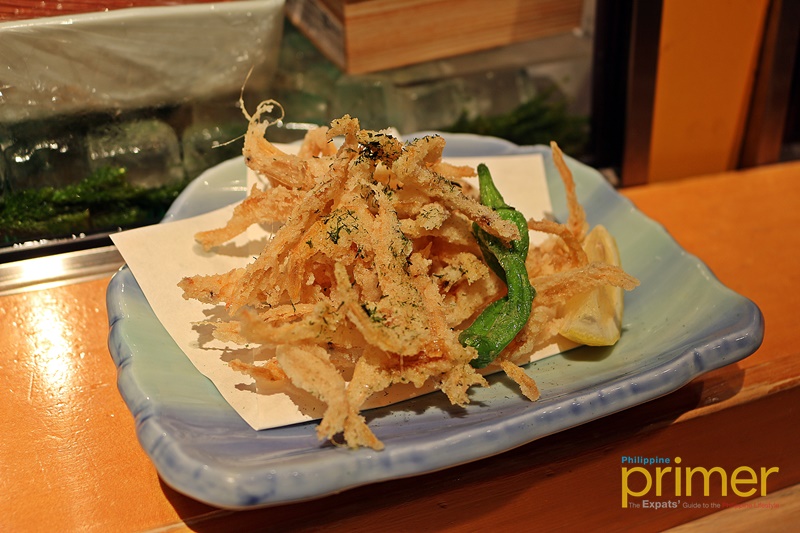 Shiro Ebi Karaage (¥950)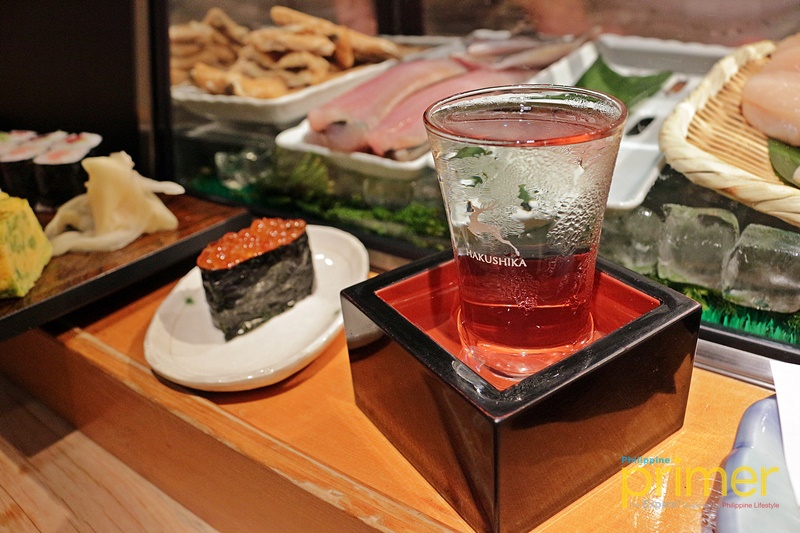 Daishichi sake
Although situated inside a concrete building, Tsukiji Sushidai Honkan makes its customers feel old Tokyo through a rustic, weathered wood facade. Once you go in, the inside feels like a typical sushi restaurant, a small space with counter seats where people settle and watch as the sushi chef skillfully makes each sushi.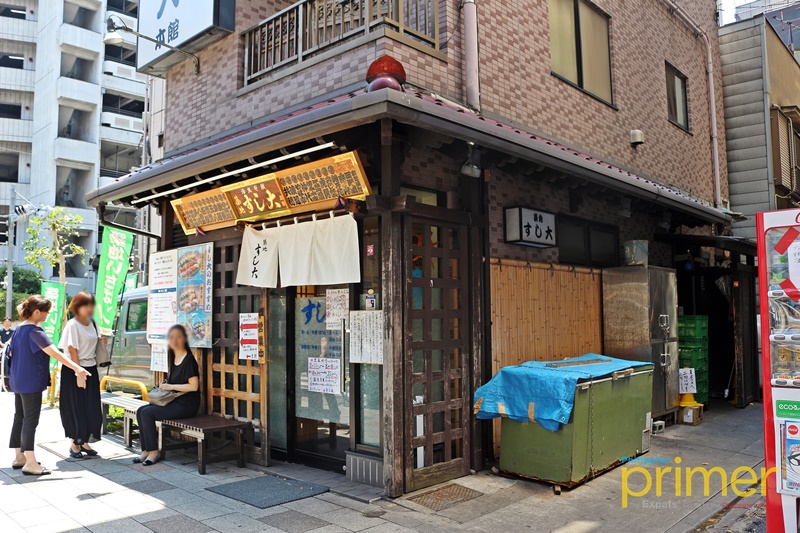 The restaurant consists of three levels. Both the first floor and basement floor have a counter seating setup, while the second floor accommodates more people with table seats.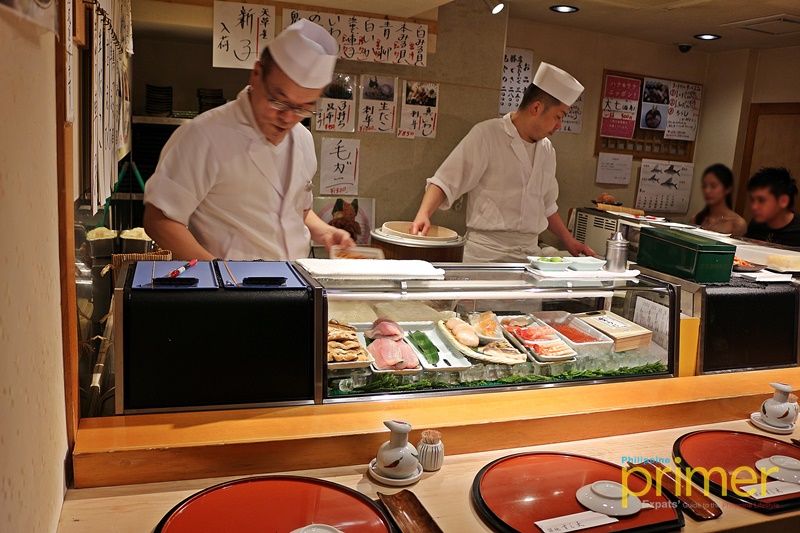 Their sushi offerings, which can match those of high-end sushi restaurants, are priced reasonably, so you get the best value out of your money.
Also read: Tsukiji Outer Market in Tokyo — The Enduring Remainder of Tsukiji Fish Market
---
Written by Rei Leaño
This first appeared in Philippine Primer English magazine's Vol. 32 – November issue. 
Store Information
6-21-2, Tsukiji, Chuo-ku, Tokyo
+813-3541-3738
10:30 am to 4 am (Mon to Sat); 11 am to 10 pm (Sun & holidays)
Cash, major credit cards *Credit cards are not accepted for the lunch menu.