Giuseppe Pizzeria & Sicilian Roast in Panglao, Bohol Brings the Flavors of Sicily to the Philippines
Giuseppe Pizzeria & Sicilian Roast in Panglao, Bohol Brings the Flavors of Sicily to the Philippines
Updated April 3, 2019
Italian food, especially pizza and pasta, have been crowd favorites for a long time. Even on the island of Bohol, you'll find a lot of Italian restaurants and Philippine Primer just had to try one of the most popular ones.
Giuseppe Pizzeria & Sicilian Roast first opened in 2009. It is a family-owned restaurant in the island of Panglao, just a few minutes away from Alona Beach. The restaurant was established by Giuseppe Genco, a Sicilian who brought Sicilian flavors to Bohol when he opened his restaurant.
This restaurant has made its mark as one of Bohol's most popular with its mouthwatering food and superb service.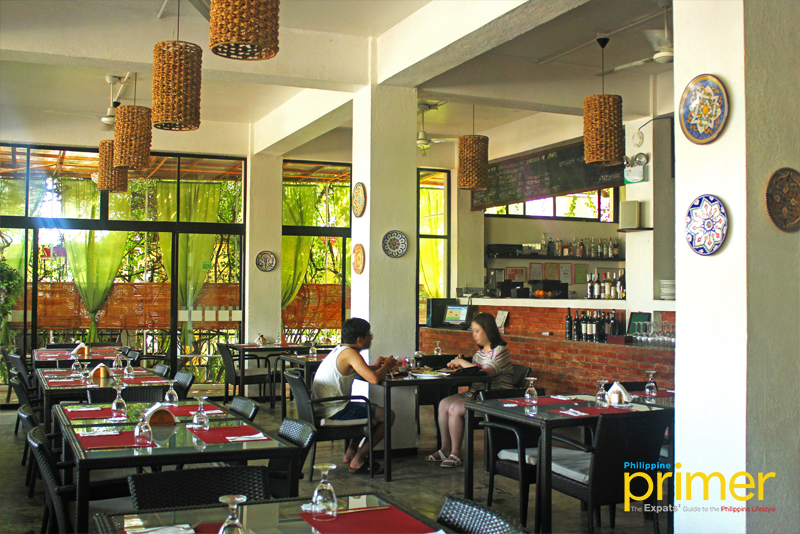 The restaurant serves authentic Italian cuisine, which means that a visit to Giuseppe will get you the best pasta, risotto, and brick oven pizza!
The owner, Giuseppe Genco, is a very accomplished chef who has spent time in some of the most popular hotels like the Manila Peninsula and Shangri-la. He was the one who designed the menu as well as the interiors of his restaurant.
One of their most popular dishes is the Ravioli Spinaci e Ricotta Cheese (Php 450), a dish filled with spinach and creamy ricotta cheese. The first thing that you'll taste when you bite into the ravioli, aside from the flavorful sauce is the ricotta cheese which makes up most of the taste of the dish. It's a filling dish and is one of their most popular ones too! The servings are big so the dishes can be shared.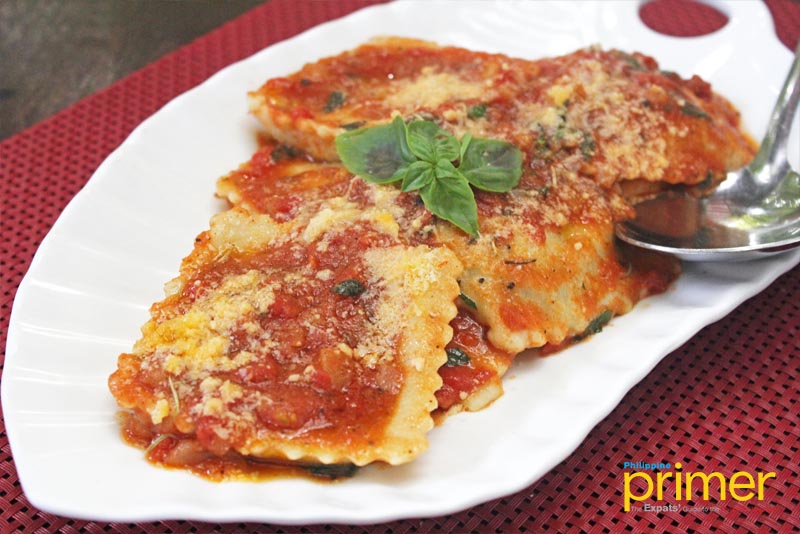 Ravioli Spinaci e Ricotta Cheese (Php 450)
Giuseppe is also popular for its selection of pizza! Their pizza is one of the best on the island as they're made with a brick oven and only the finest ingredients. Try their Pizza Gregorio in half & Quattro Stagioni in half (Php 576). You'll love the meatiness of the Pizza Gregorio and the balanced flavors of the Quattro Stagioni.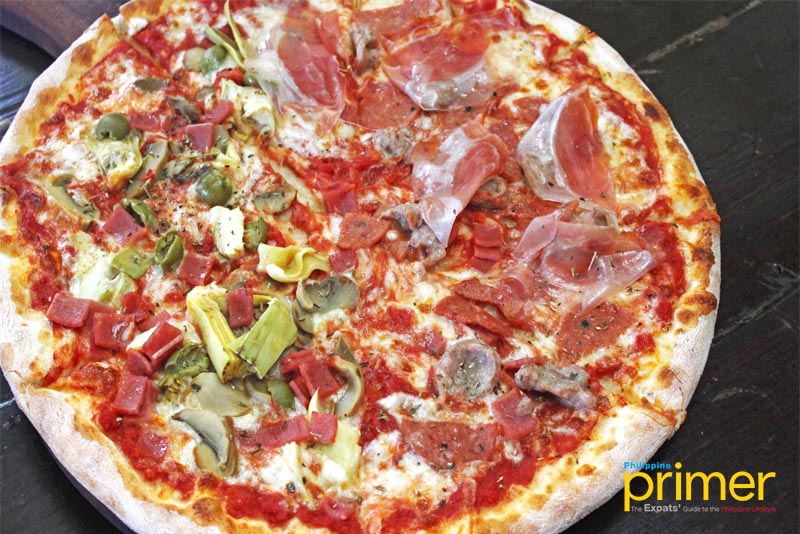 Pizza Gregorio in half & Quattro Stagioni in half (Php 576)
Seafood is a very popular meal choice in Bohol and Giuseppe adds his own dish to the many succulent seafood dishes in the island with their Grilled Salmon Fillet (Php 720). The fish is tender and the dish as a whole has the perfect balance of flavors. It's really a seafood dish to try when you're craving for fish in Bohol.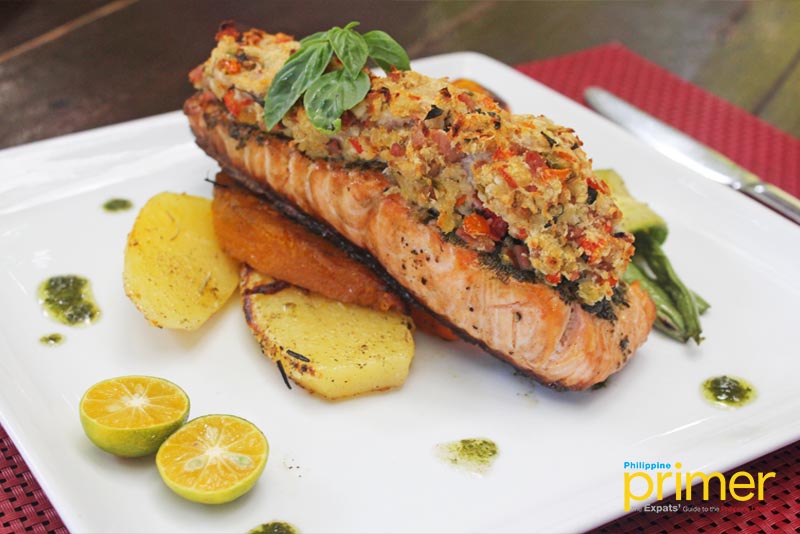 Grilled Salmon Fillet (Php 720)
They also have their own wine cellar where you can get a glass of wine that's affordable and perfect to go with your meals!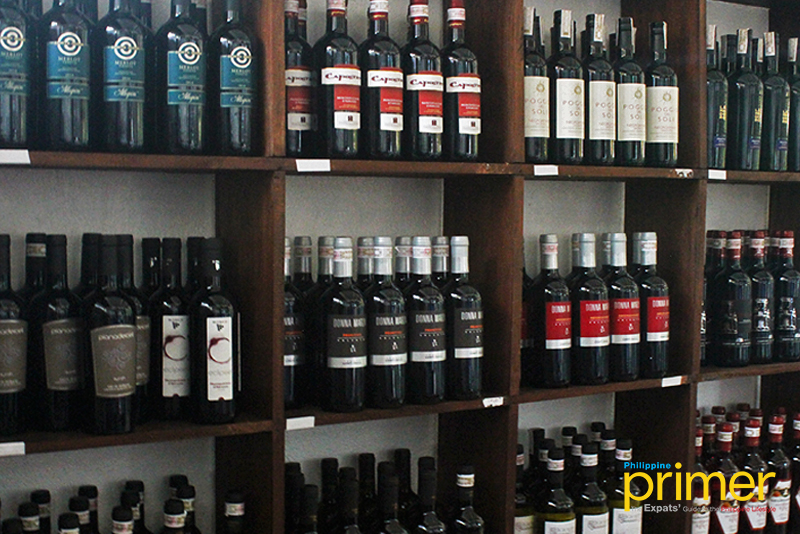 While the restaurant is big and can seat up to a hundred or more people, it is recommended that you make reservations – especially if you're going to Bohol during peak season as the restaurant can get filled up.
When at Panglao, don't forget to stop by Giuseppe Pizzeria & Sicilian Roast, one of the most popular Italian restaurants in Panglao!
How to get here:
By private car: From the new Bohol-Panglao International Airport, you may follow the Panglao Island Circumferential Road for 7 minutes. Giuseppe is just along the road and should be on your right.
By public transport: From any of your hotel in Panglao Island, you can request the front desk to contact a third-party tricycle for you going to Guiseppe. A tricycle ride costs about Php 100 – Php 200.
General Information
Address: Panglao Coastal Rd., Tawala, Panglao Island, Bohol
Contact Number: 038-502-4255 / 0917-625-5582
Operating hours: 11 am to 11 pm (Tues to Sun)
Website: giuseppe.panglao.info/en
Facebook: Giuseppe Pizzeria & Sicilian Roast BOHOL 

---
This first appeared in Philippine Primer's Japanese magazine April 2019 issue.
Written by Feliz Grace Bueno
General Information
Tawala, Panglao, Bohol
038-502-4255
0917-625-5582
11 am to 11 pm (Tues to Sun)
Mondays