The 15th Cinemalaya Film Festival Officially Opens
The 15th Cinemalaya Film Festival officially opened its doors last August 2 at the Cultural Center of the Philippines (CCP) in Pasay City.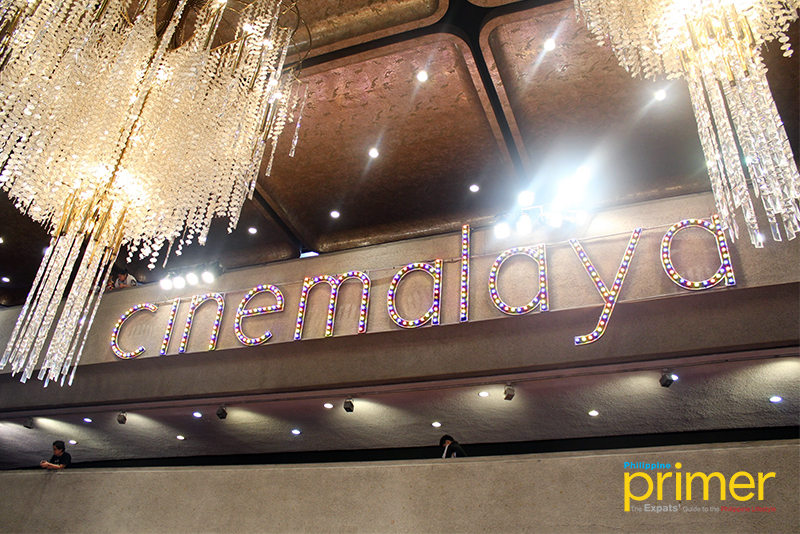 The night was still filled with much anticipation and excitement despite the heavy rain. The festival kicked off with a red carpet event attended by film personalities, actors, directors, and production members supporting their respective films. 
Actress Meryll Soriano together with the crew of the film John Denver Trending
Also read: Cinemalaya Unveils Official Film Entries for Its 15th Edition
Among those who graced the red carpet were producer Mother Lily Monteverde, director Joel Lamangan, CCP Chairperson Margie Moran, Japan Foundation Manila Director Hiroaki Uesugi, and Cinemalaya Chairman Antonio "Tony Boy" Cojuangco.
(L-R) The Cinemalaya Board: Deputy Festival Director Tess Rances, President Laurice Guillen, Chairman Tony Boy Cojuangco, and Festival Director Chris Mallari
But the red carpet's main attraction is the giant floating eyeball balloons situated at CCP's grand staircase. The irresistible attraction is Cinemalaya's own version of Italy's famous Fontana di trevi, where filmgoers and guests can take a photo.
The Cinemalaya 15's main attraction—the giant eyeballs balloon
Cinemalaya 2019's Multiplicity of Vision aims to open the eyes of filmgoers by offering a refreshing set of entries inspired by real-life situations and vast imaginations of the mind.
Also read: Catch All the Cinemalaya Book Events at the CCP

Sponsors like Netpac members and film critics Philip Cheah and Max Tessier, Bayani San Diego, Manet Dayrit, Central Digital Lab, Canon Marketing Inc., B+C Design Inc., Ayala Malls Cinemas, Rustans, and Bayview Park Hotel Manila were given Balanghai trophies as recognition for their unwavering support for the film festival throughout the years.
Cinemalaya sponsors were given recognition at the opening ceremony
The directors of the official film entries for full length and short features category were also presented during the opening ceremony.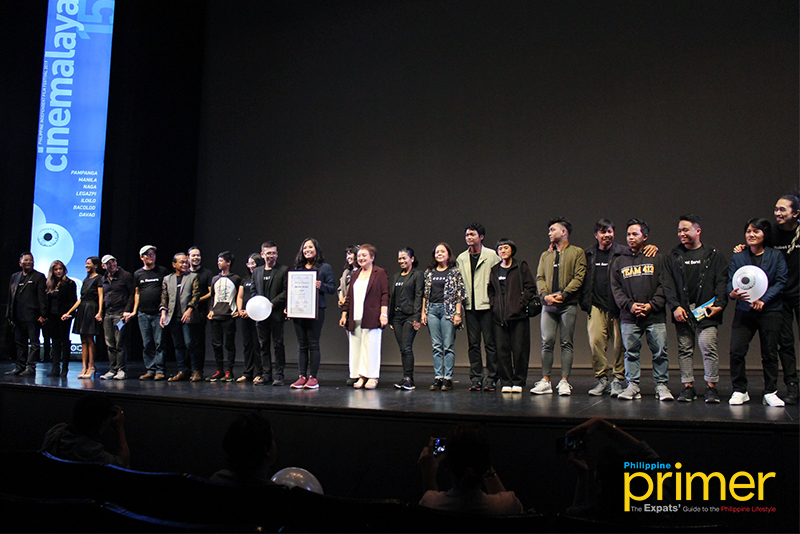 The film crew of Lav Diaz's "Ang Hupa (The Halt)"
And for the first time in Cinemalaya's history, the festival made a striking move by opening with a screening of Lav Diaz's four-hour-and-thirty-minute film Ang Hupa (The Halt).
The screening served as a welcoming event for Diaz' masterpiece after its world premiere at the Cannes Film Festival in France earlier this year.
Cinemalaya 2019 runs from August 2 to 11 at the CCP and August 5 to 13 at select Ayala Malls Cinemas and Vista Malls nationwide. For the full screening schedule, you may visit their website at culturalcenter.gov.ph.
Also read: What is Cinemalaya Independent Film Festival?
---
Written by Deneca Ordiananza