LIST: Online Grocery Stores Where You Can Buy Your Market Needs
Updated as of July 9, 2020
With everything going online these days due to the pandemic and practicing new normal—from paying bills to shopping, it's no question that even getting groceries can now be done online.
For those who are too busy to do their market errands or just hate to go out to shop, here are online grocery stores you can check out to replenish your supplies!
All-in-One Stores
MetroMart
MetroMart is an on-demand online delivery service, showcasing everything you may need from groceries, pet care, bakeries, medicine, to office and school, beauty and wellness, and specialty stores. You can even set the delivery time of your grocery items to your own liking until 12 p.m. only.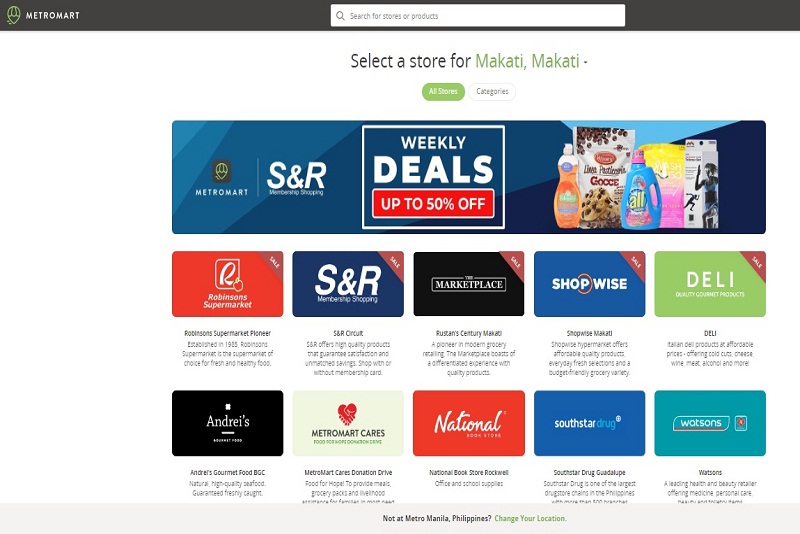 MetroMart has also partnered with Robinson's Supermarket, S&R, Watson's, Family Mart, and other notable brands to deliver not only grocery items but other goods as well. Simply download their application to order online.
Also read: MetroMart officially launches in the Philippines
Customer service hours: Delivery time varies on each store partner
Delivery area: Metro Manila
Website: metromart.com
Walter Mart Grocery Delivery
For an unconventional yet enjoyable way of grocery shopping, try out Walter Mart's online Grocery Delivery. Customers can now get all their store favorites by ordering online and having it delivered from the nearest Walter Mart store.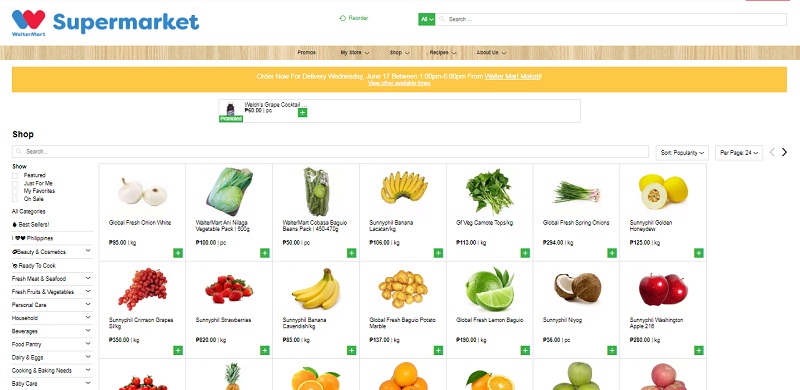 WalterMart's slots for their delivery services are on a first-come, first-served basis, so booking grocery orders early is recommended. Either utilize their website or their mobile application in doing so.
Delivery area: Metro Manila
Payment method: Cash on delivery, swipe on delivery, online payment or pick up at nearest Walter Mart store until 9 p.m. only
Website: waltermartdelivery.com.ph
RealFood PH
From a delightful store in Molito Lifestyle Center, Alabang comes an online go-to store that offers everything green and healthy. Real Food brings organic finds for those who are on strict diets, such as local fruits and vegetables, dairy, snacks, and even gluten-free and keto-friendly products.
Real Food sources their products from local farmers, having almost everything from veggies to wines to gluten-free and non-dairy products. Order online or drop by at their BGC or Alabang stores.
Also read: LIST: Groceries Where You Can Find Organic Products in the Metro
Customer service hours: Order cut off time every 6 p.m., Saturday
Delivery area: Metro Manila
Payment method: Bank Deposit through BDO or BPI
Website: realfoodph.com
LazMart
One of Lazada's services is the LazMart, by which a consumer can purchase items like how one does at the grocery store. Except, you don't have to line up to pay anymore.
LazMart products are sourced directly from manufacturers and authorized suppliers assuring its customers authentic and high-quality grocery items at all times.
Delivery area: Metro Manila
Payment method: Lazada Wallet, Visa, Mastercard, JCB, American Express, GCash
Website: lazada.com.ph/shop/lazmart-onlineph
Landers
The online grocery platform of Landers Superstore offers fresh, same-day delivery of grocery products in select cities and provinces in the country. Simply visit their website to browse available goods. 
Delivery areas: Select areas in Metro Manila, Batangas, Bulacan, Cavite, Laguna, Caloocan, Malabon, Navotas, Valenzuela, and Cebu
Website: landers.ph
Atreena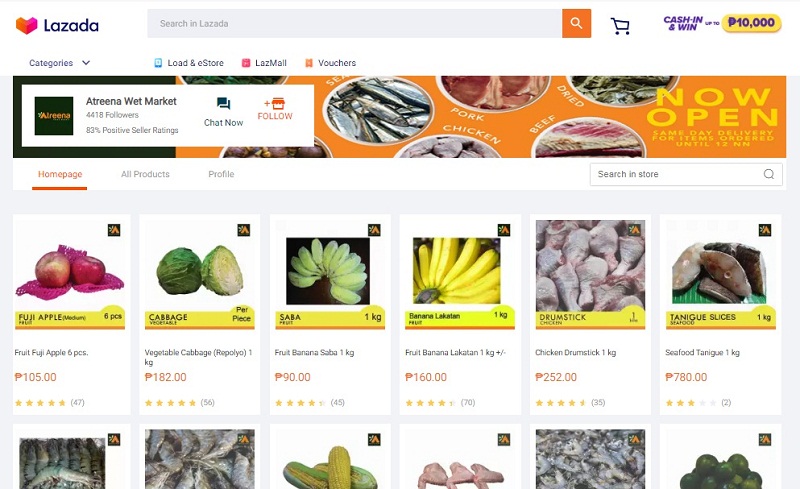 Through Atreena, consumers can avail of the freshest produce offered by the best wet markets in Metro Manila. Products encompass meat, seafood, poultry, and fresh vegetables that can be readily delivered within the same day of placing orders. 
Delivery area: Metro Manila
How to order: Download the Atreena app or visit its Lazada store
FAST
FAST or Farmville Agricultural Source Team is a supply provider selling an amalgam of fruits, vegetables, basic dry goods such as coffee grounds, frozen goods, and even Mushroom Shitake. They have point persons around Metro Manila who you can contact via text or Viber.
Delivery area: Metro Manila
Facebook: facebook.com/Farmville-Agriculture-Source-Team
Stores with Japanese Goods
Nishikiken Mart
Nishikiken Foods can readily cater to one's Japanese recipe needs, as they house products like ramen, udon, and soba noodles; Japanese rice; gyoza wrapper; takoyaki; and a whole lot more available for delivery. Meanwhile, snacks and other Japanese items are available at their physical store in Mandaluyong.
Delivery area: Metro Manila
Payment method: Cash on delivery (Minimum order of Php 1,500)
Facebook: facebook.com/nishikiken
Also read: Nishikiken Food Product Now Available for Delivery Around Makati
Hightower J. Foods
Hightower offers imported Japanese seafood, both frozen and fresh. Moreover, they have other imported Japanese goods as well like strawberries, seaweed, and soba noodles. Their delivery days vary so be sure to check out their Facebook page for the updated schedule.
Delivery area: Metro Manila
Website: hightower.com.ph
Facebook: facebook.com/HightowerJ.Foods
Fruits & Vegetable Stores
The Murang Gulay
The Murang Gulay buys its supply of vegetables and fruits from the wet market. And since prices from there are ever-changing, the online store has no fixed price of its own and instead posts the updated price range on their Facebook page. 
Delivery area: Manila City, Pasig City, Marikina City, Makati City, Quezon City, Mandaluyong City
Facebook: facebook.com/The-Murang-Gulay-Shop
Bukid Fresh
Bukid Fresh is run by people who personally source produce from local farmers. Because of this, there is a guarantee that each purchase is fresh, home-grown, and beneficial to the workforce that feeds the world.
Delivery area: Metro Manila
Facebook: facebook.com/bukidfresh

Limon Farms
Limon Farms, a local farm located in Rosario, Batangas, offers premium quality chicken, eggs, and pork for delivery. Notably, these "more than organic" produce are sold at reasonable prices. 
Delivery area: Select areas in Quezon City and BGC
Contact information: 0915-623-8205 or 0927-528-0236
Facebook: facebook.com/LimonFarms
Herbivore PH
By growing their vegetables sans the use of pesticides and other harmful chemicals, Herbivore PH is able to produce some of the freshest and healthiest vegetables in the market. Notwithstanding the fact that they also have a shortened period between harvest and delivery that makes their products so.
Delivery area: Metro Manila
Website: herbivore.com.ph
Facebook: facebook.com/herbivoreph
Always Fresh
Always Fresh PH allows consumers to stock up on both local and imported fruits in season through their extensive selection of always fresh products. Their best-sellers include cherries, strawberries, and Hami melons. 
Delivery area: Metro Manila
Facebook page: facebook.com/alwaysfreshph
Website: alwaysfresh.paperform.co
Session Groceries
Enjoy the benefits of eating fresh, locally-grown food as you concurrently support local farmers by sourcing fruits, vegetables, and rice among others from Session Groceries—a social enterprise that first started in Baguio and has now since expanded to Metro Manila and nearby areas.
Delivery areas: Metro Manila, Cavite, and Laguna
Mobile app: Google Play Store / App Store
Website: sessiongroceries.com
Facebook: facebook.com/sessiongroceriesph
Fresh Produce
Fresh Produce PH collaborates with farmers in bringing fruits and vegetables straight from the farm to the consumers' homes. Among these goods that are meticulously hand-picked by the store, the best-selling ones are carrots, eggplants, and potatoes, as well as oranges, lemons, and apples.
Delivery area: Metro Manila
Website: freshproduce.com.ph
Facebook: facebook.com/freshproducephilippines
Sunbright
The expansive fruits and vegetables produce offered by Sunbright Agribusiness Ventures is mostly available for same-day delivery, with all of them open for ¼ and half kilo orders except cabbage, wombok or Chinese cabbage, and squash. Prices and availability are normally changing, so they update them via their Facebook page.  
Delivery area: Metro Manila and nearby areas
Contact information: 0917-872-1734 / 0933-851-6940
Facebook: facebook.com/sunbrightfoods
The Green Grocer
The Green Grocer is the first home delivery service of organic produce in Manila. They sell only the freshest organic produce, natural meat, dairy products, deli items, and other grocery needs from their farms in Tagaytay, Laguna, Batangas, Benguet, Negros, and Bukidnon.
They also stocked up on a lot of seafood such as local fish Lapu-Lapu and Mahi-Mahi, fillets of Norweigan Salmon and Surgeonfish, and different types of crustaceans. Moreover, the store features a wide variety of products that ranges from meat and food recipes to household items and supplements.
Other products such as household items are also from local sustainable brands.
Customer service hours: 9 a.m. to 6 p.m. (Mon to Fri), 12 n.n. order cut off
Delivery area: Metro Manila
Payment mode: Cash on delivery, bank deposit, PayPal
Website: thegreengrocermanila.com
Meat Stores
Steak.PH
Steak.PH offers premium U.S. Angus Steak, as well as jars of homemade steak sauce to complement the meat. They offer free delivery for areas within Metro Manila and can deliver orders just within 90 minutes.
Their selection of meat includes ribeye, striploin, tomahawk, tenderloin, and steak bites among others.
Delivery area: Metro Manila
Contact: 0917-56-78325 / 02-7987-8325
Facebook: facebook.com/steakphilippines
Rare Food Shop
As the sister company of Rare Global Food Trading Corp. that supplies meat to numerous hotels and restaurants in the country, one should expect no less from Rare Food Shop. They offer chicken, pork, beef, and even seafood with no minimum order required.
Aside from selling specific cuts, parts, and sizes of meat, poultry or seafood, they also accept wholesale or bulk orders of meat.
Delivery area: Metro Manila and CALABARZON
Payment method: Visa, Mastercard, American Express, Paypal
Website: rarefoodshop.com
Facebook: facebook.com/rarefoodshop
CDO Foodstore Home Delivery
As a response to the demand of their customers, CDO launched an online delivery platform where CDO favorites are made available for delivery. Said products include CDO Funtastyk Tocino, Sweet Ham, Karne Norte, San Marino, and Danes Cheese.
Delivery area: Metro Manila
Contact information: 0917-821-4550
Website: cdofoodservice.com
Facebook: facebook.com/CDOHomeDelivery
Meat Depot
With Meat Depot's wide selection of US Angus Beef steaks, cured meats, and quality local cuts, preparing a fancy meal at home becomes a rather easier feat to accomplish.  
Delivery area: Metro Manila and Rizal
Website: meatdepot.com.ph
Facebook: facebook.com/meatdepotph
Monterey
As one of the largest meat retail companies in the country, Monterey is guaranteed to only offer fresh and quality meats that consumers can trust. On top of this, they also have a selection of processed products and ready-to-cook options for one's convenience.
Delivery area: Greater Manila Area
Store location & contact information: Check here
Delivery couriers: GrabExpress, LalaMove, or Joyride
Facebook: facebook.com/MontereyMeats
Tenderbites
If you want to craft a fancy meal for the family, Tenderbites carries not only a wide variety of meat cuts but also premium imported items such as USDA Angus beef, Japanese wagyu beef, kurobuta pork, and imported lamb. 
Delivery area: Metro Manila and nearby areas
Contact information: 0917-581-7454 / 02-8400-1817
Website: tenderbites.ph
Facebook: facebook.com/Tenderbites
Seafood Stores
Pacific Bay Seafood
From seafood choices that encompass a wide selection of fish, crustaceans, and squid, Pacific Bay Seafood also offers meat, ready to heat items, and even kitchen condiments.
This specialty grocery store also offers restaurant brands' products such as Adobo Connection, Chopstop, Chili's, Padis Point, and Salvador Cuomo.
Delivery area: Metro Manila
Payment method: Cash on delivery, All major credit cards, PayPal, GCash, and BPI Online.
Website: pacificbay.com.ph
Facebook: facebook.com/Pacific-Bay-Seafood
Not only does Marvs Boqueria boast of an assortment of seafood staples, but does it also clean, cut, and prep orders according to the customer's preference. Make sure to place an order a day ahead to have it delivered the next day.
Delivery area: Metro Manila
Contact information: 0917-851-2732 (Viber)
Facebook: facebook.com/marvsboqueria.ph
Wild Caught
All of Wild Caught's seafood products are guaranteed natural, high-quality, and freshly-caught. From squid, octopus, and cuttlefish to all kinds of fish and shellfish, they have it all on their online store—cleaned and pleasantly packaged.
Delivery area: Metro Manila
Contact information: 0907-601-3940
Facebook: facebook.com/wildcaughtph

JAAMS
For a dose of fresh, high-quality seafood, you can order online from JAAM Seafoods Trading, or drop by at their physical store located at the Farmer's Market in Cubao, Quezon City. JAMMS is best known for its selection of tuna, salmon, and uni sashimi.
Beverage Stores
Coca-Cola Beverages
Hand-in-hand with its partnered brands, Coca-Cola continues to deliver the beverages most have loved from way back in the past until now. Said products include soda, water, and juice among others.
Delivery area: Nationwide
Contact: 02-8813-2653 (Metro Manila)
Website: coca-cola.com.ph
Boozy.ph
Boozy.ph delivers one's dose of liquor just within 60 to 90 minutes. Among their selection are wine, whiskey, beer, and gin—along with snacks that are perfect partners for these.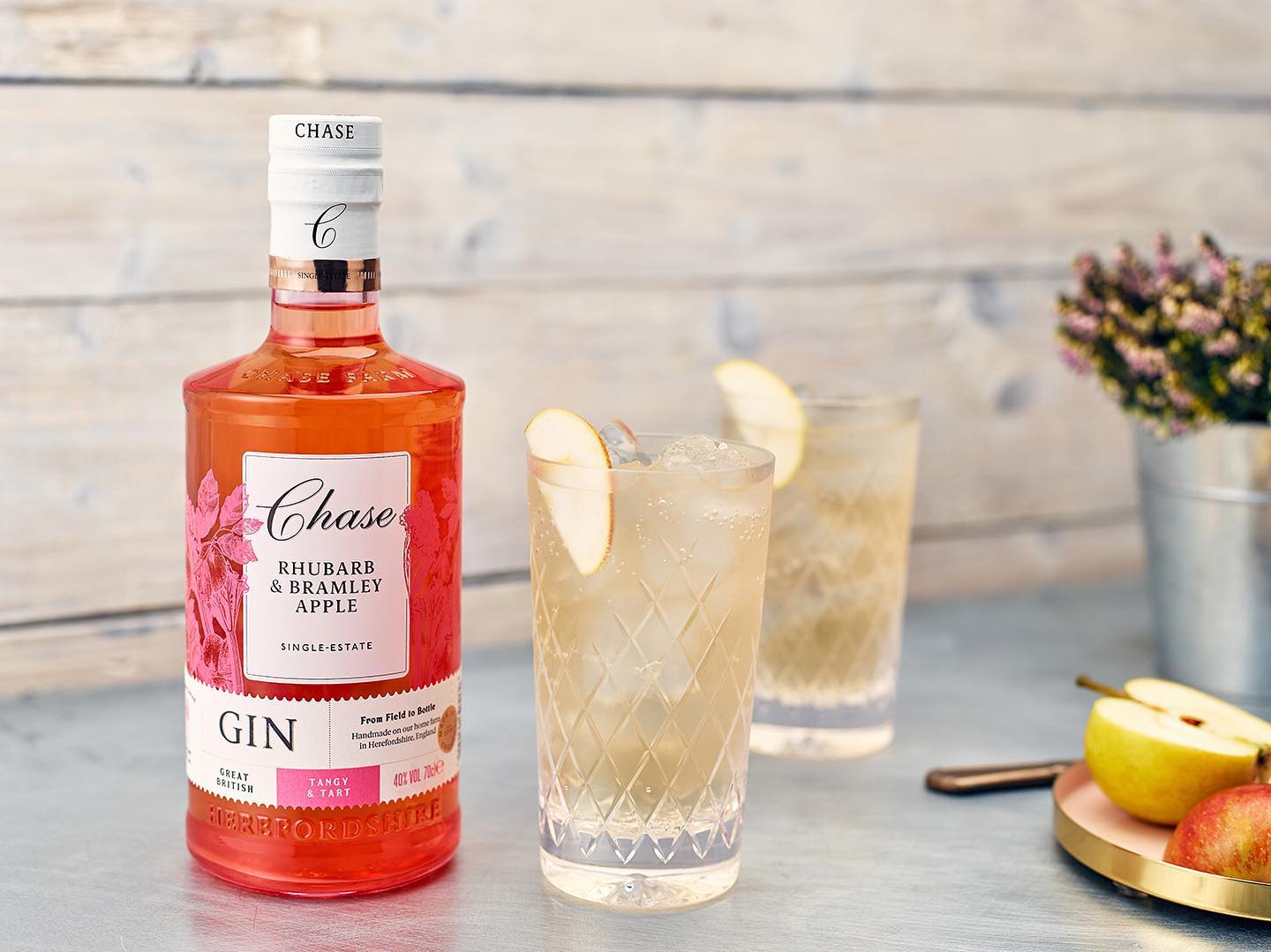 IMAGE Boozy.ph
Through Boozy PH Liquor Delivery, you can simply hop from one category to another and can get everything you want without even having to leave the house. However, only 18 years old and above are allowed to order.
Delivery area: Metro Manila
Payment method: Cash on delivery, credit card
Website: boozy.ph
Facebook: facebook.com/BoozyLiquorDelivery
Also read: Buying booze just got easier with Boozy PH Liquor Delivery
Are you ready to go online grocery shopping? Share with us your thoughts in the comments section below!
---
Images grabbed from respective websites and social media accounts 
Written by Deneca Ordinanza