7 Restaurants and Bars Offering Cigars and Shisha in the Metro
Tobacco was very much a part of the country's rich history. Its role dates back to the 15th century when the Spaniards brought and introduced the Cuban tobacco to the country. Since then, more and more people are enchanted with the unique flavor and texture of each cigar.
If you're looking for places where you can indulge in a cigar or two with a glass of your favorite whiskey or scotch, here are some of the best lounges and bars you can visit in the Metro!
Mandalay Whiskey and Cigars
Legaspi Village, Makati City
Mandalay Whiskey and Cigars, located within The Belle & Dragon in Makati, is one of the best hidden speakeasies in the Metro. It exudes an elegant east-meets-west vibe in an old-world style. The bar offers a vast selection of high-end drinks from scotch, rum, cocktails, whiskey, and authentic Cuban cigars from all over the world.
Also read: Mandalay Whisky and Cigar Bar in Makati: Unlock the secrets of whisky
1824 Whisky and Cigar Bar
Discovery Primea, Makati City
A cigar aficionado's gem is Discovery Primea's 1824 Whisky and Cigar Bar, named after the year when single malt distilleries were granted. They offer a selection of fine cigars and cedar spills that are best paired with a glass of scotch.
Black Olive
Capital Commons, Pasig City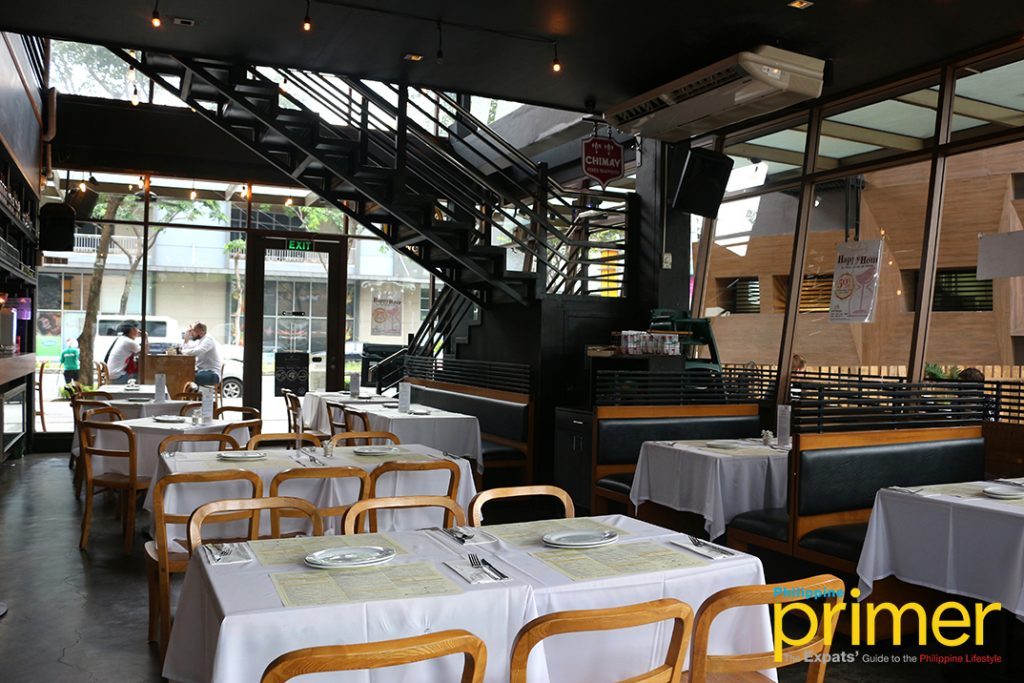 A must visit for all cigar enthusiasts is Black Olive in Pasig City. From good food to premium selection of wine and local cigars, this Mediterranean wine cafe has everything you could ever need!

You will surely love their variety of local cigars with leaves grown from La Union. They offer the 1898 Independencia, Antonio Gimenez, as well as other premium cigars like Quorum Shade Classic, Partagas Junior, and the Oliva Serie V Belicoso.
Also read: Black Olive in Pasig: Home of Continental Cuisine, Cigars, and Fine Wine
The Bar
Peninsula Manila, Makati City
IMAGE The Peninsula Manila website
Designed as Peninsula Manila's smoking area, The Bar—with its leather chairs and checkered floors—boasts a cozy ambiance reminiscent of Cuba's dimly lit bars. This is the right place to unwind with a glass of their premium whiskey or world-class cigar choices after a long day at work. 
Queens At Bollywood
Greenbelt 3, Ayala Center, Makati City
Queens At Bollywood elevates your Indian cuisine experience. Aside from their flavorful Indian dishes and Bollywood entertainment, it is the perfect place to try the shisha or Hookah smoking water pipes at an affordable price.
Also read: Queens at Bollywood in Greenbelt, Makati
Tabacalera Cigar Divan
The City Club, Alphaland, Makati City
Enjoy a cigar night with friends at Alphaland City Club's Tabacalera Cigar Divan. This cigar lounge is run by the first and oldest cigar factory in Asia and one of the oldest cigar companies in the world, the Tabacalera Incorporada. They offer the finest hand-rolled Philippine cigars made from Cuban tobacco, best savored with a single malt whiskey.
Elbert's Steak Room
Salcedo Village, Makati City
Known to be a popular steakhouse in Salcedo, Elbert's Steak Room has one of the two Riedel Room in the world. The 14-seater Riedel room houses the best single malt scotch and wines served in over 260-year-old European glassware. They also offer a selection of Cuban cigars. 
Also read: Elbert's Steak Room: Salcedo Village's Most Popular Steakhouse
---
Written by Deneca Ordinanza