5 Restaurants in Manila Serving The Seasonal White Asparagus
Spring is finally here, which means white asparagus is now in season!
And since it is kind of elusive, we are fortunate to have restaurants here in Manila that make this limited veggie within our reach. Here are 5 restaurants that serve white asparagus in Manila to visit. Hurry before they run out of stock!
I'm Angus Steakhouse
I'm Angus Steakhouse presents an Asparagus Festival menu that has a wide selection of asparagus dishes–from appetizer to the main courses. One of the appetizers is the Cream of White and Green Asparagus (Php 280+) which has crabmeat and truffle oil. You can also savor Butter Fried Jumbo Scallops and Garlic Prawns on asparagus ragout with Button Mushroom and potato, available for Php 1,390+.
Address: 7431 Yakal Street, San Antonio Village, Makati City
Business Hours: 11 a.m. to 3 p.m. and 6 p.m. to 10:30 p.m. (Mon. to Sat.)
Contact Details: 892-5852/275-5938 
Facebook: I'm Angus Steakhouse
Also read: Have a Special Steak Night at I'm Angus Steakhouse in Yakal, Makati
Chesa Bianca Swiss Restaurant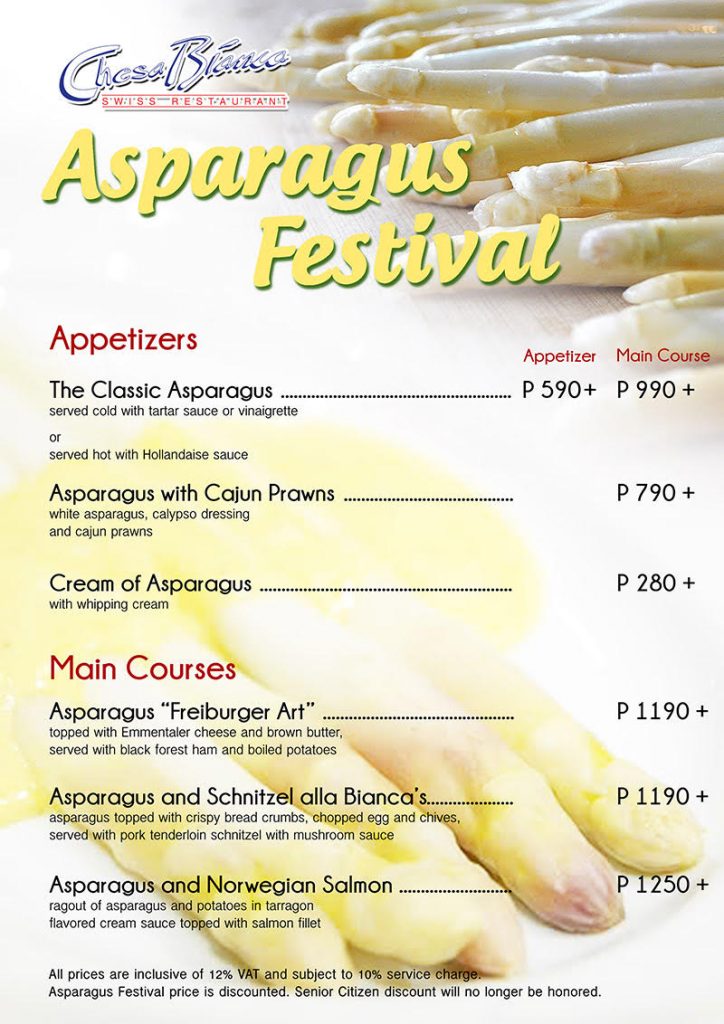 Chesa Bianca, a sister restaurant of I'm Angus, also presents its own Asparagus Festival menu. They have appetizers like the White Asparagus with calypso dressing and cajun prawns, available for Php 790+. If you want a taste of meat, try the Asparagus "Freiburger Art" (Php 1190+) which has black forest ham.
Address: 7431 Yakal Street, San Antonio Village, Makati City
Business Hours: 11 a.m. to 10:30 p.m. (Mon. to Sat.)
Contact Details: 815-1359 / 892-7524
Facebook: Chesa Bianca Swiss Restaurant
Also read: Chesa Bianca Swiss Restaurant in Makati: Bringing Swiss flavors to the Philippines
Brotzeit 
German restaurant Brotzeit has also released its white asparagus-themed menu for this year. They have Spargelsalat (Php 550) which is a garden salad with white asparagus, mandarin oranges, dried blueberries, walnuts and pine nuts in a white balsamic dressing. The Spargel Mit Lapu Lapu (Php 1050), meanwhile, is a perfect choice if you need a hint of fish. It is a pan-seared Lapu-Lapu served with white asparagus, parsley potatoes, herb garlic butter and hollandaise sauce.
Classic white asparagus with add-ons of your choice is also offered.
Address: GF6 Retail Arcade, Shangri-La at the Fort 5th Ave., Bonifacio Global City
Contact Details: 02-631-1489/02-815-9338
Facebook: Brotzeit Philippines
Also read: Brotzeit Bier Bar and Restaurant in BGC: Exceptional German Beer and Cuisine
Terry's Bistro 
This asparagus season, Terry's Bistro included Finest White Asparagus of Navarra (4 pcs.) in their well-rounded menu. Available for Php 995, it is described as the "Rolls Royce" of white asparagus with your choice of homemade Alioli sauce or Dijon Mayonnaise. The restaurant has branches in Makati, Ortigas, Pasig, and BGC. Visit their website for the list.
Website: terryselection.com
Facebook: Terry's Bistro & Gourmet Store
Flame Restaurant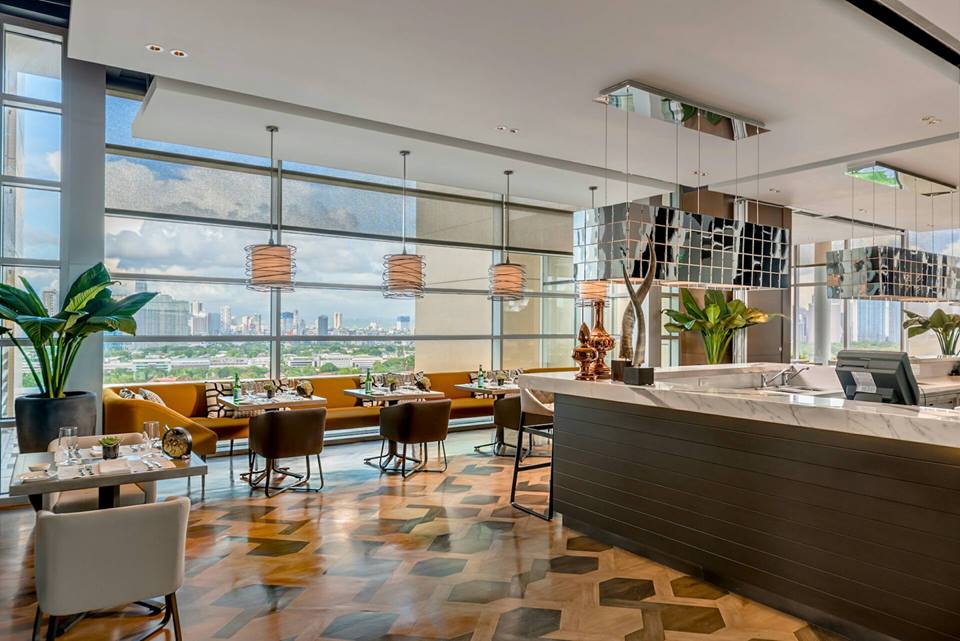 IMAGE Flame Restaurant
Flame Restaurant of Discovery Primea is another resto where you can relish that white asparagus delicate savor. They offer Asparagus and Oranges which is available for Php 420. This appetizer has raw green asparagus, white asparagus, orange segments, beet chips, arugula, and citrus-sherry vinaigrette.
Address: 6749 Ayala Avenue, Makati City
Contact Details: 955-8888
Website: www.discoveryprimea.com
Facebook: Flame Restaurant
---
Featured Image by: Brotzeit Philippines