Brotzeit Bier Bar and Restaurant in BGC: Exceptional German Beer and Cuisine
Looking for a place to sample the best of German food and German beers? Look no further than Brotzeit. Situated at Shangrila at the Fort, this Bavarian restaurant serves the best of German cuisine that will surely take you on a festival of flavors.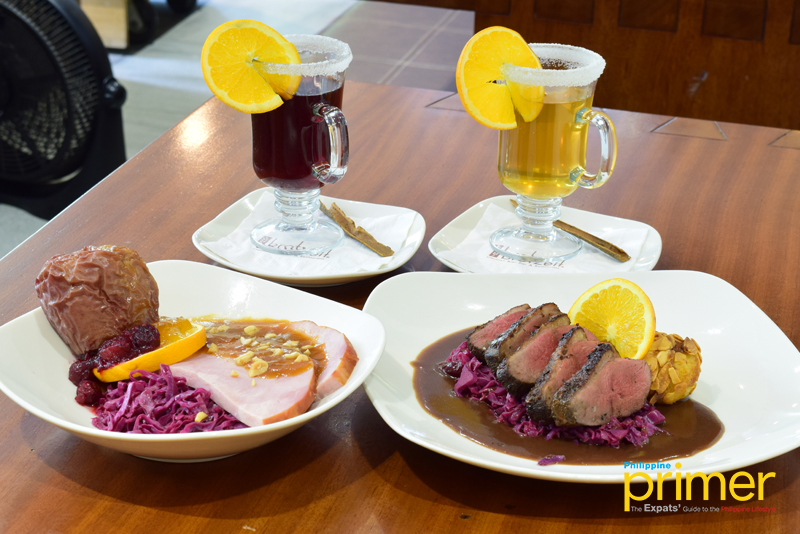 Brotzeit's holiday dishes will surely lift up your holiday spirits!
Originally from Singapore, Brotzeit first came to the Philippine shores in 2013 when they opened their branch in EDSA Shangri-La. Two years later, they opened a branch in BGC. The dishes that are available at Brotzeit are the same for all of their branches, save for the local flavors that Brotzeit brings in to cater to their audiences in the Philippines.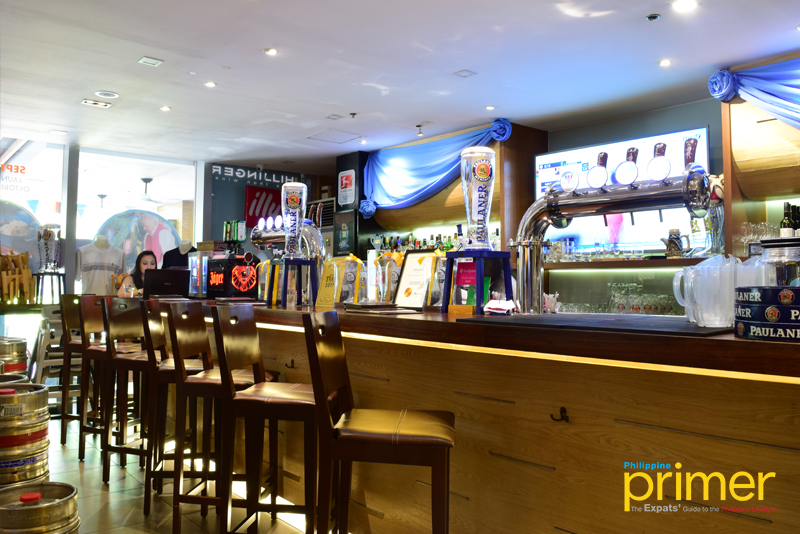 Brotzeit has a wide selection of beers at their bar which makes it an ideal place to celebrate!
Brotzeit brings Austrian, Swiss, and German food to the table and gives their guests an experience of how these dishes are usually enjoyed in their countries of origin.
Most of the offerings are Brotzeit are meat though they do also have a selection of salads and pizzas. They also offer a variety of platters which are perfect for groups. Their collection of liquor also does not disappoint as they offer a wide variety of German beers that will surely make you want to raise your glass and say cheers!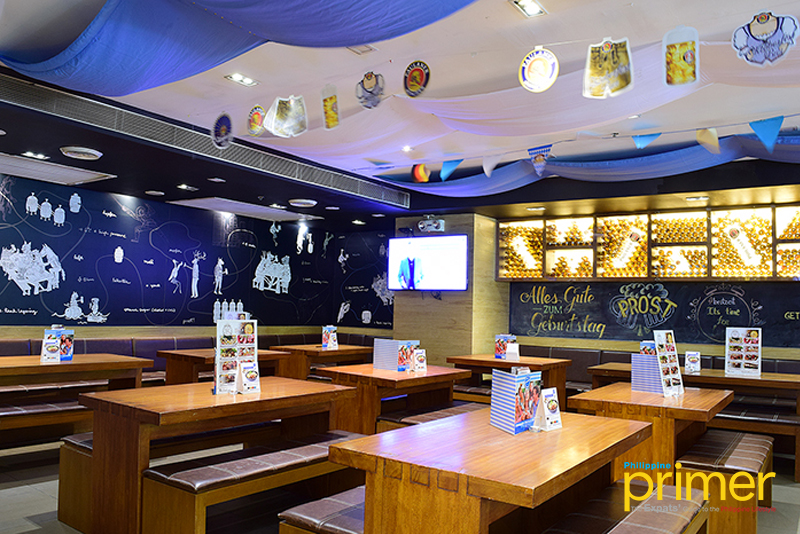 The interior at Brotzeit boasts an accommodating and no-frills atmosphere which allows their guests to feel right at home. 
This holiday season, Brotzeit sets the table for a holiday treat that's undoubtedly a treat for you and your loved ones!
First up is their Honey Baked Ham (Php 590), which comes with orange and red wine flavored cabbage, apricot jam and a baked apple stuffed with raisins. The ham is tender and although it can stand alone when it comes to the taste when it's eaten with the apricot jam, it takes the flavor to a different level as it adds sweetness to the otherwise savory ham. The baked apple is also something to look forward to. It's the ideal blend of sweet and savory that is complemented by the taste of the raisins. The Honey Baked Ham is also a part of their Christmas platter (Php 3,200) and their Christmas Duo (Php 1,500).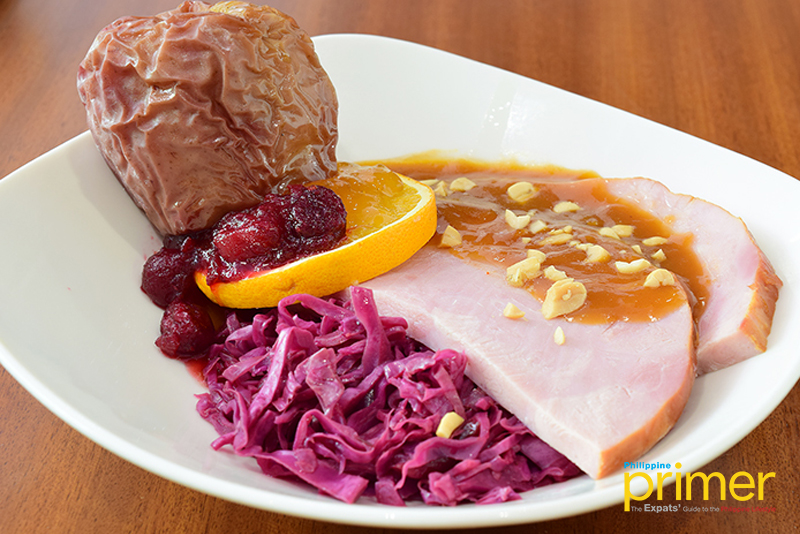 Honey Baked Ham (Php 590)
Next up is the Duck Confit with Cranberry Sauce (Php 1,300). The duck confit is tender duck breast that is accompanied with red wine sauce and orange and red wine flavored cabbage. It also comes with a side of crunchy almond dumplings. The duck confit has a piquant taste that perfectly blends in when eaten with the sauce. The crunchiness of the almond dumplings provides the perfect contrast to the tenderness of the meat.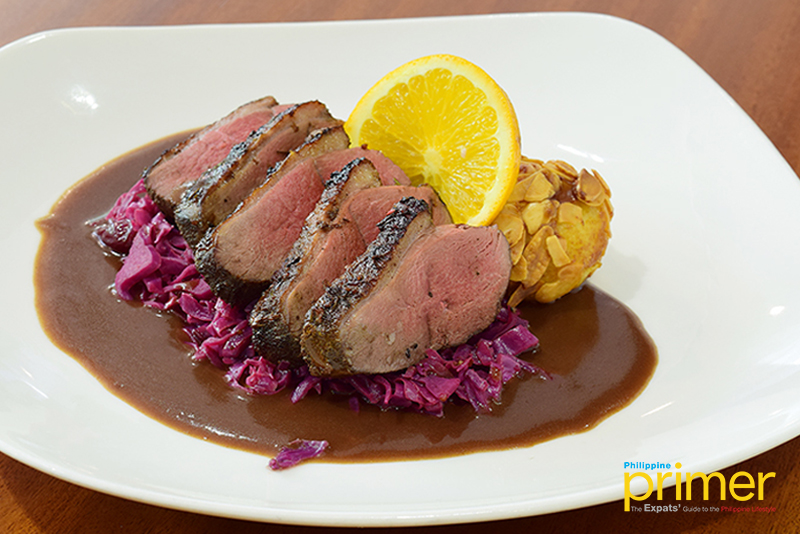 Duck Confit with Cranberry Sauce (Php 1,300)
Apart from the dishes, they also came up with two drinks for the holidays. Mulled Wine (Php 120/Php 180) that comes in alcoholic and non-alcoholic options. For the non-alcoholic drink, they have a Spiced Apple drink that has a mix of cinnamon and orange. And for the alcoholic drink, they have prepared Red Wine & Four Red Fruits. Both drinks have spices mixed in them and both possess some sweetness in them as well. The drinks are served warm and can be served with ice cream (Php 180/Php 240).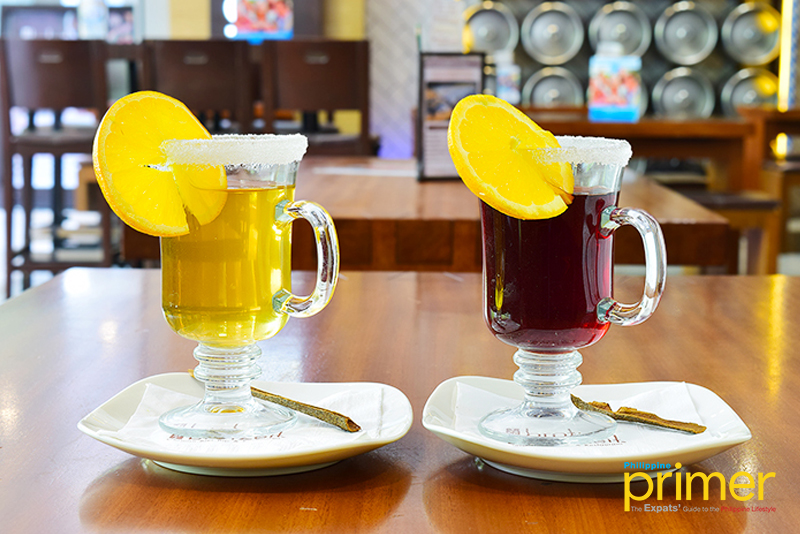 Mulled Wine (Php 120/Php 180) & Red Wine & Four Red Fruits (Php 180/Php 240)
Their holiday dishes are available from November 15, 2018, to January 15, 2019, and are available in all of Brotzeit's branches.
To sum it all up, Brotzeit is the perfect place to spend your gatherings with your loved ones. It's the right place to bond over drinks and even just over their fantastic food – it is an experience that you won't soon forget! 
For more information, you may visit their official website or their Facebook page. You may also e-mail them at reservations@brotzeitphil.com.
---
This first appeared in Philippine Primer Japanese magazine's December 2018 issue. 
Written by Feliz Grace Bueno
Store Information
G/F Shangri-La @ The Fort 30th St., Cor., 5th Ave, Taguig City
GF6 Ground Floor Shangrila @ The Fort 30th street corner, 5th Ave, Taguig, 1634 Metro Manila
02-815-9338