Repertory Philippines Silent Sky 2019: Of Love, Dreams and Legacy
Everything starts with a dream—even the greatest people in the world had a dream. For Henrietta Levitt, her passion and dreams came in the form of stars, in the night, and the celestial bodies in the distant galaxies.
Happened at the Carlos P. Romulo Auditorium, Silent Sky is a restaging of Lauren Gundersen's play of the same name.
The play first premiered in March 2018 in celebration of International Women's Day at Repertory Philippines' Onstage Theater. It's directed by Joy Virata and produced by Reine Productions, in partnership with Repertory Philippines.
Also read: Repertory Philippines Silent Sky Is Back on Stage This February 2019
The cast of Silent Sky 2019 is led by Cathy Azanza-Dy
The story revolves around the life and works of Henrietta "Henri" Swan Levitt (Cathy Azanza-Dy), a Harvard astronomer in the 20th century, whose discoveries and works with the Cepheid variable stars set the groundwork for measuring the distance of Earth to further galaxies.
Her discoveries eventually paved a path for other astronomers like Edwin Hubble to explore the universe.
Referred to as computers, Levitt and her colleagues, Annie Cannon (Bibeth Orteza) and Willamina Fleming (Naths Everett) made remarkable discoveries despite not being allowed to use the observatory's telescope. Instead, they use glass plates with photographic images of the stars, which the females diligently cataloged and assessed over the years leading to Levitt's major scientific breakthrough.
The play brings to light multiple conflicts such as career over family and career over love. Most of the conflicts, as well as transitions through the years, happen through letters in the form of dialogues between Henri and her sister, Margaret (Caisa Borromeo).
Letters between Henri and her love interest, the fictional assistant to Dr. Pickering, Peter Shaw (Topper Fabregas) are also exchanged but suddenly comes to an end with Shaw getting married while Henri is at Wisconsin, helping her sister get back on her feet after their father's death—all while working on her stars.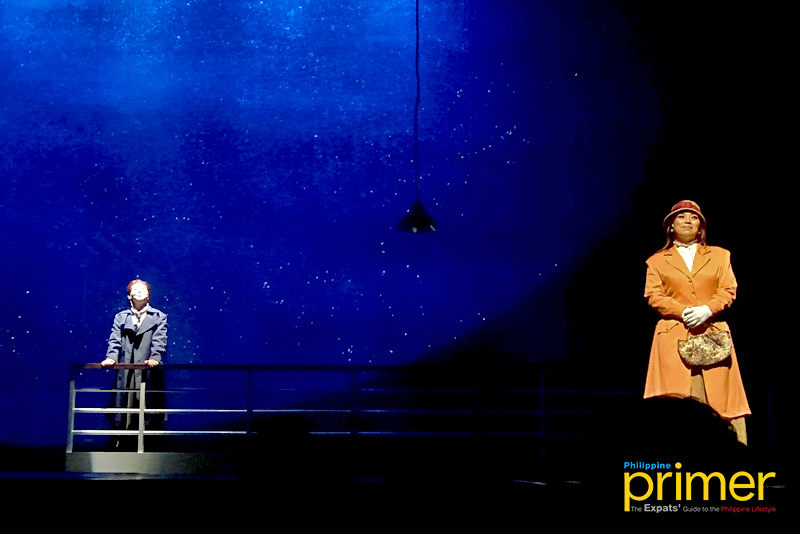 Cathy Azanza-Dy as Henrietta Levitt and Caisa Borromeo as Margaret
Azanza's Henri is strongwilled but still remains polite when she first meets Fabregas' Shaw when Henri arrives at Harvard upon the request of Dr. Pickering. She blends right into Orteza's rather stern Annie and Everett's comical Fleming.
Margaret, a wife, and mother who always dreamt of composing her own symphony helped Henri to figure out the key to her Cepheids with her music. There is irony in the situation as Henri is partially deaf and has to wear a hearing aid.
Borromeo's portrayal of Margaret is strong and yet, there is also a hint of vulnerability in her portrayal, which makes Margaret relatable to the audience—that no matter how strong we are, there will be times when strength alone isn't enough.
The bond between the two sisters, as portrayed by Azanza and Borromeo, gives us a glimpse of how two opposites are still able to find common ground and support each other in times of prosperity and adversity.
The chemistry between Fabregas' Shaw and Azanza's Henri shouldn't go unnoticed as well. The two never failed to make audiences feel giddy with their interactions as Shaw slowly began to show interest in Henri—though their romance is short-lived with Shaw, upon returning from his tour of Europe, stops communication with Henri and gets married. Their support for each other, especially that of Shaw's, stands the test of time.
Ultimately, their short-lived romance is entertaining to watch as Shaw fumbles over his confession to Henri, who is just as socially-awkward.
Azanza holds her position as Henri with much passion and dedication, mentioning that, in order for her to play the role correctly, she too studied a little bit of astronomy and helped the cast get in tune with astronomy as well.
Naths Everett as Willamina Fleming, Caisa Borromeo as Margaret, Cathy Azanza-Dy as Henrietta Lovett and Bibeth Orteza as Annie Cannon
The play also presents serious matters, such as gender equality where women were not allowed to use the observatory's telescope and the fact that Henri was not allowed to continue her work on the Cepheids after being handed over to "the boys".
This was also around the time when women fought for their right to vote, as seen in Annie's character who sported a sash and was said to join rallies to promote women's rights.
Also Read: REP's Silent Sky: A must-see for the dreamers of the 21st century
While Henri would be credited for her work in the latter part of her life, she states that her work on the Cepheids is her legacy that she wants to continue by herself. Margaret responds by telling Henri that she doesn't need to continue her legacy and others will be there to continue where she left off.
Even though the set remained simple for the most part where transitions were made only by adding and taking away from the set—the backdrop set the mood for the whole play. Created to emulate stars, the lights in the backdrop change depending on the scene; they can be brighter or dimmer. The tables and chairs made it easy for the setting to transition from Harvard to Henri's home.
Costumes bring the production together, especially if it's a period production. Silent Sky definitely went all-in with their costumes, effectively bringing the audience back to the early 20th century.
According to Azanza and Borromeo, they even donned corsets for the play, which they wore even during rehearsals in order to get their posture right.
With a story similar to that of the film, Hidden Figures (2016), Silent Sky tells the untold story of women and their groundbreaking contributions to the world of science. Through these shows, the audience is able to get a small glimpse of the work that goes into their discoveries and how they were able to pave a path for generations to come.
The cast joined by Director Joy Virata and the staff of Silent Sky 
The play was met with a well-deserved standing ovation during their press preview night. In fact, the audience was in a word, very responsive to the play—from giddiness because of Henri and Shaw's interactions to the booming laughs as a response to the witty and perfectly timed remarks of Fleming. The play is both emotional and entertaining.
However, the themes of romance and humor did not dim the light that was shed upon women's rights and the contribution of women to science. 
Silent Sky is inspirational as it is awe-inspiring. It's easy to draw inspiration and humor from the play as it is uplifting and witty. The mere fact that it was able to humanize these historical figures makes their lives more relatable and motivational to the audience. 
We are all in need of inspiration, no matter how little it is. Let the story of Henri Levitt inspire you to face challenges, find your place in this time and begin your legacy.
Repertory Philippines' Silent Sky is staged at the Carlos P. Romulo Auditorium. RCBC Plaza, Makati City, for a limited encore run this February 1 to 10, 2019.
For more information, you may contact Silent Sky executive producer Ria Pangilinan at 0917-537-8313 or email at riapangprojects@gmail.com. You may follow them on their Facebook for updates.
---
Written by Feliz Grace Bueno