A Guide to Popular Filipino Christmas Delicacies and Where You Can Try Them
A Guide to Popular Filipino Christmas Delicacies and Where You Can Try Them
There's only a little over a month left before Christmas–and aside from the vast amount of holiday light shows and festivals being launched around the Metro, favorite Filipino Christmas delicacies are also starting to make their appearance in the local market.
These Filipino snacks have long been a part of the Filipino Christmas culture that the holiday season would seem incomplete without having a taste of them.
Here's a list of some of these delicacies and the restaurants that offer them! 
Also read: 5 Classic Noche Buena Foods
Bibingka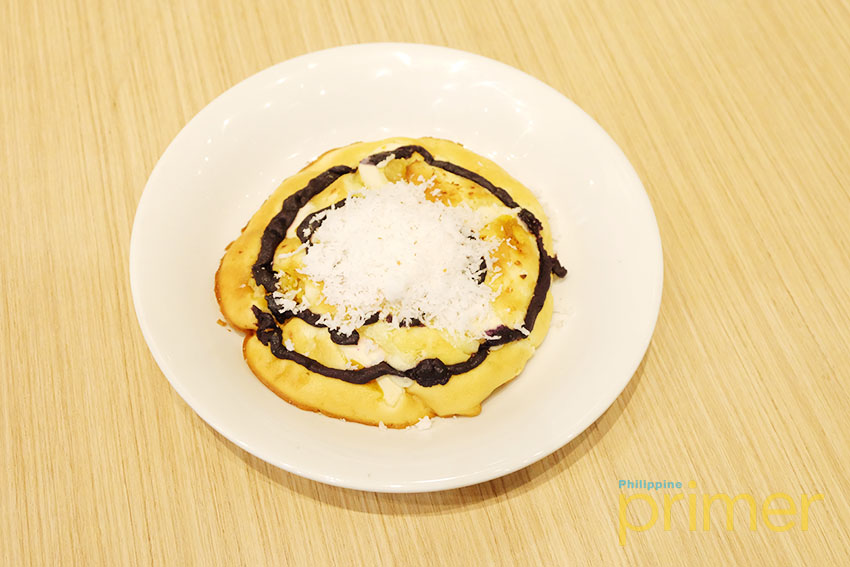 Manam's Bibingkang Ube (Php 85)
Bibingka is an oven-baked native rice cake made from glutinous rice, coconut milk, margarine, and sugar. It is popular during Christmas season, but it can be found in the market all year round.
A special bibingka has added ingredients like butter, salted egg, cheese, and scraped coconut meat. Bibingka is best eaten with a cup of hot salabat (ginger tea), hot chocolate made from tablea, or coffee.
Traditionally, bibingka is sold in front of churches during Simbang Gabi, but stalls are available inside the malls now. There are also Filipino restaurants that have incorporated the rice cake into their menus. Here are a few of them:
Puto Bumbong
Puto bumbong is another classic Christmas delicacy. People often associate the start of the holiday season with the emergence of puto bumbong stalls in front of churches.
Puto bumbong is a sticky purple rice cake steamed inside a bamboo tube. It is made with glutinous rice and is often topped with coconut shavings and sugar. Just like bibingka, there is also a special puto bumbong where extra ingredients like salted egg, cheese, butter, and condensed milk are added to the rice cake.
It is often sold with a cup of salabat, but it can be enjoyed with a cup of coffee or hot chocolate too. Here's where you can enjoy a nice plate of puto bumbong:
Lechon
Rico's Lechon's roasting pit
Lechon is the star of every Filipino handaan or party and Christmas feast is not an exception to this. A lechon is cooked by roasting a pig stuffed with lemongrass over burning hot coals. 
Typically, restaurants only offer lechon belly and lechon kawali in their menus, but there are a couple of Filipino restaurants that have a whole lechon ready to be ordered. Below is a list of some restaurants where you can get that crispy lechon.
Queso de Bola
IMAGE Dessert Comes First
This red ball of cheese is a staple in Filipino Noche Buena (Christmas dinner). Queso de Bola is actually Edam cheese, it is a round cheese coated in red paraffin wax. It can be enjoyed as is, but others opt to use it as spread bread and toast.
Other Filipino restaurants incorporate the cheese into their dishes. For instance, Crisostomo made it into a cheesecake with their Narcissa (Php 135) dish. Via Mare, on the other hand, combined it with another Filipino favorite, the pandesal, with their Grilled Pandesal with Queso de Bola. ALAB, a Filipino restaurant known not only for its dishes but also for its unique homemade ice cream flavors, offers Quezo de Bola ice cream.
Castañas / Roasted Chestnuts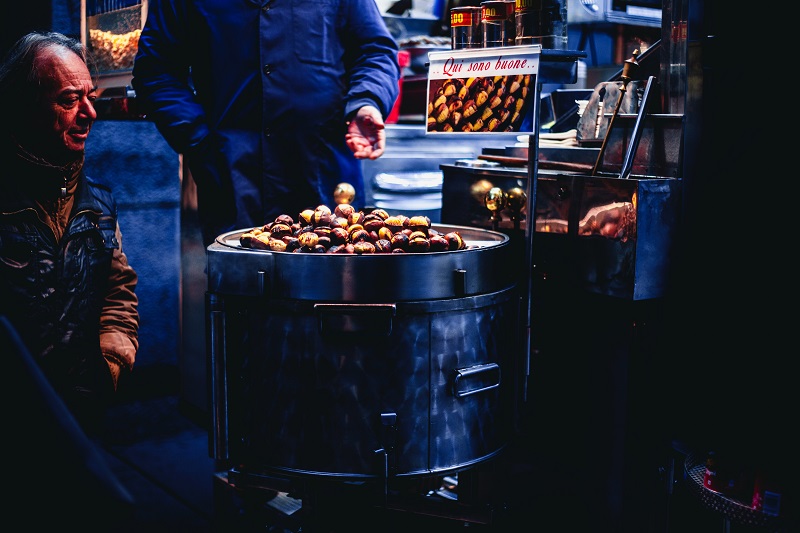 Although available all-year round as well, castañas or roasted chestnuts are extremely popular during the holiday seasons.
Most shopping malls have roasted chestnut stalls set-up where you can watch the vendor cook chestnuts inside a large drum, ensuring fresh bags of roasted chestnuts for the customers.
Hot Chocolate
During cold Christmas nights, a cup of hot chocolate sounds heavenly, and in the Philippines, hot chocolates are unlike any other as it is made from tablea–or the Philippine chocolate.
The tablea is made by roasting and grinding pure cocoa beans, which is the reason why it tastes stronger than other chocolates. It makes for a perfect partner to the aforementioned rice cakes. Here are some restaurants that offer hot chocolates made from tablea chocolate:
Salabat
If you're more of a tea person, then salabat may just be the drink for you. Made from ginger, this tea is not just perfect with puto bumbong and bibingka, but is also good for relieving nausea, indigestion, sore throat, and colds, among others.
Some opt to drink the ginger tea as is, but others add in sugar, honey, or lemon to lessen the strong taste of ginger. Check out these restaurants that offer salabat or ginger tea:
Also read: 5 Fun Filipino Christmas Traditions
Have you tried any of these popular Filipino Christmas delicacies? Tell us your favorites in the comments below!
---
Sources: Philippine Food, Cooking, & Dining Dictionary, Culture Ingested: On the Indigenization of Philippine Food, The INDUSTRY website, Panlasang Pinoy, and Ang Sarap
Written by Faye Almazan