How To Use GrabFood and GrabExpress
How To Use GrabFood and GrabExpress
Grab has been such a helpful mobile application as it eases everyone's commute experience, especially those who are located along the busy streets of the Metro. It may be extra expensive during rush hours, but it's more convenient rather than queuing or fighting through the crowd just to get a comfortable seat in a public transportation.
Also read: The Expats' Ultimate Guide to Public Transportation in the Philippines
Over the years, Grab has continuously improved its services, starting from GrabTaxi to other modes of transportation, like GrabCar and GrabShare. And just this year, the company introduced two more amazing services called the GrabFood and GrabExpress. Read on to know more!
Also read: Grab Enhances Client Experience with Its New Features
GrabFood
Flooded with food cravings? GrabFood will help you satisfy them in the shortest time possible. In case you don't know what to eat, though, GrabFood also suggests a variety of food choices around you. The best part is that it doesn't have a minimum order required!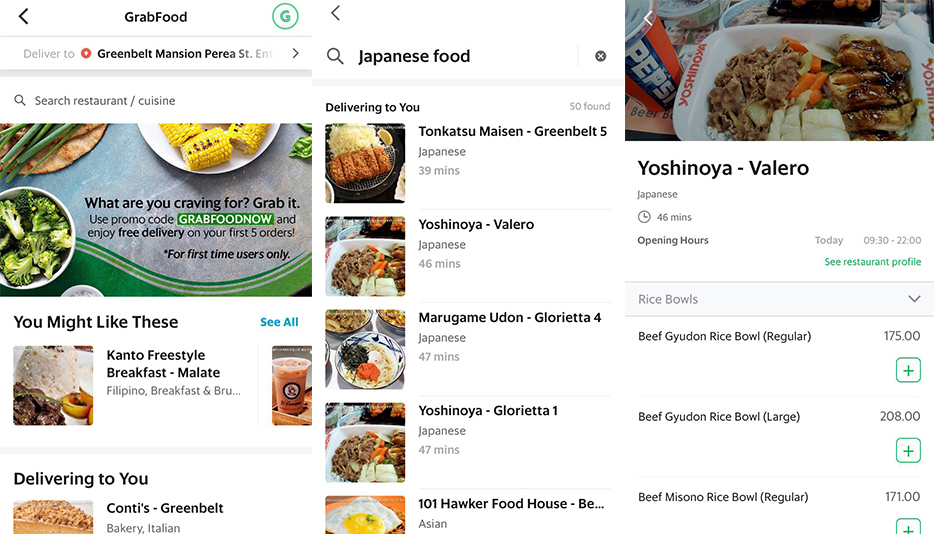 How it works: 
Open your Grab mobile application, and click Food from the menu.
Enter the location in the Deliver to section. Grab will then process it to suggest the available restaurants near you. This is to ensure that your food will be delivered fresh and fast.
You may enter the restaurant or cuisine you're looking for in the Search restaurant/cuisine section. You may also opt to choose the restaurant you want to order from under Delivering to You.
Place your order, then proceed to Checkout.
Currently, GrabFood is only available from 9 a.m. to 9 p.m. from Mondays to Sundays (except holidays) in selected areas, particularly in Bonifacio Global City, Makati, Manila, Pasay, Mandaluyong, San Juan, Ortigas, and Quezon City.
Update as of January 17, 2019: Grab Food expands its service in Cebu. Therefore, Cebuanos can now use Grab to book rides, send and receive packages, redeem rewards and offers, order food, load mobile prepaid account, and pay for multiple services using one mobile wallet, all in one Grab app.
Also note that there are restaurants that are not available for this feature.
Also read: List: Food Delivery Apps
GrabExpress
Grab also took it further by launching the GrabExpress–a premium door-to-door delivery service for customers in Metro Manila.
GrabExpress also offers GrabAssistant and Cash on Delivery (Beta). GrabAssistant allows you to ask the driver to buy something for you or queue in line; while Cash on Delivery (Beta) enables the rider to collect the item from you, deliver it to the recipient to collect the payment, and return to you with the cash collected.
What makes it different from other courier services is that GrabExpress tracks deliveries real time–not to mention that parcels are insured for up to Php 50,000. You can send items like documents, parcels, and gifts to your loved ones.
Base fare for GrabExpress is currently at Php 80, with most reliable coverage hours from 7 a.m. to 10 p.m. during Mondays to Saturdays. Meanwhile, GrabAssistant has a base fare of Php 99, with a maximum of Php 1000 amount per booking; while cash on Delivery has a maximum value of Php 50,000, with size of up to 40 x 40 x 30 cm and 20 kgs.
How it works: 
Open your Grab mobile application, and click Delivery from the menu.
Enter the pick up point at the Meet me at and drop off point at the Deliver to section.
Choose from GrabExpress, Cash on Delivery (Beta), or GrabAssistant.
Grab will then assign you to a rider after you confirm.
Wait for your rider to pick up your parcel, and track them through the map provided in the app.
Upon arrival, the rider will take a photo of your parcel as a proof of pick up. Ask for a copy of your Waybill, which is required in cases of lost or damaged items.
Share your ride with your recipient so you can track your parcel together.
Remember to type in important notes at the short description section in case you have special requests. It is also your duty to pack your parcel well for safe delivery.
Also read: List of Trusted Couriers in the Philippines
GrabExpress can be paid via cash on delivery, credit or debit card, as well as GrabPay.
Also read: A seamless way to Grab a ride: GrabPay Credits
How's your experience with GrabFood and GrabExpress so far? We'd love to hear in the comments below!